ON THE CENTENARY OF J. C. PRINCE.
BORN JUNE 21ST, 1808.
DIED MAY 5TH, 1860.

THOU sleep'st, O son of toil and child of song,
But still thy strains are swelling in the air;
The music thou hast made doth roll along,
Awakening kindred echoes everywhere.
Men pause and listen to thy tuneful lyre,
Catch from it something of the spirit's flame,
Which kindles in their hearts a strong desire
To conquer sin and rise above their shame.
Cold poverty thy ardour could not stay,
Nor shake thy spirit from its love of right.
Though sore beset, thou still didst pour thy lay,
And turn with hopeful courage towards the light,
And point thy fellows to their highest good —
A life of true and helpful brotherhood.

Nor hast thou sung in vain, for men have heard
And blest thee, humble singer, for thy strain;
Because its magic power their souls hath stirred,
And made them strong to fight with self and pain.
Yea, this is thine, and this the truest fame —
The power to cheer, and sooth and elevate,
And teach high truth; and so thy lowly name
Is great in worth, not with the world's vain state.
Hence, though thy voice is hushed, thy songs still live,
Inspiring hearts that love the pure and sweet.
And this centenary men gladly give
To thy dear memory the praises meet —
The honour which they feel to thee belongs,
Immortal singer of immortal songs.

――――♦――――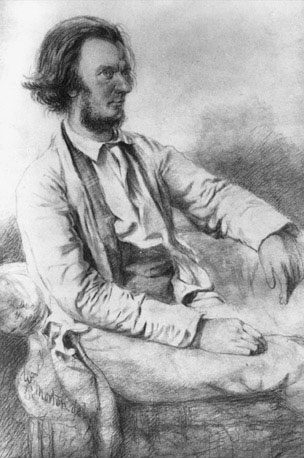 JOHN CRITCHLEY PRINCE
(1808-1866)
"He knew every string upon the lyre of life, and
swept its chords with the hand of a master."
Picture courtesy of Tameside Local History and Archives.
"......No casual visitor to the Poets' Corner could fail to notice a dark-complexioned, delicate, fragile-looking man, with a finely moulded head, who drank slowly but steadily, and said little, but whose dark eyes, which gleamed through the glasses of a constantly-worn pair of spectacles, seemed the eyes of a man who might have much to say. The indication was deceptive, for the owner of them, John Critchley Prince, was among the silent singers. Never was there a man of genius—and genius Prince undoubtedly possessed—whose conversation gave less evidence of his powers......."
From Frazer's Magazine, 1881.
――――♦――――
"......It has been said that the poems of a man are beaten out upon the anvil of his life; and there are comparatively few poetic works to which this aphorism is more applicable than those of John Critchley Prince....."
Lithgow "The Life of John Critchley Prince."
――――♦――――
"......He was not a prince of this world; and few men of his mental calibre cared less for the dross that causes so wide a gulf between all classes of society. The garret or the cellar, with a favourite friend or author, was a paradise to Prince."
――――♦――――
"....Those who judged Prince solely from appearances, and those who, seeing only his faults, allowed themselves to be blinded as to the good within him, were incompetent to form a just estimate of such a man, and could not, certainly, wash their hands of that for which they were not altogether irresponsible.

Although highly gifted he was very human; and in regarding his weaknesses every allowance should be made for the circumstances of his life, and the peculiarity of his temperament. Simple-minded and highly sensitive, few had suffered more keenly from the natural foes of humanity; and his mental constitution was such as predisposed him to temptations and to influences which were calculated to weaken the power of his volition.....

.....Those who knew him best, loved him most; and however he may have erred, however he was misjudged and misunderstood, the higher, better self of the man, and the genius of the poet, still survive in the rich legacy of song which he has bequeathed to posterity."
Lithgow "The Life of John Critchley Prince."
――――♦――――

Born in Wigan, Lancashire, to Joseph Prince and his wife Nancy, JOHN CRITCHLEY PRINCE received some little formal education at a Baptist Sunday School. At nine years of age he began work with his father as a 'reed-maker', a 'reed' being a tool used by hand-loom weavers to separate threads. At eighteen, he married Ann Orme, a resident of Hyde near Manchester where Prince was to live for a number of years, and eventually to die. A family soon followed and by 1830 the pair had a son and two daughters.

A NIGHT THOUGHT.
How grandly solemn is this arch of night,
How wonderfully beautiful and vast,
Crowded with worlds enswathed in living light,
Coeval with th' immeasurable past!
With what a placid and effulgent face
The mild moon travels 'mid her golden isles,
And on the earth, asleep in night's embrace,
Pours the sweet light of her serenest smiles!
Can I, O God, who tremble here with awe,
Doubt the Designer, scoff at the design,
Deny that all is of Thy wisdom Thine,
Fashioned by Thee, and governed by Thy law?
I marvel at that being who can see,
In those, Thy mighty works, no evidence of Thee.
JOHN CRITCHLEY PRINCE
Employment prospects being bleak, Prince sought work in France, but to no avail (see the tale, "Pauline Peronne"). After suffering much hardship during his return journey (related in "Sketch of the Author's Life"), he arrived home to find his family in the Wigan poorhouse. In later years Prince moved around Lancashire, mainly in Blackburn, Ashton and Hyde, searching for casual work. He supplemented his income by contributing poems to local periodicals and scrounging off acquaintances.

Prince published his first poetry collection, "Hours With the Muses", in 1841. It sold well, running to five editions and attracting attention in London. Other collections followed, some published and sold privately by the author; "Dreams and Realities" in 1847, "The Poetic Rosary" in 1850, "Autumn Leaves" in 1856 and "Miscellaneous Poems" in 1861. Included within these are several short prose pieces, such as "Passion and Penitence", "A Stray Leaf", "Random Thoughts," and "Changes for the Better", which demonstrate no mean talents as a story-teller and essayist. The record suggests that in his day Prince was considered an accomplished member of Manchester's community of poets and writers, being ranked among such local notables as Samuel Bamford, Elijah Ridings and John Bolton Rogerson.
TRIBUTARY STANZAS TO J. C. PRINCE.
BY
JOHN BOLTON ROGERSON

When first I saw thy sweet and polished lines,
Though they were penn'd not by a scholar'd hand,
Even as the sun through mist of morning shines,
I knew that they were destined to command
The praise and wonder of thy native land;
And on the banner of wide-circling fame
Inscribe, in dazzling hues, thy then unhonoured
name!

And so it is!—thy aspirations high,
Thy powerful pleadings for a suffering race;
Thy ardent love for heavenly Poesy,—
The feelings pure which in each line we trace,—
Have for thee gained a proud and envied place
Among the bards, who heavenwards cleave their
way,
And gain by strength of wing, a bright immortal day.

Thou need'st not now, a wretched outcast, tread
With slow and weary steps a foreign shore;—
England will find a shelter for thy head,
And thou shalt know the want of food no more:
Be true unto thyself—there is in store
A future, rich in many happy days,
And thou shalt find the bard treasured as are his
lays.

Walk forth and worship Nature as thou hast,—
Drink in the beauty of her vales and streams;
Wander again, as when, in days long past,
Thy soul, enwrapt in its poetic dreams,
Became instinct with holy Sabbath themes;
And then, in thoughts majestic and sublime,
Poured forth the noble strain which shall contend
with time.

Give us thy songs of freedom once again—
Raise high thy voice for liberty and love;
Tell to the world the woes of toiling men,
And thou their dearest champion wilt prove—
Perchance the great and mighty then may'st move:
Speak in thy wonted tones aloud of wrong—
Who may divine the power and influence of
song?

Hang not thy harp upon the willows now—
Be not with what thou'st won alone content;
A wreath more glorious yet may grace thy brow—
On high achievement be thy mind still bent;
Gifts like to thine were surely never meant
To be unused or thrown neglected by—
Well is he paid whose dower is immortality!

Manchester, May 1842.

The Sun Inn, Long Millgate, Manchester,
during the 1840s, the scene of 'poetic soireés' attended by Prince, Rogerson and other local bards.

Various effort were made by well-wishers to help Prince alleviate his poverty and acquire a better living, including several cash grants from the Royal Bounty Fund, but each failed through his addiction to alcohol, the "fiend" whose ravishes he deplored in his verse (see "The Saving Angel") and who he tried in vain to overcome (see "Abjuration").

"Of the poet Prince, who was sadly addicted to intemperance, he said, 'Prince writes like an angel and lives like a devil.' Prince had borrowed a sovereign from Dugdale, which . . .he failed to pay back. Dugdale, not being able by other means to come by his own, determined to try what poetry and wit combined could do. He wrote a poem, "The Sovereign," and dedicated it to the "Prince," and every stanza began with Prince, and ended with Sovereign. "Still he will stick to the sovereign!" "Republican, Radical, too, and still he sticks close to the—sovereign!" Poor Prince! He couldn't pay, but pleaded for forgiveness, and composed the beautiful moral poem of that title. This was in December, 1849. . . . . .

. . . . . ."About this time the Scotchmen of Blackburn gave a banquet to the "Bards of Blackburn." Prince, at the time residing in the town, and being invited, of course, took precedence, and was elected president of the meeting, the Bard of Ribblesdale being installed in the vice-chair. All the loyal and royal toasts having been duly honoured, "The Town and Trade of Blackburn," "The Lancashire Witches," and other toasts were given. The president at length proposed "The health of the worthy 'vice,' "remarking, while upon his feet, that he had unbounded admiration for Mr. Dugdale as a man, but that he was no poet. Dugdale's turn came. In response he gave "Our Worthy President," and professed a boundless admiration for his talent as a poet, but drily added, "he is no man."
Anecdotes concerning the Blackburn poet Richard Dugdale,
related by William Billington.

By 1860 poverty appears to have been biting hard, or maybe Prince's creative genius was on the wane, or both, for in a letter published in the Ashton Reporter for the 14 January of that year, he is accused of ".....being in the habit of palming upon publishers and editors compositions said to be original, but are in reality only second hand pieces, having been slightly altered in the wording or measure...."

DAILY NEWS
30 January 1856.
JOHN CRITCHLEY PRINCE—We have received from a correspondent half-a-guinea, in aid of the author of the verses "The Child and the Dew-drops," which appeared in the Daily News of Monday last. The money has been transmitted to Mr. Prince; but we have to request such of our readers as are disposed to follow the good example of our correspondent to transmit their donations direct to the poet, whose address was given in our Monday's issue.

His first wife having died in 1858, Prince married Ann Taylor in 1862. This apart, his final years were marred by declining health and the hardship resulting from the near collapse of the Lancashire cotton industry during the American Civil War, a time known in the locality as the 'Cotton Famine'.
DEAR wife, we struggle in a time
Saddened by many a shade,
For warfare in another clime
Has paralysed my trade;
And 'mong the thousands of our class,
So meanly clothed and fed,
We've had our share of grief, alas!
Pining for needful bread.....
JOHN CRITCHLEY PRINCE
John Critchley Prince died at Hyde, in 1866, almost blind and partially paralysed by a stroke suffered shortly after his second marriage. He is buried there in St George's churchyard.
....Funereal month! thy cold oppressive frown,
Piercing the tangled byways of the town,
Shadows a thousand hearthstones, where the soul
Is warped and withered, by the stern control
Of such realities as almost seem
The dark distortions of a madman's dream:
Fathers sit brooding o'er their wretched state,
With looks of anger, and with hearts of hate;
Mothers, with haggard and bewildered air,
Survey their little starvelings, and despair;
Children, grown prematurely old, decay
In apathetic squalor, day by day,
And still and stealthy cunning takes the place
Of childhood's natural gaiety and grace;
While their harsh destiny implants such seeds
As rankly germinate in moral weeds,
Which thrust the flowers of gentleness apart,
And drain the dews of goodness from the heart.
JOHN CRITCHLEY PRINCE
――――♦――――

JOHN CRITCHLEY PRINCE

The might of right, the love of love, the fire
Of hope and aspiration urged him on,
While Prince for peace and freedom tuned his lyre.
Though bright its light, his lamp of life still shone
In this direction and in this alone.
The true, the brave, the fair, the beautiful,
Are gathered up and garnered in his lays.
With skill 'twas his the choicest flowers to cull,
Enhancing still their perfume and their blaze.
And may our workman-poet's well won bays,
His glowing garland grow nor dim nor dull—
The pure, the gladsome current of his song,
Fresh, smooth, and clear, if seldom deep or strong,
Through countless years its wealth of waters roll along!

JOHN CRITCHLEY PRINCE.

Amongst the workmen-poets of our land
He stands—a Prince by nature, as by name;
A bright star in the firmament of fame,
Shedding a radiance beautiful and grand!
Though lowly born, his was a master's hand;
And wondrously he swept the heaven-sent lyre,
As, now with sweetness, then with martial fire,
He sang the songs that so belovèd stand.

While frail in life, he had a noble mind,
For nobly rings the music of his song;
He laboured for the welfare of mankind,
A champion of the weak against the strong.
Long may those sweet and fervent songs endure
That show his "love for freedom and the poor."

JOHN CRITCHLEY PRINCE.

FAREWELL, thou gifted singer! thy sweet songs
Have charmed the ears of thousands in our land:
Now thou art gone, we feel that we have lost
One of the greatest of the gifted band.
Tho' thou art dead, thy honoured name shall live
For ages yet to come: and thy pure lays
Be read and prized by myriads yet unborn,
And in their hearts thy songs shall find a place.
His like again, alas! we may not see:
Few living Bards have sung so well as he!

Considering Prince's dismal situation—he borrows from Shakespeare "my mean estate" to describe his lot—his verse is, for the most part, surprisingly optimistic. A notable exception is "Death of a Factory Child", in which Prince addresses the harsh social conditions of the day of which he had much first-hand experience (Gerald Massey's "Lady Laura" part II takes a similar theme)........
DEATH OF A FACTORY CHILD.
Hear me! ye firm and uncorrupted few,
Followers of freedom! and of virtue too!
Ye, who are pleading with a noble zeal
For poor men's rights—rejoicing in their weal;
Friends of the parent—guardians of the child—
Whose frames are wasted, and whose souls defiled
Within these halls of tyranny which stand,
Gloomy and vast, o'er all the sinking land.
Too long, my harp hath breath'd of fancy's dreams
Too long responded to unworthy themes.

Farewell ye once-lov'd fictions of my youth,
Its future tones shall harmonise with truth.
To rouse the Labourer in peril's hour;
To cheer the victims of a lawless pow'r;
To wake that slumbering energy of soul
Which brooks no wrong, and spurns unjust controul;
To add me feeble voice to that which rings
With awful thunder in the ear of kings;
This is my hourly hope, my daily aim;
If virtuous men approve, I seek no higher fame:

The long drear winter night was gathering fast;
The snow danced wildly on the fitful blast;
Within yon Bastile's suffocating walls,
(Whose very name my sickening soul appals,)
The gas which burns to light these living graves
Gleam'd on the faces of a thousand slaves.
I saw, and knew one gentle victim there,
The youngest of a widow'd mother's care:
Hard had he labour'd since the morning hour,—
But now his little hands relax'd their pow'r—
Yet, urg'd by curses or severer blows,
Without one moment's brief, but sweet, repose,
From frame to frame the exhausted sufferer crept,
Piec'd the frail threads, and, uncomplaining, wept.

While yet the night was boisterous and chill—
While winds were loud, and snows were drifting still,
The bell gave out its long expected sound,
The mighty engine engine ceased its weary round.
Forth rush'd the the captives,—a degraded train!—
Till morn should summon them to toil again.
Some to the maddening ale-cup rashly sped;
Some to the short oblivion of their bed;
But he whose tale is woven in my song—
The first to fall, of that devoted throng—
With mingl'd cold and pain his tears ran o'er,
As the keen ice-wind entered every pore.
I ask'd his ailment, but he did not speak;
His fate was written on his ghastly cheek,—
I strove to help him with a friendly hand:
Alas! poor boy! he could not walk or stand.
I clasp'd my arms around his wasted form,
And bore him through the fury of the storm;
Up the dark street my eager footsteps bent,
Cursing the power that doom'd him, as I went;
His mother met me, with unfeign'd alarms,
And snatch'd the slaughter'd victim from my arms,
Kiss'd his pale lips, and call'd upon his name;
He murmur'd faintly, but no answer came.
I turn'd in grief from her imploring cries;
Unbidden tears were springing in my eyes;
Yet, breathing words of hope, I sought my home,
To ponder upon miseries to come.

The wond'rous wizard, Sleep, had now unfurl'd
His drowsy pennons over half the world;
The widow's children to their beds were gone,
And left her calm, yet mournfully, alone—
Alone with him, the idol of her heart.
Whose sinless soul was yearning to depart;
She, mute at length, with sorrow and dismay,
Wept, o'er his shattered frame, the night away.

Time was, ere commerce seal'd his early doom;
Shut up in Moloch's life destroying womb;
Ere yet the roses of his cheeks were pale,
He ran uncurb'd o'er mountain, moor, and vale:
Lur'd by the hives of bees, the voice of birds,
Sweet and familiar, as his mother's words,—
With buoyant step he sallied forth at morn,
And pluck'd his hasty dinner from the thorn;
He knew each sylvan and sequester'd nook;
He watch'd the secret mazes of the brook
Thread the dark forest; roam'd the laughing fields,
Deck'd with each golden bud that summer yields,
The same, though changeful nature frown'd or smil'd,
A healthful, innocent, and joyous child.

Thus, in the mourner's harass'd mind were glass'd,
These sad, yet sweet, reflections of the past,
Until these thrilling words her vision broke:—
'Mother! dear mother!'- twas her boy who spoke.
With fever'd lips he ask'd the cooling draught,
And, long and deeply, from the cup he quaff'd;
But, scarcely had he turn'd his head to rest:
Fondly secure upon his mother's breast,
A sound, which woke no feeling but of fear,
With well-known import smote his startled ear—
A sound alas! which prov'd his dying knell,—
The horrid clangour of the Bastile bell!
Then, starting up, he gaz'd on vacant space,
Cried, as he listen'd with bewilder'd face,
'Oh! mother, mother, I can work no more,
My head is painful, and my feet are sore;
Forgive me, mother, if I thus complain—
I fear I never shall be well again;
And if I die, O! do not weep for me,
But make my grave beneath some pleasant tree,
Where summer flowers around its roots may spring,
And summer birds within its branches sing;
And tell my loving sisters when they weep,
I saw my gentle father, in my sleep;
And, as he kindly looked and sweetly smil'd;
I thought he call'd me his own happy child.'
The suffrer spake his last—his eyes grew dim;
The cruel spoiler palsied ev'ry limb;
One sigh—before the victory was won,—
One gentle tremor—and the strife was done;—
Whilst the glad spirit, freed from chains of clay,
Soar'd to her native realms, away, away.

My painful task is drawing to a close;
I would not dwell upon a parent's woes.
She mourned for him, as mothers always mourn,
Yet, did not seem to wish for his return.
She laid him in the earth with decent pride,
For poor men's charity the means supplied;
And one poor bard to whom the child was known,
Inscrib'd these lines upon his humble stone:—

EPITAPH

Here sleep the relics of an orphan flower,
Crush'd by the brutal foot of lawless pow'r;
Another victim to the thousands slain
Within the mighty slaughterhouse of gain.
O! come ye kind philanthropists, who feel
The noblest int'rests in the people's weal,
Pause on this infant-martyr's new turn'd grave,
Swear to emancipate the British slave;
Tell the oppressor, that the widow's God,
Injustice, wields an all-avenging rod.
And if the pow'rs of human virtue fail,
The hand of heaven will certainly prevail.
JOHN CRITCHLEY PRINCE.
1841.