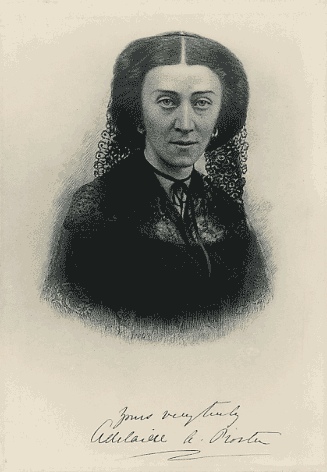 ADELAIDE ANNE PROCTER
Queen Victoria's favourite poet.
Born October 30, 1825, died February 2, 1864.
Born in London, the first child of Bryan Waller Procter (the poet "Barry Cornwall") and Anne Skepper, Adelaide Anne was a highly gifted child, attaining considerably proficiency in geometry, piano, drawing, French, German and Italian. She was also a voracious reader.

Adelaide's early poetry was presented to her parents' distinguished literary circle in manuscript form. At eighteen, she contributed to the "Book of Beauty" and in 1853 to Household Words under the pseudonym "Mary Berwick" in order that the editor, Charles Dickens, should not be prejudiced by his friendship with the Procter family. Dickens was so attracted to Adelaide's first poem that he asked 'Mary Berwick' to send in further contributions, only discovering much later — and rather by accident — the poet's true identity. In the following six years the magazine published much of Adelaide's poetry, her poems also appearing in All the Year Round, Cornwall and Good Words. The first series of Adelaide's principal work, Legends and Lyrics, appeared in 1858 and ran through nine editions in seven years; a second series published in 1860 met with similar success. In 1866, a further edition appeared together with an introduction by Charles Dickens, and there have been numerous reprints of Legends and Lyrics to the present day. Believed to have been Queen Victoria's favourite poet, Adelaide is reputed to have sold more volumes of poetry during the Victorian era than any other poet except Tennyson.

In her mid-twenties, Adelaide became a Roman Catholic, an act that appears to have influenced her poetry for much of her Legends and Lyrics is infused with a strong Catholic sensibility suggestive of the 'convert's fervour.' It is unsurprising that her devotional lyrics were used in both Catholic and Protestant hymnals, examples being I do not ask, O Lord, that Life may be, and My God, I thank Thee who hast made.


Adelaide visited the sick, befriended the destitute and homeless, taught, and endeavoured to help the less fortunate of her own sex. Her devotional lyrics, A Chaplet of Verses, was published in 1862 as a benefit for Providence Row, a night refuge for homeless women and children opened in 1860 under the care of the Sisters of Mercy. Adelaide was generous yet practical with the income derived from her poetry, perhaps feeling guilty that her growing success was over-shadowing her father's reputation as a poet; "Papa is a poet. I only write verses."

A shelter through the bleak winter nights, leave to rest in some poor shed instead of wandering through the pitiless streets, is a boon we could hardly deny to a starving dog. And yet we have all known that in this country, in this town, many of our miserable fellow-creatures were pacing the streets through the long weary nights, without a roof to shelter them, without food to eat, with their poor rags soaked in rain, and only the bitter winds of Heaven for companions; women and children utterly forlorn and helpless, either wandering about all night, or crouching under a miserable archway, or, worst of all, seeking in death or sin the refuge denied them elsewhere. It is a marvel that we could sleep in peace in our warm comfortable homes with this horror at our very door.
Adelaide: from the Preface to her
Chaplet of Verses.
In 1858, Adelaide and some feminist friends founded The English Woman's Journal (once referred to by Adelaide, perhaps contemptuously, as a "moral engine"), its main aim being to urge women to enter the workforce as professionals. Many of the Journal's articles gave accounts of mothers' meetings, temperance campaigns, industrial and ragged schools, cottage hospitals and local refuges, and of the involvement of women's in their operation and management. Although probably more influential than its low circulation - below 500 per edition - would suggest, the Journal's middle-class intellectual content held limited appeal. Financial loss together with religious and other differences among its proprietors eventually brought it to a close in 1864. Adelaide's best-known lyric, 'A Lost Chord', first appeared in the Journal, later becoming highly successful as a song set to music by Sir Arthur Sullivan (see Sheet Music).

In 1859, Adelaide was appointed by the 'National Association for the Promotion of Social Science' to a committee that sought to discover ways for more women to enter the workforce. Together with Bessie Rayner Parkes, Jessie Boucherett, Isa Craig and Matilda Hays, she also helped to establish the 'Society for Promoting the Employment of Women'..... "for girls and young women, where they may be specifically trained to work in shops by being thoroughly well instructed in accounts, book-keeping etc." An employment register was set up, and soon various enterprises were under way including a printing house, The Victoria Press, for whom, in 1861, Adelaide edited a miscellany entitled "Victoria Regia" to which members of the literati contributed. The book was set up in type by women compositors under the direction of Emily Faithfull—copies in good condition now command high prices on the antiquarian book market
.....Next deserves to be noticed the Victoria Regia (Emily Faithfull and Co.), a joint-stock volume, in which Tennyson, Thackery, Tom Taylor, Mrs. Grote, Lord Carlisle, Monkton Milnes, John Forster, Coventry Patmore, Matthew Arnold, Anthony Trollope, and others have taken shares. The editor is Miss Procter, and the volume is "printed and published by Emily Faithfull and Co., Victoria Press (for the employment of women.)" More than a year ago Miss Faithfull opened her office in order to prove that the sphere of women in our country is much too restricted. She thought that they would at least make admirable compositors, and she desired, after a few months experience, to produce a volume which should be a choice specimen of the skill attained at her establishment. A number of our best authors have been interested in the experiment, and have given their contributions, while the Queen has accepted the dedication of the work. Thus, from the social, as well as from the literary point of view, the book is very attractive......

An extract from 'Christmas Books,'
The Times, 28 December, 1861.

HE VICTORIA MAGAZINE. Price 1s. Contents of the March number :—1. Adelaide Anne Procter. By Edwin Arnold—2. From Berlin—3. Lindisfarn Chase. By T. A. Trollope. Chap. XXXI. The Jawbone Tells Tales. Chap. XXXII. Settlements. Chap. XXXIII. Paternal Advice—4. Poland in 1864. By Isa Craig—5. The Woodcutter and the Blind Owl : a Syrian Story. By Mary Eliza Rogers—6. The Education of Women. By J. G. Fitch M.A., H. M. Inspector of Schools—7. A Journal Kept in Egypt. By Nassan W. Senior—8. Social Science—9. Literature of the Month. London, Emily Faithfull, printer and publisher in ordinary to her Majesty, Princes-street, Hanover-square. Sold by Simpkin, Marshall and Co., and by all booksellers.

From The Times, Friday, March 4, 1864.
A LOST CHORD.
SEATED one day at the Organ,
I was weary and ill at ease,
And my fingers wandered idly
Over the noisy keys.

I do not know what I was playing,
Or what I was dreaming then;
But I struck one chord of music,
Like the sound of a great Amen.

It flooded the crimson twilight
Like the close of an Angel's Psalm,
And it lay on my fevered spirit
With a touch of infinite calm.

It quieted pain and sorrow,
Like love overcoming strife;
It seemed the harmonious echo
From our discordant life.

It linked all perplexed meanings
Into one perfect peace,
And trembled away into silence
As if it were loth to cease.

I have sought, but I seek it vainly,
That one lost chord divine,
Which came from the soul of the
Organ,
And entered into mine.

It may be that Death's bright angel
Will speak in that chord again,—
It may be that only in Heaven
I shall hear that grand Amen.
Adelaide A. Procter
Although better known as a poet than a social reformer in her lifetime, Adelaide worked tirelessly for better conditions for women in society. Sadly, she contracted tuberculosis. The cure at Malvern was tried in vain and, after an illness of fifteen months, she died calmly at the age of 38. She was buried in Kensal Green Cemetery. Her friends believed that overwork probably shortened her life.
In almost every committee there is a leading person, an animating spirit, some one, in fact, who does more than a fair share of work and does it well, and thus gains influence over the rest; this was the part taken by Miss Procter.....she was continually in the office, sometimes helping in the regular work, sometimes devising new plans and studying how to put them in execution.
From an obituary by Jessie Boucherett
Adelaide is one of the more important 19th Century women poets to be reassessed in recent years. Her unambitious verses deal with simple emotional themes in a simple manner, and "have a charm which is scarcely explicable on the ground of high literary merit, but which is due rather to the fact that they are the cultured expression of an earnest and beneficent life" (Britannica, 1911). Among the best known of her poems are "The Angels Story", "The Legend of Bregenz" and "The Legend of Provence"; in her poem "Philip and Mildred", she urges women not to live their lives in the shadows of men. Many of her poems became songs and hymns (e.g. "Per Pacem ad Lucem" and "Thankfulness") also became very popular.

Not only was Adelaide a significant figure in the Victorian literary landscape, but as a key member of the Langham Place Circle of campaigning women (together with Barbara Bodichon, Bessie Rayner Parkes, Isa Craig and Jessie Boucherett) she worked tirelessly to promote female employment. Many of her poems are concerned with anonymous and displaced women who struggle to realise and consolidate an identity and a place in a harsh, male-dominated world. Loved and admired by her father, her editor, Charles Dickens, and her friend W. M. Thackeray, Adelaide Anne Procter wrote from the heart of London literary circles and, from this position, mounted a subtle and creative critique of the ideas and often gendered positions adopted by male predecessors and contemporaries such as John Keble, Robert Browning...... and Charles Dickens himself.

Memoirs of Adelaide were left by Charles Dickens and Bessie Rayner Belloc.


ADELAIDE ANNE PROCTER.

Sweet Poetess! though all too brief thy stay
With us on earth, "True Honours" grace thy lyre
"The Angel's Story" lives to raise us higher;
"The Peace of God" consoles us day by day.
We read thy "Legends" with rapt hearts, and say,
"O Heaven itself did this pure verse inspire,
That it might be to us a beacon fire
In life's dark night to show the 'narrow way.' "
The true love of "the Faithful Soul" was thine,
Thou didst not "fear the beautiful Angel Death":
"Give me thy heart," said Christ the Lord; and thou
Meekly and gladly yielding up thy breath,
Didst pass from earthly pain to peace divine,
With Song's immortal crown upon thy brow.