[Previous Page]


CHAPTER XXV.

OUR NEW HOME.

THE record of to the many months that follow is but the record of a sickroom, with its fluctuations of depression and of hope. How the summer passed into autumn, and the autumn into winter, and the winter into spring, bringing day by day a measure of health and strength to our invalid, and to us lessons of hope, and love, and patience, and thankfulness. There is record of the day when he could once more leave the dreary confinement of a single room to which the excitement consequent on seeing Edwin and Doretta reduced him, when he was carried downstairs by Ernest and Claude. Then of the day when he could walk down slowly by himself, and get out into the garden. Then of the time when he could be allowed to go out unattended, and the traces of his illness were almost obliterated to strangers, and only to be seen by us in the stiffened gait and straitened speech. At this point he became stationary, and the doctor strongly advised our going into the country. Aunt Robert would have been very glad to have us—that is papa, Aunt Monica, and I; but we did not think it would be desirable for papa to go to her, so near the place which must awaken many painful emotions, and we have never suggested it to him. Both Ernest and Lizzie have been at Highwood since papa came home. I have never been away at all; Aunt Monica and I have not once left him. When we go, we must go together.

Edwin has never brought Doretta to see us again. At intervals he calls to inquire after papa, but he does not often see him. Lizzie and Aunt Monica, but Lizzie most frequently, go to see Doretta. Baby was very ill one day, and she sent for them, and since then another little one has come, a girl, and Lizzie is more in request than ever.

Lizzie reports that Doretta is in high spirits at present. She has long been wanting Edwin to take a house, and furnish it for her, alleging that if he should be taken from her, she would have nothing to fall back upon. She does say the most outrageous things. And at length Edwin has yielded to her wish. She has persuaded him that it will be quite as cheap as living in lodgings, but she is very mysterious as to their ways and means, and as to where the money is to come from which is to furnish the new house. She tells Lizzie that she need not ask, as, at any rate, they will not be indebted to their fine friends.



We had taken lodgings in a pretty cottage on the Sussex coast, and Aunt Monica and I had accompanied papa thither. But we were not destined to remain long in our new quarters. One morning Aunt Monica, having sat down to breakfast with that tender pink flush on her thin cheek, which always faded as the day advanced, opened the letter beside her plate, and quickly laid it down again, all white and trembling.

My father sat opposite, and did not appear to notice it, and I could only wait, with palpitating heart, for what I feared were fresh tidings of evil.

It was only for a moment. Then Aunt Monica rose from her chair and went over to my father's side, and laying her hand softly on his shoulder, while she put the letter into his hand, she said the one word, "Henry—" He looked into her face and finished the brief sentence for her—"is dead."



We are busy preparing for the change, perhaps the greatest change of all that has taken place in our lives, changeful as they have been. My father has already been down to Highwood and provided for the funeral, while we are getting ready suitable mourning. We are to be present when this uncle of ours is laid in the family vault. My father will omit no honour which he thinks ought to be paid to the dead. I do not believe it is a mere matter of family pride with him; I fancy he feels, besides, the natural sorrow and compunction which men of generous impulse feel towards a fallen enemy. As for us, we may put on mourning outwardly, but we cannot help rejoicing, not over the event itself, of course, but over all that it brings to us. Our father restored to the home from which he has been so long a stranger, and from which he was harshly, if not unjustly banished in his youth; Aunt Monica, returning to the same old home, to be repaid for all the sacrifices she has made for us by taking the foremost place in our hearts, as well as in the new household we shall make there, just when she might have been turning her back upon it and seeking for some place in which to spend her solitary days. It has all turned out so happily that it is impossible for us to sorrow; only Aunt Monica is really sorrowing, and she is grieving not so much for what is, as for what might have been.

Once more we are at home in the midst of entirely new surroundings. It is indeed a changed scene into the midst of which the river of our lives has borne us.

On a hot July day our whole party, clad in funeral black, started for Highwood. After a short journey by rail, we stopped at a little station, where a carriage and pony phaeton awaited us. Papa and Aunt Monica got into the former, as also did Lizzie and I, leaving the latter to "the boys." No longer boys, though the old name will come uppermost, sadly reminding us of the time when there was no estrangement between them. I wondered just then if our uncle's death would bring about a reconciliation, and I was glad of the arrangement which had thrown them together and alone.

We drove along a broad road, shaded by trees, and ascending and descending in long gentle slopes. Soon the enclosed fields receded, leaving waste green corners, in a prodigal fashion which gave one a delightful sense of space and of freedom, that feeling of there being enough and to spare of the good things of Nature which refreshes the souls of the dwellers in pent-up cities more than anything else perhaps. Here they only formed a threshold to the loveliest of sylvan scenes.

We were nearing a village set in the midst of crowning and encircling woods. The woods showed darkly green above the yellowing harvest-fields, and the round white clouds seemed to repeat the outlines of the masses of foliage upon the deep blue of the sky. The village lay warm in the sunshine, and the sunshine rested on peeps of white and creamy wall, laced with pear-branches hung with ripening fruit; it basked on red-tiled roofs and glanced through orchards full of gnarled old apple-trees to reach the red apples and make them glow among the shrivelled leaves; but its full blaze fell upon the central green, where it was flashed back from the mirror of a pool as clear as crystal.

The sunshine and the scene, so full of the rejoicing life of Nature, was in strange contrast with our errand and the sombre garments we wore. Skirting the village, we passed through a pair of iron gates thrown open to receive us by an old couple who stood bobbing and ducking at the lodge door; and I heard the woman say, "Miss Mona—God bless her!"

Under the noble trees, we swept up the avenue, and stopped in front of the mansion. It is not old Elizabethan, or old anything in particular, but a plain well-built house, long and rather low, with only two storeys—the lower containing the public rooms and offices, the higher the bedrooms and dressing-rooms. The house is set upon a little hill, surrounded by lawns, and flanked with trees, the upper windows looking out over the undulating forest; but its aspect when we first saw it was anything but cheerful. The drawn blinds gave it a peculiar blank look—a look as if it declined to welcome us within its walls.

The servants were standing in the hall, also in black, waiting to receive us, as we entered softly and silently, knowing that, within, the master of the house lay dead. Aunt Mona's tears fell on the threshold, and the sight of her weeping made the women weep. It was altogether a chill and sombre home-coming, and I will not dwell upon it, nor yet upon the morrow, when we saw our unknown uncle laid in the family vault, in the midst of a concourse of strangers.

Among those who came to the funeral was Mr. Winfield, but I cannot say that his presence added to the solemnity of the occasion. He has a habit of whistling when in perplexity or anxiety, and, being anxious to preserve the proper amount of gravity, he made one or two attempts, and when suddenly recalled to the consciousness of impropriety by the frowning stare fixed upon him, became so red in the face that I dared not look at him.

All the next week we received visits of condolence. Aunt Monica and I had to stay at home for the purpose; papa and Lizzie taking leave of absence, and Ernest and Edwin having returned to London. Mr. Winfield came, telling us, to our great relief, that he was left alone for the present, Mrs. Winfield having gone up to London with Edith.

But the whole neighbourhood is thickly studded with country seats, and we seem to have some pleasant people near us.

I am delighted with the Misses Amphlett. They are the sisters of a neighbouring baronet, and one is deaf and the other lame, and both are quite poor; but not only in spite of, but because of these drawbacks, the happiest of mortals. Each is constantly trying to supplement the other's deficiency. Miss Bell is constantly occupied in shouting to Miss Nancy, and Miss Nancy as constantly employed in lugging Miss Bell along. They are full of life and energy, and delight in making ends meet.

It is wonderful what they do with their small income, not in the way of keeping up appearances, but of securing actualities in the shape of comfort and niceness.

They live in a neat little cottage close to the village, separated from the road by a garden hedged with yew and laurel. Their domestic economy is peculiar, for they have two maids, one of whom, Aunt Mona tells me, is generally the most refractory girl to be found in the parish. The old ladies fondly think they can reclaim her to ways of virtue and order by the authority proper to their age and rank, and no amount of insolence or deception on the part of their protégées can disabuse them of their belief.

"They have a profound faith that they have been planted here to assert the blessedness of a social order," says Aunt Mona. So Miss Bell and Miss Nancy promenade the village daily at the slowest of paces, to exercise their authority. "Unpaid members of the force," a neighbouring magistrate calls them.

I have already been with them on their rounds, and the very dogs of the village seem to fear their stout parasols, and the slatterns curtsey at their doors, and are repaid for their courtesy by kind inquiries, the answers to which are echoed by Miss Bell to Miss Nancy in tones which have the effect of enlightening the whole community on the private affairs of the parties interrogated.

There seems to be a general disposition to make friends with my father, which he, however, is far from unreservedly returning, appearing to prefer to hold somewhat aloof.

The Rector of Highwood came to call upon him, and to Aunt Mona's great distress was closeted with him for more than an hour; and all that transpired concerning the interview was the simple announcement that he had thought it proper to state his views to Mr. Lloyd, that the ground on which they might hereafter meet might be unmistakable. But what was our delight and astonishment when the very next Sunday, being our first Sunday at Highwood, my father accompanied us to church, quite simply and naturally. When we came down we found him waiting for us in the hall, with one glove on, and the other in his hand; and he helped us into the carriage, and then stepped in himself. Arrived at the church, he led the way to the family pew, in which he had not sat since he was a youth, and remained throughout the service an attentive and reverent listener.

Aunt Mona took his arm as they left, and there was a sweet content on her face as she looked up to him, saying, in a low voice—

"Thank you for coming with us, Benjamin."

"You have Mr. Lloyd to thank," he answered, hastily, for he was the most silent of men. "If I had always been treated with equal consideration, I might never have left the old ship."

After a pause, he continued—

"Yes, he made me see that one belongs to it as much as one belongs to one's country. One is bound to sail under the right flag, you know—to stand up to the enemy, even if one can't agree on every point with one's commander. And I have lived long enough, Monica, to see for myself that the side you and some others I know are on is the right side, after all."

The Rector of Highwood had not impressed me greatly, but he was evidently a sincere and amiable man. He had been at Highwood for the last twenty-five years, and had made himself generally liked, though it was some time before I could account for Aunt Monica's loving regard for him, even with the help of her reading of his life and character.

――――♦――――


CHAPTER XXVI.

THE RECTOR OF HIGHWOOD.

THE REV. CHRISTOPHER LLOYD, by no means an old man yet, had, as a young man, been considered a special favourite of fortune. He had been singularly handsome, he was well connected, and one connection was in a high clerical quarter, from which promotion was to be expected. He had married a beautiful woman, possessed of the private fortune which he lacked, and which his friends said was just sufficient to make him independent. According to Aunt Monica, they ought to have added, save of his wife. Sanguine individuals among them predicted that he would undoubtedly die a bishop; but not the slightest step towards such a desirable result had been made when death visited the high clerical quarter, and the vista with the bishopric at the end of it, closed for ever.

Mr. Lloyd had not been bitterly disappointed. He was not ambitious by nature; but humble, affectionate, and unselfish. Perhaps he thought, says Aunt Monica, that his son, then in the nurse's arms, would be a great man, a dignitary of the Church; it would be better than being one himself, and far less troublesome. It was a pity for Mrs. Lloyd, she added, who would have borne being a great lady, who, indeed, found it difficult to be anything else, and it had made her husband anxious, as if he had disappointed her in some legitimate expectation, that as much as possible of their joint income—and her share of it was twice as great as his—should be spent upon her personal requirements. And these requirements were all of the most perfect order. She could not bear anything that was rough, or coarse, or inartistic. The pillow on which she laid her cheek was of cambric, edged with lace. Whatever touched her, or was touched by her, must be smooth, soft, and beautiful. She was never over-dressed; but all she wore was pure, fresh, and dainty. Cashmere, silk, and cambric were the only fabrics she liked, and she would not have worn other in an episcopal palace. "Beatrice had never been accustomed to anything inferior," her husband would say when choice of anything for her devolved upon him.

As for their children, Aunt Monica says that Mr. Lloyd has taken all the trouble concerning them. Beatrice could not be troubled with them, he would say; she had not been accustomed to children. Their first child was a boy. Mrs. Lloyd, it seems, did not try to get accustomed to them. She did not nurse her boy, but got a young mother from a maternity hospital to do it for her, who rocked him to sleep with unhallowed songs, while she was singing sacred words to heavenly music in the room below. Then, after a few years, a girl was born, and no more followed.

Mr. Lloyd, on the contrary, was exceptionally fond of children. He was oftener in the nursery than Mrs. Lloyd was, and indeed, those nursery days were, Aunt Monica believes, the happiest of his life. "I wonder you can be so absurd, my dear," his wife would say, after finding him lying on his back as Gulliver, or going on all fours as a great bear, with the two little ones by his side. And of course it had its absurdity from Mrs. Lloyd's point of view, for a man who had had the remotest prospect of a bishopric, to be down on his hands and knees playing at bears.

At the age of eleven, Charles Lloyd had been sent to school. Up to that time his father had taught him. No very easy task, says Aunt Monica, for he was a self-willed and self-indulgent boy. Mr. Lloyd had taught Linnet too, but she had given him not the slightest trouble; not that Linnet is particularly docile, says Aunt Monica, but she was and is the embodiment of bright intelligence and sprightly affection.

I long to see this Linnet, of whom Aunt Mona has often spoken, and always speaks so fondly. She bears not the slightest resemblance, it appears, to either father or mother. Her name belonged to her grandmother on the father's side—"a very absurd name," her mother had said; but she did not insist on a finer one, as the child would be Miss Lloyd.

Later, when Charles Lloyd was settled at Eton, Mrs. Lloyd determined that Linnet must go to school. Could he not go on teaching her? Mr. Lloyd had pleaded, with just a little instruction from some one—his wife he meant. But Beatrice had not been accustomed to teaching, he explained to Aunt Mona, and so his plan, as well as the proposal for a governess, was negatived, and Linnet was sent to school.

Mr. Lloyd took all the trouble of selecting one, and he himself took her there. The stranger, says Aunt Mona, into whose hands, after searching inquiry, he gave his treasure, was moved almost to tears to see the man tremble so when the child sobbed upon his breast at parting, and she cried altogether when he came for her on the morning of her first holiday, and received her into his arms with a heart-hunger in his face.

It is impossible to hear of Mr. Lloyd's love for Linnet without feeling an affection for him and understanding him better. He is one of the people who are always misunderstood; and but for the danger of doing him injustice, I do not think Aunt Mona would have allowed me to know so much of his private history, involving as it does so much of blame to his wife.

The years had passed since then with but little change. Mrs. Lloyd was settled at a distance from her family and friends, but she endured the comparative dullness of Highwood with much equanimity. It was not society she had been brought up to please; it was herself.

When I first saw her she was reclining on an easy-chair in her own drawing-room, dressed in a graceful and somewhat youthful fashion. Her muslin gown showed a glimmer of a fine white neck and beautifully moulded arm. Her hair had scarcely a touch of grey among its glossy folds, and there were no lines on the small well-shaped forehead. The delicate features still retained their perfection; and it was only round the mouth, and at the corners of the eyes, that wrinkles told the tale of half a century of mortal life.

There had, however, been one change in their conditions of life, which had stood instead of a great many, and that was the necessity for a curate. Mr. Lloyd had been ageing rapidly, and a rather severe attack of illness had recently rendered such help imperative. He would gladly have dispensed with it, but found himself unable to do so; for the present curate was the third of his line, and it had not been a brilliant one. He had clearly missed his vocation in the art of healing. Besides bringing the poor people about the rectory in the most reckless fashion had pervaded the house with the unpleasant odours which issued from his room, as he brewed the potions which he expected the sick to drink down.

He was constantly treading upon forbidden ground. Unfortunately there was much forbidden ground in the rector's domestic paradise. His fussy interest in household matters, qualities of food and wine, domestic expenses and arrangements, etc., would have led him to discuss them with pleasure; it seemed hard that he should not be allowed to do so, since they were left entirely to him. Mrs. Lloyd had never been accustomed to anything of the sort. Then his harmless gossip about the parish and the poor had been forbidden likewise, and the curate would persist in giving details of all the troubles which befell the rector's flock. This most troublesome man was never out of the cottages where any infection happened to be going. Mrs. Lloyd could not be expected to put up with it. She had never been accustomed to such things. He would have turned the drawing-room into a dispensary, and thrust a pestle and mortar into her dainty hands (as he did to his wife when he got one), and she was first cousin to a countess. But, worse than all, the most distant allusion to religion was tabooed. Mr. Lloyd could not open his mind on the subject of sermons, if indeed he had cared to do so. And all this had been done, without any harshness, by a steady gentle pressure, acting as sweetly and unconsciously as one of the forces of nature.

It struck Aunt Monica, as the present curate of Highwood is on the eve of departure, and his place has not yet been filled up, that Claude might like to come here. She thinks Mrs. Carrel and Clara would like it, and would come too, if a house could be procured for them, and she has written to Mrs. Carrel to propose it, and, at the same time, mentioned the matter to Mrs. Lloyd. Mrs. Lloyd was graciously pleased to approve of Claude, as far as Aunt Monica's recommendation went. She hoped he was a gentleman, concerning which we could assure her. According to her, the present holder of the office was not. "Did you ever see such hands?" she said. "They cover his plate completely, and you would think he had never worn a pair of gloves in his life. I cannot tell you how thankful I am that I shall not be obliged to dine daily in company with them."

This was not, it seems, exaggeration. To such a complexion had she come, through sheer self-indulgence, that the poor curate's big brown hands would have been a positive and growing annoyance to her, and would have actually overshadowed her every meal.



Contrary to my expectation, Claude seems desirous of making the change. His health seems to be suffering where he is. His mother writes full of thankfulness for the prospect. She evidently urges it, and promises to follow him to Highwood whenever they can get quit of their present abode, and he feels settled enough to allow of their coming to him. I have done nothing to forward this. It is for Claude to determine whether he would care to be so near us. It cannot hurt Lizzie. I have kept his secret, even towards himself have kept utter silence concerning it. I feel sure he has not ceased to love her. Does he love her in despair, or hope? I almost fancy he might hope to win her. She cannot be suffering. I believe she is quite happy. Perhaps it was only a childish fancy which the brave child conquered for my sake at once and for ever. Thank God that she has not suffered—not as I have done. She is full of sweet content, and takes up every duty cheerfully and simply.

Claude has been in communication with Mr. Lloyd. The latter was good enough to go up to London and see him, and Claude has come down for a final interview with his rector before entering on his duties. He is staying with us for a day or two; yesterday he dined at the rectory. He is charmed with Mrs. Lloyd. Only the day before Mrs. Lloyd had been lamenting the necessity for receiving him, but then she received him with the most perfect sweetness and cordiality; while Mr. Lloyd, who came into the drawing-room somewhat late, seemed oddly hesitating and uncertain.

Mr. Lloyd, who is very short-sighted, has an unpleasant way of looking at the contents of his plate, as if he were very much engrossed with the food set before him, and Claude, like everybody else, at first sight thinks him very inferior to his wife. He was deprecating and fussy, too, while she sat at the head of the table the very picture of serene repose. The servants, it is true, waited on her assiduously, indeed, seemed so occupied in supplying and anticipating her wants as sometimes to neglect their master, but Claude set this down to her superiority. They liked best to wait on her, of course.

Had Claude never seen a well-bred woman before? We were tempted to ask him the question. His mother, a gentlewoman by birth, was that, and much more; but he was very sensitive to perfection of any kind, and Mrs. Lloyd's beauty and breeding were very perfect in their way.

He was glad, however, to be left alone with his rector for the rest of the evening, for he wanted to speak about his duties and the part he was expected to take in the services. He had been aware that Mr. Lloyd had kept him aloof from the subject in his nervous way during dinner. But as soon as we ladies were gone, and Claude had seated himself, after closing the door behind us, he appeared more at his ease, and, as if relieved from some restraint, lay back in his chair, and became at once familiar and kindly.

Mr. Lloyd began on the topic of lodgings, which we had already discussed with Claude, Aunt Monica pressing him to stay with us till he could settle himself comfortably, and he declining firmly to be our guest for more than a few days, and engaging Aunt Monica to provide for him in the village.

"My curates have hitherto lived under my roof," said Mr. Lloyd, "and I should have been glad to arrange it so for you also, as suitable accommodation is difficult to find here; but the fact is, it disturbs our plans to have any one with us. Mrs. Lloyd is very fond of quiet, and we must keep rooms for my son and daughter, both absent at present. Then we have had to throw two of the rooms into one, as Mrs. Lloyd found her bedroom inconveniently small, and as her maid sleeps on the same floor, there are only the servants' rooms left."

All this was said in a rapid yet hesitating way, Claude in vain attempting to assure him that there was no need to trouble himself. There were too many reasons in the rambling apology, which of course set Claude thinking there was no reason at all, except that he was not wanted—a very sufficient one, which he felt that he had no right to resent.

Having expressed his polite acquiescence in all that Mr. Lloyd had said, Claude asked, by way of saying something practical, if there was any place in the village, or any farm-house in the near neighbourhood, at which he could lodge. He was not at all particular, he said. He had begun his work as an East-end curate, and had lodged in Whitechapel.

"A Bluecoat boy takes some time," he added, "to acquire fastidiousness in regard to bed and board."

"True, true," Mr. Lloyd replied, with a preoccupied air; "still, I wish I could have found something better for you."

"Then you have found something?" said Claude.

"Well, yes," was the answer, "there is one house in the village where you could have rooms; a nice little parlour and bedroom, but I don't much like your going there. The mother and daughter are very well; they come to church regularly. Indeed, Mrs. Bower once did me a great service, a very great service; saved my child's life, in fact. But the man, Mr. Bower, bears a very bad character, and he is a complete atheist."

"Is there any need for us to avoid his house on that account?" said Claude. "There is a great deal of infidelity abroad," he added, "and we ought to lose no opportunity of meeting unbelievers on their own ground, I fancy."

Mr. Lloyd looked up in alarm. "I hope you are not inclined to controversy, Mr. Carrol," he said. "It is a thing I never meddle with; it seldom does any good; and there is no need for it here, I assure you. With the exception of John Bower, and—and one or two others," he added, with greater hesitation than ever, "I do not think there are any infidels in the parish; men like John Bower can't understand, and the educated unbelievers of our day won't listen to evidences. The only evidence they can both alike understand is a Christian life. Let us set them an example of that." He spoke these last sentences with a force and dignity contrasting strongly with his former manner.

"I preach the morning sermon myself," the rector went on; "you will conduct the rest of the service, and preach in the evening. The congregation in the evening is entirely composed of servants and villagers. You will have to preach the Gospel to the poor."

"I could not have nobler or more congenial employment," Claude replied.

"You can see that controversial subjects would be useless, if not hurtful," Mr. Lloyd continued, "and that plain practical Christianity is all that is required."

"A vast enough requirement," thought his hearer, but he kept silence on the point.

"Do you think I should be subjected to annoyance if I went to this person's home to lodge?" he asked, changing the subject.

"No, I don't think so," replied the rector; "though Mrs. Dutch, at the 'Great Hart,' won't allow him to frequent her parlour, on account of his blasphemy, I believe. I don't know what to say about it. Perhaps you had better see Mrs. Bower, and judge for yourself."

The responsibility was evidently too much for Mr. Lloyd, and he laid it on Claude's shoulders. He was suffering under a deep-seated and long-standing paralysis of the will, and it was painful to him to exercise the diseased function.

It was a great relief to him to be told that Aunt Monica had already undertaken to help in the matter, and that there was no need for him to trouble himself in the least. When they passed on to higher topics, Claude was astonished to find that he was talking to a man of larger mind and wider culture than he could have believed possible, co-existing with such curious defects of character.

"And he has," added Aunt Monica, "a large measure of the almost forgotten grace of a true humility."

――――♦――――


CHAPTER XXVII.

CURATE AND CARPENTER.

AND so Claude is settled down in the village, after having been with us for a week. It was on a Saturday he was expected, and he would not let us send the carriage to meet him. He said he preferred walking and having his luggage fetched, as there was a box of books too heavy for the carriage. His coming in this way was the cause of an encounter which has made a great impression on his mind.

The afternoon sun was hot, and the road white and dusty, but on either side the corn and pasture-fields runs a broad belt of grass, sprinkled plentifully with the shade of spreading trees, and soft and pleasant to the eye and foot of the wayfarer. On one side walked Claude, carrying a black bag in his hand, and before long he was aware of another young man walking on the opposite side, also with a black bag. They passed and repassed each other as they walked apart, till an amused smile grew upon Claude's face.

I know exactly how he would look. Claude's is not a handsome face, but it is one which irresistibly attracts you; a face alive in every feature with the mind it indexes. His head looks bigger even than it is, with its immense masses of wavy light brown hair. His grey eyes are large and soft, but they are deep set in his head, and shaded with thick eyebrows. His nose is nondescript, and the mouth and chin too prominent for beauty; but it is these irregular features which give its power of expression to the face. The quiver of the wide nostrils, the tremulous movement of the lips, are full of a sympathy swifter and keener than is well for their owner's peace of mind or repose of body. Young as he is, there is already a worn look about Claude, heightened by his extreme slightness of figure, a slightness which borders on emaciation; and yet the expression is not of suffering. He says he has never had a bodily ailment in his life that he can remember. It is rather of joy as of one who drinks deep of the keener delights of the Spirit.

I can fancy what a contrast he presented to his wayside companion; for Claude has pointed him out to us already. He hopes to make a friend of him; but his recognition of Claude's friendly bow was a rather surly one. He is not older than Claude in years, this young man, but he looks older in experience of life, somehow. More manly, some would undoubtedly call him—an altogether finer animal. He belongs to a different class of society. You can see that at a glance, though his clothes are better than Claude's, and more carefully put on. He is handsomer, too, after a type seldom seen except in the workman and the noble, the ease of the intermediate classes evidently not tending to produce it. His features are fine as a piece of sculpture, and lofty and disdainful in expression. His complexion clear, but a little too fair and florid, and his hair of a rich golden brown, curled closely round his neck, which is burnt brick-red with exposure to the sun.

These two had been ascending a gentle slope, and when they reached the crown of it a little dilemma occurred. The grassy belt on one side of the road became narrower and narrower, and at length entirely disappeared, leaving one of the pair on the bare and dusty highway. It happened to be the smiling pedestrian who was thus cut off, and who thereupon smiled more decidedly, crossed over to the other side, and greeted his fellow-traveller with a friendly nod.

"We seem to be both going the same way," he remarked; an original observation which was echoed by one equally so on the state of the weather. Then they congratulated each other on the harvest, with the gravity of men who had a stake in the agricultural prospects of the country, and then they marched on in silence.

The road swept down only to ascend again, and this time on the crest of the undulation they came in sight of a village.

"That is Highwood, I suppose," said Claude, pointing forward.

"Highwood-on-the-Green," replied the other. "Highwood is on this side, about a mile off."

"Oh, I did not know there were two Highwoods," rejoined Claude. "Are there churches in both?"

"Churches!" was the answer, or no answer; "there are plenty of them, for all the good they do."

"You are chapel, I suppose," said Claude, and I think I see the gleam of humour in his eyes as he said so.

"Neither one nor other," said his companion, with energy. "I count them all alike, deluding the people with old wives' tales, and making a very good thing of it for themselves."

"That is not true," was the retort, flung back, I have no doubt, with dilated nostrils and head in the air, as if the speaker enjoyed the prospect of combat; "making allowances for men's faults and failings, and for their failings more than their faults, the clergy are sincere and disinterested. I am a clergyman, and I am not going to make a good thing of it. I should have made a much better thing of it, in your sense, by taking myself elsewhere than the Church. The world is by far the best paymaster, I fancy."

"It won't pay much longer for humbug, at any rate," said the other.

"Humbug!" repeated Claude. "You cannot think that we clergymen stand up in the pulpit and deliberately declare what we know to be false! You must give us credit for believing what we teach and preach, and any sincere belief is at least worthy of a hearing—is at least not of the nature of imposture."

"You would not grant a hearing to mine," was the reply.

"I certainly should," was the rejoinder, and the two stood still, regarding each other keenly, but certainly with strangely different feelings, while the young man poured forth his hatred and contempt of Christianity in a strain of perfect passion.

"But it was for Christianity as he had known it in some obscure and narrow sect," said Claude to Aunt Monica, "and I was glad to notice that he passed over the name of Christ in a silence that savoured of reverence, and spoke in glowing terms of the Bible as the Book of Books."

Then, as they walked on, the young man began the old controversy concerning the contradictions between science and theology about the record of Creation—that inspired poem, Aunt Monica calls it, not capable of contradiction by any revelation of science.

And, so talking, they entered the village of Highwood, which at that hour was so quiet as almost to seem deserted. The green was left entirely to the geese, who paddled over it, cropping the grass or sipping at the margin of the pool. Even when you know better, the afternoon quiet of an English village always appears the image of a perpetual Sabbath.

Something of this feeling passed through Claude's mind, as he exclaimed—

"Here is the place, but where are the people?"

"Here is one of them, at all events," said his companion, spurning with his foot a prostrate figure.

They were crossing one of the green corners already mentioned, and the man was lying on the grass, face downwards. Claude stopped involuntarily. The attitude of the man and his breathing were not those of ordinary sleep. He stopped, and, stooping down, managed to turn him over on his side.

"Leave him alone," said the other, contemptuously. "He'll sleep it off."

"I suppose he is drunk," returned Claude, as he looked down on the degraded form and bestial face of the man.

"I should think so," was the reply, and the speaker moved on in advance.

"You know this place well, do you not?" asked Claude, again reaching his side.

"I was born and brought up in it, and my father before me," he answered.

"Is there much drunkenness in the place?" asked Claude.

"Where is there not? It is the curse of this country," replied the other, "and it's my opinion will be her ruin." He had got upon a theme upon which he could talk, it seemed, for he poured forth a diatribe on the working-classes to which Claude listened in astonishment and sorrow. Venturing to speak of their needs and their aspirations, he was met with a storm of words on their drunkenness, their idleness, their selfishness, their dishonesty. "Do you think I would abuse the class from which I sprang if I did not know that they are ruining themselves and their country?" he cried. "I ought to know. I employ hundreds of them, and am in daily contact with them till I am nearly driven mad with their disgusting folly—when I know that if they would but be temperate, and self-denying, and honourable, they might hold their own in equality with any class."

By this time they were in the village street, and Claude was walking behind his companion. "It was his way of asserting social equality," said Claude, "the pavement being too narrow for both of us." At the end of the street they parted, but not till Claude had sent a shaft into the armour of his antagonist—for antagonist he seemed determined to be—by saying—

"At any rate, the men you speak of don't belong to the Church of Christ. I hope we shall meet again, and that you will hear me try and prove to you that the religion you abjure might do something towards raising them to the condition of temperance, self-denial, and honour you think they might gain."

And saying this he bade him good-bye, with a profound interest easily to be accounted for by the nature of their interview.

――――♦――――


CHAPTER XXVIII.

PHILLIS AND PRISCILLA.

ON one side of Highwood Green runs the line of cottages called "The Street," and on the other the houses named for distinction "The Row," and, standing impartially between them where they draw together, is the church. The village churchyard lies round the sanctuary, and behind it is the rectory, in the midst of its lawns and gardens.

Very lovely and peaceful it all looked on Sabbath morning, as Claude saw it from the crown of the unwooded slope which he had stretched across the stubble to gain, and from whence he descended as the bell sent its first clang upon the air, and he could hear it echoed from other hamlets hidden away among the woods. Fresh from the morning fields Claude came to the service of the church, and his hearers had seldom heard that service more impressively given than as he gave it, with a fervent simplicity which brought out its meaning as no fineness of intonation, no mere grace of elocution could do.

After service, with an interval for lunch, came the Sunday-school. Claude was expected to take the leading part there, assisted by the schoolmistress and a small staff of teachers, of whom Aunt Monica was one. She had taught in the school since her girlhood, and had resumed her work there gladly and at once. And Lizzie and I had accompanied her, really more as scholars than as teachers, though Lizzie already helped with the little ones, while I remained by Aunt Monica's chair.

The school, whither we conducted Claude, was a plain building with a cottage at the end for the schoolmistress. We passed into the wooden porch, garlanded with roses and honeysuckle, and opened the door; a rush of subdued voices coming out upon the air as we advanced into the room. Then the murmur gave place to silent staring. The schoolmistress, a slight girl, dressed in black, and not very remarkable, except for a look of patient endurance, came down the floor to meet us. Claude introduced himself, and we went to our places and our tasks, for we were a little late, and the discipline was unusually strict.

The school was indeed very well conducted, though the assistants were few. They consisted of an elderly gentleman, whom Claude had noticed in one of the front pews at morning service, and of two young girls whom he had not noticed, because they had been seated with the children in the little gallery. They might have been of any rank, for they were well and simply dressed, and both more than merely pretty. The one was teaching the small boys, the other the little girls. The schoolmistress and Mr. Martin offered Claude their classes, but for the day he preferred to remain unattached, so he took the little ones in turn, and made acquaintance with them and with their teachers, Phillis Bower and Priscilla Jewel.

Phillis and Priscilla were as nearly as possible of the same age. Both had passed their nineteenth birthday, and both from different causes looked older than their years. Phillis was tall and stately, slender without slightness, a large, softly-moving, beautiful creature. Her eyes were not black, but of an indescribable lustrous darkness. Her skin seemed a transparency through which one saw such delicately-blended tints of rose and pearly-white, as nothing on earth ever equals, not even the inside of a shell. But what every one noticed even more than the girl's beauty was the peculiar quality of her voice. It seemed to caress the words it uttered, so that you longed to hear some simple word repeated, to fix in your mind the memory of a tone so sweet. Claude was very much interested in the two young teachers, and after the children had been dismissed, he made inquiries concerning them, which the schoolmistress and Aunt Monica were able to satisfy—the latter having known them all their lives.

Priscilla was the daughter of the village smith, a widower, with no child save her. She had left school at thirteen, having persuaded her father to let her keep house for him, the old woman who had kept it ever since her mother died having fallen ill, and gone to live with a married daughter at a distance. She had made a nice little housekeeper, the schoolmistress said, though left entirely independent of control; and she was doing her best to restrain her father from the sottish intemperance which had crept upon him.

Phillis' parents had been rather higher in the social scale. Her father had been a considerable freeholder on the border of the forest, and a grazier and cattle-dealer besides. He still dealt in horses and hounds, and let one or two fields for grazing; but the bulk of his property had been sold piecemeal, and they were in reduced circumstances—owning, indeed, little more than the house they lived in. Phillis and Priscilla had been all their lives devoted to each other, so that whatever the one did the other wanted to do. Phillis had therefore left school when Priscilla did. It was not the village school, but a small proprietary "establishment," kept by a widow lady in the Row, whose pupils had never numbered more than half a dozen, and had sometimes consisted of Phillis and Priscilla alone.

Phillis's love of children had prompted her to seek the Sunday-school, and Priscilla had followed as a matter of course.

The Bowers had let part of their house lately, but Phillis was not so much occupied at home as not to be able to spare an hour every now and then to help in the school; indeed, to help anywhere, if help was wanted. Phillis was a universal favourite.

"And they let part of their house," said Claude, suddenly recollecting and thinking at the same time, as he told us, that the home out of which this sweet and modest girl came could not be a very bad one.

"John Bower is a very bad man," remarked the schoolmistress, as if in answer to his thought.

"So I understand," returned Claude.

"He does not drink," she continued; "at least, that is not his worst fault. Priscilla's father drinks a great deal more than he does, but he has a terrible temper, and he is an infidel. He has been the ruin of his family. He has driven them all from his house, till only Phillis is left. You would be sorry for his wife, if you knew her, and for that matter for Phillis, too," she concluded.

Claude informed her that he was, in all probability, about to take up his abode in this lion's den, at which she smiled grimly, but told him that John Bower would not interfere with him if he was not interfered with.

"But I can't promise not to interfere with him," said Claude. And, indeed, he confided to Aunt Monica that he thought his interference might be valuable at a crisis in the Bower family if he became an inmate.

Soon after, passing up the street, we saw the two girls, Phillis and Priscilla, walking arm-in-arm, and bowed to them as we passed. And Aunt Monica supplemented the schoolmistress's narrative by giving Claude a particular account of the families of both.

The last two houses in the village were those of the Bowers and the Jewels. John Bower's was a good eight-roomed house of modern date, but with front and back gardens old enough to be pretty. John Bower himself was the biggest and most powerful man in the parish, or in all the parishes round. He and his wife had been the handsomest couple in the district. She was a meek and quiet woman now, but she had been gay and high-spirited enough in her time. She was a farmer's daughter, and had brought her husband a few hundred pounds, which he had spent in a single year, gambling and running over the country coursing. He did not drink then—at least, not to excess—but he was subject to storms of passion, and remonstrance on his course of conduct never failed to rouse them. So it was whispered in the village that in John Bower's house murder would be done. Indeed, the pair led a life so unhappy at first that it was like to have come to an end one way or other. Mrs. Bower, on one occasion, was about to return to her father's house; but her husband vowed that if she did he would do her some mischief, and she evidently believed the threat, for she remained, though in mortal terror. Her life would have been unbearable but for her children. Curiously enough, when she began to have children, some strong animal instinct made her sacred to him. While she had an infant in her arms she was not only safe from violence, but secure of a certain rough tenderness. But as soon as the children got beyond infancy, and had strength enough to oppose his will or elude it, her torture began again. And then it was through them that she suffered. Many and many a time had she lied, with fear and trembling, to hide their childish faults from a violence that hardly stopped short of bloodshed. Her eldest son was but a boy of fifteen when he and his brother, a year younger, rose up one moonlight night, and fled away from home. Every effort was made to find them, but proved unavailing, and with a strange conflict of feeling their heartbroken mother rejoiced that they were not to be found.

Mrs. Bower had had thirteen children. Two daughters, before they were seventeen, made run away matches, and had never crossed their father's threshold since. Then followed a troop of little ones who died, some in the hour of birth, some in tender infancy—owing, perhaps, to the mother's vital energy being lowered through fear and anguish—and last of all had come Phillis, whom her father had hitherto treated with extreme indulgence, though there were times when his savage nature was as savage as ever, when he would wreak his fury on everything within his reach, knocking the furniture about, and breaking the crockery into fragments. But Phillis is always safe from his fury. He wants the girl to love him, and she has a soft caressing way with her which satisfies him. But love him she does not. She has an abject fear of him, and nothing drives him mad so readily as to see her shrink.

It was, however, agreed that evening that no time should be lost in finding out if Claude could lodge with the Bowers for the present.

On Monday morning, therefore, we started for the village, bent on negotiating for "the rooms," which a ticket set up against the flower-pots in the ground-floor window, announced as "to let."

A little maid, not too tidy at that hour of the day, opened the door for us, and ushered us abruptly into the parlour. It was a small square room, full of faded furniture, but filled with a soft green gloom from the half-drawn Venetians and the ancient geraniums which stood in the window, with their leaves all turned one way seeking the light, and in it sat Phillis Bower.

She was not doing anything, and yet she did not appear idle. She had already done her share of the household work and part of the little maid's, and was free to spend the rest of the morning as she chose. There was a cottage piano in the room, but it was closed.

Claude need not have cast a glance of apprehension at the instrument, for Phillis never opened it, indeed did not like its music at all; neither did she like the smaller sorts of needlework. I think she might have wrought a piece of tapestry, but she preferred making a child's frock to wool mats and bead baskets and the other things in vogue in the village.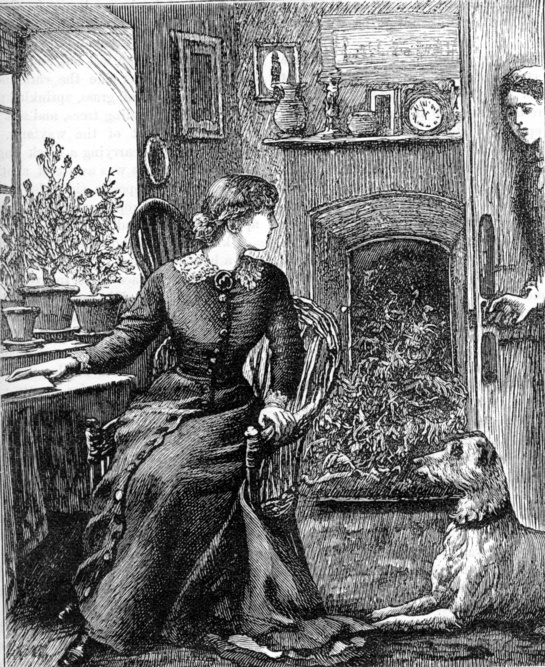 "At the girl's feet lay a great white hound."

Everything in the room was worn and faded, everything save Phillis and the flowers. The carpet, which had probably had an objectionable pattern, was now almost plain grey, with here and there a hint of departed floweriness. But the fire-place was filled with a mass of green bracken, and beside it Phillis rose clad in silvery grey. Her dress was of some light woollen stuff, streaked with green in the shape of trimmings, a dress like a flower-sheath, and out of it grew the lily throat and flower-like face. At the girl's feet lay a great white hound, her slender head resting on her long fore-paws, and her eyes fixed on her mistress's face. As she rose in answer to our greeting, the dog rose with her, and followed her from the room, which she left saying, simply—

"I will send my mother."

Our negotiations with Mrs. Bower were speedily concluded, with the result of engaging the vacant parlour and bedroom on the floor above. Indeed, we had very little choice in the matter, for no other lodgings were within reach. Claude liked the appearance of the rooms, for, though neither lofty nor luxurious, they were neat and clean, and he liked Mrs. Bower herself very much indeed. At the end of the week, therefore, his luggage—consisting of a carpet-bag, a leather portmanteau, and a box of books—was conveyed to John Bower's, and Claude found himself at liberty to begin his ministry at Highwood.



Claude comes into contact pretty often with the young carpenter—or builder, rather—whom he met coming into Highwood. His name is Thomas Myatt. He is considered quite a great man here, young as he is, for he is on the high road to fortune. He is very intimate, it seems, with the Bower family, but he is evidently averse to have anything to do with Claude.

The latter, who is extremely fond of walking, has several times encountered Myatt in his excursions in the neighbourhood. Once they dined together at one of the old inns to be found in the forest. Claude says it is a delightful old place, with the forest—the real unenclosed forest—coming up to its very doors. He peeped into the yard, with its hens and chickens and dove-cotes, and into the orchard, where a row of time-stained worm-eaten benches ran under the old apple-trees. An elderly landlady came out to the threshold to welcome her guests, and as Claude came up to her, he recognised Myatt. The landlady evidently knew them both, for she greeted Mr. Myatt by name, at the same time dropping a curtsey to Claude, and treating him with a cordiality finely tempered by respect. Mr. Myatt had to wait till Claude had ordered his dinner, and the former turned it off with a careless—

"Get me something at the same time."

"Very well," replied the landlady, with a good deal less of deference in her tone, which Claude could see the other was not slow to notice and resent, and which did not, in all probability, increase his kindly feeling towards him.

Still, the two strolled off together, the landlady coming out to warn Claude not to go too far into the forest—a warning which was not so superfluous as it seemed. Not many hundred paces off, they plunged into a maze of Nature's making, and Claude found himself treading on turf as soft as velvet, in and out among heaped-up masses of thorn and bramble, which seemed to choke the stunted trees, and which speedily deprived him of all knowledge of his point of departure.

"This is the first time I have ever been in a forest," he said, "and there is a kind of enchantment in it."

But Claude could get nothing from Myatt but monosyllabic answers, though he kept quite aloof from any allusion to their former meeting.

After wandering about for some time they heard a bell ringing vigorously at no great distance, and Myatt, followed by Claude, hastened in its direction. The stable-boy had come to the edge of the forest to ring it as a summons to their respective meals, which they found laid at respective ends of the table, with a whole desert of distance between them. When they had taken their places, Myatt at once uncovered and began to eat, while Claude bent his head over the meal with a murmured thanksgiving, and the contempt of his companion apparently culminated, for he resisted all Claude's attempts to draw him into conversation.

On another occasion nearer home the forest tempted him into its moonlight recesses, and he wandered there admiring the weird and lovely effects of the moonlight till he came upon a little aisle-like glade which it pleased him to pace up and down in meditation.

At length he began to think of returning to home, as the hour must be getting late. But how, became the question, for short as must be the distance, be had lost his way and must take one of the many paths about him with the merest chance of its being the right one. He smiled, for the dilemma did not appear a very serious one, but at the same time he ceased his meditations and roused all his active energies. Once more he stood still, trying to make out his bearings. How quiet it was; there was no wind, but every now and then the faintest sighing swept round and over him. His footsteps were almost noiseless on the grass, still he thought he heard some sound and listened again. He was right, some one was close at hand. "Who is there?" he cried, and a man's figure started out into the open space between him and the moon. With some amusement Claude recognised him, and doubtless at the same time revealed his own identity, for Myatt gave vent to an expression of impatience. Claude hastened to apologise.

"I came out for a stroll before going to bed," he said, "and have fairly lost my way."

"You're not far off it," said Myatt. "Keep straight by the thicket there," and he pointed before him, and then turned and strode away without another word.

――――♦――――


CHAPTER XXIX.

AN OLD STORY.

ANOTHER Christmas is at hand. It will be here in a fortnight, and we are already looking forward to it. Ernest is coming, of course; but he has asked Aunt Monica if he may bring Mr. Temple with him, and she has written to say she will be happy to receive him. We are going to have several guests. Mrs. Carrol and Clara are coming, and we must have Claude to be with them. Why can I not be happy? I have found out that change of circumstances, however much for the better, does not make one happy. It is only when one has all the love and all the work one wants that it is possible to be so. I don't think the love would make one quite happy without the duty, which is only love in action; and, then, all love of a natural and noble sort brings duty with it—and I am quite sure the duty would not without the love. Aunt Monica is my ideal of happiness; her spirit is the very spirit of love and duty. And now her outward life is in perfect harmony. Her days are one round of love and duty. She knows all the people here, and goes among them, always ready to do the right thing, and speak the right word. Then she has her hours of devotion—that word with two meanings, one of service and one of love, or worship, and the two meanings interchangeable. I know that she is happy, and I know, too, from whence her happiness comes. In her own words, "The only true and abiding joy of life is the sense of a divine sympathy, a divine companionship. When this is attained, all life flows into a new order, a new activity, a new repose."

Lizzie, too, is happy. She is full of service. Claude finds plenty of work for her to do—reading to the old people, and helping in the school and in the choir. I also help in the latter; and the singing in the church, we are told, has already much improved.

The greatest drawback to our Christmas programme will be the absence of Edwin. What a strange thing is character! What a strain of unbending will there is in all our family, except, perhaps, in me. I fancy I have it somewhere, like the beam in a pair of scales, but it is always being weighted down on one side or the other. Here is our father, who has himself tasted all the bitterness of alienation from his family, and yet he will not take the slightest step to bring Edwin back to his allegiance.

Doretta behaved very ill to papa, but I am sure he would have forgiven it—forgiven is not quite the word, I am learning to attach a deeper meaning to that—but overlooked it, for Edwin's sake. If he had only come to him as of right, and allowed his wife to take her own way about it, he would have been gladly received. There is a coarse insolence about Doretta, and in her narrowness she is incapable of respecting the rights of others, or even of estimating the results of her conduct to herself; so she held him back from us, drew and kept him away from us with all her might. It is impossible to press our father to make advances to him, and Edwin himself makes none, for what passed between them last week makes it almost more hopeless than before.

Lizzie and I went up to see Doretta and the children. We have been several times without seeing him, though we wrote to say we were coming, and stayed as long as we could in the hope of doing so. She received us pettishly as usual. The children looked ill-cared-for, and were fretful, and the house and its mistress slatternly in the extreme.

Doretta boldly complained that they could not make ends meet. For the first time we learnt that there was a bill of sale over the furniture, that furniture of which she had made such a mystery. It had simply been ordered without being paid for, and the furniture dealer had taken this method of obtaining interest for his money. Edwin was not well, she said. He often—indeed, nearly always now—went without dinner, got a cup of coffee and a bun in the middle of the day, and came home to supper. Our hearts ached at the picture she drew of his life; perhaps it was meant to harrow our feelings, but for the most part it was unconscious.

Lizzie and I could bear it no longer. It was I who went to papa and told him that Edwin was in debt, and suffering actual privation.

"He has not asked me for anything," was our father's answer.

"And if you wait till he does?" I asked.

"Yes, I understand," he said, "I may wait for ever. It would have been my own case. But with me he has only to ask in order to have; I would have asked in vain. However, I should not like him to be in want. Let him know from me that he shall have a cheque for £50 quarterly."

I was overcome with joy. Papa did not do things in a half-hearted way. I thanked him fervently, and on my own behalf and Lizzie's as well. Edwin will not be with us at Christmas, but we shall know that he is in a position of comparative ease and comfort.

That very day my father put an envelope into my hands containing the first instalment of his bounty. At first Lizzie and I thought we should like to send it to Edwin on Christmas Day, but we felt that it would be cruel to postpone relieving him from anxiety and care. So we rushed into town again, but this time we sought Edwin himself in his dingy quarters.

After much climbing of broad shallow steps, and much staring-at from clerks and porters, we were shown into his office. It was an old-fashioned house, and close and dirty, as if nobody ever thought of air, or light, or cleanliness, in connection with business. Edwin rose as we entered, and greeted us with his old sweet smile; but he turned deadly pale, and staggered to his stool again. We quite forgot that one side of the mere box of a chamber was glass, and that any number of eyes might be onlooking as, one on one side, and one on the other, Lizzie and I held him, and kissed his dear sunny head.

He was first to recover and smile again, for we were, to tell the truth, crying over him. He shook himself free, and pointed to the glass wall with a look of comic consternation, which brought us to our senses.

"We have brought you a bit of good news," said Lizzie, eagerly.

"Let's hear it," he said. "Heaven knows I have need of it. I'm almost tired of my life."

I put the envelope into his hands, telling him that our father had decided upon allowing him two hundred pounds a year, and that we had brought him the first quarter. For a moment he looked bewildered, incredulous, and then he laid his head upon his desk, and broke down completely, crying like a child.

"You don't know what it has been," he said, when he had succeeded in calming himself a little, "and I can't think what it was coming to—people dunning and threatening us, waiting for me here, waiting for me at home, and Doretta grumbling that we should soon have had neither food nor clothes, and the children keeping me awake all night, till I could hardly get through my work. Never mind; it is all over now. It is good of him—dear old dad! You know I couldn't have asked it; but I will write and thank him. Wait here a minute," he added, "and I'll go and ask for a half-holiday, and see you into the train, and then get home with the tidings."

He got the half-holiday, and came with us to the station, talking all the way with a kind of excitement which was quite new to us in him. He did not ask us to go home with him; he was probably aware that we might not be welcome. So we got back to Highwood, glad and yet sorry—glad that we had been able to see him relieved from his painful position, and yet sorry that his life contained so few of the elements of happiness—he who was always the brightest of us all, for whom any one would most certainly have predicted the happiest lot.

* * * * * * * * *

Mr. Temple has declined the invitation, at which Ernest is somewhat offended. I did not think it could have wounded me, but it has. I have been dreaming again, vain and foolish dreams, turning my life into a fool's paradise; but they are gone for the present, and in a day or two we shall be in the midst of what are called the festivities of the season. Half a dozen dinner-parties abroad and one or two at home are among them.

The Winfields have returned to the Court, and we shall have to meet them; indeed, we dine there the day after Christmas. Ernest has declined, but it will be quite impossible to prevent him from meeting Edith. Linnet Lloyd was expected home, but she is not coming now until after the new year. We have not seen her yet, and are full of desire to see her, for her own and her father's sake. She has been abroad with one of her mother's sisters, somewhere in the south of France.

Another interesting neighbour has presented himself, one concerning whom our interest is of a more than ordinary kind. One day last week papa came into the drawing-room saying, "Whom do you think I met to-day, Monica?"

"I don't know, I'm sure," she answered unconcernedly.

"I met Benholme, and asked him to dinner. He has just returned after a long absence. Poor fellow, he has met with a sad accident this autumn."

My father had gone on speaking without waiting for answers, while he glanced through some papers on the writing-table which stood in one of the windows. Aunt Monica did not reply immediately, but she looked troubled and distressed.

"What has happened to him?" she asked, in a low tone, while a red spot began to burn on her delicate cheek.

"His sight has been nearly destroyed by an accident on the moors, and what is left appears to be gradually quitting him."

"I am very sorry," said Aunt Monica, simply, but with much agitation of voice and manner.

"It reminds me of old times, Mona, to meet him here. He was your chum, though. Do you remember he used to cry for you till they were obliged to send the carriage over to fetch you to play with him? and we used to look out of the window in the rain, and see you driven off in solitary state, when you were so small you had to be lifted on to the seat."

"We shall see him this evening, then," said Aunt Monica, quietly, and immediately left the room,

She quitted us so swiftly and softly that my father did not notice her going, and continued, "By the way, he took after me. I think that was the cause of the rupture between him and our family, was it not?"

When he looked up, and found that she was gone, he said, "You will like Mr. Benholme, Una," and then relapsed into silence.

I had heard of him and of his collection of pictures, always to be seen in his absence, which had been latterly prolonged for nearly three years, but I was not aware that Aunt Monica had known him. She had never mentioned his name, or offered to take any of us to his place, though it was in the near neighbourhood, and was famous for its woodland views, as well as for the treasures within its walls.

Accordingly, in the evening Mr. Benholme came. He had a great green shade over his eyes, to preserve, I suppose, what little of sight remained to him, and which, from the wavering way in which he sought our outstretched hands, could not have been a great deal. There was not much of his face to be seen, but his smile was singularly sweet, and his voice had a special charm. We had Claude to meet him, and he was particularly delighted with him. Lizzie, too, fancies that he is something like what her favourite Mr. Ruskin must be. He invited us all to the Park, to see his pictures, and asked Claude to inspect his library, and make any use of it he can.

He was extremely deferential to Aunt Monica all the evening, while she was her own sweet and serene self; but there was nothing to tell of the tender intimacy that had been between them, as I came to know. It was Miss Amphlett who told me. Mr. Benholme had called on the old ladies, as he always did, and they were full of his praises when next I saw them.

"He knows we can't afford to buy pictures," said Miss Nancy, "and so he has brought us these." And she drew my attention, already indeed caught by them, to a pair of small landscapes which adorned the wall. "He wanted to encourage a young artist, he said, and give us the benefit of his taste."

"Ah, my dear," said Miss Bell; "your Aunt Monica ought to have been mistress of the Park, and its master would have had something else to do than run after artists and foreigners. It has never been a home for him since she gave him up. He is here to-day and away to-morrow; and I don't know what will become of him if he loses his sight."

I could not ask questions, but I looked the interest and sympathy I felt, for Miss Nancy went on—

"You may look sorry, child. It's long ago; but it made our hearts ache that these two, who had been bound up in each other from the time they were babies, should have been parted. She gave him up because her father wished it, and her mother could not bear any more strife in the family. It was killing her, I believe."

"Monica could not have done anything else," said Miss Bell.

"He never would believe that she had really cared for him, though," said Miss Nancy. "By that time he had neither father nor mother himself, and be could not feel the strength of the pull upon her which put them asunder. He always thought she had left off caring for him, and she never gave any of us the power to interfere. And then he went abroad for years, and only comes now and then to look after his pictures. They are not much company for a man. Not but that they are very nice—at least a few of them—but they're not like real men and women and real trees and grass," concluded Miss Bell, echoed by a shake of the head from Miss Nancy, as they looked at their pictures; by which it was easy to see that the two old ladies were but lukewarm in their devotion to the art of painting.

And so at last I know the story of Aunt Monica's youth—tender, and dutiful, and pure.

――――♦――――


CHAPTER XXX.

LINNET LLOYD.

SO much has happened since Christmas Day that I hardly know where to begin the record of events. Ernest came down, having evidently made up his mind to treat Edith Winfield with complete indifference. He did not try to avoid her in the least. He was neither cold nor haughty, but assumed the manner of a mere acquaintance, from whom she might expect the ordinary courtesies of society, and nothing more. It was not a safe position to assume, seeing that it was so unreal; and I feared its passing into a covert hostility, productive of greater misery between wits like theirs, which could wound at will, and tempers which might easily be brought to have the will to wound. But my fears were groundless. That which has really happened is something which I did not fear at all, which it never entered into my mind to imagine. That Ernest should renew his relations with Edith was not in all my thoughts. And yet this is what has come to pass. He has renewed his relations with her, and they are evidently far graver and tenderer than before. For this time it is not his affections alone that are involved. The love is not on his side only. When the situation dawned upon me, I felt utterly at a loss how to take it. I was alarmed, and less this time on his account than on hers. I was half-inclined to doubt his sincerity in the matter; and I feel sure that Edith has in her nature an unlimited capacity for suffering. It was wonderful to see her so transformed by happiness, so elevated into a sweet and gentle gravity.

Neither of them has spoken to me as yet, but during the last week of Ernest's stay their preference for each other's society was not in the least concealed, neither is Ernest reticent as to the fact of his correspondence with her.

Closely following this came Claude's illness. He has been seriously ill.

Mrs. Carrol and Clara failed to come to us, as had been arranged, because the former was suffering from a rather severe attack of bronchitis. Then, immediately after, Mr. and Mrs. Lloyd went to pay a visit to the sisters of the latter, with whom Linnet was residing—Linnet, whom I can hardly now think of as a stranger, so much is she at home with us already.

Claude was, of course, left with his hands very full, both of Sunday services and week-day visiting, as there happened to be a good deal of sickness in the parish.

Our old couple at the lodge have a son, a gardener, whose children unfortunately had taken the measles, and Claude considered it his duty to ask after them almost daily. They had taken ill early in the week, and at first he could see very plainly that he was not wanted. He was not admitted to see them, though they were his school-children, but was detained in the cottage kitchen by the mother, a woman of a rather different type to the rest of the village mothers. Mrs. Curd is hard and grasping where they are careless and easy-going, and stern and ill-tempered among her children while they are mostly the reverse. But she is cleanly and thrifty where they are dirty and improvident. She would have no doctor; a doctor was not wanted, she said; all that was necessary was to keep them warm enough. They (the measles) had come out on all but Johnny, and they were doing very well.

At the end of the week, however, Johnny was very ill. We were kept informed of their condition by their grandmother, who had the most profound distaste to her daughter-in-law's system of management, and indeed, I shrewdly suspect, to the daughter-in-law herself. Johnny was very ill, and would Miss Lancaster see what could be done for him? for his grandmother was sure that her darling would die if he wasn't seen to. Johnny was the baby, the beauty, the mother's as well as grandmother's pet, between whom there was a terrible struggle for his baby affections. So one day I went to the cottage, and entered it along with Claude. Claude was welcome now, however, for the mother needed help for her darling. Would we come and see him?

Into a back room, the atmosphere of which was sickening, we followed the mother. We were told that the others had got through, but how they ever got through, not the measles, but the atmosphere of their room, which was heated like an oven, we could not imagine. Mrs. Curd took care to shut us in too, before she showed us the child, guarded by a screen from every breath of air. The other children were dressed and sitting on the bed, very ugly and speckled, but already in an advanced stage of convalescence, which they proved by greedily munching apples; but Johnny was lying in his little cot unable to lift his head. He was really a pretty child, and his round cheeks were not spotted or speckled, but beautiful with the brilliant flush of fever. He was delirious too, which had frightened the mother more than anything.

"You ought to have the doctor," said Claude, "at once."

"You think he is very ill, then?" said the woman, an agony of apprehension in her face and voice.

"And you ought to let in some purer air," he ventured to add.

But she had a fixed idea on this point, and would admit no air whatever, for fear of chilling him.

"Let me go for the doctor, then," said Claude, and his offer was gratefully accepted.

So Claude went for the doctor, while I, after saying as much as I could to comfort the mother, went home to send some jelly to the sick child.

Sunday intervened, and Claude preached and went through his other duties under the influence of a very bad cold. It did not prevent him, however, from going to the Curds' a second time that day, after he had finished his supper, for little Johnny was dying, in spite of the doctor's care.

Nothing more could be done for him, poor little fellow. He had lain for the last twelve hours on his mother's lap but feebly conscious of life; and not at all, the doctor said, of pain. He would have been more comfortable in his little bed, but his mother would keep him in her arms, as if she could hold him back from death, though he was three years old, and she had to lean against the wall to support herself under the strain. The doctor had kindly laid a pillow across her knees, and the child on that, that be might be easier, and so she sat holding him. The fever flush had faded, and the white face looked small and pinched, and was now and then slightly convulsed, at which a quiver of pain passed over the mother's face, every other sign of which she controlled.

It would have been the greatest relief to the passionate and undisciplined woman to give vent to her grief in sobs and cries, to beat her breast and tear her hair; but she sat there silent and motionless, till nature almost sank beneath the strain. No food had been prepared in the cottage that day. The man, coming and going, but mostly sitting silent, with his head bent down and his hands upon his knees, watched his wife, and the children watched their parents with subdued and awe-stricken looks, eating the bread put into their hands without a murmur.

"Don't speak, sir," said Mr. Curd, respectfully, as he led Claude into the cottage. "She won't speak, nor let any on us speak, fear o' disturbing him;" and Claude hushed his steps, and went in and sat down in perfect silence.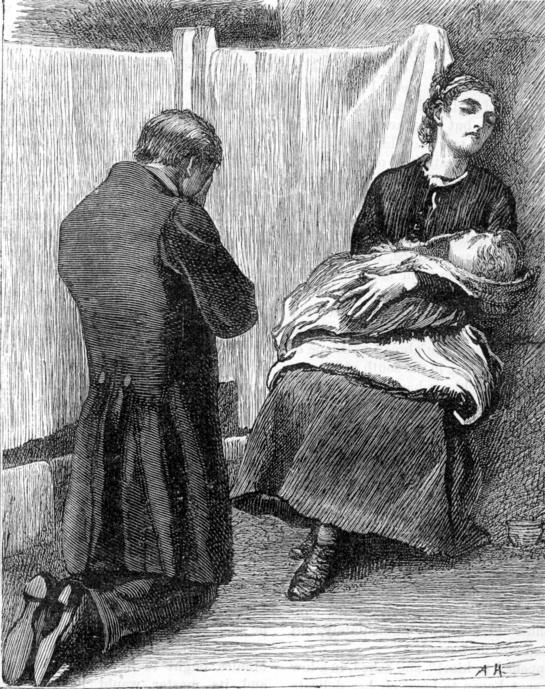 "Claude thought the last moments were passing, and knelt in silence."

Mrs. Curd only shook her head, when at length he advanced softly and looked at the dying child. The breath was coming quick and faint. Claude thought the last moments were passing, and knelt in silence. No one knelt with him. The man sat looking at the fire, the woman at the face of her child; only, when he rose from his knees, and all was the same as before, Mrs. Curd's face was harder and more set than ever. What did it matter that these people did not worship some triple-headed hundred-handed idol? their attitude towards the Unseen was much the same as if they had. Mrs. Curd resented that prayer, knowing that, as far as she was concerned, nothing would come of it—that her child would still die. At last she seemed almost fainting, leaning her head back against the wall, and closing her eyes, while her breast began to heave, as if the sobs must burst forth.

"I wish you would take something, Jane," said her husband. "She hasn't had anything but a cup of tea as the day's gone," he added, turning to Claude.

"She ought to have a little cordial," he whispered back; "have you got any in the house?"

They had none; and, without further words, Claude went out and got some. He got it at "The Great Heart," and Mrs. Dutch gave him of her best; and when he tendered payment, would have none of it. When Claude returned there was still no change, and he poured out some of the restorative, and held it to the woman's lips. She shook her head, but he whispered, "It will give you strength." She knew what he meant—that the end was near—and took it from his hands. He was himself faint and shivering, and he put a little more into the cup, and drank it with her. The action touched her more than anything else, and two large tears fell upon the child's bosom.

Once more Claude looked into the wan little face. The eyes had been some time closed, as if he had been asleep, but just then he opened them, and looked up in Claude's face, bright and conscious. Then he turned them on his mother, and smiled sweetly, and with a gentle sigh he was gone!

There was a pause, till the mother's grief found vent in frantic outcries. Her husband tried to calm her. The children—whom no one had heeded for hours, and the youngest of whom had already fallen asleep—cried—cried and clung to her in terror.

Claude tried to pour into her mind the consolations of religion, but she would have none of them. He spoke of the will of God concerning us being wholly good, the going forth of His love to us.

"It's no use telling me that," she said. "He's taken Johnny, and what had he done to suffer so much?"

He spoke of the spirit that had just returned smiling to its Giver, freed from all the cares and troubles of life—from all its hardening and corrupting influences. But she would not hear; she could not receive it; and, powerless to comfort, weary and sick at heart, Claude took his leave of her.

For a whole week Claude went about, stiff and sore in body, and, as he said, once more confiding his troubles to me, with mental and moral feelings somewhat analogous. On Sunday he had to go through the same work as on previous Sundays, but he had not the same spirit to bring to it. A deadness seemed suddenly to have fallen upon him, and he struggled with it in vain. The service he read was the same service, the same simple and solemn, the same grand and consoling words, but the words seemed to have lost their meaning, and to have become but empty sounds. He questioned if it was right for him to utter the language of prayer. His sermon, short and simple as usual, sincerely conceived, and worded with the modesty of a fine understanding, how should he read it? In his present mood it was dry as dust to him, bereft of thought and feeling, a mere jumble of barren phrases. He had never before experienced such a darkness, and it seemed to him, as it seems to every one who has felt the like—and who has not?—that it had fallen down upon him never to be lifted up again.

The next day the doctor was called in to see Claude, who was too ill to get up, and the doctor pronounced, with a smile, but to the great tribulation of Mrs. Bowers, that her lodger had the measles.

That evening Aunt Monica wrote to Mr. Lloyd a letter which recalled him, and brought us Linnet.

"Why should everybody smile because a young gentleman has the misfortune to take the measles?"

This was Linnet's account of the reception of Aunt Monica's letter. Every person at her aunt's breakfast-table had smiled at the announcement, which Mr. Lloyd had made as he read it.

"And nobody answered my question," Linnet, went on, "only papa said he should have to go home at once; and then I pleaded to go with him, and I was so glad to come. Do not think me hard-hearted; I am very sorry for Mr. Carrol. Don't you think he has a funny name, almost as funny as mine—'Linnet'—'Carrol,'" and she laughed a bright musical laugh.

"Does he sing?" she asked, chattering on; for she had lost her first shyness with us.

We made answer that he did, and well.

"And is he nice?"

"We are very fond of him," was my answer.

"Then I am sure I shall be. I am very glad, for I have scarcely done anything but think about him.

Mamma would hardly let me come, for fear of the measles.

"'What has made him take the measles?' she asked, when she came down and heard about it; and she did not smile at all. She thought people only had them in the nursery; and Aunt Lucy, who is always reading books about medicines, told her that people could have them more than once, only mamma had never had them at all. She escaped by not being born when the rest of the family went through the ordeal. But of course papa did not wish her to hurry home, and he promised to take such care of me.

"So the next day, you know, we came down by the two o'clock train, and were here in time for dinner.

"I am quite safe," she went on, "for I had them not many years ago, at Miss Pope's. A whole roomful of us were shut up together, and we had a merry time of it.

"But of course papa had no sooner had his dinner than he went off to see after Mr. Carrel, and came home in such a terrible state of mind that in spite of all I could do he would not allow me to sleep a single night in the house, but insisted on bringing me to you."

It was true. Mr. Lloyd had come back from visiting Claude in a state of the greatest perturbation. He had been assured that the disease was of so infectious a character that he might get it into his clothes and bring it home, and not only give it to his household, but to the whole parish. As it happened, Claude was at his worst, did not appear to know him, and was indeed very seriously ill. He would not admit Linnet into his study till he had changed his clothes and undergone various ceremonies of purification, in addition to which Linnet insisted on fumigating him by dancing round him with a whole shovelful of burning pastils.

But in spite of her gaiety, Linnet was very much concerned about her father's curate, and shared in her father's anxiety when the terrible thought occurred to them both that he might die while as yet his friends had not been warned of his danger. In every wakeful and lucid moment he insisted that his mother should not be told.

Father and daughter were deeply moved at this aspect aspect of the trouble, and it is not to be wondered at that Linnet's last thoughts at night and her first in the morning were of Claude. Her being with us, however, was a perfect farce. She was flying down to the rectory the first thing in the morning, and coaxing her father to allow her to go with him into the village to inquire for Claude. Of course Linnet had her way. With a troubled conscience Mr. Lloyd gave permission. He would only inquire at the door. But it was Phillis who opened it, and Mr. Carrel was much better. He had been asleep, and woke up himself again, and would Mr. Lloyd go up and see him?

So Mr, Lloyd went up, and Linnet remained in the doorway chatting with Phillis, who gave it as her opinion that Mr. Carrel was a miracle of goodness, and Phillis's eyes looked unfathomable things, as indeed they could; so that Linnet declared herself positively awe-stricken.

Then her father came out looking radiant with reassurance.

"Mr. Carrel," he said, "is quite sensible now, and so glad that we did not send for his mother. She is an invalid, he says, and it might have done her a great deal of harm."

In his exhilaration Mr. Lloyd forgot all about the infection, and walked home with Linnet at his ease, a forgetfulness for which he paid with days of compunction, culminating in dread, when on one occasion he happened to hear her sneeze.

――――♦――――


CHAPTER XXXI.

MR. BENHOLME.

CERTAINLY Claude did not suffer from neglect. He got rapidly better—got to the stage of being ashamed of being ill, and wanted to get up and go out. But the doctor and Mrs. Bower would not permit him to leave his room under a fortnight, and he had to submit with as good a grace as possible. He could not have been very dull there; he had his own favourite books, and Mr. Benholme sent him some he had particularly wanted to read. Mr. Benholme seemed to have all the books he wanted, and so he had—at the booksellers'—and he would take the trouble of cutting them open before sending them to the invalid. Mr. Lloyd saw him daily, and Mr. Benholme would have seen him daily also, but I suppose he considered it might be too much for him, and came to inquire of us instead. But he sent him grapes and hot-house flowers, which Phillis carried in and arranged temptingly. Claude wrote to his mother that he was in a fair way of being completely spoiled.

"I am terribly hungry, and could dine off bread and cheese," he wrote, "but I have all sorts of good things. Phillis is always bringing me something she has cooked herself, and she does it so nicely."

He had explained who Phillis was, but evidently without conveying a correct impression; for his mother and sister laughed at the romantic name, and pictured the contrast to it which the stout and homely bearer must present.

Phillis and her mother had indeed devoted themselves to their lodger, and it was the former who kept us best informed about his condition.

When the fortnight was over, Mr. Benholme proposed, as the weather was still very cold and stormy, that Claude should come to him for a change before venturing out of doors. He came to us, as usual, to negotiate the matter, and found Mr. Lloyd and Linnet with us.

"I have seldom come across a young man who interested me so much," he said; "You won't be afraid of me, Mr. Lloyd? I promise not to make the smallest attempt to proselytise."

"I can trust you," said Mr. Lloyd; "and I trust also that he could hold his own against your dreary negations."

Mr. Lloyd might in some things be weak, but he was sincere, and paid to the truths he taught the homage of believing them able to cope with error.

I noticed, on that occasion, how shy Linnet was with Mr. Benholme, and her father, it seemed, had noticed it also, for when he had gone he rallied her upon it.

"Why, Linnet, you had absolutely nothing to say to your old friend," he remarked.

It was the first time they had met in his presence; but Linnet had seen Mr. Benholme several times before. The first time they met he went up to her frankly, and, holding out his hand, said, evidently trying to scan her as distinctly as he could, "I doubt if I shall ever see you again." He could not see the brilliant colour which emotion brought into her cheeks, or the quiver of the sensitive mouth, or the moisture in her dark eyes. He could see none of these. And he could feel that, instead of clinging to his hand, she gently withdrew her own, and sat down at a distance. I noticed then how sad Mr. Benholme looked. It was curious, with that big ugly green shade hiding all but the mouth, how much its delicate lines expressed—more than the whole face would have done, it seemed—the smile lighted them so swiftly, and the sadness fell so sharply and clearly defined.

Mr. Benholme had, it appeared, been a great favourite with Linnet, and she had not scrupled to declare it by every childish art. She had been very food of walking with him, her hand in his, especially of walking up and down the picture gallery at the Park while he discoursed of art and artists, making no difference because she was a little girl. And the last time he had seen her she was a little girl still, brown and thin, with big clear eyes, and a tail plaited down her back. "He would have been astonished at the change the last two years have made, if he could have seen it," Aunt Mona says; "she is not so much bigger, but she is altogether brighter," bright with the dawn of womanhood, a late dawn, for though she is the same age as Phillis Bower, she looks ever so much younger, and the objectionable plait at which Mr. Benholme had freely laughed, had given place to a dignified Grecian knot.

Mr. Benholme had asked us all to dine with him on the first evening of Claude's stay at the Park, and Linnet and her father were to be of the party. All this time Linnet had never seen Claude. This was to be their first meeting, and as soon as Mr. Benholme was gone, Linnet, ignoring her father's remarks about the latter, pretended to be in a flutter of anticipation concerning her meeting with the former. For a whole fortnight this invisible being had been invested with a variety of interest for her. She had written amusing letters to her aunts retailing his perfections, wondering what he was like, telling of the attentions which, being unknown, she paid him, and of the way in which he appreciated them, eating up in a single day a dish of "universal satisfaction," which she had got the cook at the rectory to make for him. It was all done and said quite openly, and was, of course, pure innocent nonsense, only Aunt Monica shook her head over it, and tried in her gentle way to put a stop to it. She knew that, innocent as it was, it would annoy Linnet's mother, only her mother had gone to pay another and a more distant visit, and Linnet's letters to her contained nothing of the sort.

And now that she was going to meet the paragon, she declared that it would cost her a great deal of thought and care to dress as befitted the occasion. The result, however, was not very formidable. She put on a plain black silk, with plenty of white lace about her slender throat, and fastened a bunch of pink and white azaleas in the braids of her hair behind her ear. And so dressed Linnet is charming. Not beautiful; there is not enough of colour in the face, nor even of striking delicacy in the lines of it, but there is grace and purity, and some secret charm, which is fixed in spite of her changefulness. Her motions are light and quick, though devoid of restlessness, and you can see that the whole nature is responsive in the extreme. She would be quite lost in a brilliant crowd in the midst of which her mother would move like a queen. No one would notice the little brown thing, and she is very shy with strangers, though speaking and acting with a quick spontaneousness and absence of consciousness when with those she loves. It is then she shows to advantage, and I have the very best and brightest and sweetest of her, for I have won her love without any effort of mine.

When the evening came Lizzie elected, I know not why, to stay at home with papa, and I went with Aunt Monica and Linnet. Mr. Lloyd was the only other gentleman beside Claude and our host.

We six dined at a round table spread with fruit and flowers in low plats, so that our talk was free and unimpeded—the pleasant natural talk ever welcome to unsophisticated human beings as bread to the hungry or water to the thirsty.

After dinner we three ladies rose and retired, Linnet demurely enough. There was something strange in our being there in the mansion without a mistress, just the touch of strangeness which begets romance. I wondered if Aunt Monica felt it. We ascended the broad stair-case, and entered the softly-lighted drawing-room, where the fire was burning brightly, the lamps on the tables, the candles lighted at the piano. Linnet had brought a little music with her, which she had caught up in the hall, and held in a roll in her hand; but here was some of the best and newest music arranged on the stand, and not only the new music, but old songs of her own, girlish songs which she had sung here years before. He must have remembered and procured them.

"It is so like him," she said, delightedly.

She ran her fingers over the keys, and found the instrument in perfect order. Then she wandered all round the room, and looked at the well-known pictures that adorned it; caught sight of her own slight figure and brown face in one of the mirrors, and nodded half-merrily half-wistfully to the reflection, and finally came and sat down on a low stool at Aunt Monica's feet, who had followed her movements with a look of peculiar tenderness.

We had not been ten minutes alone, however, when the gentlemen entered the room. Mr. Lloyd came in, followed by Claude, looking still something of an invalid, and lastly, by their host, with his shaded eyes and uncertain movements.

The rest of the evening was devoted to music.

Linnet sang well and sweetly, as befitted her name. She did not seem at all afraid of Claude; and Mr. Lloyd claiming my attention, while Aunt Monica and Mr. Benholme sat chatting at the other end of the room, they were soon engaged in singing bits of duets and snatches of song together, leaving off and beginning just as caprice or memory dictated. The only things they sang perfectly were a few hymns, and Aunt Monica and Mr. Benholme, as well as Mr. Lloyd and I, ceased talking for a while to listen to their voices blending in the simple melodies.

A few days after this we all lunched at the Rectory, and the next day the whole party lunched with us, and so on it went for a whole week, a happy week of almost spring sunshine and warmth. Not a day passed without some communication between the three houses.

At the end of that time Mrs. Lloyd returned, and these communications somewhat abruptly ceased. The weather, which had been unusually mild for the season, suddenly became cold and wet again, which might have had something to do with it. Of course, Linnet returned to her mother, and so our lives resumed their ordinary routine. Claude was so far recovered as to be able in part to resume his duties; and Mr. Benholme was preparing for a sojourn in London, where he was about to undergo an operation in the hope of restoring his sight, or, rather, of preserving what remained of it.

Loss of sight must be to Mr. Benholme the greatest of earthly calamities. He is a solitary man, living much alone, though at intervals he mingles freely with the most intellectual society of London. The few ties of his early life have been severed by death, and he has formed no new ones. He is evidently one of those who prefer solitude to uncongenial society, but then it has hitherto been a solitude full of society—that is to say, he has had his books and art, and the treasures of art with which he has surrounded himself. If the operation proves unsuccessful, what a terrible deprivation it will be to be cut off from all these resources, and thrown back entirely on himself, finding his beloved solitude an intolerable blank. As it is, he lives in a perpetual twilight. He says he is schooling himself to believe that the alternative of complete darkness will be but little worse, and it is this which the great surgeon he has consulted tells him he must risk in order to regain his sight completely.

But this darkness, which threatens the world without, is as light compared to that which has fallen on the spirit and threatens to settle there. Without God and without hope in the world describes it literally. And thus constituted, life is fast becoming to him a thing which no beauty of nature or of art can redeem, from which he begins to turn with terrible loathing, which, even as a brave man, he does not feel bound to conquer, for there is in it nothing of abjectness or fear.
――――♦――――


CHAPTER XXXII.

REBUKED.

CLAUDE is at a loss to account for the treatment he receives from the Rectory, and especially from Linnet Lloyd. Linnet had appeared to him all that was bright and sweet, frankly kind and frankly responsive to kindness, when suddenly she had become the very reverse of all this, chill of manner, cold of speech, almost resentful of bearing. Claude did not know what to make of it. There seemed to be two Linnets, and both could not be true, and either being untrue, left the true Linnet false. I do not think he makes too much of it, but he evidently feels it, and, unfortunately, it cannot be concealed from any of us.

Claude never thought of connecting his perplexity with Mrs. Lloyd's return. How should he? Mrs. Lloyd had not changed toward him—was still, though somewhat aloof, faultlessly polite and kind. And yet it was her work. There were indeed two Linnets. The first was Linnet herself, acting on her own genuine impulses, which were simple enough—impulses toward life and motion and pleasant companionship. The second Linnet was Linnet swayed by impulses which were quite foreign to her nature, and which only succeeded in misrepresenting and warping it.

If Mrs. Lloyd had been told that her influence on Linnet was likely to be most mischievous, that she might only be narrowing her daughter's heart, and spoiling her daughter's temper, while she tried to improve her manners, she would have been simply incredulous.

How could she sour any one's temper, her own having always been perfect? Linnet's was by no means so. That her calm sweetness might irritate and mortify more than the bitterest wrath, would have appeared the veriest malice of falsehood.

On the eve of her return to Highwood, a little accident had happened which had given an unfortunate turn to Mrs. Lloyd's thoughts concerning her daughter, and which was destined to produce much mischief and misunderstanding. A letter had arrived from Linnet to her Aunt Lucy on the day when Linnet's mother had returned to her sister's house, as a resting-place on her homeward journey.

Mrs. Lloyd had seen the letter delivered, and had recognised the writing, and very naturally expected that it should be handed over to her; and her sister had at once placed it in her hands, with, however, just enough of hesitation to rouse the feeling of distrust, which her words may have deepened, for she did it saying—

"You must not mind Linnet's nonsense; her letters to me are always full of it."

The unfortunate letter was written in Linnet's brightest and gayest style. It was giving an account of her first and subsequent meeting with Claude, and was rather more laudatory than might have been good for him to know. It certainly was not a model letter, after Mrs. Lloyd's standard, but it was full of sheer innocence and gaiety of heart. There were no formal messages of respectful affection to her aunts, no remembrance of her mother, to be forwarded or otherwise, no neat remarks or aspirations for the health or happiness of her relatives; only a few details of her simple pleasures and overflowing admirations.

Mrs. Lloyd had kept the letter; she showed it to Aunt Mona, repeating all that she had said on the subject to her unsympathising sister Lucy, with tears in her dove-like eyes.

"Where can she have learnt to be so pert and forward? I never could have written such a letter," she exclaimed.

It was perfectly true; she could not, any more than a dove could sing. "But there is no harm in it from her," she had been assured.

"I fear it is the way of girls nowadays," she had sighed.

And even Aunt Monica had waxed wrathful over the idea of Linnet being a girl of the period.

"How I hate the phrase," she said, "confounding the greatest of vices and the greatest of virtues. Linnet is a fresh happy child. Girls nowadays are not so strait-laced as when we were young. But it is easier to tell what they are made of," she added.

We could not help feeling ourselves placed in a very difficult and delicate position, with Mrs. Lloyd pouring forth her grievances to Aunt Monica, and Linnet hers to me. I think Mrs. Lloyd afterwards felt that she had gone too far, even with that letter in the background, of her knowledge of which Linnet was not to be made aware. Aunt Lucy had been obliged to give up the letter, but she had begged that it might not be made a casus belli in the dispute which was impending. This Mrs. Lloyd had promised not to do, but she had returned a day or two earlier than she had intended—a proof of her unusual perturbation. She did not quite make the lights burn blue at the little dinner. Her presence was the reverse of ghostly, and she dressed in spite of fatigue, and did the honours of her table as faultlessly as usual; but the electric chain of sympathy was broken, the simplicity had become meagreness, the informality almost savoured of disrespect, the gaiety seemed foolish, and hid itself in common-place instead of clothing itself in wit and humour, and the whole was flat, stale, and unprofitable.

It was her mother's first evening at home, and Linnet had run up-stairs after her, and had remained in her dressing-room, expectant of caresses. And Mrs. Lloyd had stood with her hands pressed on the girl's shoulders, looking down into her upturned face, and had spoken, sweetly, oh! such bitter things! Linnet's brow flushed, and her ears burned at the very thought of them. They had been to her heart, at the moment of utterance, like the pain of a branding-iron.

She had said, "Linnet, my dear, I am grieved to have to tell you that you seem to me to provoke undue familiarity."

And Linnet had stared, astonished and uncomprehending.

"Mr. Carrel was much too talkative with you this evening; and from what I saw, my dear, I think you must have given him encouragement."

"Mamma!" Linnet had cried, in an agony of shame and reproach, and she had shrunk from the hands that held her. Then there had come indignant tears and indignant words; for Linnet was like the bird of her name caught wild, and would beat her breast to bleeding against any gilded bars. She was conscious of perfect innocence; but she could not be sure that she was not liable to misconstruction. How should she act so as not to incur such a liability again? Her delicate judgment was thrown off its poise. She was unable to assert her perfect simplicity. She did not know that hers was the noblest and truest of modesty, because making no suggestion of modesty itself. Then her mother was so much of a stranger to her—so altogether different in nature, and so much admired—that it seemed to the poor girl that she embodied what must be the opinion of all admirable people concerning her.

No wonder then that the next time Claude met her Linnet was utterly changed, gave him a limp little hand to shake, and spoke in a cold and measured tone, with eyes upon the ground. He asked himself vainly how he could have offended her, and resolved to ask her on the first opportunity; an opportunity which she of course avoided. Nor was it possible for us to offer him the slightest explanation. Still, at times, Linnet evidently forgot her role, and would beam on Claude with the spring sunshine of her smile, and speak to him in her happiest tones. She and her father were always together. He saw nothing of this by-play. To him she was all sunshine, all music. It was pleasant to see the delight they had in each other's society.

What walks they took in all weathers! Linnet always wearing some dark unspoilable thing. Indeed she preferred dark and plain things on all occasions, which she had a way of lighting up with a ribbon or a flower in a picturesque fashion of her own. How they sped along the frost-bound roads, what tracks they made in the mud, what Sloughs of Despond they crossed in the forest paths. Mrs. Lloyd, sitting at home, could only allege imprudence; and as Linnet never caught the predicted cold, she was allowed to continue her excursions. Mr. Lloyd having been duly warned to keep Claude at a distance, Lizzie and I were their frequent companions.

But Mr. Lloyd, in the open air and with Linnet by his side, though he did turn the cold shoulder upon Claude at the outset, was apt also to forget his instructions. They would meet him in the village, and Mr. Lloyd would lay his hand within his curate's arm and carry him along with him, interested in some village problem, and Linnet, on the other side of her father, would listen to their talk, and forget too, and join in it eagerly.

――――♦―――