A HEROINE OF HOME

BY

ISA CRAIG-KNOX

Illustrated by Arthur Hopkins

I FAIL to recollect much concerning my early childhood. The things I do remember are not the daily occurrences, but events that came with a sharp shock of surprise or pain.

I remember the birth of my sister Elizabeth, when I was five years old. I was crying after mamma, whom I had not been allowed to see all day. My little brothers were sitting in the sun at the bottom of the garden, which lay bathed in the light of a glorious sunset. Ernest was engaged in dissecting a Jack-in-the-box which had frightened him very much at first, and Edwin was filling and re-filling his shoe with the gravel of the path. I could see them from my seat in the window of the ground-floor parlour, which opened upon the garden. I suppose my childish heart had reached a desperate climax of misery, for my favourite doll—loved all the more dearly for the deformities which rendered her an object of derision to the precocious Ernest—my one-eyed darling was cast at my feet, and I had doubtless come to the conclusion that I could love her no more, when our nurse entered, brisk and smiling. "Crying again, Miss Una, and you've got a little sister! I wouldn't cry if I were you. There, if you'll be a good girl, you'll see her presently; but I couldn't take you up-stairs with a face like that! Why, it would frighten the baby into fits!"

"What have I got a little sister for?" I asked.

"What for?" repeated Susan, my nurse, with a grimace which usually greeted my formula of inquiry; "because you've got her. Come and see."

I gave her my hand, and she hurried me up-stairs, enjoining silence, took me into my own room and gave my face a hard and hasty scrub, tidied my hair, and trod on tiptoe to the door of my mother's room. There she knocked, and I was admitted, and led up to kiss my mother's hand, and to feel it gently stroke my head. But all the time my eyes were on the strange nurse, and on the baby-doll she had upon her knee; and I was invited to inspect it, and to admire its tiny hands, and when I asked in an awestruck whisper if it had feet, I was allowed to see them also. But I was both alarmed and disgusted when it began to pucker up its face and cry, and it was some time before I got over the feeling of repugnance which took possession of me.

Again, I remember recovering from a serious illness. Then, for the first time, my father appears in my recollections. He is standing over my couch—a tall thin man, with a handsome fresh-coloured face, dark thick eyebrows, and clear blue eyes; but my feeling for him is certainly not that which children ordinarily feel for even a careless father. It is a shy strange feeling, like what I felt at first for our kind old doctor, mingled with more of personal admiration. He was indeed a stranger to me and to all of us, visiting us only at long intervals, and for short periods; sometimes sending for our mother to meet him at Portsmouth or Southampton when his ship was in the Channel, instead of coming home to her and us.

On this occasion my mother stood by his side, and she was saying, "I thought we should have lost her; see how thin she is;" and she held up my hand in hers—a wasted little hand it was. Then she kissed it fondly, and laid it on the coverlet and left me. And I do not know if it was then or after, but it was a part of that time that I felt so wonderfully happy. The sunshine that streamed into my room seemed a marvel of glory. I had been carried down-stairs for the last few days before my father came, and I could see the old pear-tree, white with blossom, between me and the blue sky. The fresh-aired room seemed full of the perfume of health.

One moment is fixed in my memory with peculiar vividness. My mother had brought me a spray of apple-blossom, a perfect cluster of half-opened deep-crimsoned buds. I looked at it till the glory of the sunshine, the sweetness of the air, the blessedness of living, as life pulsed through and through my slender little frame, all concentrated themselves in the glowing fruit-blossom. I held it up in my clasped hands and offered it to God. In that same moment I knew that there was a God, and that He was good. And then, with the sun still shining, I said my evening prayer and fell asleep with my blossom lying on my breast. But I kept all these feelings to myself. I never heard my mother name the name of God. It was our nurse, Susan, who taught us our prayers, and I have heard our mother bid her hear us say them; but that was all—that was the closest allusion to religion or religious things I ever heard her make. Susan taught us to say the Lord's Prayer, and she knelt every night at her own bed, which was close to mine—for I have lain awake and watched her—and her kneeling figure impressed me more solemnly than her words; for her manner was rough and irreverent, though I afterwards knew that her heart was neither.

The next thing that stands out in my memory is the dread that took possession of my mind at the thought of being parted from my mother. It was on the occasion of one of my father's visits, and I, crouching in my favourite window-seat, reading over-heard a conversation concerning myself.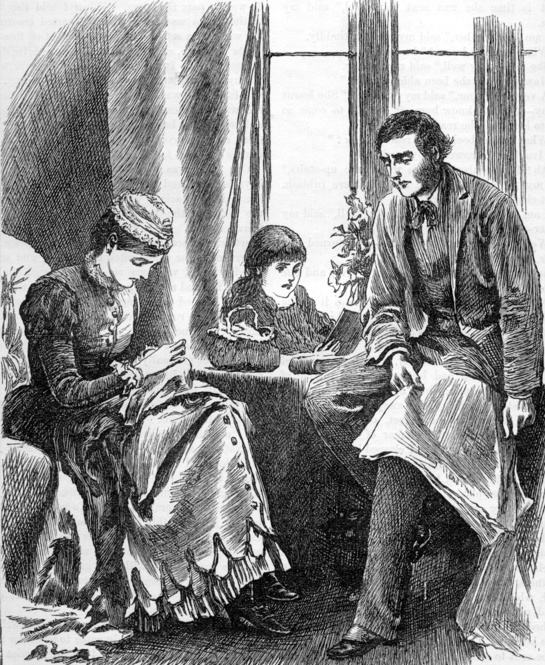 "I am teaching her," my mother said timidly.

"It is time she was sent to school," said my father.

"I am, teaching her," said my mother, timidly.

"What does she know?" he asked.

"She reads very well," said my mother.

"How long has she been able to read?"

"A very long time," said my mother. "She learnt in play—I hardly know how—it seemed to come so easy to her; and she reads everything."

"What is that book she is reading now?"

"'Ivanhoe,'" answered my mother.

"Ah! I remember: Scott's works are up-stairs," said my father; "but the rest are mere rubbish. What else is she learning?"

"I am teaching her to write and to spell," said my mother—"all I know," she repeated, sadly.

"Well, if you are satisfied—" returned my father, carelessly.

The tears came into my mother's eyes, and she answered, almost passionately—

"No; I ought not to be satisfied, unless it is the best for her. No! she shall go to school; but she has been so much to me, my little Una!" And my mother's voice broke into a half-sob.

I had been listening intently, with my eyes fixed on the page, which had become a mere jumble of black letters to me; but at that I was seized with a gust of passion, which swept me like a small whirlwind to my mother's feet, overcoming in a moment all my shyness and fear of my father. I dared I knew not what, but I clasped her knees, crying, "I shall not go, mamma, I shall not leave you; I will die rather!" and I turned round and faced my father, my eyes blazing with defiance.

But he only smiled, and drew me to him, saying, "I'm glad to see you have plenty of spirit, Una," at which, of course, my heroics vanished, and I became the shy blushing child he had always seen me. And he held me, in an agony of mental discomfort, between his knees, and praised my silken hair—mere rings of hazel, which Susan always disparaged because they would not grow long and thick and admit of being brushed back from my forehead to form a waving mane behind. Then he kissed me, and said I should not be sent to school, for which assurance I only felt half grateful till I had fairly escaped into the garden.

After that conversation, and no doubt arising out of it, an arrangement came to pass which changed the aspect of affairs at home considerably. Our favourite room—the one which opened into the back garden, a large, dark-papered, Turkey-carpeted, unspoilable room—was turned into a school-room, and thither came our tutor daily. He was a young Scotsman from Aberdeen, and his name was Bothwell. He must have been very poor, for I remember lending him a pair of scissors to cut off the frayed edges of his wristbands, and telling him, with precocious housewifely thrift, that this plan would result in more fraying, and that they ought to be properly mended, and he answering, with a smile, that he had no one to mend for him, and that all that he could do was to pare the edges. When I told this to my mother, who was the tenderest hearted creature in the world, she set to work making a set of fine linen shirts for him, of which I was allowed to do the plainer parts. It was an immense pleasure to me, for my childish worship was given to this man. He was lame. He was frightfully marked with small-pox. He was' considered in the household a miracle of ugliness. But he was never ugly to me. His kind, clear, deep-set eyes were wells of light to me. His tongue was as a fountain of water in a wilderness.

Our tutor was a great success. I learned, the boys learned, and baby Lizzie learned. The whole house seemed seized with a love of learning, from the least to the greatest. For mamma took to learning also. I had sometimes felt a kind of heart-ache concerning her, since I had grown more observant. She would often look so sad and sigh so heavily, and I was sure she cried, though she tried to hide it; and she did not play and romp with us as she had seemed to do long ago. At first she did not come into the room with us when Mr. Bothwell was there. She never saw any one. Susan managed everything for her down-stairs, and with the tradespeople; but gradually she got to know him, and to come and hear him teach. And, indeed, it was not wonderful that she should come, for he made everything so interesting, especially for me, the oldest of his pupils. I had to prepare what he called my "meanings," a list of words with their uses and derivations, and in his further explication of these, Mr. Bothwell would forget how time went, and unfold to us all that lay hidden in some simple word, till language assumed new and richer powers every clay—magic powers, indeed. "To us," I say, for my mother joined in this task, and wrote the prescribed exercises as well as I. She was one of his scholars, and stayed in the school-room with us all the time, and he treated her with the greatest delicacy and respect. We all began Latin together—Ernest, my mother, and I—when Ernest had passed his eighth birthday and I my ninth.

Then in the afternoon, when Mr. Bothwell had been there some time, a lady came to teach me music, and my mother learnt too, and would practise along with me morning and evening. So we soon came to have plenty of work upon our hands.

And when the summer was somewhat advanced, we went away—as we generally did—to the sea-side, and our father joined us there. We saw more of him this year than usual, and he seemed to get fonder and fonder of the children. I say the children, for I fancy he never was so fond of me. Perhaps I repelled him, having a childish impression that he was in some way unkind to my mother. I had fancied she cried when he came sometimes, and then that sometimes she cried when he didn't come. But who could help being fond of our boys and little Liz? They were the most beautiful creatures in the world, I suppose, without exaggeration. Their eyes, changing from blue to grey as they got older, were large, and of the softest lustre. Their silken hair, more luxuriant than mine, and with lovely shades and gleams of gold in it, fell in clusters on their shoulders. Their faces were radiant with the softest bloom. Never were such lovely tempting mouths, such sunny arching brows, such saucy, lofty, mirthful, heavenly looks. People, especially at the watering-places, where they were dressed more gaily than at home—though our mother always kept us dressed in the perfection of childish dress, with purity, simplicity, and ease— people turned round to look at them, and ask, "Whose children are these?"

And at this time our mother seemed to grow beautiful and more happy. I thought she became very fond of books and of exercises and of music, and she began to sing again. But, for me, I am sure I was happiest when we got back to our own house, and were left to ourselves, and had our dear Mr. Bothwell back again.

Lessons had gone on briskly all the winter, and we were in the spring once more, when my mother began to droop, I remember, just when the apple-trees began to blossom with the first red buds. She had to lie down a great deal; and I had to take my music-lesson alone with Miss Brown, who was a very pretty lady, I thought, but I did not like her as I liked our tutor.

One Sunday my mother seemed better. It was a bright mild day, and she proposed to take me out with her—an unusual thing, for she seldom left the house on Sunday. After she had dressed me in her own room, I stood and watched her dressing; and she put on a black gown and mantilla, and a thick black veil over her bonnet. Then she stripped all the rings off her thin fingers, into the tray on her toilet-table, leaving only the plain gold one, and put on her gloves with a heavy sigh.

The bells were ringing when we stepped out into the street, and my mother let her veil fall over her face. We walked about a little while, it seemed without a purpose; and then, when the bells ceased ringing, we went into a church. My mother whispered something to the pew-opener, and we were put into a seat at the very back. I did not know the service, and I could not hear what was said, for the reading was careless, and we were far from the desk. I do not know if my mother heard it, or if she could follow it; but she soon began to weep under her veil, and she wept all the time. I remember well the intense misery that possessed me, and the constraint that I felt in making the slightest movement; only at last I got possession of her hand, and caressed it from time to time.

I had not been thinking much all this time. I had been learning a great deal, however; but that is a very different thing, and, at my age, a healthier one. I now confined myself to questions more easy to be answered than the old what for and why of everything, and they were answered very much to my satisfaction. I began to love knowledge above everything, and to treasure every scrap of it in a tenacious memory and also in written records filling a whole series of sixpenny copy-books. Mr. Bothwell himself with imparting secular knowledge. He had leave to teach us what he called "a body of divinity." My mother seemed to think the proposition a little startling, and murmured something about her husband not belonging to the Church. But he silenced her scruples by telling her that all he meant to teach was a foundation of morals, and that it was impossible to build without a foundation, which seemed quite to convince her, and she agreed. She would have agreed on precisely the same grounds if he had proposed to teach us Sanscrit, which it was rather a wonder he did not do. He then brought us next day a very unpretending little book, which he said contained a very excellent "body of divinity." The phrase struck me, and I asked why he called it a "body." "Because there is only one Spirit, Una," he answered, "and there are many bodies of this kind, and they're dead, all of them, till the Spirit comes into them."

In most of our studies, Ernest was following fast at my heels; but he seemed to learn without loving what he learnt. He had already a little mocking way, both at work and play, of pulling things to pieces. He began by liking things or people very much, and ended by laughing at them, and saying, What was the good of them? He was often restless and dissatisfied. Edwin was very different. He was a little fat fellow, who took everything with the sweetest insouciance. Mr. Bothwell said his mind went into his hands and feet at present, and I can testify that during lessons his hands went into his breeches pockets and fumbled there among all sorts of odds and ends, for his doing so used to fidget me. He had also a funny way of standing on one leg and turning his head a little on one side, like a listening bird, which made me laugh. As for Lizzie, she was a perfect darling, bright as a sunbeam, open as the day, first to win love and favour, and to use it for the happiness of those she loved. Yes, even then most loving and most worthy to be loved; even then as in the days to come.

――――♦――――


CHAPTER II.

A FIRST SORROW.

I PUT off to another chapter the one great event of our childhood, the event which ended mine—the death of our darling mother. It was spring when she began to droop, early spring, with the March winds and unblown buds. That day she took me to church was the last time she was ever out, for the weather became cold and wet, and when at length it brightened into May she was no longer able to move out of doors. But Susan dressed her every day, and nearly all the time I could spare from lessons I went and sat beside her, reading for the most part, it is true, but looking up from time to time to meet her smile, or sitting on the edge of her couch holding her hand in the twilight. She grew thinner and thinner, and weaker and weaker, but I never thought of death. I think she did, and tried to break it to me but failed; failed out of her very tenderness. It was one evening, after the others had gone to bed, they had been in and kissed her and said good-night; first little Lizzie, who had been sent away happy with a sugar-plum out of a box which the dear one kept by her side, and was trotted off crunching it with all her might; then Edwin, the latter bestowing his kiss on one leg, and with one hand in his pocket, for he nearly lost his balance, and I saved him from falling on her.

At length they were gone, and I could not see to read, but I went to the window which looked into the garden to see the May moon in the still fair evening sky. I heard her weak voice calling me, and was by her side in a moment.

"Do you want anything, mamma?"

"Only you, my darling. Sit down beside me here."

"The doctor said I took away the air from you sitting there," I answered. He had said it only the day before, when he had come twice, instead of only once.

"Never mind, dear; I like it. You don't crowd me up, for you sit upon nothing. There, so that I can see your face," she said.

I took the hand I was always fond of stroking, and it felt chill, for I tried to warm it between mine. While I was holding it, I thought she was going to sleep; but she started awake again, and gripped me strangely. Then she spoke.

"You will always love me, Una darling. The others may forget, but you will not."

"Why should they forget, mamma? unless —" and my very heart stood still with the sudden dread.

"Unless I was going away?" she murmured.

"Oh, not that, mamma!" I cried, sobbing and quivering with grief.

"Hush! Una dear. You hurt me—hush! God knows what is best."

And I forced back my tears, and quelled my sobs, and sat still there till she seemed to sleep again, and the moonlight streamed into the room, and peace came back to me before Susan came to take my place, and brought her lamp and closed the shutters.

The next morning we were not allowed to see mamma. The first thing in the morning—but that happened often now—we were told that she was not well enough yet. Then Mr. Bothwell came, and there was a whispered colloquy between him and Susan, and instead of lessons was announced a holiday in the Park. I remember that Ernest was delighted at first, and then said he had been in the Park so often that he would like to go somewhere else. But Edwin sent his hands to the bottom of both his pockets, and turned round on one leg with glee.

We were to be allowed to kiss mamma before we went; but we were not to speak, for she was too tired to answer. And Susan took us in, one by one—first Lizzie, then Ernest, then Edwin. Last of all, I went up to her, and kissed her in the darkened room, and I felt her lips cling to mine for a moment. Susan hurried me away.

I was astonished to find that even Lizzie was to be of the party. She had hitherto been considered too small, and by Susan too precious, to be trusted with us. But she was dressed with the rest, and went away holding Mr. Bothwell's hand. I was also astonished to hear Susan enjoin on our tutor to give us something to eat, and she put some coin or other into his hand, I am sure. I had a feeling as if she had done something derogatory to his dignity, I remember; but I need not have feared; it was not of the kind that can be derogated from by earthly conditions.

What a day it was! I have often felt as if it was a perfect cruelty to have been so happy. We went in at the big gates, and up the long green slopes under the great trees, Ernest and Edwin giving each a hand to Lizzie, and running on before, while I walked more sedately by Mr. Bothwell's side. Everything wore the glory of the perfect time; the green grass glistened in its first freshness; the leaves, crisp and fair, and newly unfurled, were undimmed and unstained; the very sky, with small white clustered clouds up in the blue spaces, had a look infantile grace and joy. It was as if all things had been made new, as, indeed, they had been by the breath of spring.

I remember coming to a knoll where some fine old thorns grew, dotted about here and there. The old trees were covered with blossom; one especially, the oldest-looking of all, was exactly like one great bridal bouquet, a close-clustered mass of scented snow. I remember noticing that some young trees close at hand had more of leaf than of bloom, and pointing it out to our tutor.

"I have noticed it before, Una," he said; "and a fine thing it is to think that when you might expect to be withered and worn, outside and in, you may be like that tree there—all bloom and fragrance."

About noon by the sky, we came down the southern slopes again, and out at the great gates, and were taken into a quaint sitting-room full of little cupboards, one in each corner and one in the middle, and the cupboards were full of curious things brought from foreign countries—Chinese cups and saucers, and teapots, idols, and images, and an ostrich's egg suspended by a cord. The room was pervaded by a curious and not altogether pleasant smell, but that did not hinder us from enjoying the tumblers of milk and the biscuits which were set before us, and which our tutor shared with us. The novelty was delightful and the boys were excited by it to an unusual degree. Only Mr. Bothwell was very silent, answering questions, but not encouraging us to talk as he generally did.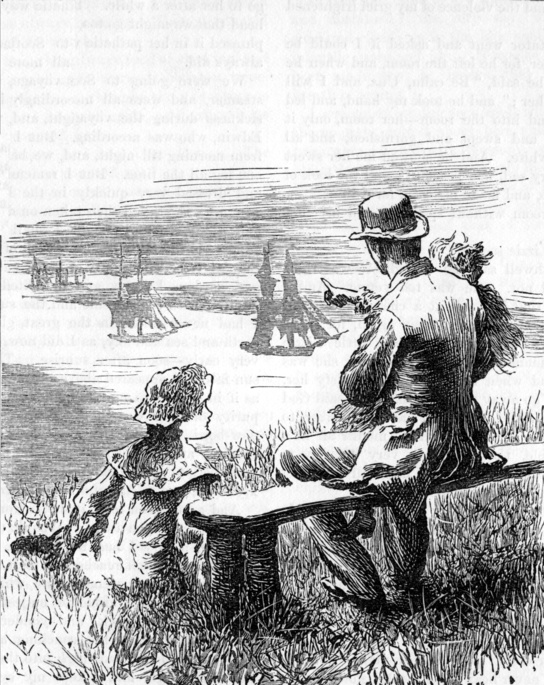 "We sat and watched the ships coming up the reach."

After our meal we returned to the Park, and this time we climbed the hill that commands a view of the river, and sat down on the bench at the top. Our tutor took Lizzie on his knee, and we sat and watched the ships coming up the reach. The boys did not remain long. They began clambering up and down the steep sides of the hill in a way which would have frightened our mother to death though it did not move our tutor in the least, who had been accustomed to mountains, and considered these mere mole-hills. But this made me think of my mother, and wish to go back to her; an the brisk air blowing over the height made Lizzie sleepy, and she began to ask to go home. She had been running about a good deal, and so she refused to walk, and Mr. Bothwell made no remonstrance, but carried her all the way home in his arms.

At the door we were met by Susan, whose face was red and swollen with crying and who took Lizzie in her arms and began crying afresh over her. Our tutor took us into the school-room in silence, and sat down looking very white and troubled.

Then he told us that we had no longer a mother on earth, and I burst out into passionate reproaches for having been taken away that morning and wanted to see her at once. Mr. Bothwell tried in vain to calm me. My brothers were too frightened to make a noise, I think; and the violence of my grief frightened them still more. I think our tutor went and asked if I could be allowed to see her, for he left the room, and when he came in again, he said, "Be calm, Una, and I will take you to see her;" and he took my hand, and led me up-stairs, and into the room—her room, only it seemed empty, and swept and garnished, and all so hushed and white. And he showed me her sweet face, looking very sad, but peaceful; and the look of it froze my tears, and made me calm for a time.

So I left the room without speaking, and my first words were—

"Do not let Lizzie see her."

And Mr. Bothwell said he thought it was right that she should not. She was too young. And I remember after that he knelt at a chair and prayed with us; and that made me weep again, for I was not reconciled to God's will. When little Lizzie asked for her mamma, she was told that she was gone to God, and when that would not satisfy her, that she should go away without Lizzie, we said God had taken her. And it shocked me, I remember, to hear her say, with her innocent little mouth all in a pout and tremble, that God was very naughty to take away her mamma, though I had had a feeling not very far from that in my heart.

I do not know on what day my father came. It was before the funeral. He arrived in great haste, and I saw him when he entered the room—our room, where Mr. Bothwell was: he had never left us since her death—and he threw himself on a seat, and said, "Too late!" as if to himself, several times. And then he looked at my blanched face, and held out his hand, and clasped me in his arms, and in said, "Poor child! poor little woman!" in a way which I had never heard him speak before.

――――♦――――


CHAPTER III.

YOUTHFUL JOY.

FOR some time after our mother's death we remained in the old house under the care of Susan and Mr. Bothwell; but when the summer came we were removed in charge of the former. Our father, who was most kind and tender to us at this time, arranged that she should accompany us to our new home, and remain with us till we had become fairly happy there. I was glad of this on my own account, but more so for the sake of our little Lizzie. From the time of our mother's death, a change had come over the child. She said very little after the first day, when we found her at the door of the death-chamber knocking, and calling, "Mamma, mamma!" The awful reality had not come home to her childish understanding; but there had come to her a sense of loss which troubled her, and thenceforth she clung to one after another, especially to Susan and to me, and would not let us out of her sight, lest she should lose us too. She had been carried down-stairs, and soothed with stories of mamma having gone to a beautiful place, where she was to wait for Lizzie, who would go to her after a while. But she had got it into her head that we might go too, and "leave Lizzie," as she phrased it in her pathetic way, naming herself as she always did.

We were going to Scotland, and we went by steamer, and were all more or less prostrate with sickness during the voyage, with the exception of Edwin, who was accordingly in a state of exultation from morning till night, and, we believe, stood upon one leg all the time. But I remember being roused and dressed very quickly in the little state cabin where we slept, and then taken on deck, feeling faint and giddy, to see a sight I shall never forget. I suppose it was my first impression of the grandeur of the universe. The beauty of flowers and trees, of park and garden, I knew and delighted in, and I was familiar with the sea-side and the sunny sands; but I had never taken in the great glorious whole of earth and sea and sky, as I did now. It was early, very early—soon after sunrise. The grand awful sun-face had appeared above the waves, which leaped as if in ecstasy to mingle with its rays. An infinite purity of light was in the sky, a freshness as of a new-born wind in the air. I had never seen a sunrise, and it was as though I witnessed the resurrection, so thrilled and awed and dazzled was my mind, and so full of a new and conscious joy.

And as the sun rose, it shone from the north and from the east upon a city. Was that, too, new-risen? for such a city I had never seen. Crowning the green slopes which reached up to it from the shining water, were what seemed snow-white palaces, rank on rank, set in a circle of majestic hills. There a castle-crowned rock, and yonder a still lordlier shape—a huge black lion couching, as if to guard the city—lifted their heads high into the pearly sky. It was Edinburgh, and I kept my eyes fixed on the enchanting scene until we touched the shore.

We were taken to an hotel, and re-washed and otherwise refreshed; and in due time, while it was still early, arrived the lady to whose care we were confided. She welcomed us with great kindness—a peculiar sort of kindness, in which there was nothing relaxing, but rather something bracing and strengthening. She did not take us in her arms, and kiss and pity us, little motherless wanderers as we were; but shook hands with us all round, and treated us quite as if we were sensible people who knew how to make the best of things. Lizzie clung to Susan, but observed her impartiality, as she made no objectionable advances; but the boys made friends at once. I never saw our boys take so readily to any one. They attached themselves to her at once, and, what is more, their attachment was lasting; even with Ernest it was so. And no wonder! Was ever teacher so unexacting and yet so firm? such a lover and promoter of freedom, and yet such a born ruler? She ruled Ernest, who had been the most difficult to rule, by means of the very characteristics that had created the difficulty. She was before him in detecting the flaws in everything which had caused his ideal nature to waver and change. She was before him in laughing at every folly; for she wielded the power of which he stood in keenest dread—the power of ridicule.

It was the same with all of us. She turned the peculiarities of each to account; but I doubt if she ever fully comprehended me. No doubt this is what most young people think, and may seem a foolish and conceited thing to say concerning a clever cultivated woman like her; but there were thoughts and feelings which I never revealed to her. I did not hide them; they instinctively hid themselves. They were things too tender to bear the keen breath of her searching intellect, too shadowy to stand in the light of her supreme good sense.

One of these hidden things was my love for my dead mother. To Miss Hope her name, I believe, never passed my lips; and yet how I treasured her memory, a memory of unmingled tenderness; how I longed for her, and sometimes cried for her; how I learnt to believe in her presence near me, and to comfort myself with an invisible friend in her. Nothing of this did I ever reveal to Miss Hope, nor do I think she could have guessed it. She was herself proud and independent, and she defended pride and disliked humility and dependence. She was by far the most sensible person I had known. She was a great deal more than merely sensible, but sense predominated. She was hot and hasty of temper; but she had too much good sense ever to indulge it. Therefore it only served to give spirit and impulse to her mind. She had some contempt for the claims of the stronger sex to superior wisdom, was in fact strong-minded; but she had too much good sense to allow it to influence her. I learnt to love her very truly and dearly, but always with a certain reserve. She wanted just the touch of unworldliness—that divine folly which lifts us above the region of the most sterling sense, and lands us, it may be, in the presence of angels.

We learnt a great deal and saw a great deal in the years that now ensued. Every autumn we were taken to meet our father; usually abroad, but sometimes at hand, at the coast, or at some chosen home among, the hills. Between my fourteenth and fifteenth year I began to keep a journal. I am not going to inflict it on any one, but I find there recorded my delight in the beauty of nature and my appreciation of the freedom we enjoyed, which led to my finding out, as it seldom falls to the lot of girls of my age to find out, the precious joys of solitude. Often when we have been spending a sunny afternoon in one of the green hollows of the hills at the foot of which nestled the house which was for several seasons our summer home, I have wandered away from the rest unchidden to find for myself some upper solitude. It was not to indulge in melancholy that I went apart; on the contrary, it was to revel in boundless joy. Climbing up and up, I would feel my spirit grow blither at every bound, till my very body felt an ethereal lightness and my feet seemed hardly to touch the earth. I must have had the gift of pure and perfect health in those days, for I felt neither languor nor weariness. I had a fancy that the butterflies, chasing each other in the hollow as I started upward, felt as I did. Sometimes I reached the hill-crest only to dart downwards again like all arrow from a bow: at another time I would lie down out of sight, and look up into the sunny sky till it assumed an inky blackness, listening in the perfect silence, broken at intervals by the bleat of a sheep from below or the song of a lark from above, or the boom of the heather-bee at my ear.

I had entered my fifteenth year when our boys were sent to school. Ernest was fourteen by that time, and Edwin, of course, a year younger, and Miss Hope had hitherto taught us all together. She had laid the foundations of future knowledge and culture deep and strong. We read, Lizzie included, much, and that of the best, and had been taught to understand what we read, and we were well grounded, boys and girls alike, in Latin, French, and music. There was one thing, however, that we were never taught, and that was religion. We knew more of the mythology of Greece and Rome than of the religion of Christ, and what we unavoidably learnt of the latter we learnt precisely as we did the former, that is to say, historically.

"It is your father's wish that you should judge for yourselves when you are of an age to understand," was the answer that silenced our inquiries as to the absolute truth of things. "It is your father's wish, and I have agreed to respect it."

There were good schools in Edinburgh to which our boys might have been sent, but our father ordered it otherwise. He had found a proprietary school, in which, he informed Miss Hope, the principle he had adopted would be strictly carried out.

Thither, accordingly, Ernest and Edwin repaired, to be with us only during the longer holidays, an arrangement that was more conducive to our quiet than to our happiness. They had furnished to our lives an element of healthy turbulence, and their going was the signal for the close of Lizzie's childhood, just as our mother's death had been the close to mine.

Lizzie missed Edwin especially. With him she had long maintained an alliance, offensive and defensive, and his going left a gap in her life, which I strove in vain to fill, the years between us having as yet kept us apart, both in our studies and amusements.

Miss Hope's little circle received us with kindly interest, and I had no idea how restricted it was. How it came to be so restricted was easily explained. It is always a solitary life that a man or woman must lead who is driven to labour out of the sphere in which they were born. Pride meets them from above and from below, from within and from without, and more or less isolates them from their fellows.

Miss Hope was the daughter of a landed proprietor who had ruined himself by speculation, and died bankrupt and heart-broken. Her brothers had chosen careers, and gone abroad; and she had been offered, somewhat coldly, the place of a dependent in the home of a relative. This she had refused, and turned her talents to account as a teacher, while former friends, sooner or later, turned their backs upon her, or she upon them. She had made but few friends of her own, and they were mostly of a generation older than herself—perhaps they had been tender to her struggling youth. The old gentlemen were fond of politics and chess, which latter they insisted on making me a proficient in; and the old ladies were for the most part notable housekeepers, but withal keen critics both of books and men.

In all the circle there was not one of my own age. The nearest approach to a companion was the deformed daughter of a solicitor, who had one of those beautiful clear-cut high-strung faces sometimes seen on the deformed, framed in masses of brown hair, and whose ghost-like hand I once ventured, in a passion of youthful tenderness, to kiss—a kiss which opened up a whole new world to me, for it opened to me Magdalene Bruce's heart. I had thought of her only as a patient sufferer. I had heard her spoken of in that sensible circle as a burden to herself and to others, as one to whom death would be a boon, and I found her filled with a life and a joy which I recognised as higher and fuller than theirs.

The holidays were now more delightful than ever, for they brought the boys back to us; and we were very proud of our boys, growing handsomer and cleverer every time we saw them, and full of the incidents and adventures of their school life.

In my seventeenth year we went abroad, and remained away from England nearly three years. When vacation time commenced, my father himself brought the boys to Paris, where we met them, and commenced a little autumn tour, visiting various parts of France, Switzerland and Italy. When the vacation was over, we returned to our villa in the neighbourhood of Paris, and went on with our studies, which were broken again by the Christmas holidays, spent in Paris with our father.

Lizzie now had a German governess, with whom I read German and practised, for she was a first-rate musician. Fräulein Vasa I only half-liked, and she was very little of a companion to me. She was the daughter of a Hanoverian pastor, and it was most strange to me, associating as I did education and refinement, to find her so highly educated and so little refined. She was a beautiful girl in her way, large-limbed and exquisitely fair. I have seen her half undressed in the lamplight, with her luxuriant yellow hair tumbling about her, and her pinky neck and arms shining as if they were half transparent and I have shrunk from the fair arms ungraciously, for she was fond of embracing me. I would rather have kissed the thin face of Magdalene Bruce, and saw more beauty in it, upturned pathetically because of her deformity, than in the Fräuliein's, bent like a rose heavy with fullness. She was particularly fond of nice things to eat, and astonished us all, down to Lizzie, by frequent fits of crying. A headache or a toothache made her cry; and what was still more inconceivable, she cried because she was dull. Her soul was sad, she said, because there was nothing to see.

Nothing to see, and we lived in the midst of a perfect panorama of loveliness! Our villa was set on one of the wooded heights above the Seine, close to the village of St. Michael, and commanding a view of the long wall of the terrace of St. Germain's, backed by the dark woods. Every point had its fresh glimpse of the winding river, each more picturesque than the last. Every turn in the scrambling roads had its scene, its circle of woods, its grey-roofed village perched on the height, or nestling in the hollow. But the poor Fräulein delighted not in these. What she did delight in were the gay shops, and the theatres, and the dresses, and plenty of clatter and chatter. Her soul delighted in these.

As for me, I knew not what dullness meant, or if I did it was only in the society of poor Fräulein Vasa, whom I learnt to pity with a contemptuous pity—to pity, and to tolerate. Ah! if I had but known the future, what might I not have saved one of my beloved ones by retaining the severe youthful intolerance with which I was disposed to treat her duplicity, and laziness, and self-indulgence. And yet if circumstances are God's appointed discipline, what right have we to arraign the past? Let it bury its dead.

――――♦――――


CHAPTER IV.

AUNT MONICA.

WE had spent our antumm in Normandy, and returned to Paris as usual, preparing to part with our boys and go back to our village, when an event occurred which changed the course of our lives. In the early summer, Miss Hope's eldest brother had returned from Ceylon, a widower with three children, all girls, for whom he was on the outlook for suitable home. It was Lizzie who started the brilliant idea that they might come to us, and an excellent idea it seemed; but Miss Hope steadily discouraged us in entertaining it.

We were greatly interested in the progress affairs, however, for Miss Hope now received a letter weekly, whereas she had hitherto been well content, if she got one once in three months. We heard of Mr. Hope's movements continually, and at length the news came that his father's estate in Perthshire had come into the market in the very nick of tittle and that lie had commissioned an agent to buy it This had been done, and he was now in possession of his re-purchased inheritance, and of the very house in which he and his sister bad been born. The touch of romance in it excited us to enthusiasm, and for the first time Miss Hope talked to us of the place as if she really loved it.

And still a brisk correspondence went on, and father seemed to join in it. I noticed now that there was always a portion of his letters that she did not lea to us, and that a few of them she did not read at all

When it length lie joined us, I could see that something, troubled him; lie was the most silent and reserved of Wien, and lie seemed particularly reserved with me. He had always bad more to say to the boys, perhaps because they were boys; and one could see how fond and proud lie was of them; and as for Lizzie, she made him love her, for she loved him, and she had no fearfulness, no reserve in her love, and no timidity in expressing it. In spite of himself lie Lad to throw off his reserve with her. But between him and me there was always a certain constraint, and I have often caught him looking at me in a calculating manner which sent me on more than one occasion to consult the mirror, and see if I could discover any-thin, in myself which was doubtful or strange, This was not the look I noticed now, but one more troubled and more tender, so that I longed to throw my arms round him and ask what lie was thinking of; but I could not, and so nothing transpired till after our return to Paris.

But before the great event was announced to us that Miss Hope had consented to take the head of her brother's house, and consequently was going to leave us, a little incident occurred which was to shape, the whole of our then uncertain future.

Miss Hope had a passion for art, which she had some degree infused into us, though lily chief enthusiasm was, and is, for nature; and we were all in the Louvre, paying a farewell visit to our favourites there: for this much we knew, to our immense satisfaction that we were going back to live in live in England. We were in the Salon Carré, and made quite a large party, the boys and papa, Miss Hope, and Fräulein Vasa lagging in the rear.

Looking at my father, I suddenly saw a gleam of recognition come into his face as he glanced at a group standing opposite. There was also a certain quick movement of his thick dark eyebrows, which seemed to me expressive of annoyance. Then he left the boys and crossed over, shaking hands with the ladies of the party. I felt sure Miss Hope saw him as well as I did, but she took not the slightest notice, and immediately drew Lizzie's attention to the details of one of the pictures. There were several ladies and a gentleman in the group my father had joined; but there was one who drew all my attention to herself. Site was of middle age, very florid, and highly dressed, with the hardest blue eyes I had ever seen, and she deliberately raised her gold eye-glass and looked over us in the most insolent manner. She glanced at the boys first, and then stared at me. Lizzie had just turned her lovely face, and was on the point of encountering the impertinence, when I stepped in front of her, drew myself up to my full height, and returned the stare with interest. But doubtless I overdid my part, for it was one completely foreign to to me, and had only been prompted by indignation. The lady smiled contemptuously, and dropped her glass, and I remained, with my face burning, and my eyes filling with tears, when a slender, quietly-dressed lady, who had been speaking to my father, and watching the little scene, darted over to my side, as if seized by a sudden impulse, and, holding out her hand to me, said, with almost a sob, "My dear, I am your aunt."

"I have no aunt," I said, but still taking the hand, for I could not help liking the face.

"This is your aunt, Una," my father said, coming up to us.

I looked up at him with I know not what of trouble in illy face. I know that there was a terrible pain at my heart, and I felt ready to choke with a sense of some great injustice. If she was our aunt, why had site neglected us all this time? Why had everybody neglected us?

She had turned to Lizzie and repeated her words. Always before me in winning love, Lizzie smiled and held lip her sweet face, which the lady kissed, and then turned away her own to hide her emotion. Presently my father presented her formally to Miss Hope. "These are my sons, Ernest and Edwin," he added.

She shook hands with them, and once more with me; once more kissed Lizzie, and then my father took her back to the party she had left, and they all went out of the saloon, leaving us behind them there.

I could not look at the pictures any more that day, and I carried home that pain at my heart. I longed to ask my father how it was that we had never known that lie had a sister; but I could not, and more than once he looked at me with that troubled look.

But Lizzie, with her fearless freedom, (lid what I could not do. She asked the question, simply, " Is she your own sister, papa? "

"My only sister," he answered.

"And why does she never come to see us?" she asked.

"Because we have been long estranged, owing to 'things that happened before you were born."

"And now you are going to be friends again," said Lizzie; "that will be so nice, papa. Have you any more relations?"

"Not many—very few that I like," he replied, and left her abruptly.

Of course I was now of an age when it was necessary to consult me about my future destiny, or at least to acquaint me with what it was to be. I could no longer be dealt with like a child; and my father at length sought an opportunity to tell us that Miss Hope was going to her brother. She was truly sorry to give us up, lie said, for we had been excellent young people, and she had been very happy with us, and was much attached to us; but her brother had pressed his claims and the claims of his motherless children, and she had at length agreed to go and live with them.

How grieved, how hurt, and how unreasonable I was about it! I was attached to her with all my heart, in spite of my little reticences toward her, and I firmly believed that nothing would have induced me to go away and leave her. "Why are we so friendless?" I cried. "No one seems to care for us."

"Una," said my father, gently, "do you think I don't care for you?"

"But you are seldom with us," I answered, through my grief.

"I intend to be more with you in future," he replied.

"And we have no home," I murmured.

"I have had no home, Una. Be a brave girl and make a home for me in my old age. My sister has offered to take charge of you for a time, after your return to England."

"The lady we saw in the Louvre?" I asked.

"Yes. She will be most kind, I am sure, and do all she can to make up to you for the loss of Miss Hope. But you are a woman now, and I want you to make a home for your brothers and your sister and me. I am greatly obliged to my sister for offer- in- to take your place till you are old enough to fill it with propriety, and I am very anxious that you, on your part, should do all you can to make her love you."

"Oh, papa," I cried, "it is so hard to have to love over and over again! It is like being pulled up by the roots!"

"Don't make things harder for me than you can help, Una," he answered, with a strange stern look of suffering which I had never seen on his face before.

I had to tell Lizzie and the boys; of course, Lizzie was the worst; but the boys took it less philosophically than I had expected. We were a very dull and miserable party for the rest of the time we were together. Miss Hope promised faithfully to come and see us; but she gave us no invitation to her new home. We parted from her in London, and thither Aunt Monica came to meet us. " Mona," my father called her, and Lizzie called her " Aunt Mona" within the hour.

Furnished apartments were taken for us in one of the streets running northward from Oxford Street till our future place of abode could be determined on, and there we settled down for the winter. At the commencement of the term Ernest went up to Cambridge, having chosen the law as his profession; while Edwin remained at home undecided, except on the point that any of the learned professions would be irksome to him, and that he would prefer to choose something else at his leisure.

Our father expressed himself sorry that he had not put this important matter before him sooner, especially that lie had not encouraged him to choose the life of a sailor, as he himself had done. And I think it was a pity he had not. The discipline was just what Edwin needed—the strict sense of duty, and not the sense of duty only, but the binding force of definite duties. He had the sweetest, sunniest temper, uninvaded by anxiety or care. Idleness, sloth, was his besetting sin. Day after day passed away, and found him no nearer a decision. He was quite contented to share our quiet life, to spend his mornings over a German grammar, his afternoons sauntering about, and his evenings reading a tale. He was never impatient or restless, and never absorbed. He would jump up from his easiest attitude—and he was fond of easy attitudes—to do some trifling service to any of us. He would forsake his volume on the very brink of the catastrophe to go out with us. Even shopping, which I detested, he did not object to. Aunt Monica tried to help him with suggestions as to his future. There was engineering, there was the army; but hard study and stern examinations barred the way. He thought lie would like to be a farmer, and that was the one thing nobody seemed to know an anything about; and so day by day went by, and nothing was done.

Lizzie went on with her studies as usual, varied by walks in the parks and promenades in the streets, productive of quite a new vivacity in the Fräulein. Edwin was always at their service as an escort. He was also profiting by the Fräulein's company to perfect himself in German, which he considered might be of great use to him if
lie took to commerce, which he thought of as an alternative to agriculture.

As for me, I was emancipated from lessons—had been long ago—but Miss Hope bad kept me up to a certain routine of improvement, which I missed with- out knowing exactly what it was that I did miss. I had been taught to value truth for its own sake, and not for anything it would bring, not even for the highest things. But I could no more help translating it into life and living joy and hope than I could help my organism digesting the food I ate.

I had learned a great deal—was what is called thoroughly accomplished; but to what end? Miss Hope had exhorted me to keep up my German and Italian. But why? To become more accomplished still! What was the good of it all? I knew enough to know how high were the heights above me which I no longer cared to climb. There was science, there was learning, the old classic learning, which I coveted to acquire, and which I read of girls like myself eagerly pursuing. But I wanted bread, and these were for me as stones—precious stones it might be; but to the hungry, diamonds are no more than pebbles.

Of course when Edwin was out, and Lizzie engaged at her lessons, there were times when Aunt Monica and I were left alone together. At such times I would be seized, in spite of my utmost efforts to escape from it, with an oppression of shyness which completely took away the power of speech. And all the while I so longed to be able to speak about ordinary things in a natural way, because I feared my silence might be misunderstood. For I was not generally silent, but, even with strangers, could be frank and gay enough. And it certainly was not that I did not like Aunt Monica. No one could help liking her. She was the embodiment of Wordsworth's lovely sonnet, to that

"Lady bright,
Whose mortal lineaments seem all refined,
By favouring nature and a saintly mind,
To something purer, and more exquisite,
Than flesh and blood."

Only she was not old, and there was a sprightly air mingled with her meekness as of a high spirit sweetly subdued.

But there was a barrier between us, and I soon became aware that she too felt it. We could not meet as strangers and learn to know each other, we who ought to have been known to each other long ago. Instead of accepting her as she was, I was continually questioning, " Why has she stood aloof from us till now? Why does everybody stand aloof from us? What does she know about us, about my mother too? Does her standing aloof front us mean any slight to her?" And looking at Aunt Monica with these thoughts in my heart, my face would suddenly flush crimson, and my eyes fill with tears.

――――♦――――


CHAPTER V.

THE DEAD PAST.

"DO you not love me, Una?" said Aunt Monica one day, when an embarrassed silence had come between us like some bodily presence. She had been working beside me, and had risen and gone to the window, and now she stood over me and laid a small fair hand on my shoulder.

"Very much, Aunt Mona," I answered; "and I want to love you altogether, only I cannot understand—"

"I know," she replied, gently; "the past is troubling you, and you cannot go on and leave it unexplained as some might be able to do. It is not right that you should, my dear. You are not a child any longer, and I will try and satisfy you as far as I can. If I did not love you, Una, it would be hard for me to do this." Sitting down beside me, she paused, and then she began again a little hurriedly, as if touching on something that pained her.

"Do you remember your mother?" she asked.

I told her as I had never told any one before how I had treasured her memory. I drew a picture of her as I remembered her, so beautiful, so sweet, so gentle and loving; but somehow I could not give it character as I could have done a picture of Miss Hope, or even of Mr. Bothwell, or Susan. It was faint and shadowy, like something seen in a vision.

"I never knew your mother," she said, when I had finished. "Your father is my third brother, and I am his only sister, and a good many years younger, as I dare say you know. Our father was one of the severest men I ever knew. He had few faults and no weaknesses of his own, except the great fault of want of tenderness in dealing with the faults and weaknesses of others. He was constantly repressing freedom, and joy, and affection in all about him; a man whom it was easy to respect, but almost impossible to love. In his repressive system, however, he succeeded, outwardly at least, with all of us except my brother Ben. We became, seemingly, as subdued and formal as he could wish, our natures more or less injured in the process.

"Benjamin alone resisted. He was not to be repressed. Passionate, and daring, and but little reverent, he rebelled incessantly, and I know it made the great trial and burden of our mother's life, the perpetual strife between the two. There was but one appeal to which, even as a child, Ben would listen, and that was an appeal to his sense of justice, an appeal which, as between father and son, our father would not allow. Benjamin had also a passionate indignation against injustice and cruelty. He would inflict the most severe and instantaneous punishment upon any one whom he caught in any act of oppression or unkindness—to animals especially. Indeed, he became almost frantic under any flagrant instance of wrong of this kind, and I know that he considered his father's rule both unjust and cruel.

"I will not and cannot judge between them; indeed, I was too young at the time, but I believe that our father was in error, to say the least, and that he mistook for duty the dictates of an arbitrary will, which failed to win from a spirit unbending as his own the obedience which was his due.

"By the time Benjamin was of an age to choose his profession, our father was ready to allow him to choose for himself, to avoid a collision in which he was sure to be worsted. Benjamin chose the sea, and was entered as a midshipman while other boys were in the beginning of their school life. Somehow or other, he came to be regarded as the scapegrace of the family while yet a mere lad. Nothing dishonourable was ever heard or recorded against him, but when we saw him from time to time he was more daring and reckless and irreverent than ever. At length, to our great horror, he proclaimed himself an unbeliever. I was only a child even then, but I remember my mother's tears and the words she added to my evening prayer.

"He was in his twenty-fifth year when he married your mother, who was not of our rank, I believe. She also alienated her family by the marriage. It was a legal, but not a Christian one, and in accepting it she tacitly renounced the faith in which she had been brought up. Further than this I cannot go. Of their married life I know nothing. My father commanded every member of the family to break with your father at once. My mother left his letters unanswered, and, when my father died, he left her bound by a promise never to receive him unless he came to her as a penitent.

"Before he died, my father had come into the family property, for we belong to the old untitled gentry of England, and my eldest brother Robert of course succeeded. Some time ago he died childless. That lady whom you saw in the Louvre was his wife. Then my mother died, and though she said but little, we knew that she died mourning over her separation from your father, her youngest and her favourite son, whom she did not dare to call even to her deathbed.

"Since my mother's death, I have been comparatively free, and I had seen your father once or twice before I met you. It was necessary for us to meet about the disposal of our mother's property, a further share of which came to him under her marriage settlement, a certain sum having already passed to him on his coming of age.

"I hoped that my brother Henry would have been reconciled to your father, but I hoped in vain. I tried to heal the breach, and failed."

She did not add that she had mortally offended her elder brother by the step she had taken with regard to us.

I was silent, but doubtless my face expressed the indignation I felt, for Aunt Mona said, presently, "You are dowered with the hate of hate, my child, but do not let your natural indignation make you unjust. When I look back upon it all, I can find room for pity and tenderness, though I, too, suffered. My father thought he was doing right and no more than his bounden duty; nor did he escape suffering himself, or seek to escape it. Do not think he did not love us. He loved us, and lost our love, and I think he knew it. I think he saw what even I could see—that my mother was alienated. She failed in no wifely duty or loyalty, but the spontaneous flow of affection was checked and frozen. They became strangers to each other's hearts. "Now, dear," she added, looking at me with a look of the tenderest pleading, "let us forget these old unhappy bygone things."

"But, Aunt Mona," I said, "how could people calling themselves Christians act in such a way? I do not understand it."

"You are thinking, dear child," she went on, "that these bitter waters might have been healed at their fountain-head by the power of the Spirit of Christ; as indeed they might. Only, Una, we must not judge individuals, but remember that here, in God's school, we may profit by the mistakes of others as well as suffer by them. Above all, we must not presume to judge of Christ by Christianity, but bring our Christianity to Christ to be judged of Him."

After this there was no restraint between Aunt Mona and me. Even my reserved nature began to unveil itself to her perfect sympathy. And at this time, seeing me sometimes occupied in reading her favourite books, she put into my hands a manuscript volume, into which she had copied all the most precious utterances of the spiritual life of the day. There I found all sections of the Church of Christ alike, speaking the same language of faith and hope and charity, animated by the same spirit of devotion to one Divine Master, united in one communion with the spirit of truth.

This was just what I needed, standing outside as I did. I began to think much and often concerning the truth of Christianity, and our position in regard to it. We had been brought up without the pale of the Christian faith. We knew Christianity as we knew heathenism—from without. We had even been taught to consider the former an immense advance upon the latter. But Christianity refused to be treated in this way. It was a living thing. Life and literature were full of its vital force. Its light was everywhere reflected like that of the sun, colouring everything in some appropriate hue. There was no standing in a neutral attitude towards it. And why should it exercise such a fascination for my whole nature? Often it seemed to me like a mighty palace in the midst of a midnight plain, with light shining from its countless windows, and gusts of heavenly music wafted from its opened doors. And I and others like me were condemned to wander outside among the shadows. True, there were the stars above; but did they not awaken the sick longing for a home of the spirit, a closer communion with their Maker and ours, than could be bred of their distant splendours? And then there were storms and tempests outside, and literal weepings and wailings and gnashings of teeth over irretrievable loss—the loss caused of sin and death. I believed in God. I could no more help believing than I could help seeing with my eyes open and light to see by. I felt my life to be from His; my joy in living, my sense of the beauty of the physical universe, my sense of right, my feeling for truth, my power of loving.

I had read the New Testament, and knew the claims of the Divine Teacher, whose authoritative "Believe also in Me" my heart longed to answer. It seemed impossible that the moral beauty of the character of Christ, and the grandeur of his doctrine, could be the outcome of a tremendous lie. In the history of Christianity, too, it was easy to separate the true from the false. If false popes, and sham miracles, and cruel inquisitions were presented to me, so also were holy fathers, miracles of saving power, tender charities. There had been, and might still be, Iscariots who called themselves apostles; but one was authorised to say that if any man had not the Spirit of Christ, he was none of His. Still, it was to the living present, not to the dead past, that I clung. I felt that for me the most powerful appeal lay in the faith and in the lives of Christian men and women; and now before me in my daily life, I saw a Christianity embodied such as I had only dreamt of as yet. It must have been embarrassing, to say the least, if Aunt Mona had known how closely I watched her at this time. Not with any desire to find flaws in her; nay, with quite a trembling anxiety that they might be wanting.

"Aunt Mona," I said one day, with seeming abruptness, but really following a train of thought her presence had awakened. "In my whole life I have known only one or two who seemed to me to be Christians in the sense of being followers of Christ, and they are wide as the poles asunder in everything else, only they appear to have a secret in common—the secret of living. I believe they are happier than other people."

"That is exactly what it is, Una. The secret of living is with the Christian who has entered into the life of Christ. He or she has found the keynote which harmonises all the discords of earth, the clue which unravels all its confusions. They may go a very little way indeed toward doing so, may leave them just where they were as regards others, but, as far as they are concerned, having found the Father, it sufficeth them."

――――♦――――


CHAPTER VI.

AUNT MONA'S FRIENDS.

I HAD an early opportunity of observing Mrs. Robert Lancaster at close quarters. Soon after we were settled in our London lodgings, she came to call on Aunt Mona. She is a large handsome woman, with a spirited face, and hard bright blue, eyes, which she has a habit of making larger still when she looks at you, as if she saw something that surprised her. We met as if we had never seen each other before. I tried to smother my antagonistic feeling, which she had again aroused, without doing anything particular to arouse it. She devoted herself to Lizzie—with the intention of making me uncomfortable, I fancied, and I was sorry that she succeeded.

It was a great relief to tell Aunt Mona what I felt. She chid me gently. "Harriet has good qualities," she said. "She is generous in her way, capable of being magnanimous even; but her want of sympathy is so great that she is always doing kind things in an unkind way, and having her kindness rejected and despised; so that she is quite convinced of the general ingratitude and wickedness of human beings. She takes sudden and unaccountable likes and dislikes. She is rich, for she had an ample fortune of her own settled upon her. She is full of energy; and yet of all these good things she is not making happiness, but often the reverse. You might all be much to her," Aunt Mona concluded.

Mrs. Robert, it seemed, was going to be a very frequent visitor, and, thanks to Aunt Mona, my antagonistic feeling was not long in being overcome. She began to interest me, and we cannot continue to dislike what we are interested in.

She blundered in her usual way with Lizzie. I believe she really fell in love with the child, and she asked her to come and spend a day with her. Lizzie looked at her with her brave frank eyes, but without her sweet frank smile, and declined, saying, somewhat bluntly, that she did not want to go.

I felt sorry, and hastened to say, at the risk of being misunderstood, that Lizzie had never been accustomed to go anywhere alone. I knew that if she had included me in the invitation Lizzie would have gone gladly. Of course there followed the embarrassing "Will you come with her, then?" I saw Aunt Mona glancing uneasily in my direction, and blushing hotly, I answered, "Yes."

I was fully rewarded by Aunt Mona's earnest thanks—

"I was so glad, dear child, that you conquered the fear of being misunderstood," she said, seeming to know exactly what I felt.

"Do you think it is very foolish to fear being misunderstood?" I asked; for it was one of my most potent fears.

"Not always," she answered. "It may proceed from very different motives—from a modesty that fears it has not done or said the best thing in the circumstances, as well as from a restless vanity that desires appreciation under all circumstances; but it ought always to be striven against as one of the subtlest forms of self-seeking."

How far beneath the surface Aunt Mona's goodness reached!

We went to Mrs. Robert's, and found a very large handsome house, which had an empty feel, though I believe it is constantly full of young people, and spent what would have been a very dull evening but for the newness of everything. It was pleasant enough to see new pictures, new music, new books, and even new china—new old china, I ought to say—and Aunt Robert seemed pleased with us for coming, and for being pleased. So all passed off tolerably well.

Aunt Mona seems to have a great attraction for her sister-in-law, though no two human beings can be more unlike, and they are continually clashing, as far as it is possible for any one to clash with Aunt Mona.

One afternoon, when Aunt Robert was there, Mr. and Mrs. and Miss Winfield were announced, and there entered a slender middle-aged lady, elegantly dressed, a stout smooth-faced old gentleman about twenty years her senior, and a slight, dark, graceful girl, apparently about my own age.

They seemed old friends, for both Mrs. Robert and Aunt Mona greeted them familiarly, though after the first greetings the former took her departure, when Aunt Mona introduced me.

They were hardly seated, however, when several heavy thumps, succeeded by a prolonged and dismal howl, were heard behind the door.

The old gentleman's face went into a shapeless pucker of mirth as he chuckled, "There's Thora." The lady looked slightly annoyed, while Edwin and Lizzie both rushed to the door, and admitted a magnificent St. Bernard. The immense creature bounded into the room like an uncaged lioness, and, with one sweep of her tail, cleared Aunt Mona's small work-table of its flower-glass and other articles.

Mr. Winfield had got upon his feet, but Thora was up with her paws on his shoulders and her deep-black muzzle at his face.

There was a great calling of, "Down, Thora, down!" by all the party, and Thora got down, and took up the whole length of the hearthrug in an ostentation of prostration, but she was up again in a moment, and more obstreperous than ever.

"Perhaps I had better take her out," said Mr. Winfield.

"I think you had, my dear," said Mrs. Winfield, with the least possible tone of sharpness.

"I do wish you would not bring her, papa," said Miss Winfield.

"Oh, please let her stay; she is going to be quiet," said Lizzie; for Thora now stood the picture of meek strength by her master's side.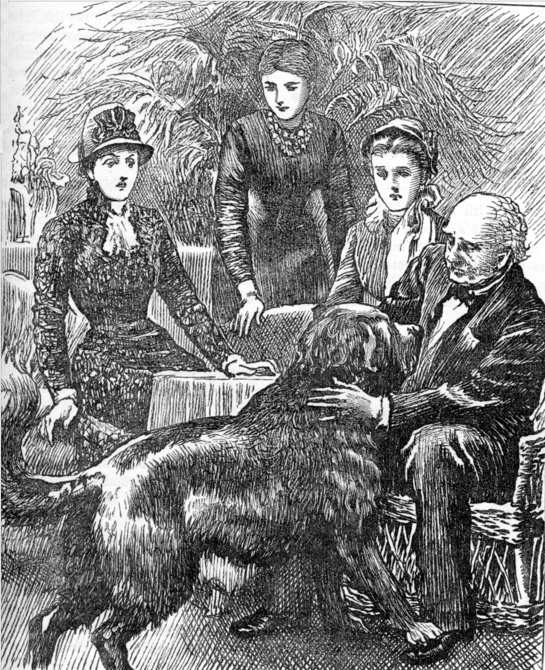 "Love me, love my dog, eh?"

"Love me, love my dog, eh?" said the old gentleman, patting Lizzie on the cheek; upon which Thora became demonstrative towards Lizzie, and Edwin caught her by one of her broad soft ears, and a hubbub ensued, in which the whole group swept out into the hall, and troubled us no more. I could see them outside—at least, Mr. Winfield and Edwin—walking up and down the pavement before the house, Thora waving a triumphant tail as she walked beside them.

And in the meantime Miss Winfield talked to me, and Mrs. Winfield to Aunt Mona, and I, somewhat new to drawing-room conversation, tried to listen to both for a time, till Edith Winfield compelled my wandering attention.

"You have come out, I suppose, though we have not met anywhere?" she said, fixing her great grey eyes on me, sparkling with I knew not what of eagerness or intellect, or spiritual force of some kind, that at once attracted and repelled me.

"No," I answered simply, vouchsafing no further explanation.

"But you will this season?" she returned.

"I don't know," I replied.

"Have you always lived in the country?" she went on questioning.

"No, we have lived a good deal abroad lately; but we have resided chiefly in Paris, Edinburgh, and London."

She seemed astonished. "I thought you had lived in the country," she replied.

"We have always lived very quietly," I answered.

"I envy you," she said, with a shrug of her thin shoulders which with all my French residence I had never acquired. "We always come up to town in March and stay till the end of June. I have been out for four seasons, and am horribly tired of it. I get frightful headaches with the standing, and the crowding, and the heat, and I look as fagged as possible at the end of the first week and never recover again, but keep getting faggier and faggier, and thinner and thinner, till I have the pleasure of knowing that I look as nearly as possible like a death's head, and by the cross looks I get on the staircases that my elbows are positively cutting."

I laughed, but I was puzzled; she looked so little like a rattle, so large-eyed, and hollow-cheeked, and sad in her first youth. I laughed, and said, "Why don't you stay at home, then?"

"I can't; I go out with mamma. She says she goes out with me, but that's a polite fiction. She is younger than I am; she is never fagged, or if she is, it's before she goes out. She gets brighter and brighter as the evening goes on; she sings better than I do, and she never has any head-aches that I know of."

"I know very little about society," I said.

"And you are fond of books, I know," she said.

"Very," I answered, smiling.

"I never touch a book; none of us ever do," she went on; "but mamma reads the reviews to be able to talk about them."

"And what do you do with your time?" I asked, hardly knowing what to say to her.

"Oh, in London," she replied, "what with shopping, and dressing, and visiting, we never have any time to spare."

"Do you play?" I said, innocently; music was a great resource of mine.

"Oh, nothing to speak of! What's the use of it? Professionals play better. People only think good players a bore. They either don't play themselves, and then they don't care to hear you; or they do, and then they would much rather play themselves."

I was half angry with this hollow-cheeked girl, betraying to me the emptiness of her life in this careless fashion. What canker had eaten into her heart that she should find it so?

"We are near neighbours of your uncle. Winfield Court is the nearest house to Highwood. Do you think we shall be friends?"

I felt myself blushing, for I could not reply.

"Doubtful," she answered for me, enjoying my want of tact. "Now, I hope we shall. It will give me an opportunity for speaking the truth and being believed."

"How so?" I asked, in blank bewilderment.

"Well, you must know that I am an extremely injured person. I am so much in the habit of speaking the truth that people absolutely don't believe me. Come and see me soon," she added, rising as Mrs. Winfield rose, and shaking my hand with an eager clutch—I can call it nothing else—and away she went with her mother; Mr. Winfield making his adieux from the pavement, while we made ours from the window; Thora's great tail wagging and waving in accord with his nods and becks to us.

"Have you known the Winfields long, Aunt Mona?" I asked, when they had gone.

"I have known them all my life," she replied. "Winfield Court is one of the nearest country-seats to Highwood, and we have been friendly neighbours, though, owing to the great difference in tastes and opinions between the heads of the families, we have never seen a great deal of them. Edith has, however, been in the habit of running out and in to me all her life. Has she been talking to you? She likes to talk nonsense."

"She has been talking to me, but whether it is nonsense or no I cannot tell. She seems very unhappy," I said.

"I fear she is, poor child," returned Aunt Mona. She has a strange character. I have never known any one at all like her. As a child she was a mischief-maker for the very love of it, seemingly, but probably only from sheer activity of mind undirected into its proper channels. She delighted in setting everybody by the ears, and then watching what would come of it. Her curiosity was unbounded, and though her affections were warm, she managed oftener to repel than to attract."

"I think she must be the same still," I ventured to say.

"To some extent she is, but at any rate she is profoundly dissatisfied with her life."

"Is she wrong to be dissatisfied, Aunt Mona?" I asked.

"I think there is a noble dissatisfaction as well as an ignoble," said Aunt Mona; "and in Edith's life there is plenty of room for the former. Her affection for her parents is great, but her father, a kindly man in his way, bestows a good deal more attention upon his dogs than upon his daughter. He is a great lover of dogs, and at Winfield they are gathered in force. There are big dogs and little dogs, English dogs and foreign dogs, dogs without end, indeed; and he is devoted to them, one and all. Mrs. Winfield's heart is in society. She was a great beauty, and brilliant and witty besides. It was thought she would have made a splendid match, and every one was astonished when she married her cousin Charles. But she went into society as much as ever, and really seems to enjoy it for its own sake. Edith has no heart for it. She is not at all like her mother, and is, I do believe, blindly craving for a nobler and more earnest life."

"What do you call an ignoble dissatisfaction, Aunt Mona?" I went on asking.

"I don't think it is difficult to define," she answered. "I think it is ignoble to be dissatisfied with duty, whatever it may be. For instance, when a girl has plenty of simple home duties, and is dissatisfied only because she thinks she is fit for higher things—I call that an ignoble dissatisfaction. One may bring one's highest things into the lowliest duty; and the first thing a girl ought to be fit for is duty, and the second is duty, and the third is duty," she added, smiling. "No noble doing will come out of doing anything else, and no noble satisfaction either."

"I think I see it," I answered. "There may be a noble dissatisfaction when you are not satisfied with the way you are doing your duty, an ignoble one when you are dissatisfied with the duty itself, and won't do it, but want to be doing something else. But what has a girl like Edith to do, aunt?" I added.

"There is a great deal for her to do, my dear. She has a mind which would amply repay cultivation; she is deplorably ignorant. She has in the country at least endless opportunities for doing kindnesses, and satisfying her heart as well as her head; and then a girl never knows when the period of probation may be at an end; when she may be called upon, with all the energies of both mind and heart, to support those she has hitherto leaned upon; or when she may have to enter a home of her own to be the ruling spirit there. There is no reason against her seeking other duties if she has the time and strength for them; but not in the spirit of weariness with those she has."

"Were you ever dissatisfied, dear Aunt Mona?" I asked.

"Yes, my dear; but not permanently so," she replied. "But the mistakes made in our training were of a different character. They were not mistakes of over-indulgence and relaxed discipline, which throw young people so terribly on their own resources. We were taught to recognise the great value of time as a preparation for eternity, and to fill our hours with a constant round of duties, even if these were made needlessly irksome. The noblest pursuits were brought before us, and we were encouraged to devote ourselves to them by precept and example. The service of God, our own improvement, the good of our fellow-creatures, were steadily kept before us. We might fall into the weariness of mere formal observance—I think we did—but we could hardly experience the deeper weariness of empty lives. And no sooner did this service become heart-service than there was no longer weariness; nay, there was boundless joy.

"You want to know how I reached this standpoint, dear? I do not think it was by means of any special religious teaching that the spirit and the life came into this service, filling the divine words of the Bible and our sublime hymns and prayers with new meaning. It came to me in my daily life, in the things that went on about me, in the daily blessings and trials, in the solemn hours of sorrow and of joy, through my own needs, my own longings, my own failures, all gradually deepening into the one longing for a Divine sympathy, a Divine companionship, which once attained, all life flows into a new order, a new activity, a new repose."

At the end of a week Aunt Monica returned the Winfields' visit alone. It was necessary to explain to them the position in which we stood with regard to our Uncle Henry, and leave them to take their own course about it.

――――♦――――


CHAPTER VII.

OUR FIRST CHRISTMAS WITH AUNT MONA.

AT this time I discarded my old habit of keeping a regular diary, and began to record, at intervals, the events that were passing around me, and the thoughts and feelings which influenced me. These I shall be able to give more exactly as they occurred at the time, with all the freshness of the immediate impression, by transcribing, whenever it is possible to do so, the record as it was written; often at the moment, seldom later than a few days after the event. Thus I find myself writing at the close of the year:—

Our first Christmas with Aunt Mona has been a very happy one. I think it has been so to her, though I can see how great has been the sacrifice she has made for us. Our father has come from his station in the Channel to spend the holidays with us. Happily, our lodgings have been found elastic enough, by a little packing on the part of us girls, to accommodate both him and Ernest.

I shall be sorry to see our father go back to his ship again. On the first evening, when we were all together seated round the fire waiting for dinner to be announced, he looked round on us and said, "This is more like home than anything I have known for years." I could see his eyes glisten as he spoke, and I thought of his lonely cabin and of the stormy nights in the Channel, and noticed for the first time that his hair was grey—very grey for his years—and that his tall thin figure stooped. He would not let us light up the drawing-room that evening, and Lizzie and I played and sang to him by firelight, and he was mostly silent. He never had much to say, though he can be boyishly gay at times, with a wonderful simple-hearted gaiety.

Ernest has come home full of ardour for his student life at Cambridge. He is in love with the place and everything in it, with his rooms, with his tutor, and with his new associates. He has already laid out his whole course there, an ideal course, which is to crown his youth with the triple crown of knowledge, virtue, and strength. He means reading hard, and going in for honours, but without being a mere bookman, joining the sports without becoming an athlete, boating without turning himself into a coxswain, riding without making a jockey of himself.

He has been confiding these intentions to me in his letters, and at first I could no help feeling what I had already learnt to feel instinctively concerning all Ernest's enthusiasms, that this would last only while the newness lasted; but I begin to feel convinced that there is something more real in it than usual, and to think that, after all, the fickleness he has hitherto shown may have been only a seeking after the best, and that now, at least for a time, he will be satisfied, and perhaps form tastes, and habits, and friendships that will last. The associates he has chosen are evidently thoughtful and pure. The friend whose name he mentions most frequently is a Mr. Temple, and it gave me a clue to the new way in which he seemed to look at things when I learnt that this friend is ardently religious. "And he does not shut himself up with other pious fellows," said Ernest, "who keep to their own set as if our ideas would contaminate them. He is always ready for discussion and investigation. He says he wants to hear all that can be said on the negative side, and he has no fear of the result. Do you know," he added, "he has convinced me that there is no halting-place between positivism and Christianity, and that the former is only a name for know-nothingism."

This admission led to several conversations between us, too simple and sacred for record, but in the course of them, the name of Herbert Temple has become very familiar to me, so that I almost feel as if he were my own friend as well as my brother's.

I am glad Edith Winfield has gone out of town with her father and mother. I am sure it is ungrateful of me, for she has been very kind. She was extremely outspoken concerning our Uncle Henry's refusal to acknowledge us, and abused him roundly; and she has come to us several times during the last month--whenever she was particularly dull, she tells us, but it is a dullness we fail to discover. Her usual effect is to brighten us all up, not exactly like sunshine—there is nothing sunny about Edith—but like a crisp breeze which may blow a storm some day. Even Aunt Mona feels her refreshing, though she sometimes interposes when her tongue runs too fast or too far.

I cannot tell why, but I felt a vague sense of trouble when Ernest came into contact with her, which he did on the very day in which he came up to town. She ran in to say good-bye not an hour after he had arrived. For one thing, I feared she would shock his fastidious nature, and I did not wish to warn him against her, for that I felt would be an injustice; and, besides, would defeat my desire, which was simply that through her he might not think more meanly of all women.

Curiously enough, their first meeting seemed a sufficient answer to my objection. Edith on this occasion was perfectly charming. I was quite bewildered by the change in her. I knew not that she could change almost at will. Her very voice had altered. The harsher notes were gone. She was altogether sweet and gracious. Her rapid utterance, which made her speech stumble at times, gave her an artless grace. In short, I made the discovery that Edith Winfield was fascinating, and, at the same time, that Ernest thought so too.

My own longing to gain the Christian standpoint is becoming more definite and eager. When I saw Aunt Mona preparing to go to church on Christmas Day, I felt a great desire to go with her. I hesitated a little, but when I found that our father wished to be alone all the morning to write letters, I hastened to ask if I might accompany her.

"I will gladly take you with me, dear," she answered, "only I should like you to see your father and mention your wish to him. He will not hinder you; he does not wish to hinder me from using any influence I can gain over you. Indeed, without this having been expressly understood, I could never have come to you. He thinks you are all old enough to choose for yourselves. Still, it would be better for you to speak to him on the subject."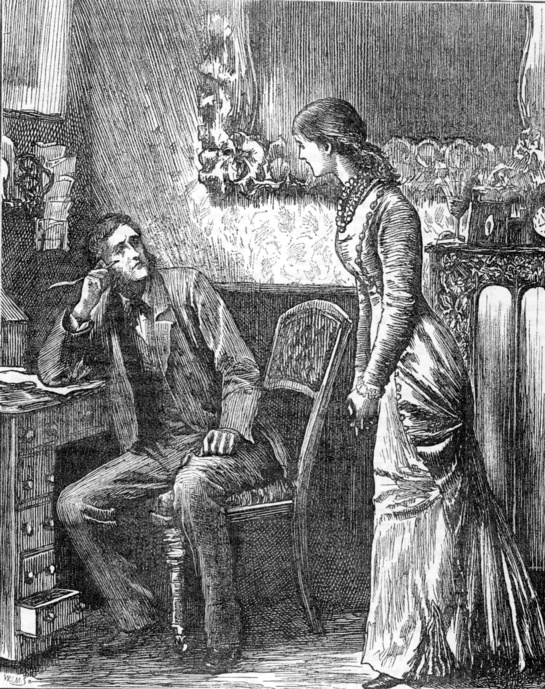 My heart failed me.

On the spur of the moment, I went straight into his presence. He had been writing, but had ceased, and was sitting with his head resting on his hand, leaning against the writing-table. He seemed to me very sad, and my heart failed me. It felt like desertion. He smiled a courteous and affectionate smile, and rose to greet me.

When I had hurriedly stated my wish in answer to his question of "What is it, Una?" the sadness returned to his face, but he replied, "Do not think for a moment that I would seek to prevent you going, or even desire that you should not go. All I have bargained for has been that you should be brought up entirely without bias. Go, by all means, and judge for yourself."

I left him, wishing that some day I might find courage to ask him what he believed concerning God. It was beginning to be the great question with me. I believed in God because I could not help it. If there was any faith to be put in instinctive belief, that belief was instinctively mine. Was it his also or had be come to think, as I had lately found was possible among thinking men, that the universe was but an infinite assortment of blind forces which, in their ceaseless play, had blundered upon man?

However, the church bell was ringing, and I went to join Aunt Mona. Lizzie and the Fräulein begged to accompany us also, the latter assuring us of the staunchness of her Protestantism, though I fear she went simply to see something fresh. Her craving for sight-seeing was something which would have been incredible to any one who had not witnessed it. Lizzie went only to be one of us. She had had from the first an unquestioning love for Aunt Mona, and it was enough for her to sit beside us and to feel that we were hearing the same words, to make them sweet and sacred.

For some time after our entrance the bell kept clanging over our heads. I could not account for the feeling of repose and peace that took possession of me. It was like the rest which the mind feels when in the midst of confusion it perceives an order which promises to reduce it to a perfect design. The service was begun and conducted with extreme simplicity, and it affected me deeply. It satisfied me, too. Something was here, I felt, answering to the craving of my spirit.

Then followed the sermon, but the face and voice of the preacher had already bound me like a spell. I cannot describe the elevation, the purity, the saintliness of the one, or the trembling tenderness, the penetrating power of the other. His speech was of the divine mystery of which the day was a celebration, but he made the mystery appear the highest and purest reason. All the providences of God led up to it; all the human charities flowed out from it; all the aspirations and hopes of the race were bound up with it.

When we came out of the church I gave a little sigh of satisfaction, and Aunt Mona looked at me and said, "I am glad we have had such a sermon as this." "Yes," I answered, "I have heard nothing like it before. That is what is meant by the Gospel, I suppose. I never understood before what it meant."

"You have had but few opportunities," she said, gently.

"It is not the first time I have been in church, Aunt Mona," I replied.

Yes, it was this I had thirsted for. It was some tidings from somewhere of the Father in heaven, some proof that to other spirits than mine He had drawn near, and some hope that I might draw nigh to Him—nay, abide in Him for ever. In later days I have often thought that the sight of a great congregation is one of the most moving in the world; their being sent empty away one of the most mournful. And a man may lavish all the treasures of his intellect, and exhaust all the moral energy of his nature, and yet fail in this; for unless he has drunk himself of the living water of a spiritual life, he cannot be to others the well-spring of living water which every spiritual man becomes. He may build the cistern, but he cannot fill it; he may serve as the conduit, but the waters must come from above. He cannot be a preacher of the Gospel; he has for the waiting multitude no tidings of great joy.

We had arrived at home before Lizzie spoke at all, and then, twining her arms round me with a fervent clasp, and fixing her clear steadfast eyes on my face, she said, simply—

"Una, it is all true; I am quite sure it is the truth, and I love it."


The holidays are over, and Ernest has returned to Cambridge, but our father remains for a week or two longer. The only one who stays at home on Sundays now is Edwin, and so long as he stays I do not think our father minds so much our desertion. I could not help feeling it as such, and being silent—a cowardly silence I often think it is.

I never saw any one like Edwin. His idleness is perfectly amazing, and he is not deficient in intellect; on the contrary, he has always learnt only too easily. After watching him closely for some time, our father seems to have become alive to the necessity for making him do something. He has a way of trying to win him which it is pathetic to watch. It is, "Edwin, come and take a turn with me," and Edwin will go with apparent alacrity and pleasure, and our father will begin to talk to him, and gradually Edwin will lag behind, and become absent. Then suddenly he will remember that he has something to do or to see, and hasten or saunter off, while our father looks wistfully after him, not striving to hold him, but evidently half hurt, half perplexed. These little scenes take place in the garden of a neighbouring square which our father is as fond of pacing as if it were a quarter-deck, and on one or two occasions I have been present, and have watched them, and I know that it has been the same at other times, by the conduct of both. Edwin has returned alone and gone out afterwards with Lizzie and the Fräulein, and I have gone out and found my father pacing there alone.

At last, however, he has left us, and Edwin seems to have persuaded him that the best thing he can do is to learn German as thoroughly as French, which he is in a fair way of doing, and that then some opening will occur. He will enter the office of some great merchant, and carve out a fortune for himself.

――――♦――――


CHAPTER VIII.

HERBERT TEMPLE.

TIME has begun to slip away once more with a seeming monotony of movement, as it did in our villa above the Seine before we knew Aunt Mona. It is as when one glides down a stream between level meads which we have ceased to notice, when all of a sudden we find ourselves at the confluence of two rivers, or between the quays of a city, or walled in by mountain ranges and hastening towards a fall.

We are already approaching Easter. The Winfields have been in town for some weeks. They are certainly very kind. They lost no time in calling upon us, and were as cordial as at first.

Edith has taken to running in and out as before, till hardly an afternoon passes that she does not come to us, enlivening us with her chat about last evening's party, and all the foibles of the hour. She brightens us up so much that I begin to take myself to task for not liking her better, and to feel sorry that I cannot return the caressing warmth of her manner to me. If she finds me alone she will fling herself on a low stool at my feet, and lean her head against my knees, much as Thora does to her father; and on one of these occasions I know not what impulse of tenderness made me caress the soft luxuriant hair; for she has a habit of throwing her hat aside when she comes in.

"Go on," she said when I stopped; and, instead of repeating the motion, I bent down and kissed the shining head—the first spontaneous caress I had ever given her.

When she looked up at me, which was not for a minute or two, her great eyes were full of a tender mist, and she said, with a humility which contrasted strongly with her usual manner, "Do you really like me, Una? I thought you didn't; you have been so cold to me. But a kiss from you is worth more than one from anybody else I know."

I felt my eyes fall before hers, and my face begin to flush.

"One would think you took me for a lover, Una," she said, laughing. "Have you ever had a lover, U.?" Her mood had changed in a moment.

"No," I answered; "only I shrink from accepting more than I can return."

"That is pride," she said, quickly, and then repeated with wonderful feeling—

"'I hold him high who for love's sake
Can give with generous earnest will;
But he who takes for love's sweet sake,
I think I hold more generous still.'

Don't you like people to love you whether you love them or no?" she finished up by asking.

"It would be terrible to me," I answered, honestly.

"It might be to me too, under certain circumstances," she said, more thoughtfully. "It might be if I thought it would last, but it doesn't, you know."

"I should not care for a love that did not last, either to take or to give," I said.

"Yours would last," she said, looking at me wistfully again, and then bursting out into a little mocking laugh.

We were all three of us, and Aunt Monica, of course, invited to an evening party at the Winfields', but only Edwin went. Aunt Mona considers Lizzie too young; and, though our darling Liz manifested a healthy girlish appetite for what she could not but consider a new pleasure, she yielded gracefully to Aunt Mona's verdict. As for me, I was left to choose for myself, and though I know that Aunt Mona would have accompanied me cheerfully, I fancy she was better pleased that I declined to go. She still hopes that her brother Henry will relent, and take us into favour, and would evidently prefer not to create speculation concerning our family affairs in the meantime by appearing with us in society.

Aunt Robert is of a different opinion. She is already a warm partisan, and there is no love lost between Uncle Henry and her.

"I don't know why you should study him," she said. "I should let him cook in his own sauce, if I were you."

Both Aunt Robert and the Winfields are going out of town for Easter. Ernest is to spend the first week with Mr. Temple, at the house of an uncle of his in Devonshire, so we shall be quieter than ever.

* * * * * *

Easter has come and gone, and we have had the great pleasure of seeing and becoming acquainted with Ernest's friend. After spending a week in Devonshire, Ernest came up to be with us for the remainder of his holiday, bringing Mr. Temple with him. They were anxious to be together. Mr. Temple was going into lodgings at a private hotel which he frequents when in London, and which is quite close to us; but Aunt Monica, dear large-hearted Aunt Mona, invited him to come to us instead, and he accepted with alacrity.

Ernest's admiration for his friend is unbounded, and now that I have seen him I do not wonder at it. On the evening of their arrival, when Mr. Temple had bidden us good-night, and Ernest had gone up to his room with him, he came back again to ask us what we thought of him. Of course we all liked him, but our praise was not warm enough to satisfy his worshipper.

I am glad Ernest has found such a friend, for he is really delightful. He is grave and courteous in manner, but full of flashes of fun. He does not speak at all of serious subjects; his pervading air alone is serious, but he went to church with us on Sunday, the day after his arrival, and no one could mistake the depth of his devotion. He and Aunt Mona stayed to the Communion, while we remained in our pews, except Ernest, who went out with the congregation. We found him pacing up and down in front of the church, looking rather restless and unhappy.

Before the week was over Ernest's friend was as much ours as his. We all felt it. To Aunt Monica he gave the deference of a son. To Lizzie the playful tenderness of a brother. This also to Edwin and to me, but with a subtle difference in both cases. In speaking of him to me, and now in writing of him, Ernest calls him "your friend Mr. Temple," but that he is like an elder brother describes him best. Not that he is much older than Ernest, for he is only a year older than I am; but one could never lean on Ernest. He might enter on some grand enterprise and carry it out even, if his enthusiasm sustained him to the end. He might lead a forlorn hope, be the martyr of an unwon cause, but a support in one's daily life, a helper in one's common duties, he would not care to be. He wants to be doing some great thing, and does not care to do nobly the little things; and Aunt Mona teaches that ennobling the little things is the hardest if not the highest task.

Even Edwin does not grudge his brother's devotion to this friend; but I don't know what Edwin would grudge. I sometimes question if this wonderful sweetness of his comes from a certain lightness of nature. I would almost like to see him more easily hurt.

I can hardly believe that it was only a week, not that it did not go swiftly enough, for it went past like a dream; but now that it is gone it seems an age. The brief mornings flew past, with light reading, and letters, and chat; and after luncheon we went out. Ernest proposed riding, but Mr. Temple turned to me. "Do you and Miss Lizzie ride, Miss Lancaster?"

"Oh, yes, we are extremely fond of it; but we have not ridden in London yet."

"Then let us walk instead," he said to Ernest; and we went for a walk. I never knew how lovely London can look in the spring-time before.

"There is nothing I like better than walking about London," he said, afterwards. "The endless variety of human faces, and even of human habiliments, interests me unfailingly."

"If the endless variety were not such a variety of ugliness, I should like it well enough," said Ernest. "Do you know that he dragged me up and down Seven Dials when you ladies left us to-day till I know I shall have a nightmare of horrible faces."

"Strange enough masks; but only masks, I fancy," said his friend; "masks of the deadly sins in any number; but if by any process we could scale them off, we should find, beneath them all, the human face divine. Look at the little children among them, pinched and wretched enough; but with such gleams of light and sweetness in their wee faces. Still I don't propose to take you to Seven Dials, Miss Lizzie. It is not a pleasant place by any means, though it is a favourite haunt of mine."

"But I should like very much to go," said Lizzie, who had been listening eagerly, with her eyes fixed on Mr. Temple's face.

"Lizzie would bring back a whole menagerie, I believe," said Ernest.

"I think I should want to bring away some of the little children," said Lizzie, earnestly.

"Pray, Miss Lizzie, are you already a practical philanthropist?"

Lizzie blushed, and denied all connection with philanthropy, but confessed to a love of little children. "And you know," she added, "the little children will one day be men and women, and the men and women were once little children."

We all laughed except Mr. Temple.

"That is the depth of profundity," said Ernest, mockingly.

"Do you know," said Mr. Temple, "the first time I put that proposition to myself, though it seems simple to absurdity, it let in a flood of light upon my thoughts concerning things in general."

"Made you give your version of 'Take care of the pence, and the pounds will take care of themselves,' 'Take care of the children, and the men will take care of themselves.'"

"Yes, and it gives a profound pathos to the most degraded and brutalised of men, the having once borne the image of the child, unconscious and tender, and helpless and innocent."

How glad I should have been to have made a third at the conversations that took place between the two when we had retired for the night. They seemed to me endless; for more than once I lay awake and listened for the quiet "good-night" on the stairs, as they passed up to their rooms. In these long evenings they doubtless indemnified themselves for devoting themselves to us during the day. Still, in the hour or two after dinner the young men would sometimes begin a discussion which lasted longer than our usual hour of retiring, and kept Lizzie and me, and also Aunt Mona, interested auditors. I dare say they talked, as young men, a little loftily. Why should they not, if their thoughts and feelings are loftier? The years that bring soberer language and soberer thought may sometimes take away more than they give.

One evening—the last—they began to talk about political economy. Mr. Temple was combating the notion that the luxury of the rich is a benefit to the poor.

"It encourages trade, doesn't it?" said Ernest, whose mind was not given to practical questions.

"It is wholly bad to encourage a useless trade," said his friend. "It is the trades that supply useless luxuries that are the most fluctuating and often the most crushing."

"But there are true tastes to be satisfied—the craving for beauty in the things that surround us every day."

"Granted; a taste so liberally gratified by nature must be true and noble; but if we have the power to gratify it by art, it must be a matter of conscience that we do not do so at the cost of others, or even at the cost of the sacrifice of some nobler aim. I think it is possible for the lover of art to become a very poor creature indeed, and I am always a little jealous of the encroachments of a passion for it."

"But then there is the encouragement of industry. If we were all to take to camel's hair and leathern girdles, the ladies to blue serge and ditto—I think I have seen something like that somewhere—a great many people's occupations would be gone."

"But a lady trailing a rich dress of Lyons silk in the dust and mire is not encouraging industry."

"Ladies don't do that," broke in Lizzie, with a "Bravo!" from Ernest.

"I am corrected, Miss Lizzie; but some who follow their example in having rich dresses without the taste, or perhaps the opportunity for wearing them only on fit occasions, do." He avoided the sneer at a class which is so easy, and so false, and went on, "They are not encouraging industry; they are possibly preventing their poorer sisters from having rags enough to cover them. All waste is uneconomical, and if a lady has two silk dresses where one would suffice, she has withdrawn for her pleasure the power which would have sufficed for some one else's need."

"But how far are you to carry the principle?" asked Ernest.

"If you mean in individual practice, that is a question, I fancy, for the conscience, and has no more to do with political economy on that side, than arithmetic has with the circulation of the blood. It may mean for one man spending generously a noble income, promoting taste, and culture, and happiness, and to another, 'selling all that he has.'"

Just at this point, to me of the deepest interest, I happened to look at Edwin, who was full length on a couch behind us, and saw his tender eyes fixed with a smile in one direction. Following them, I saw the Fräulein, with a bit of embroidery falling from her large handsome hands, and her fair head and rose-hued face nodding in slumberous unconsciousness. Of course other eyes followed in the same direction, and our colloquy was broken up.

Lizzie and I were rather severe upon the Fräulein that night when we got her up-stairs. We knew she did not like Mr. Temple. He was perfectly courteous to her, but she shrank from him strangely. "He is too clever for me," she said, that evening; "and his eyes go through and through me."

――――♦――――


CHAPTER IX.

A PRINCE IN DISGUISE.

THE other day I startled Aunt Mona by jumping up, and tapping on the window, in the endeavour to arrest the attention of some one on the opposite side of the street.

"Who is it, my dear?" she asked, coming over to me, and looking out of the window at the crowd below.

"The gentleman there."

"Where?" asked Aunt Monica. "I do not see any gentleman. Has he crossed over?"

"No; he is there still. But he does not see me; he cannot hear me for the rattle of the carriages."

Aunt Monica stared across the street in complete bewilderment, for there was no one to be seen on the opposite side except an old man, evidently an itinerant vendor of toys, waiting to cross when the stream of vehicles had passed.

I had no time to explain, but left Aunt Monica standing there in astonishment, while I ran downstairs and out into the street, darted between the carts and carriages, seized the hand of this very old man, and at length dragged him with me into the house, as fast as his lameness would permit.

I still held his hand, and in the other, and over his shoulder, he carried a load of children's toy carts and wheel-barrows. I wanted him to come straight up into the drawing-room, but he would not come, and I desisted from urging him, because I felt it would give him pain; so I had to content myself for the present with a hurried conversation in the hall, which ended in the obtaining of his address and leave to call upon him there.

On entering the room again, I found Edwin stretching his lazy length upon the sofa, a volume of Tennyson in his hand.

"Oh, Edwin! oh, Aunt Monica!" I cried, excitedly; "whom do you think I have found?" Aunt Mona smiled, and answered, "I don't know, my dear; but you evidently forgot that you were in the middle of London. I saw you rush out, and run madly across the street; and I thought you were possessed with a sudden mania for purchasing the stock of an old toy-vendor."

"Katie never ran; she 'moved to meet him,'" quoted Edwin, from the sofa.

"Then Katie must have been a very lifeless and rather selfish creature," I answered, hastily; "and you don't deserve to know whom I have found."

"Who was it?" asked Aunt Monica. "Some pensioner, I suppose."

"It was Mr. Bothwell, our old tutor," I answered.

"My dear, I am more bewildered than ever. You don't mean the old man with the toys?"

"Yes, indeed I do. He tells me that teaching failed him, and so he took to toy-making. Only think of it, Aunt Mona! he lives by making those things, and he is very, very poor!"

"Why didn't you give him something?" said Edwin.

"Why didn't you bring him up-stairs?" said Auntie.

"First, Aunt Mona, because he would not come; and, Edwin, I could not give him money like a common beggar."

"Oh, I mean lots, all that you had—not such a sum as one gives a beggar."

"No, I could not; I feel sure it would have hurt him to be offered money. Besides, I want him. I want to see him. I have his address. He says it is not a fit place for a lady to visit. But I must go; you will come with me, Aunt Mona? Indeed, I must go!"

"By all means, my dear. It is very sad for a gentleman and a scholar to be reduced to live in such a way."

"Only he is not sad, Aunt Mona. I never saw any one more cheerful. But fancy his living all alone in a room by himself, with no one to do anything for him."

I could not rest till I had dragged Aunt Mona to the address Mr. Bothwell had given me. It was in one of the courts at the back of St. Martin's Lane, and we passed through Seven Dials to reach it, which we did at last under the guidance of a friendly policeman, who, however, left us at the entrance of the court.

It was certainly a dismal and dirty place, and I saw some faces, especially of women, round the doors of the public-houses which made me shudder, and yet they inspired more of pity than terror. We had asked our way, and been answered with unvarying courtesy, and within the little court it was the same.

The houses were large and old, and surrounded the court, so that even on that bright afternoon in May a great portion of it was in shadow; but in the little strip of sunshine the children played. They stopped their game to look at us, and drew near to listen when we asked a young woman, with a baby in her arms, to direct us to Mr. Bothwell's.

"I know; I'll show you," came from half-a-dozen eager voices, quite drowning the woman's answer, and showing that he whom we sought was well known among his neighbours.

The house, it seemed, was let in single rooms, and Mr. Bothwell's was on the ground-floor. The young woman led the way, and all the children followed. A cheerful "Come in!" answered the young woman's knock, and having opened the door she ushered us in and withdrew, driving out the children, who showed a strong inclination to follow us.

When I had introduced Aunt Mona, while Mr. Bothwell was finding us seats, I was getting accustomed to the dimness and confusion of the little apartment. The window was in a corner, and in the corner was a bench, heaped with materials for the construction of toys; another ran along the side of the room with a turning-lathe fixed to it; against the end wall was a set of plain deal shelves filled with books in good old-fashioned calf bindings, except that the top shelf was occupied with a row of dishes, a few cups and saucers, a brown teapot, and a plate or two. A lot of thin wooden planks leaned against the wall in the only spare corner. There was a tiny table about two feet square, a big easy chair in which the master of the house had placed Aunt Mona, and several three-legged stools, which came out from under the bench, and which he gaily informed me he had made for visitors. In the midst of the confusion there was something genial. It was not comfortless; there was a small fire, and a little kettle simmering on the hob. "You see I am quite comfortable here," he said; and what with the fire and the books one could not help believing it was true.

Then he began asking minutely about all of us, and taking the greatest interest in all I told him, gradually, and in spite of the invincible shyness which he could not help showing, setting us at our ease as any gentleman would his visitors.

"You wonder to find me engaged in such work as this, Miss Una," he said, seeing me examining the heap of wooden objects which lay near me.

"Do you make these with your own hands?" I asked, by way of reply.

"Yes, I make them, and sell them to the toy-shops; and in the summer I sell more than I can make; only, as there is no demand in the winter, I lay in a little stock of the separate parts, such as you are looking at, and put them together as required."

"But I fear such work is very poorly paid," said Aunt Monica.

"It is so," he said; "but, you see, it takes very little to keep me, and when I am busy I lay up enough for the time when work is scarce."

"But what made you take to such work as this? It is not fit for you," I said, hastily.

He smiled.

"I am glad to be fit for it, Miss Una, though you seem to think it is a degradation; which, indeed, it might be if other work was required of me."

It was my turn to blush; but I could not deny my thought as he had read it.

"You could do higher work," I said; "and to do lower work does not seem right, does it?"

"But the higher was not given me to do," he answered. "I tried and tried in vain to get teaching; tried till it was useless to try any more, for my clothes were no longer respectable enough to present myself in, and my very letters, one from your father among the number, were worn out, too, with much handling. Nobody wanted me to teach; and the rebuffs I got make me wince to this day. Misfortune makes us acquainted with strange bedfellows, they say; and it made me acquainted in this very way with an old toy-maker, who taught me his light and gentle craft in return for some teaching which he wanted sadly enough—of higher things than earthly knowledge, Miss Una; and I have stuck to it. I make my carts and wheel-barrows so strong that they will stand any amount of knocking about. They are not made only to sell, to disappoint the bairns, and teach them distrust, and premature knowledge of the world; depend upon it, Miss Una, the Master knows best, and I am at my appointed task."

I was listening with a delight which I saw reflected in Aunt Mona's face. I was listening to the same voice that had charmed my childish heart. He had quite cast off his shyness, because he felt, as all such natures feel, the atmosphere of sympathy.

"You are looking at my books," he said to Aunt Mona, who had risen and was standing before the book-shelves. "They were my father's, and very sorry I was to part with some of them. I parted with those I liked least; but I fear I sold some that were mere rubbish, and that ought by rights to have gone into the fire—the only safe place for a bad or foolish book. The less rubbish in the world, the better!

"And yet," he went on, "I remember a rebuke on this point which came from your little sister Lizzie. She was holding tenaciously a whole lapful of odds and ends, engaging both hands, while a ball and some other object were held under each arm; and being summoned to lay down that rubbish, she replied, indignantly, 'It isn't rubbish—it's toys!' And in this life of mine here I learn what things can be made of use to human beings in their straits, and to despise nothing—nothing, except it be the bad books," he added, with a twinkle of humour; "I haven't found out any use for them."

"I fear there is nothing you would care to read," he said to Aunt Mona,

"You mean nothing that I could read," she replied. "I see they are mostly in Latin."

"Yes, they are mostly classics," he said. "I like to read the great poets and philosophers, and it keeps up my knowledge of the ancient tongues. One never knows what use one may have for them."

"Then you will take up your teaching again?" said Aunt Mona.

"I didn't mean in this world," he said quite simply. "I don't think I shall. But there is nothing finished here. We shall want all our knowledge yet."

"I think I have some moderns whom you might care to become acquainted with at you leisure," said Aunt Mona, preparing to go; "and you will come and see us, Mr. Bothwell, will you not? There are Edwin and Lizzie at home, and Una here is promising herself no little profit and pleasure from renewing her acquaintance with you."

"If you don't come to us, we mean to come to you," I said, "now that we have found the way."

"Then, I must come to you," he answered, "for I would not like to expose you to the risk of coming here."

"Indeed, it does not seem at all dangerous," said Aunt Mona; "the people were so civil to us. Your neighbours especially seemed quite eager to show us the way to your room."

"Ah, poor things! The women and children you saw about in the daylight are anything but dangerous; but within hearing of our voices almost, there are men, and women too, capable of any and every crime, men and women who are at this moment drinking themselves into madness, turning themselves into cruel and disgusting brutes."

"And are you not afraid to live among them?" I said.

"I have nothing to be afraid of," he said. "They could not injure me if they would, and would not if they could. They are welcome to warm their shivering limbs at my little fire. If they are hungry, they know that they can share my crust and my cup of tea, and wonderfully chary they are of doing it. They take sanctuary here from themselves and from each other. I have saved one or other of them from death, from suicide, from murder. I have rescued a wife from her husband, a child from its mother. One whole night I had a baby here, but that I wouldn't undertake again on any account."

"But what would you do with it if it came in your way?" I said, laughing at the rueful face he made at the bare remembrance of it.

"Oh, I could get plenty of nurses for it now among the women and girls. It was left with me by a neighbour, who promised to come and fetch it, and then went and got locked up dead drunk. I shall never forget how awfully it cried. I was sure it was hungry, and I didn't know how to feed it; and, indeed, it would have died if I hadn't thought of giving it some milk out of the teapot, as I had heard of the motherless lambs getting in the north country. You see I can work for the Master even here."

"Indeed you can," said Aunt Mona; "and perhaps do more than those who seem to have all the advantages of wealth and position, for you live among them."

He nodded affirmatively, adding, "One can see better, you know, with a farthing candle close at hand, than by the light of a fixed star."

Aunt Mona gave her hand at parting to Mr. Bothwell, with a look of recognition, which I was delighted to see; and when we were once more in the street she whispered, "My dear, your Mr. Bothwell is one of the world's princes in disguise, and you and I must do him homage."

――――♦――――


CHAPTER X.

SMALL MATTERS OR GREAT?

IT seems a very small matter I am going to set down, so small that I fear I exaggerate its importance; and yet it has made me very uneasy.

Fräulein Vasa has been in excellent spirits ever since we came to London. We have never once seen her in tears, and she has even ceased the prodigious yawning which used to go on, more or less, every evening. She has been very much impressed with the necessity for taking good long walks in the open air, as a precaution against the unsanitary conditions of London; and her headaches have disappeared in consequence. We have heard her trilling her pretty German songs all over the house, and her complexion has been lovelier than ever.

But with all this improvement her appetite has been extremely variable. I noticed it on several occasions without saying anything about it, and indeed thinking it was part of the general improvement; for I am sure she ate more than was good for the health either of body or mind. But to-day Aunt Mona spoke out about it, and seemed quite concerned that she could eat so little.

There was a curious silence, I thought, and happening to look at Lizzie, I saw her eyes directed with indignant rebuke towards the Fräulein, while, knife and fork in hand, she seemed to wait for her to speak.

Turning to Edwin, he was looking persistently at his plate, and the Fräulein's alabaster brow was flushing to the roots of her hair.

"We shall have to get some of your native dishes to tempt your appetite, if you go on in this way," Aunt Mona continued. "London does not agree with you, I suppose; for in spite of your long walks you eat nothing."

I could not understand it; the Fräulein only uttered a long-drawn "Ach!" and even Edwin looked embarrassed.

Lizzie did not speak again during dinner-time, but as soon as it was over, and we were on our way to the drawing-room, going up-stairs with her arm around my waist, she made me understand that she wanted me to come up to our own room, and accordingly we ascended another flight together.

As soon as we were within it, she closed the door, and burst forth indignantly, and yet with a half smile of amusement, "I can bear it no longer, and yet I hate to speak of it. I do think she might have spoken herself, when she had such an opportunity."

"What do you mean, dear?" I cried.

"It is perfectly disgusting! When we are out the Fräulein goes into the pastry-cooks' shops and eats all sorts of things. No wonder she has no appetite. To-day she had four or five great things—cakes and tarts—and a glass of wine. They wanted me to have some, but I would not. You know how we were taught to despise that sort of thing."

"They—who are they?" I said.

"Oh, Edwin has been with us most times. He takes a little, but not nearly so much as she does."

"And does he take wine also?"

"Yes, sometimes a glass, or two glasses, of sherry."

"And of course he pays for it all?"

"Yes, but he did not propose it first," explained Lizzie. "It was the Fräulein herself. She said she was hungry, and the things looked so nice; and so they do," said honest Lizzie, "and I would have liked them well enough, only I was angry and disgusted. What shall we do?" and Lizzie looked the picture of comical distress.

"I will speak to Edwin at once," I said; "it must not go on. It is very bad for both of them, but especially for him; and you must tell the Fräulein that you have spoken to me about it."

That evening we both found an opportunity to accomplish our tasks. Edwin treated it as a very light matter.

"What would you have had me do? The girl was only hungry, and wanted something to eat. She is a great baby; but it is good to see how she enjoys herself. And how could I say anything afterwards, when she said nothing? I suppose she did not like to tell; it is natural enough. After all, she is a stranger in a strange land, and we must make allowances. It will be all right now that Liz has told you. Liz always cuts her way straight out of a difficulty."

"It won't be all right if it is to go on," I said, gravely.

"Why not? We used to do it at school to any extent."

"Oh, Edwin, I wish you were not so idle. Can't you see how wrong and foolish it is?" I broke in. "What has that to do with it?" he asked.

"A very great deal," I answered. "If you were earnestly engaged in preparing for the work of your life, as you ought to be, you would not care to saunter in the streets and eat cakes and drink sherry."

"How very serious we are," he laughed, with good- humoured mockery. "And what is my lifework to be, Professor Lancaster? I wish you would let me know."

"For a man it must be to make himself of some use in the world, I should think; to help to make things go right instead of wrong."

"Rather vague," he replied, still mocking me. "A good many are only engaged in making things go wrong; if one keeps from doing that, it is something," he added, more gravely. "I don't think I am doing much harm. Other fellows like me want to ride in the Park and have expensive luncheons, and smoke, and go to entertainments, and spend lots of money. I am a perfect Spartan in comparison with others of my age."

"But, then, you are doing nothing."

"I can't possibly be doing harm, then."

"Oh, Edwin, one can't keep from doing wrong if one isn't doing right," I said. "Why don't you join Ernest at college, and work as he is working?"

"What would be the good of it?" he asked. (Oh, that question! Is everybody asking it? and do they go on asking it for ever!) "Ernest has ambitions," he went on. "He wants to be Lord Chancellor some day."

"So should I, if I had been a man. I call that a great ambition to know the laws, perhaps to make them better—fitter to punish the evil, and help the good to triumph."

"Very fine, Fräulein Professor in," Edwin began; "but," he went on more seriously, nay, even with a touch of sadness, "there are hundreds of fellows wanting to do all those fine things, and better able to do them than I am, so I should only be keeping out a better man if I succeeded, and I feel sure I should not."

"Then there is medicine," I went on; "but what is the use;" I thought, "we have had it all over twenty times. Here he will only make a wry face, and look disgusted, and put all my heroics to flight by some pleasantry."

But some deeper vein had been reached, for he answered, gravely, "I do not think I am fitted for that life either."

"I had no idea you were so humble."

"It is true," he said; "I think I am a useless sort of fellow. If any of you wanted me to do anything, I could do it. I can't get it into my head that the world wants me. I used to wonder at the fellows at school wanting the prizes so much, and the places. More than once I have let a fellow win when I could have done it myself, because I couldn't bear to see him disappointed."

"But you took a good many prizes and worked very well at school."

"Worked—yes, I suppose I did. I read for the reading's sake; I enjoyed it, and I couldn't help winning the prizes. And now I mean to enjoy life, without seeking its prizes, and perhaps I may win there too."

I can make nothing of him, and I am very uneasy. My pre-occupation, perhaps, has hindered me from noticing how much less eager Edwin is for his brother's companionship. Hitherto they have been inseparable. Edwin always chose after Ernest, and always chose the same things. They always did everything together, and went everywhere together. When did they begin this divergence? Has there come a change in their relations to each other, and has Ernest's fickleness anything to do with it? I cannot tell. I can only hope that something will rouse the fine intellect and sweet generous nature to shake off this lethargy.

* * * * * * *

Is it a great calamity, or a little one, or no calamity at all, this which has befallen us? The loss of money may be any of these, I suppose—a calamity in proportion as it cripples our powers and narrows the possibilities of our lives, and the reverse if it restores the one and widens the other.

I have never known the real value of money, and so I can hardly measure the loss of it. I have always been supplied with all I wanted; and only when I have not had enough to give away have I ever wished for it, and then I wished for it on the scale of "The Arabian Nights," to be measured like Ali Baba's treasure, uncounted and uncountable.

Aunt Monica makes little of it; says we shall have enough for all the necessaries and some of the luxuries of life. She has three hundred a year of her own, but I believe all that my father had beyond the income of his profession, has been swept away by the failure of a company in which he had invested.

Aunt Monica is thankful that the company was "limited," which she has been explaining to me, so that, beyond the paying up of the capital invested, there will be no future calls upon him. Still, I fear we shall to some extent be dependent on Aunt Monica.

My father has written to me. He is much more troubled about the loss than Aunt Mona seemed to think he would be, and speaks out plainly. He tells me that we shall be dependent, to a great extent—almost entirely, for the present—on Aunt Monica. That we girls must spend nothing, and that the boys must get into harness at once. He is doubtful if Ernest can be maintained at the University, and writes to Edwin that he must look out for something at once.

Edwin has taken it so sweetly. He looked all through the advertisements in The Times the very morning the letter came, and then, as there seemed nothing for him, he made up an advertisement of his own, letting us all help and advise him. This was what we decided to send—

A YOUNG Gentleman of good education, and with a competent knowledge of French and German, desires to enter a Merchant's Office as Corresponding Clerk, or in any other capacity in which immediate remuneration would be given.

"I needn't say how young I am, Auntie, unless I am asked," he said, stretching himself up to his full height, which was slightly over six feet. "Nobody would take me for under twenty, would they?" and he stroked the chin already golden-brown with the fast-coming insignia of perfect manhood. "Give us a kiss for good fortune," he said, gaily, as he went out to post his letter.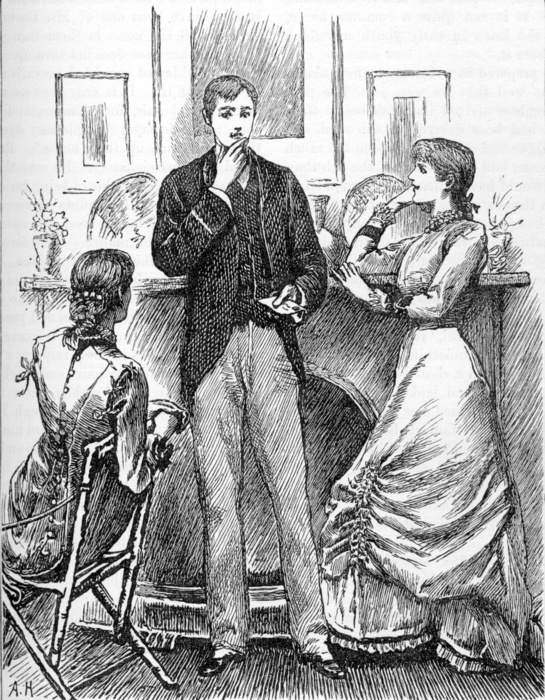 "Nobody would take me for under twenty, would they?"

And we all kissed him as he went out, Lizzie running after him to proffer another and another.

When she came back she noticed, and we all noticed, that the Fräulein was in tears, and, for the first time, we neither felt disgusted nor annoyed at them. On the contrary, Lizzie went up to her, and gave her an affectionate, if rather patronising, hug; and we all felt more friendly and sympathetic towards her. Indeed, on my part the sympathy awakened a feeling of self-reproach that this girl, with a heart that could be touched by our trouble, should have lived so long under our roof, and still remain so great a stranger.

Lizzie, too, has come to the front in our need. She is far more practical than I am, and I believe she realises the situation better. Instead of going off to bed before any one else, as she has hitherto done, often, it must be confessed, with sleep in her dear eyes, and a repressed tendency to yawn about the corners of her sweet mouth, she begged to begin sitting up with us.

And the poor Fräulein succumbed at last and went off to bed, when Lizzie, watching for her opportunity, began. "Dear Auntie, Fräulein Vasa must be sent away at once. I am sorry to-night, somehow, but she is sure to get a good situation. She has often told me that it is quite easy for German governesses to get more money than we give her. I can go on with my lessons with a little help from Una, and I shall like it much better."

"It would be a great saving, and, indeed, a necessary one," said Aunt Monica; "and I feel sure she will easily get another situation, as you say, my dear."

And so it was settled at once that Fräulein Vasa should leave us.

"She has taught me a good deal," said Lizzie, evidently desiring to think as well of her as possible; "and among other accomplishments, Auntie, to be a far better needlewoman than I ever thought of being. You none of you know how clever I am. I have watched her and helped her in making up her dresses, which always fit her so nicely. She does it quite scientifically, so different front a dressmaker. She takes down all the measurements, and then draws out the pattern with a bit of chalk, and cuts away with mathematical precision. And I have watched her trim hats and bonnets till I am sure I could do it myself. And I mean to try, if you won't mind making guys of yourselves for a little, while I am learning. You have no idea how economical it is to do all these things for one's self."

I really think Lizzie enjoys the prospect of being poor, and managing things.

The Fräulein has asked leave to stay with us till she finds another situation—a request to which we were glad that Aunt Mona assented willingly. Auntie will not hear of interrupting Ernest's studies. I am sorry to say he writes in a very discontented tone, as if some one ought to be blamed in this matter. I can see, indeed, that he blames our father, and feels an injustice done to himself, as if he had a right to the happiness that a certain amount of money will purchase, and some one had robbed him.

We have been on the look-out for a small suburban house, and at last we have found one. It is only £50 a year, and that is as much as we shall be able to afford. It has two sitting-rooms and five bed-rooms, one for Aunt Mona and one for Lizzie and me, one for Edwin (which Ernest must share in the holidays), and one for our only maid. What a change this will be for Aunt Monica, who has always been accustomed to have a maid of her own till she took charge of us! Aunt Robert told us so. She comes to see us, and laments over us so much that it makes me feel quite wretched—not on my own account, but on Aunt Mona's. And yet where should we have been without her? And then she declares that she is happier than she ever was in her life before, and I do not think it is entirely fancy. She seems happy.

"I am only afraid," she said to Aunt Robert, the other day, "that my helpless ways will make me a sad trouble to my children. Did you ever see me with a prettier cap?" she went on. "Well, Lizzie made it out of nothing; absolutely created it out of a few scraps of lace."

"And I did so enjoy making it," said Lizzie; "and Aunt Mona has lace enough to make up caps for a lifetime."

I do not know what we should have done at this time, also, but for Aunt Robert. We had got our little house, but Aunt Mona confided to me that she had not nearly enough money by her to furnish it. "We must be content with very little," I said; but I had not the slightest notion what that meant.

It was Aunt Robert who came to the rescue. When it came to furnishing our house, she wanted to see it, and to take us shopping in her carriage, but Lizzie cried out, "Oh, that will never do; they will think we want fine things, and we have only a very little money, and we have settled that we can only have iron beds and plain deal furniture in the bedrooms, and very little carpet, and eke it out with some pretty matting."

"Oh, have we?" said Aunt Robert, with an accent on the "we" which made us all laugh; but we were packed comfortably into the roomy carriage, and driven out to our cheap suburb, that Aunt Robert might see the house and its capabilities.

"You can't live here," said Aunt Robert, looking disdainfully at the very outside of our little mansion, which we had almost admired, after all we had seen.

"Why not?" said Aunt Mona. "We cannot choose—that is, we have chosen to the best of our ability. You know what our income is likely to be. People with such an income must live in such houses as these. It would take every penny we have to pay for our present lodgings alone."

Aunt Robert went over the little rooms, finding fault with everything, till Lizzie said, "Aunt Robert, I do wish you hadn't come. We thought everything quite pretty, and I mean to go on thinking every thing pretty still," and she looked at the fault-finder with comical defiance.

Aunt Mona looked troubled at Lizzie's speech, and I know I was, but Aunt Robert seemed to take it in good part. "You saucy child!" she said, with a smile.

"I wish we could see inside some of the little houses, to find out how they manage," said Lizzie.

"I don't think that would help you," said Aunt Robert, looking out of the window. "Those houses opposite are smaller still. Do you see in that window what appears to be the top of a bride's cake under a glass case? Is that an advertisement that they are newly married?"

"I see some darling little faces watching us from over the way—a whole window full," said Lizzie. "This will be our drawing-room," said Aunt Mona.

"And you will let me furnish it for you," said Aunt Robert. "Lizzie shall go with me and choose everything for this one room. You can manage the rest."

"Oh, that will be delightful!" exclaimed Lizzie, throwing her arms round the speaker. "You are as good as a fairy godmother—and better, for your gifts won't vanish away."

Aunt Robert kissed her, and I saw the hardish mouth tremble a little, and a flush of pleasure pass over Aunt Robert's face.

"I know it will be a pleasure to you, Harriet," said Aunt Mona, in her quiet sweet tones, "and it will be a great help to us; but be sure that you keep down your desire for the bountiful and the expensive, or we shall offend against good taste by our want of proportion."

――――♦――――


CHAPTER XI.

POVERTY AND REFINEMENT.

OUR little house is furnished at last, and very nice and pretty it looks now we are in it. Aunt Robert and Lizzie have been very judicious, Lizzie boldly claiming all the credit to her aunt's face, who had wanted to buy twice as many things as the room would hold; and the controversy had ended in Aunt Robert furnishing both sitting-rooms, leaving only the bed-rooms to Aunt Mona, in spite of her remonstrance. There is a dark green carpet in our drawing—room, with a mossy pattern; a simple set of walnut-wood furniture in crimson stuff; pretty lace curtains; a single pot of flowers, which can be renewed according to the season; and then for ornament a few pretty vases on the mantle-shelf—though they are only glass, they are very pretty. Auntie's portfolio furnished plenty of water-colour paintings for the walls, and she is quite proud of them—could not have believed they would look so well. And then her books: they are arranged in little hanging book-cases within easy reach. The dining-room is equally simple, only the wood is oak, and the furniture clad in leather; and the things being larger, and the room smaller, it has enough ado to hold us. Lizzie wishes we weren't all so big, rather reversing the usual mode of desiring to adapt things.

Aunt Mona and I did our part with a very small expenditure, fitting the bed-rooms with painted deal, iron beds in black and gold, and strips of carpet and Indian matting. It was well that we did spend so little, for the things wanted seemed endless. There was linen, and plate, and kitchen things, and we are always finding out that something else must be bought. My very brain seems to be new furnished, as indeed it is, for I have been buying a great number of new ideas as well as new furniture—ideas which make life appear in a very new and real light; and among these ideas is a profound respect for the class which creates and maintains all the new homes so like this of ours in externals at least. Whatever their failings may be, they cannot be the wretched and contemptible creatures whom I have heard called hard names by ignorant people.

Edwin thinks he has been remarkably fortunate. He has found, by the merest chance, just the kind of situation he wanted, in a large mercantile house. They have great transactions with France and Germany, and their corresponding clerk, a Frenchman, who has been with them several years, is hopelessly ill. They fear he may never be able to take his place in the office again. Poor man, he had only one hundred and fifty pounds a year, and he has a wife and several children. Edwin is to have the half of that sum for the present, with the prospect of retaining the situation at the full salary on the death of his predecessor; in the meantime, I believe the other half is to be paid to him. The whole thing sounds dreary in the extreme, but, dear fellow, he is quite satisfied, and feels sure that his work will be easy.

We have had Ernest with us for a few days, but I am very glad he has gone to Aunt Robert's. He was so dissatisfied with everything. He could not bear to see Lizzie and me doing things in the house, and was always saying, "Can't the servant do that?" I had to tell him that there was more to do, especially when he was at home, than one pair of hands could accomplish. I marvel what they can accomplish, now that I have tried the separate items. Lizzie and I make the beds and dust the rooms. We asked the servant how we could help her, and she told us that her former mistress had done these things. We find it pleasant enough to do them. An hour or two in the morning suffices, and it keeps our nice little maid from being thoroughly overworked. She is anything but the typical maid-of-all-work, our Juliana. She dresses very simply, though she has such a fine name, and is pretty and delicate looking, with an air and gait which would beseem any lady, and speech and manners to match. Lizzie and I look far fitter for housework than she does, and yet, I suppose because she is trained to it, she is far less easily tired. When I said I feared she must be very tired, one day that Aunt Robert came to dine with us, she said so sweetly that she was not tired in the least, adding, with a look of grateful kindliness, "I do not mind work at all—it is a pleasure to work in this house, where I am never scolded, or worried, or spoken to as if I was an inferior animal;" and then she told me how hard and miserable her life had been with more than one former mistress, "driven," as she phrased it, "from morning till night, attacked with looks and tones of fury or of freezing contempt if anything went wrong. They made me feel so bad that sometimes I did not know what I was doing, and really made mistakes and breakages from nervousness. I never was so happy in my life as now," she concluded.

Thus far our new domestic life is a great success. It is pleasant to find our single servant, of whom we had a great dread, and who might have tyrannised over us to any extent, prizing so much our courtesy and kindness, which is no more than the common courtesy and kindness which English ladies always show to their domestics.

Of course, Juliana must go out now and then. She goes to church on Sunday evenings, and once a month to visit her mother, and then we are left to serve ourselves. I am glad Edwin was not at home on one of these occasions, as he would have seen me getting red over the kitchen fire cooking a mutton chop, and opening the side door to take in the milk and the bread. I do not see why it should vex him so much. These things must be done, and they can be done without any loss of refinement. Juliana does all her work with a gentle dignity which is perfectly delightful to behold.

I talked it over with Aunt Monica.

"Real refinement is a thing of the inner kingdom, dear child," she said. "Like real religion, no circumstances exclude it. If it is present within, it is sure to rule and guide all that is without."

"And yet people talk as if it belonged only to a certain class—nice people and refined people meaning only the wealthy and the educated."

"There are circumstances favourable and circumstances unfavourable to it," said Aunt Mona, "and many a noble fight has been made by men and women to keep themselves and those dear to them surrounded with the former. But then nothing is so hostile to it as pretence. Truth is necessary to its existence. Indeed, it is allied to all that is pure and good. It is with a kind of intuition of this that the proverb says cleanliness is next to godliness."

"And it costs a great deal," I said, speaking from my new experience.

"Indeed it does; the delicate personal purity of English ladyhood costs a very great deal, both in time and money; but Juliana, whom you have instanced, is an example of how a servant achieves it by her own labour and the fitting simplicity of her dress. It is doing her duty so fittingly that lends her so much dignity."

"A lady under the same circumstances ought to do the same."

"Yes, my dear; but not by dressing exactly like a servant; that would be renouncing instead of practising the fitness we have been speaking about. Nature will not lend itself to imitations. They are too cheap. And if we cannot pay in money for the best things, we must do it in a higher currency. Peace and order and 'sweetness and light' are not to be had without giving in exchange self-control and self-denial, unselfish aims and earnest thought."

"And then all high thought ennobles," continued Aunt Monica. "An aged Christian is perfectly refined. I have one in my mind at this moment who died in the ward of a city workhouse. I knew her before she went into it, too weak and poor even to keep herself clean. She was watching over her one unhappy son, who was a confirmed drunkard, and whom she would not leave till she was no longer able to wait on him, as she did with unfailing gentleness in the midst of his bestial sin."

"Oh, Aunt Mona, how good people are!" I exclaimed, somewhat vaguely.

"Can be, I should say," she answered, smiling. "You mean that our virtue and our refinement cost us comparatively little."

"Yes, indeed; our lives are quite easy and leisurely. Lizzie says she never knew there was so much time in a day before."

It is true we are getting accustomed to our new mode of life, and finding it quite easy. We are able, after the bustle of settling down, to look about us and to think it is just a little dull for our neighbours, if not for ourselves. Certainly the days are long. We rise early and breakfast early, because Edwin must go into the City by the 8.20 train, and then there is ample time in the morning for all our domestic work, for dressing and for our early dinner. There are no visitors. We generally go out for a walk, all three; and there are just three walks to be had in the neighbourhood. One, after an interval of market-gardens and untidy waste ground, already let for building purposes, takes us past the long wall of a suburban cemetery. Another, among endless rows, and roads, and terraces, like the one we live in; and the third, into the fields—at first they are brick-fields, by no means exhilarating objects of contemplation, but Lizzie and I can walk past them and get into real fields, with hawthorn hedges, and spreading trees, and stiles, and field-paths. We can even get up on a little hill by means of one of these paths, and see all about us green, as if we were in the heart of the country. Only Aunt Mona cannot walk so far, and sometimes she stays at home, I feel sure, in order that she may not hinder us.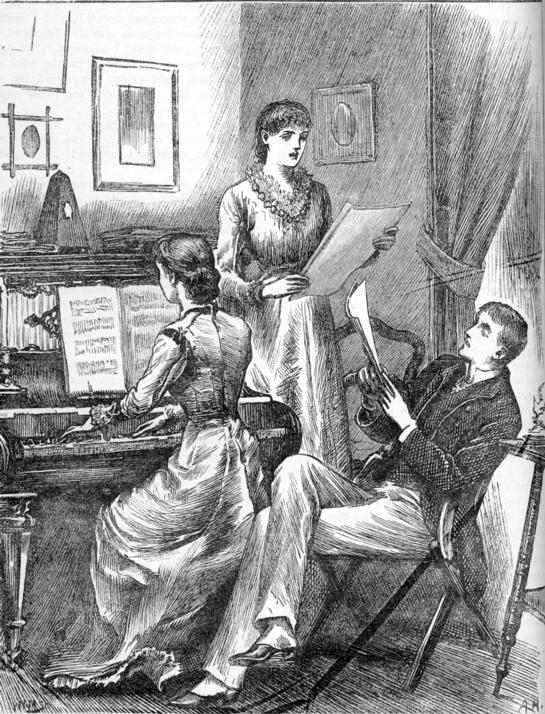 "In the evening we have our books and our music."

Then in the evening we have our books and our music. I do not know if this is enough for me. I do not think I am discontented, and neither is Lizzie. She is anything but that, but she craves already for a fuller life, shown in the eager interest she takes in the concerns of our neighbours. The people opposite, I ought to say, for we have no neighbours, so to speak. On one side of us there is an empty house, and on the other we have seen no one except a little boy.

He was discovered by Lizzie one day. Nothing was to be seen of him but his round face and very round eyes looking over the top of the wall. He must have got a chair there to stand upon, and it must stand there always, for we never look out without seeing the little face peeping at us. That garden, and a very neglected garden it is, seems to be his whole world, and he looks over the wall quite into another. On first seeing me come out into the garden and look up at him, his head disappeared suddenly, so suddenly that I feared some catastrophe might have occurred. It came up again, and then I smiled and nodded. Again it disappeared, and this time a little hand came up again, holding out a pansy, which was accepted with thanks, and so our intercourse began.

At first it was conducted by a telegraphy of nods and smiles and gifts of flowers, chiefly dandelions and daisies on his part, but at length he found a tongue; and what a nimble little tongue it was, too! Everything that took place within his ken was immediately communicated. In vain I tried to stop him. "I'se dust had my dinner," he would say. "I'se had beef tea; mamma had a top. Mamma isn't well to-day; I mustn't make a noid." Next day he appeared, calling out excitedly, "I dot a baby; have 'oo dot a baby?" and be seemed to pity us much when we answered in the negative.

We have sent Lizzie away for a fortnight to Aunt Robert's country house. Indeed, it was Lizzie whom Aunt Robert wanted all along, asking her and Ernest, but Ernest only as a make-weight. Lizzie declined, and yet she did it so graciously that Aunt Robert could not take offence. "Let me come to you some other time, dear aunt," she said. "There is so much that I can do at home just yet;" and so it was settled that Ernest was to go alone. He has been seeing a good deal of company at Nyewood. His friend Mr. Temple is to be there during Lizzie's stay, and the Winfields have been and gone. He seems to have enjoyed himself on the whole. Lizzie and he are to come home together in a fortnight, when Aunt Robert goes to pay some autumn visits.

Auntie and I are still troubled about Edwin, though not on the score of idleness any longer. I fear he has a great deal more to do than he anticipated, for he often comes home late, and seems tired and depressed. Indeed, we see very little of him. He has to go away so early, and on Sunday he stays at home all the morning, when we are at church, and goes out in the evening for long walks, which seem to tire him more than refresh him. The other evening, when he came home early, Fräulein Vasa came to see us, and he went home with her. Curiously enough, she has found a situation in our neighbourhood. Perhaps she sought to be near us, for she claims us as her only friends in England. After all, she is a stranger, and we must be kind to her. I am glad Edwin offered to see her home, as the roads are dark and lonely but he did not do it as graciously as he would once have done. A shadow has fallen on our sunny-hearted boy.

――――♦―――


CHAPTER XII.

THE HOUSE NEXT DOOR.

LIZZIE would have been gratified. We have seen something of our neighbours at last. The day after she left us the nurse next door brought us the new baby for inspection, with the mother's thanks for our kind inquiries. Along with nurse and baby came our little friend from over the wall, whom we have only known by the name of Toodles. "Mamma's Toodles" was the name he gave us, while he rejoices in the title of Master Frederick William Johnson Jones. "Teddy is short for Frederick," explained the nurse, "and so it got to be Toodles"—by what process might be interesting and instructive to advanced students of philology. The nurse was also commissioned to inquire if Toodles was in any way troublesome, as his looking over the wall had been discovered, and prohibited; and Toodles had been breaking his heart ever since. We assured her that it did not trouble us in the least, duly admired the baby, whose little red face was buried in a stiff satin bonnet, and ended by asking Toodles to tea. It was a bond of interest between us and the unknown young mother to find that the father of Toodles was at sea, and away on a long voyage, in command of a merchant vessel.

Then while Aunt Mona and I were engaged in ministering to the insatiable curiosity of Toodles, we were called on to receive the clergyman and his wife. Mr. Davidson is a fine-looking man, with iron-grey hair, and stern not to say severe cast of countenance. He is an interesting preacher, but he is not an attractive man, at least to me; his expression is one I cannot understand. Mrs. Davidson is a large and still rather handsome woman, who says very little, and looks rather timid and repressed. I do not think they are happy together; he has a way of looking at her—a "what will you say next?" sort of look—which reduces her to silence. He does not otherwise snub her, except by entirely passing over any remark she makes, but she is evidently afraid of being snubbed.

Mr. Davidson told us that his curate, Mr. Carrol, had decided on bringing his mother and sister to live in the district, and that he has taken the house next door to us. It will be very pleasant for us, especially as Aunt Mona believes that she knows something of Mrs. Carrol. It is not quite a common name, and one whom she knew in early youth married a clergyman who bore it.

Thus we were prepared to welcome our new neighbours, and it was well that we were so. The poor lady and her daughter arrived in a cab before their furniture, which had been delayed on the road, and evidently the fatigue and anxiety had been too much for her, for no sooner had she got out of the cab than she fainted, and would have fallen to the ground but for her son's arm thrown around her just in time to prevent it. He had just come out of the empty house to meet them, and seemed very much distressed.

She was being carried in-doors, with the aid of the cabman, when I ran out, by Aunt Mona's desire, and begged them to carry her into our house instead, and lay her on the sofa in our sitting-room.

"We shall be most thankful," replied both brother and sister in a breath. "Something has delayed the carts, and there is not even a chair for her."

So they carried her in and laid her on the sofa, and Aunt Mona and I bathed her hands and face with eau-de-cologne and fanned her, while Mr. Carrol stood looking on, and her daughter knelt by her side. It was a long faint, and I was not used to fainting, and by the time it was over I was trembling so that I could hardly stand. But at length animation was restored and she opened her eyes upon us.

She seemed startled to find herself in a strange place, till her daughter, still kneeling by her, explained how she had been brought there, and begged her earnestly to remain where she was, till a room in her own house could be prepared for her.

"We ought to have arranged differently," said Miss Carrol, " knowing what mamma is; but she felt so unusually well, and we were anxious to get settled, and thought the furniture would have got here an hour or two ago. My brother remained here to prepare for us."

While we were speaking, the furniture did arrive, but the brother and sister left their mother with us thankfully. How tender they are of her, and how good and sweet she looks! Her face may have been plain in youth, but it is beautiful and attractive in age; a dignified and noble face, if sadder and less beautiful than Aunt Monica's: a face from which the last faint gleam of life's sunset has vanished, but where the grey light of fading day is yet left tender and serene.

It was as Aunt Mona thought. She had known Mrs. Carrol slightly very many years ago, and they still had one or two mutual friends and acquaintances. We did not part with our guest till quite late in the evening, the brother and sister running in from time to time with tender inquiries, and staying to take tea with us.

Clara Carrol is a noble-looking woman. She has the pure pale complexion of red or reddish-haired people, without a tinge of sickliness. She is curiously like a picture I have seen, and retain in my memory. It may have been one of Mr. Burne-Jones's before he made all the noses in them turn up at the point. I am glad her nose does not turn up. Why is it that when a fashion of any kind prevails we see so many instances of it? Is it only that we never noticed it before?—red hair, for instance, and this of noses; only, as Lizzie says, "people may dye their hair, but they can't turn up their noses." Ernest hates up-tilted noses passionately. He says the heroines who possess them are capable of being furies, like her who had "large eyes, the haunts of scorn." They have the attitude—as far as noses can assume an attitude—of contempt and malice. Therefore I am glad that Clara has not this nose of fashion, but one which, though not long, is straight as that of a Greek statue. Her brows are straight, under the delicate golden eyebrows, and her mouth firm and pure, though rarely smiling—indeed, almost sternly grave.

Claude Carrol is in some respects a contrast to his sister, with shadowy hair and high-arched brows. His face is far more mobile, more sensitive, more feminine, in fact, than hers, though in person he is tall and manly. I had only heard him read, and seen him at a distance, but Aunt Mona and I have always liked him in the reading-desk; his reading is quiet and reverent, and without the slightest affectation. Of course, now that we have really seen him, we like him much indeed.

We have been able to help our neighbours a good deal in a variety of little ways. Not a day has passed, since they came, without our seeing them, and they all three improve on acquaintance. We have been over their house, so like and yet so unlike our own, the latter being rather new at present—what an artist would call raw, I believe. It, on the contrary, is full of things that have served a lifetime, and have the look of real well-preserved old age not that of sham new old age. I have been with Clara and Claude all our walks, our three walks, and we know all about each other's tastes and habits.

Mrs. Carrol is the widow of a clergyman who died before the birth of this son and second child; died, the hard-working curate of a London parish, of a fever caught in the slums where his work had lain. He left his widow in poverty, but not wholly unprovided for—the provision which had enabled them to marry, being her own portion, was settled upon herself and her children. Her sorrow came upon her with a sudden shock and in a time of bodily weakness, and it had very nearly proved fatal; but when she returned, as it were, from the very brink of the grave, it was the new life she brought with her that gave her strength to take up her burden, and she has told Aunt Mona how her sorrow blossomed into joy over "the sweetest child that ever made childhood gracious."

Through the influence and exertions of the clergyman whose curate Mr. Carrol had been, Claude was admitted into the Bluecoat school, while Mrs. Carrol educated her daughter carefully and thoroughly—as she herself had been educated—with but little help from school or master. They have lived in a small house in a dismal West-end district bordering on Chelsea, one of a "dull, unfriendly, unfashionable row," Clara says. And unfashionable enough Clara and her mother may have been, but dull or unfriendly never. It is wonderful what bright and sweet lives they seem to have led during all the years of Clara's youth. For a time—when her brother was at college—Clara, though so young for the task, went out as a daily governess, trudging through all weathers to teach several relays of Belgravian pupils. It seems to have been hard and fatiguing work; and, happily, with Claude's independence—also achieved unusually early—the necessity for it ceased.

Clara's time is now entirely at her own disposal. "With her talents (and Clara is really talented)," says her brother, "friends are always telling her she might do great things; but somehow the great things do not come in her way, and she seems quite contented to do the little ones." She has led, and does lead a very useful life; she waits on her mother, who is greatly invalided; she has helped to maintain herself that she might not hinder her brother's career, and now she does all the helpful household things which enable them to live on their limited income as they do live, and still she seems at leisure. In her former home she seems to have helped the clergyman of the district and his wife with all their schemes and charities, teaching in the school, and even making up garments for its wretchedly-clad children.

These are our new friends, about whom I have been writing to Lizzie every day, as she does not fail to remind me. I have certainly been very much interested in them, and have had very little else to think about. Lizzie's letters are not very satisfying. They rather excite curiosity than gratify it. She has so much to tell me, she writes. But the time has sped, thanks to our new neighbours, and she will be at home again, and then I shall be satisfied; for Lizzie's talk is better than my pen, though I can always write so much better than I can talk.