[Previous Page]


CHAPTER XLIII.

CUT TO THE HEART.

DIONYSIUS CURLING had remained for some time shut up within the walls of his vicarage, that is, as far as Clara Melrose was concerned. In other directions, he went abroad pretty freely. Nay, he even broke through his recluse habits, and paid visits and received them.

"He is a much pleasanter gentleman than he used to be," was the popular opinion at Deepdale. Deepdale little knew to what it was indebted for the change. Dionysius Curling's geniality and good companionship mainly arose from the fact of his being in love with Clara Melrose. This new affection did much to dispel the pomposity and conceit of his nature. It softened him, and somewhat elevated his character, as an attachment to a gifted and amiable woman was sure to do. Not that, for the present, he sought her society.

The late husband of Clara Melrose had departed this life in the July of the preceding year. It was now June. So soon as the present month had elapsed, he would emerge from his concealment, and lay himself and his worldly goods at the feet of the siren who had so captivated him.

Such was his deliberate intention. He had not take any further steps with regard to clearing up the matter of Clara Melrose's innocence or her guilt. The interview with Betty seemed to have stopped all attempts in that direction. But his own mind was completely made up on the subjects, and what did the opinion of the world signify? If they two could not live the slander down at Deepdale why, they would go forth, shaking off the dust of their feet against it.

He was thinking thus, one fine afternoon, when, reclining in on his little horsehair sofa, in expectation of Martha Beck bringing in his tea. A bachelor's teapot, one teacup and saucer, one scrap of dry toast—such was the social meal of Dionysius Curling. Already—for the time was drawing very near—already he was picturing a different state of things. A fair face opposite, a taper hand reaching him the cup, a sweet voice pressing him to eat, the most beautiful of women doing the honours of his table―Ah! that would be transporting indeed!

He rose from the sofa as he arrived at this happy conclusion; and as he did so, Martha Beck brought in the tea.

Now, Martha, in total ignorance of her master's treachery, regarded him as a bachelor for life; and as a bachelor is a solitary being, she was wont to solace him, when she brought his meals, by any stray bit or scrap of news which the village afforded. She put down the tray in its accustomed place, and while she moved a pile of letters to make room for the toast, she said, in a gossiping tone―

"That new doctor seems a nice sort of gentleman."

Dionysius, still absorbed in thought, did not hear this remark.

"They say he is up at the Manor a good deal," continued Martha. "He is attending Lady Lucy. She is very sadly, poor thing."

Not a word from Dionysius.

"And at Mrs. Melrose's home. He goes there too, I suppose――"

"What—who? What are you talking about—what do you mean?" exclaimed Dionysius, starting suddenly into life.

Martha looked somewhat alarmed.

"I was only saying, sir, that the new doctor that's come to be with Dr. Plume—perhaps you recollect, sir?"

"Yes, yes," interrupted Dionysius, impatiently.

"He's Mr. Chauncey, sir, the same that was tutor to his lordship, and left the Manor just after we came. They say he is the best-looking young man in the parish."

"Never mind what they say," interrupted Dionysius, hastily. "Where did you tell me he went to?"

"Well, sir, he is attending Lady Lucy, and goes a deal to see Mrs. Melrose."

A profound silence fell on the spirit of Dionysius. He uttered not a syllable. Long after Martha had left the room, he sat staring blankly at the teapot, which, with its cocked-up spout, seemed to stare back at him with equal blankness. The words, "He goes to see Mrs. Melrose," had cut him to the heart!

Dionysius felt desperate. He could have seized the teapot with its cocked spout, and have flung it out of the window; but he did not. He seized it indeed, but it was to pour out his tea.

He drank his tea savagely, and munched his toast as if he were crunching up an enemy. Then he got up, went into his chamber, washed, dressed, and prepared to go out.

In few minutes he was making his way towards the cottage of Clara Melrose. How foolish he had been to stay away so long! Be the twelve months gone or not, be would trifle no longer. At all events, be would begin the courtship; for he did not mean to burst suddenly upon her with a declaration. No; but he would give unmistakable signs of the state of his affections, and establish himself at the cottage as her devoted servant and slave. After this, would come the important and solemn proceeding of making her an offer. "I have a right to her affections," thought Dionysius as he strode along; "no one else has."

When he turned down the lane to the cottage, a sight presented itself that cast a sickly hue over the face of Dionysius.

The garden gate opened, and out stepped Frank Chauncey. He was not alone. Phil was with him; the boy's hand in Frank's hand. Neither of them saw Dionysius. They walked briskly away in an opposite direction.

Then Frank Chauncey had been!

Dionysius was so stung by jealousy that it took him a few minutes to recover.

He was standing thus when out stepped the widow, looking more enchanting than ever he had seen her. She had left off her crape, and was clad in a soft, flowing dress of black muslin; her hair was somewhat loosened, and a few curls of ravishing beauty floated down behind; a gold chain was twisted round her throat, and she wore a hat with a long graceful feather: a basket was in her hand. She was coming out to gather roses. When she saw Dionysius, her face kindled into a smile of pleasure and surprise.

"I am so glad to see you, Mr. Curling," cried she. "I began to think you had forsaken me."

Her sweet voice, the beauty of her face, the touch of her soft white hand nearly undid him. Never was a man more inclined to go down upon his bended knees and ask her to marry him. But Dionysius Curling hated abruptness. He must set about the business his own way, which was somewhat of the slowest. He looked, it is true, into her eyes with a tender and wistful expression; he pressed her hand, and retained it some seconds longer than was necessary; but this was all.

He sat down upon a garden chair, and watched her gather her roses.

The evening was still and balmy. Close by were hayfields, the delicious perfume of which was blended with the fragrance of the roses. He was alone with her. There was no one else for her to speak to, as she glided to and fro, upon the grass, like a sylph. She kept turning her face to him, addressing herself to him.

When her bouquet was complete, she came and sat—no, not beside him, that would have been too transporting but on a rustic seat just opposite.

She told him that she was succeeding well, thanks to his kindness. Phil was improving; she liked the boy, and the employment of training and culturing his mind was pleasant to her.

Dionysius drank in the words as though they had been nectar.

But even here, in the midst of all this bliss, the remembrance of what he had seen gave him a pang. He resolved, the opportunity being a golden one, to cross-question the widow, with the utmost delicacy, but still to cross-question her, touching the matter.

Presently, then, during a pause in the conversation, he stammered out, for he had not lost his native stiffness――

"You receive visitors sometimes, I perceive, Mrs. Melrose."

She looked at him with an air of innocent wonder.

"I? oh, no! I have no visitors."

And she sighed as she said it.

"But I saw― There is a young doctor of the name of Chauncey come to Deepdale," said Dionysius with extreme pomposity.

"Oh, yes; he is a great friend of Phil's. He called just now to take Phil for a walk."

Her clear eye, her unembarrassed countenance were all open to Dionysius. He scanned them narrowly, but he found nothing. Still blundering on, he said, after a pause—

"Does he often come to see you, Mrs. Melrose?" and as he spoke he looked down at the tips of his boots. The widow could not forbear a smile.

"He does not come to see me, Mr. Curling; he comes to see Phil."

Dionysius's face turned white and then green. This might be a subterfuge.

"He is the only neighbour we have," continued the widow, artlessly; "and a most agreeable young man. Is he a friend of yours, Mr. Curling?"

"No," said Dionysius, shortly.

Again the widow smiled. A woman of her superior tact could not be blind and deaf.

For an hour or more, Dionysius sat on the garden chair opposite to Clara Melrose. But, alas! the enchantment of the thing was gone. Any moment there might return—his rival.

But as it happened, Frank Chauncey did not return. Only Phil bounded in at the garden gate, and Dionysius had to go home with the riddle unsolved, and in a paroxysm of jealousy.


CHAPTER XLIV.

A PASSIONATE WOMAN.

THE next time Frank paid his visit to the Manor, the laced footman was waiting to receive him.

Lady Landon desired to speak to him. Frank, whose task was by no means an easy one, walked to the boudoir which contained the stately and august person of the Big Countess. She was sitting this time in her chair of state, and being apparently in a gracious humour, she beckoned to Frank to sit likewise. So Frank sat down.

"Well, Mr. Chauncey," said the countess, in a tone of encouragement, "and how is your patient?"

Frank shook his head. He intended to deal very plainly with the countess.

"She is getting well, I suppose, Mr. Chauncey, under your judicious management?"

"I am afraid," replied Frank, taking no notice of the compliment, "that the seat of the complaint is in the mind. Lady Lucy has some hidden grief which consumes her strength, and sets medical skill at defiance. I regret to say so, but I fear such is the case."

"You are quite wrong, Mr. Chauncey," said the countess, sharply and angrily; "she has no grief at all!"

Frank was silent.

"Pray have you followed my directions, Mr. Chauncey?"

"To a certain extent I have, Lady Landon."

"Well?"

"I have discovered that unless she is set at rest from every kind of excitement, the consequences will be fatal."

"Excitement! who wants her to be excited? I don't!"

"It is very natural," again began Frank.

"It is not at all natural! Look at Blanche; she is going to be married. Pray is she excited?"

"Lady Blanche is in good health," observed Frank, quietly.

"And so is Lady Lucy, if she would but believe it."

Frank felt he could not stand it much longer. To be browbeaten by the countess was something intolerable.

"Now, Mr. Chauncey," said her ladyship, rising—Frank rose likewise—"Lady Blanche is going to be married in a fortnight. I shall not have two weddings, when one will do. I intend that Lady Lucy should be married the same day."

Frank's eyes were fixed on the ground.

"So you will please to prepare her mind, Mr. Chauncey."

Frank seemed as if turned to stone. He bowed; he could do no more.

"If you cannot succeed—and, excuse me, Mr. Chauncey, you do not appear very energetic in the matter—I shall send for Dr. Harker. He will carry out my wishes."

"A passionate woman, and merciless!" thought Frank.

As soon as he could, he quitted her presence, and with a distraction of mind little suspected by the Big Countess, turned his steps towards the apartment of Lady Lucy. Are he reached it, he heard the sound of weeping. She was on her knees at the sofa, her face buried in the cushions, and her sobs appeared to convulse the delicate frame that had no strength to resist them.

Frank entered softly, and closed the door. He did not consider much what was best to do. There are some emergencies which take a man by surprise, and force him to act whether or no. Frank was forced to act. He raised her with all the gentleness and tender care of a woman; he placed her in her chair and began to chafe the hands, cold and white as marble.

She had nearly fainted, and he had administered to her what restoratives were in his power. When she revived she looked at him, her usually serene eyes wild in their expression of fear and distress, and, clasping her hands, she cried out, "Save me from this dreadful marriage!"

Soothing her, as Frank Chauncey knew how to do, he told her he would do all that lay in his power; he cheered heir with the hope that she might yet escape; he promised that Dr. Plume should use his influence with the countess: his voice and manner had a tranquillizing effect.

How she felt towards the man who would have been her deliverer did not then transpire; but as he continued to speak, her tempest-tossed spirit grew calm; her little quivering hand lay in his, and she made no attempt to withdraw it. While he stayed, her troubles seemed to stand at bay. When he was gone, she felt doubly, trebly desolate!

Was it so?―that she had began to love him?


CHAPTER XLV.

FRANK AND SIR GEOFFREY.

FRANK walked slowly to his gig an idea a came into his mind. Should he appeal to the tender mercies of Sir Geoffrey Willet? Few men would care to have a bride forced upon them against her will, and Sir Geoffrey appeared to be courteous and good-natured. He might be amenable to reason or to pity. Frank saw him, in the distance, fishing on the river's bank. Should he go to him? It was a forlorn hope, a very straw on the surface, but he would catch at it. He left his gig at the gate of the field, and made towards the place where Sir Geoffrey was taking his pastime.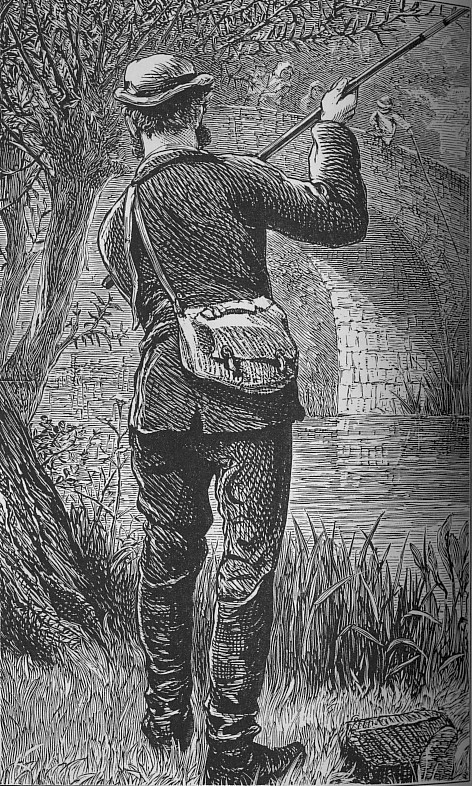 Sir Geoffrey had established himself under the shadow of a tree.

Sir Geoffrey had established himself under the shadow of a tree, his fishing-tackle and basket beside him. He had just cast in the line when Frank approached. Sir Geoffrey saw him coming, and gave a nod of recognition.

"Good morning, Mr. Chauncey. Are you going to have a turn at fishing?"

Frank replied in the negative. Then he stood on the bank in silence.

It was a pleasant bank to stand upon. An ash-tree cast a shade over the water. The river doubled about prettily, and was skirted by the Deepdale Park. It was a placid stream, and the large cool leaves of the water lilies lay upon the surface, and the yellow iris was flowing abundantly.

"Fond of fishing?" said Sir Geoffrey, who had no great conversational powers.

"Not particularly," replied Frank.

Frank fell many degrees in the estimation of Sir Geoffrey Willet.

He went on, moving his rod gently about, and keenly alive to the slightest ripple in the water.

Frank stood watching him—considering, all the while, the best point of attack.

He was not an ill-looking young man by any means. There was an easy good-nature about him that Frank would have liked, had not the circumstances of the case prevented it.

"I say," said Sir Geoffrey, at last, looking round at him, "won't you sit down?"

There was a stump of a tree near, and Frank, responding to the invitation, sat down.

It was a difficult matter to open up the subject in hand, but Frank contrived, at length, to do so. He began by saying he had just come from paying his usual visit to Lady Lucy.

"Oh, have you?" replied Sir Geoffrey, hastily drawing his line out of the water, and then dropping it in again. "She's getting on pretty well, I suppose?"

"I am sorry to say that she is not getting on at all," replied Frank.

"Oh!" "

This interjection always came handy to Sir Geoffrey.

"Indeed," said Frank, earnestly, and with feeling, "I fear that she is in a most precarious state."

At this moment Sir Geoffrey's eyes began to sparkle; a good-sized trout was nibbling at the bait.

"Hush! hush! Be sure you don't disturb him. So, so, my fine fellow! I have you, sure enough!"

This was addressed to the trout, which, the next moment, was drawn from its native element, and thrown struggling on the bank.

"Did you ever see such a beauty exclaimed Sir Geoffrey, rubbing his hands; "I never did."

"I thought we were speaking about Lady Lucy," replied Frank, displeased.

"So we were! I beg your pardon. What was it you said?—that she was better?"

"I said she was in a very precarious state," repeated Frank.

"Dear me! I am sorry! It's a bit of a bother, isn't it?"

"In my opinion," continued Frank, "she is too weak for any kind of excitement whatever. Nay, excitement might prove highly dangerous."

"We won't have it," replied Sir Geoffrey, again casting his line into the water; "we shall be married as quietly as possible."

Frank, in spite of himself, ground his teeth together.

"Excuse me, Sir Geoffrey; I wish to hint to you that it would be desirable to have the wedding postponed."

"Why?" He said it without the slightest fervour—his eyes eagerly watching the line.

"On account of Lady Lucy's health."

"Oh, that won't signify! We can travel about. I suppose she will get well some time."

The tone of this speech cut Frank to the heart.

It was evident that Sir Geoffrey cared very little for the unhappy girl who was about to become his wife.

Convinced of this, Frank began in earnest. He dwelt still further on the state of Lady Lucy's health, and went on to hint at her extreme reluctance to the marriage. He did this with all the delicacy in his power, and ended by making an appeal to the young man's generosity.

Would he actually compel her to marry him?

During this speech, which was admirably got up, Sir Geoffrey's attention was, now and then, distracted by the occupation in which he was engaged. His bait came off the hook, and he had to fasten on another. Once or twice he fancied he had caught, but the catch proved a disappointment. On the whole, however, he listened very creditably. When Frank had finished, he replied, in a matter-of-fact tone, and without the least apparent anxiety--

"I can't help it. If she does not care for me, it is not my fault. I've tried to make her."

"But think of the future, Sir Geoffrey—of— her misery," he was about to say, but he paused.

"Oh, I shall do very well. Lucy will get used to me," said Sir Geoffrey, coolly.

Frank was amazed at the phlegmatic nature of this speech.

"Surely you would not marry any lady on such terms as these!" exclaimed he.

"Well, you see. I think I will," replied Sir Geoffrey.

Frank was speechless.

"It does not much signify," continued Sir Geoffrey, glancing around to where Frank sat. "I can do pretty much as I have been used, and she can have her own way. In these times, people don't always marry for love!"

Frank had no more to say. He rose up. His diplomacy had failed.

Sir Geoffrey bade him a polite good morning, and then turned his whole attention to his fishing.


CHAPTER XLVI.

WHAT THE COUNTESS HAS BEEN DOING.

FRANK'S gig stood waiting for him at the gate of the field. He sprang into it, and drove hastily off. He had a long round of visits to make that morning. I fear his mind was sadly distracted. I fear amid the complication of disorders with which it was his lot to deal that the image of Lucy played a pre-eminent part—Lucy, and her most unhappy fate. He pictured her, dragged a victim to the altar, sacrificed, tyranny of her mother. True, Sir Geoffrey was good-natured, and might treat her with a certain degree of consideration; but in such a union, where was there food for her heart or her mind? Would she not pine away, and perhaps die? Sooner or later, he would be sure to neglect her. It could not well be otherwise; their want of sympathy would cause them to drop apart.

Alas! and what could Frank do? Were not Lucy's foes those of her own household?

The moment he reached home a note was put into his hands. It was from the countess, and contained, in fact, a polite dismissal. Circumstances had come to light which rendered it desirable that she should employ Dr. Harker.

Frank felt exceedingly annoyed as he read this brief epistle. A painful swimming sensation came over him. In the first place, he would be torn away from Lucy. She would thus lose her only friend. Had the countess discovered that he was her friend, and been resolved to put an end to all succour from that quarter?

"It was very cruel," Frank thought; "strange cruel things did happen in this world!" He had had experience of it, and in both cases the victim had been woman.

He crushed the note in his hand.

The after-sting was painful enough; the injury he might have done to Dr. Plume. He went into the study, where he knew the doctor was lying, to break the news to him, as best he could. He expected some tolerably severe reproaches; but, instead of this, Dr. Plume burst into a hearty laugh.

"She is quite welcome to send for Dr. Harker. This is not the first time. When she is out of humour she always sends for Dr. Harker."

"Dear me! is it possible?" cried Frank, immensely relieved.

"My dear fellow, there is nothing impossible to this woman," said the doctor, still highly diverted. "It is no sinecure for him, let me tell you. At the end of ten days, we shall have her back, as prodigious as ever."

"I am so glad!" cried Frank, joyfully.

"I don't know that I am. I am getting about tired of her ladyship's freaks," said Dr. Plume.

And now commenced a bitter trial for Frank. Shut out, a second time, from the Manor, he was obliged to go upon hearsay for any tidings of Lucy. He heard, and it almost drove him to despair, that the weddings were fixed for the first of July. The countess had began to make grand preparations. A triumphal arch was to be erected at the entrance of the park. Flowers were to be strewed in the bridal path, and the populace of Deepdale feasted with a liberality suited to the occasion. In fact, of rejoicings there were to be no end.

Amid all this, he heard no syllable of Lucy. Many a time did he look wistfully towards her room in the Manor, as he passed in the distance. But no Lucy was visible. She seemed lost to him for ever!

Dr. Plume sympathized with his young friend. But he, too, was powerless in the matter.

"If it were not for this unfortunate ankle," said he, I would go up to the Manor and tell her ladyship a piece of my mind."

But what the good of that would be Frank hardly knew. As for himself, he grew, day by day, more profoundly wretched. He scarce ate or slept. Never was a man more completely broken-hearted. Had it lasted much longer I think Frank must have succumbed; but it did not last. The thunder-cloud overhead, that seemed as if pressing the life out of him, burst suddenly, though not in the way either he or Dr. Plume expected.

Late one evening there came a messenger in haste from the Manor.

Dr. Plume and Mr. Chauncey were to go directly. Lady Lucy was dying.

I cannot describe the effect of this announcement on the two men, who were, a moment-before, sitting together in comparative tranquillity. For Lucy was dear to both of them.

The messenger, one of the gold-laced footmen, appertaining to the Manor, had to be more explicit. He had to relate that Lady Lucy had, for some clays, been shut up away from every one save her mother.

"The unnatural monster!" muttered Dr. Plume, under his breath. "We can guess what she's been doing."

It had been well known at the Manor that Lucy's illness was increasing; but the wedding preparations had been hurried on the more for that. Last night, and the night before, the countess had spent with her daughter. No one had seen the countess until some half-hour ago, when she burst suddenly from the sick chamber, and had ordered a messenger to be despatched "as for his life" to Dr. Plume; and the man had mounted the swiftest horse in the stable, and galloped hither.

During this short recital Dr. Plume's gig was beings prepared. Be it possible or impossible, he must go to Lucy.

Frank drove. I don't think he or Dr. Plume exchanged a word. Once only the doctor burst out with an expression that no one would have supposed him capable of using. Then, again, all was silent.

Lights were hurrying to and fro at the windows of the Manor. The household seemed in a state of alarm and confusion. Two of the servants were on the watch, to receive and to assist Dr. Plume from the gig. Every moment appeared to be precious, in this case of life and death.

The hall door stood open, and the great hall lamp was flaring wildly. With some difficulty Dr. Plume was helped from the gig, and leaning on Frank's arm, he entered the house. They had not proceeded many steps ere a voice called down the staircase―

"Is that Dr. Plume?"

They knew the voice: it was that of the countess. If ever remorse was depicted on any human countenance it was on hers. For Dr. Plume's conjecture had not been far wrong. The countess had shut herself up with Lucy, in order to wring from her a consent, willing or unwilling, to the marriage with Sir Geoffrey. What her motive could be it was difficult to say. Personally, she could not be supposed to care much for Sir Geoffrey: and had she exercised her usual discernment the marriage might not have appeared so desirable. But she had willed it, and it must be done. Nothing roused the imperious nature of the countess like opposition.

"As for Lucy, I will soon settle her," she had said, using her well-known threat.

But it had not been so easy to settle Lucy. She had been firm as a rock: no amount of bodily weakness could force her to give way. There might be a deeper reason than mere personal objection to Sir Geoffrey—a reason of which Lucy herself was hardly conscious: but so it was. Arguments, persuasions, and threats were alike useless.

The consequence of all this excitement was likely to prove fatal to Lucy. When the countess, irritated at the failure of her schemes, broke out into violent reproaches, Lucy was not in a state to bear it. She became so ill as to alarm her mother, and ultimately oblige her to send in for Dr. Plume.

Now, at last, her maternal instinct seemed aroused. She was afraid that Lucy might die. It was well for her if the maternal instinct had not been aroused too late!


CHAPTER XLVII.

THE GOLDEN DEW OF SLEEP.

LUCY had passed into the region of unconsciousness. She had got beyond all hope, or fear, or joy, or sorrow. Reason had been suspended.

"This is your work, Lady Landon," said Dr. Plume, sternly, as he stood by the bedside of the unhappy girl—"your work."

She did not answer: she had sunk upon a chair, and was crouching down, as if all her native spirit were crushed out of her. She knew that it was her work.

Tenderly did Dr. Plume place his hand on his patient's burning forehead. She did not know him. Her vacant eyes rolled to and fro. Her groans were pitiful to hear.

They cut off her beautiful hair: its long silken wavelets lay strewed upon the floor unheeded. They applied all the remedies in their power, but without effect. The delirium, the incoherent ravings, the moans still continued. The poor, shattered brain seemed wandering, hither and thither, on the dark mountains. It was a sight grievous enough to melt the hardest heart.

The heart of the Big Countess was melted. "Oh, Lucy!" cried she, bending over her child, and speaking in a voice of such keen anguish that it brought tears to every eye, "Lucy, just say one word!—just look at your mother, and tell her you forgive her!"

But Lucy did not speak—did not look. Her eyes were fixed on vacancy. Her lips moved, but it was to utter words that had no meaning. And, with a bitter sigh, the countess turned away and wept.

It was not often that tears flowed from those eyes.

All night Dr. Plume and Frank watched by the bedside of Lucy. It was a night long to be remembered in the annals of Deepdale Manor. Scarce one of the household retired to rest. Even Blanche and July sat weeping in their rooms. As for the countess, she strode up and down the corridor till morning.

It had not long been daylight, and the countess, ceasing her weary walk, had retired to her boudoir, when a short, grotesque figure, with black streaming hair, was seen flying towards the house. It was Phil, who had heard the news of his sister's illness. He would have rushed, nay, he did rush, up stairs, and would have been in her room in the twinkling of an eye, but that he was met and stopped by Frank. The boy was pale as death, and trembling from head to foot with agitation. So breathless was he, he could but just gasp out the name of Lucy. Lucy—where was Lucy?

Frank whispered an entreaty to be quiet. If he loved his sister, he would make no noise. He would have drawn him away, but Phil stoutly and resolutely refused.

"I will not go till I have seen Lucy!"

Frank told him that Lucy was very ill—too ill to notice anybody. But Phil was importunate, and breaking away from Frank, stepped into the chamber. There he stood, a moment, looking steadily at Lucy. She was quiet then, and lay, her eyes closed, in one of those fits of exhaustion which were so terrible to witness. She neither saw nor heard her brother. He advanced on tiptoe to the bed, and stooping down, kissed her forehead. In that moment the wild Irish lad seemed to become the thoughtful and sorrowing man. His eyes filled with tears, and all he uttered, saying the words with infinite pathos, was―"Poor Lucy!"

After that he planted himself outside the door. To remove him would have been impossible. There he sat hour after hour, as if he found some consolation in being on the spot. What food he took was brought to him. At night he lay down on cushions placed there by Frank. When any one passed out of the sick chamber he would look up eagerly for tidings; but he made no sound. No one could have told that he was there.

"I will not go," whispered he to Frank, "while I can hear her breathe."

Towards evening Dr. Plume, whose health was failing, succumbed to the weariness he felt. He was obliged to return home, and Lucy was left in the hands of Frank. Then was drawn forth all that skill and patience which afterwards so marked the career of the young doctor. Every moment that he could be spared from other professional duties was devoted to close attendance upon Lucy. This was in strict accordance with the wishes of the countess. She clung to Frank in this hour of adversity. She deferred to him, and put unlimited authority into his hands. She refused to have further medical advice. "I have perfect confidence in my two doctors," said she.

It was a terrible yet blissful season for Frank. Terrible, because the angel of death seemed standing ready for his prey. Because, any hour, the thread of that most precious life might be snapped in twain. But blissful, because he had the solace of being with her, of doing all that affection could do to assuage her sufferings, of watching over her with the tenderness of a devoted lover. This at least he could do!

But nature cannot long sustain a period like this. Her storms and convulsions must subside; and so it was with Lucy. Gradually the ravings ceased, the restless tossings subsided, and then there came that most dread interval, the crisis—a crisis which must decide her fate, whether it were life or death. Her exhaustion was so profound that it was scarce possible to discover whether she were yet alive. I think she would have died had it not been for Frank. His skill, throughout, had been apparent; now, his promptness equalled his skill. He had the proper remedies for this dangerous moment. By means of them he disputed the ground inch by inch with death. It was a severe and protracted struggle. Sometimes death appeared inevitable. The spirit fluttered, so to speak, on the confines of its prison, and was almost gone. But love, and skill, and patience kept hold of the feeble thread, and drew it back. Then life, which had ebbed nearly out, flowed feebly forth. At this epoch the physician, under God, appeared as if he held the fate of Lucy in his hands. Under God; for had the fiat gone forth, we know, full on, no human skill could have saved her. But the fiat seemed suspended.

Frank, as hours passed on, looked ghastly with fatigue. Still he maintained the conflict with an enemy that shall one day be destroyed. For a time did the spirit flutter dubiously, and the skill of the doctor had without ceasing to combat a weakness that seemed as if it must be mortal. Then the pulse became less feeble; the deathlike stupor changed its character; it passed, gradually, into sleep—the golden dew of sleep!

Yes, she slept. Her breathing became calm and regular; her face lost its expression of haggard misery. It grew peaceful, even happy.

Frank did not sleep. A repose like this is sometimes delusive. On its soft, deceptive wings the soul has been known to drift into eternity. The crisis was not yet past. Frank had imposed the most profound silence on the household. Not a sound fell on the ear, save the occasional warbling of some happy bird outside, or the tinkling music of the waterfall in the park. No footstep to tread in the precincts of Lucy's chamber.

Frank was never weary. He and the countess sat, in this Sabbath stillness, watching. Sitting by the bedside of her he loved, he prayed, without utterance, it is true, but fervently, and from the depths of his heart.

Hour after hour passed. The form upon the bed moved not: so transparent, so ethereal seemed the face upon the pillow, that now and then Frank sickened with apprehension as he listened.

Yes, she did breathe. From out the pale lips came that mysterious essence, that frail, fleeting breath, which, alone, divides as from the unseen world beyond. She did breathe, and Frank thanked God and took courage!

The hot summer daylight which, though carefully excluded, had yet made itself felt, now waned away. A cool breeze stirred the curtains that shrouded the windows. The warbling birds burst forth afresh from dell and glade. It was evening. A summer evening such as nature rejoices in, when cool shadows were falling athwart the grass, and every little herb and flower breathed fragrance. Frank heeded it not. He had been many hours now without rest or food. None but a young and hardy nature would have been able to resist fatigue so long; nor could he, had not excitement held him up. He knew that, very shortly, the fate of Lucy would be decided. It was no time for him to rest. Presently she stirred, the long lashes that rested upon her cheek began to quiver, the hand that lay on the coverlet moved.

Frank was paler than she was; his very heart seemed to stand still.

She opened her eyes—those soft, dovelike eyes, emblematic of the sweet and gentle soul within. She looked up. Ah! that look repaid for all his fastings and weary vigils. It was a look, not of unconsciousness, but of reason! She recognized him, and she smiled—faintly it is true, but it was her own smile and she whispered, as if surprised and half bewildered, "Mr. Chauncey!"

How his heart art leaped within him! What a jubilee of praise burst forth from his spirit! God had been very merciful; he had permitted that she should live! It had been very sweet to hang over her; and enjoy to the fall this moment of rapture; but it would not have been prudent, either for her sake or his own.

He pressed her poor wasted hand, and gazed tenderly into the eyes that now gave back look for look; but this was all. Then he surrendered her into the hands of her attendants, and quieted the room. He intended to seek the countess, who had only a moment before quitted the room. He knew that, to her, the tidings would be blissful indeed.

Phil was lying asleep on the floor of the corridor outside. Frank stepped over him, and made his way to the boudoir of the countess. She had ostensibly retired to rest, but Frank could hear her pacing up and down the room, with that restless monotony so painful to listen to, or witness.

When he opened the door she stopped, and looked eagerly around. She might have guessed how it was from his face. Perhaps she did, for her own lighted up with a ague uncertain hope. She came close to him and seized his hands, her eyes fixed eagerly upon him.

"Oh!" cried Frank, bursting into tears, for he was unable to control himself any longer, "thank God, the crisis is past; she lives!"

"God bless you, Mr. Chauncey! God Almighty bless you! It is you that have saved my child!"


CHAPTER XLVIII.

DR. PLUME'S ADVICE.

IT is a fact much to be noted, that while Frank Chauncey was devoting himself to the interests of Lucy, Sir Geoffrey the ostensible lover, was taking the matter in a cool and leisurely way. It is true he made daily inquiries, and expressed a certain amount of regret; but as to giving way to any demonstration of grief, Sir Geoffrey did it not. He could not wholly abstain from his favourite pastime of fishing.

Just at this time a relative of Sir Geoffrey's, from whom he had expectations, was taken suddenly ill; and Sir Geoffrey started off to see him. I do not think his absence was regretted by the inhabitants of Deepdale Manor. The popular opinion was, that Lady Lucy's illness was, somehow, connected with him. It was well known that the marriage was distasteful to her, and that, to quote the opinion of the public, "no good would come of it." Indeed, many people considered that it was finally broken off; for the countess, though she gave out that the weddings—using this general phrase as a blind to her defeat—that the weddings were put off till autumn—was unusually silent on the subject. She never attempted now to enforce her despotic rule on the girl she had well nigh crushed. Ah, no! she had received too severe a lesson for that. Never before had Lucy known what it was to have a kind and affectionate mother.

But despite this reformation, despite the tenderness now showered on her hitherto neglected daughter, Dr. plume was not satisfied. As he said to Frank, "There was Sir Geoffrey looming in the distance." Had he known Sir Geoffrey's thoughts on the subject, he would have dismissed his fears as groundless.

But not possessing the gifts of a necromancer, he could not be aware that the relative mentioned above having died, Sir Geoffrey felt himself in a very different position. He was now a rich man, and those debts, he was heretofore so harassed about, concerned him little. He had no need of Lucy's marriage-portion to keep him from distraction. No; and that being the case, was it desirable to encumber himself with Lucy? She did not love him. The thought of an approaching union with him had nearly been fatal. Why, then, should he be the cause of so much that was tragic? No; if it were possible, he would, in a quiet and gentlemanly way, get rid of the Landon alliance altogether.

These cogitations were unknown to Dr. Plume; he resolved, therefore, to set the matter at rest, or, as he expressed it, "to come to an understanding with the countess."

So soon as Lucy could be moved—and this would happen in another week—the countess intended to take her to the sea, in order to recruit her health. Before she went, Dr. Plume was bent on a tête-à-tête with her imperial mother.

She received him graciously; nothing could exceed her graciousness of late.

He was glad she was gracious, for it made his task easier. Had it been the reverse, he would have gone through it just the same.

"May I ask your ladyship," said he, somewhat abruptly "what you are intending to do with Lucy?"

"Certainly, doctor; no one has a better right to ask the question than you have. I am going to take her to the sea."

The doctor scanned her ladyship's face narrowly, as if he suspected some sinister design. Then he said—

"And does that—I forget his name—that young sprig of a baronet go with her?

The countess looked somewhat confused.

"Certainly not," replied she, decisively.

"That's right. If she has any more excitement, she will have a relapse."

"I am sure," she began, at length, "I am very sorry. I did not intend to—do the child harm. I am willing to take any step you think proper."

Such a season of humiliation must be improved, and speedily. It was not likely to happen again.

"The step most natural for your ladyship to take," said Dr. Plume, firmly, "is to apprise—what is the gentleman's name?"

"Sir Geoffrey Willet."

"Exactly, Sir Geoffrey Willet, that you wish him to discontinue all attentions to your daughter."

She glanced up, with somewhat of her old imperious manner; but her eye meeting the eye of Dr. Plume, fell, and she made no reply.

"If you do not—if there is to be any more of it," continued Dr. Plume, sternly, "I will not be answerable for the poor child's life."

She felt the reproach. She knew how well she had deserved it, and this feeling made her say, still in a humble tone

"I have no wish to have any more of it."

"That is right," said Dr. Plume, with alacrity, "and I have only to hope that your ladyship may have a pleasant journey."

He knew the countess well, and be knew it would not be safe to dwell too long on the ground where she had sustained a defeat.


CHAPTER XLIX.

"FOR THE FUTURE WE CAN BE FRIENDS."

LADY LANDON did not follow the somewhat imperious direction of Dr. Plume, concerning Sir Geoffrey Willet, to undo the mischief; and not because she was unwilling to make reparation to the uttermost—no; but because circumstances rendered the step unnecessary.

Sir Geoffrey, rejoicing in the acquisition of his wealth, had but one drawback in the future that looked so fair. That drawback, strange and ungallant as it may sound, was Lady Lucy herself.

"And I am not the man for her either," thought he.

"Ah! well!" added he, a minute after, as he rose from his seat; "we must try what we can do."

The first thing he would have to do, in a literal sense, was to go and see Lucy. As her acknowledged lover, it was not likely he could let her go off to Wales, or wherever else the countess was about to take her, without an interview, or a word touching her late severe illness.

"If she holds me to my engagement, and there is no accounting for the contradiction of women, why then, of course―but," added Sir Geoffrey, an expression of satisfaction beaming into his face, "I don't, in my own mind think she will."

Rumour, with her hundred tongues, had carried to Sir Geoffrey's ear some of the popular sayings which were rife at Deepdale―to say nothing of the hint given him by Frank Chauncey.

There being no let or hindrance to his paying a visit to Deepdale Manor, however dubious his intentions might be, he set about the matter seriously. Frank would have flown thither, as on the wings of the wind! Sir Geoffrey took it very coolly. He trotted over on his horse, in a leisurely manner, walking up the hills, and stopping to look about him. He appeared in no sort of hurry to reach the presence of his betrothed. It was not altogether pleasant to him, the thing he was planning to do. Perhaps he felt a little conscience-stricken at the selfish part he had been playing. Joined with this was another conviction which stood out before him with great plainness; Lucy was too good for him by half.

And he called to mind the various frivolities in which his days were spent, and the little sympathy he had for anything better. But he had reached the Manor, and dismounting, as usual, he gave his horse to the groom.

He desired a servant to announce his arrival, and ask Lady Lucy if it was agreeable for her to see him. While the servant was gone he sat in an ante-room, staring at the carpet. Presently he received the intelligence that Lady Lucy would be happy to see him. Then he rose, and walked into the presence of his betrothed.

She was his betrothed in the eyes of the world. Nothing had passed to militate against such an arrangement.

She was sitting at work by the window. It was something she was finishing, as a present to Blanche on her marriage. It was worked in wools, and the colours were beautiful. She got up and came forward, her hand extended. He did not look at her for a few minutes. He had an uncomfortable sensation, akin to shame, or to remorse. Presently, however, he raised his eyes, and then he saw what she had suffered. He was sorry for what he had done—very sorry indeed. Her hand felt soft and fragile a thing that he held it a few seconds in a kind of wonder. Looking into her eyes, he said, more tenderly than he had ever done before―

"Lucy, are you better?"

"Yes, thank you," and she withdrew her hand, and retired to her seat by the window. He sat just opposite, and watched the thin fingers busy themselves with the rich colours of the wool. She did not seem afraid of him, or to shrink from him in any way. Once she looked up, and smiled at him as he sat silent before her. It was the smile with which one greets an old acquaintance. He did not know how changed matters were since he was last in Lucy's presence. He did not know that that very morning the countess had held Lucy in her arms, and whispered, Lucy, my darling! shall I send word to Sir Geoffrey that we don't want to see him any more?"

Lucy, much as she rejoiced in the altered state of things, would not allow this. She could not trust her mother with a commission so delicate, and she did not wish Sir Geoffrey to be treated harshly.

"I can dismiss him myself," she thought, and then she had smiled, as she reflected on the kind of dismissal it would be.

Sir Geoffrey continued to sit watching Lucy in silence. Not the silence which usually possessed him, and which arose from the simple fact of his having nothing to say, but a silence brought about by remorse. His was a frivolous nature, but it was not without redeeming touches. As he looked at her wasted figure and sweet patient face, he could almost have loved her. Yet that very love appeared to pronounce a doom of separation.

"I could never make such a woman happy," thought he, in these his better moments. At length he said, in a subdued tone, quite unlike himself, "I am afraid you have been very ill, Lucy."

Her eyes met his, without the slightest fear or hesitation. She said, with a sweet seriousness in her manner—

"I have been very ill indeed. They did not think at one time that I could live."

"Dear me! that was very shocking!" exclaimed Sir Geoffrey, and his remorse became keener than ever.

"I am sure I would not have had it happen on any account," continued he, hesitating and stammering. What do you think—what brought it on, Lucy?"

Lucy was silent. Some wools dropped from her lap. Sir Geoffrey picked them up. At this epoch he felt as if he could have gone to the ends of the earth for her. As he seemed to expect an answer, Lucy said, gently―

"Perhaps we had better not talk of that now."

"But, Lucy," cried the young man, eagerly, "can you ever forgive me? I am afraid that I—I am so very sorry!"

Poor Sir Geoffrey had not much eloquence, or much address; but, as he spoke, his face grew better and more noble in its expression. He was, for once, thoroughly in earnest. What he was intending to do Lucy could scarcely guess. Her course was apparent. She pitied Sir Geoffrey. At the present moment she almost liked him; but, unite herself to him of her own free will! Never!

"I am ashamed of what I have done," continued he, still earnestly: "and now I will tell you what I propose. It is an awkward thing to say," added he, stammering and confused, "but, Lucy, if you like to marry me――― No, that is not the right way of putting it. I am very stupid. What ought I to say?"

"Nothing, Sir Geoffrey," replied Lucy, quickly, "except that for the future we can be friends."

He rose, evidently much relieved by the suggestion.

"Ah! yes, Lucy, that is it! We can be friends."

Many new ideas floated through Sir Geoffrey's mind as he bade Lucy farewell. He had misgivings that his days, as far as any good or noble end was concerned, had been wasted. A feeble wish to amend struggled into existence. The difference between a well-spent life and one of mere frivolity stood out before him in striking contrast. The voice of conscience called loudly upon him to choose a better path than he had yet been pursuing. It reminded him of a future he had never considered, and of aspirations far above any he had ever dreamed of. Whether he would hear, or whether he would forbear, is not for us to say.


CHAPTER. L.

SIR GEOFFREY BECOMES CONFIDENTIAL.

ANOTHER individual besides Sir Geoffrey Willet had been preparing for an interview with Lucy. Frank Chauncey was even now on his way to the Manor.

When the crisis in Lady Lucy's illness had been safely passed, Frank had become conscious that he had gone beyond his strength. Complete exhaustion had followed so great a strain upon his energies, and he had been compelled to keep his room. Dr. Plume insisted that he should do so. Indeed, to get Frank for a time out of the way he sent him, on private business, to a place some twenty miles distant.

Frank reluctantly went, and, having been detained a fortnight, sorely against his will, he returned. He came back recruited, it must be confessed, in health and spirits, and the first thing he did was to hurry off to Deepdale Manor.

The idea of Lucy going into Wales, without his seeing her first, was outrageous.

He bowled along, that bright summer morning, feeling as joyous and happy as anything in nature. When he reached the Manor, he stepped briskly from his gig. His handsome face and sparkling eyes would have done anybody good to look at; and, as it happened, they were not destined to pass unnoticed. In the spacious hall of the Manor he encountered Sir Geoffrey Willet.

Frank's heart did not misgive him at the sight of the man who had been the lover of Lady Lucy. Indeed, he stopped to say "Good morning." Sir Geoffrey had always treated him with courtesy, and he did not personally dislike him.

Sir Geoffrey stopped too.

"Well, Mr. Chauncey," said he, "I think we have met before."

"We have," said Frank, smiling.

"You gave me a bit of advice, if I remember rightly," continued Sir Geoffrey.

"I did," replied Frank.

"You will think it odd, I dare say," continued Sir Geoffrey, putting his finger into Frank's button-hole, "but I have followed it."

"Followed my advice?" echoed Frank, surprised.

"Exactly: followed your advice."

"Well?" said Frank, still in a tone of astonishment.

"Well! She is a beautiful creature! a girl such as one does not often meet with. On my word, I have very nearly fallen in love with her!" cried Sir Geoffrey, with unwonted enthusiasm.

"Are you speaking of Lady Lucy?" asked Frank.

"Of course I am. I would have married her, if she had liked. I have just been to tell her so," continued Sir Geoffrey, with unshaken gravity. "But she declined." Frank stared at him in blank amazement.

"The fact is, she is too good for anybody," resumed Sir Geoffrey, still with enthusiasm.

"It is my opinion, Mr. Chauncey, that she won't marry at all."

"Is it?" said Frank, stiffly.

"Yes! Who is there for her to marry, pray?"

Frank did not utter a word. He wished Sir Geoffrey would let go his button-hole. After a moment's pause, Sir Geoffrey did so, and Frank, bowing slightly, by way of farewell, hurried forward, impatient to reach the presence of Lucy.

She was still sitting by the window, working quietly, and smiling to herself as she worked. She was very glad the affair of Sir Geoffrey's dismissal was ended. The fear an ill-assorted union having been removed, and peace and hope restored, she felt that she should soon be well again. It was mental grief that had brought her to such a pass. Now all that was over.

Thinking thus, and of other things besides, connected with her illness, that we need not mention, but which caused a tender glow of gratitude and interest to overspread her pallid cheek; thinking thus, she heard a footstep in the passage outside her door. It must have been a familiar footstep, for the glow deepened, and she was hastily letting her work drop upon the floor. A minute after she was holding out her hand, and saying, in a voice of cordial welcome―

"Mr. Chauncey, I am so glad! I began to think—"

"Lady Lucy," replied he, tenderly. How could he but be tender to the creature whom he had cherished back to life? "Lady Lucy, I am rejoiced to see you!"

She trembled much; she had all the weakness of recent illness, and it seemed as if she must give way to tears. The sight of him who had done so much for her was, at first, agitating.

Presently she recovered her composure, and then she went back to her old sweet way of talking to him, asking how he was, and expressing her deep and ardent thanks for his kindness—a kindness she could never repay. She had laid her work aside in order to converse with him and Frank, his whole being hushed into a kind of transport, listened. Not for worlds would he have broken the charm of her sweet voiced, by a single syllable of his own.

When he did speak, it was in a low tender voice, and in little broken sentences; and then he would wait impatiently for her to go on.

She told him how concerned she had been at his illness; at the weary watches he had gone through for her sake, the extraordinary fatigue he must have suffered. She could never, she repeated, make any adequate return. She should always feel that, with God's blessing, he had been the means of saving her life.

After that, she took up her work, and he sat and looked at her. It hardly seemed safe to converse, at least, as far as Frank was concerned. To sit and look at her was enough.

How fragile, how ethereal she was! Sickness had refined to the utmost, what had seemed to need no refining

But he could not sit there for ever; the Smiths and Joneses of Deepdale were perhaps at this moment lifting up their voices against him.

He rose from his seat, and she rose also. Her face was inexpressibly calm and happy. He came nearer to her, he could not help it. He took the thin white hand and held it in his own. She did not take it away, but she trembled, and her dove-like eyes were fixed shyly on the ground.

He ought to have fled, but he did not. Deepdale might call aloud with all its voices for him; Smith and Jones were alike consigned to oblivion, as far as he was concerned.

He drew her nearer with a tender caressing movement. She did not seem alarmed, nor did she attempt to quit his side. It appeared very soothing to her to stand there, her hand in his. Had he not been her friend, her deliverer? It could not last long, it was impossible. She was too much agitated, and so was he. But, it passed his lips involuntarily, he could not help it any more than he could help his own existence. That one fond, loving little word "Lucy!"


CHAPTER LI.

THE COUNTESS HAS LEARNED HER LESSON WELL.

WHEN Frank was gone, the Lady Lucy lay upon the sofa, somewhat exhausted, for the feebleness incident to her late illness was clinging to her. Her fair head rested on the cushions, her hands were clasped, her eyes fixed, as though the mind were abstracted from all around it. A smile of intense happiness played about her mouth. And Lucy was happy!

Her life had hitherto been a joyless one. She had, it is true, that abiding peace of soul which the world can neither give nor take; but the heart will crave for human sympathy and affection. That necessity is part of our common nature. The want of this had been Lucy's daily cross—the grief of her young life, until there came—Frank Chauncey! Ah! then it was like the sun rising on some bleak, chill landscape, and making it warm, and bright, and beautiful.

He had come, as it seemed, to be her friend and solace. A tear trickled down her cheek as she called to mind the many instances of his affection, mutely expressed, but understood now. Understood well! Then happened to her that fiery trial, out of which she had barely come forth scatheless. And what of Frank then? Amid those dreadful scenes of unconsciousness, the mind now and then had a lucid interval; and in that moment's calm, the great waves seeming to surge all around, was it not Frank's face that she beheld? Did she not know that he was beside her? Did it not occur to her that his skill, his patience, his tenderness, were put forth on her behalf? Humanly speaking, she would have died, but for Frank! Then, coming back, as it were, to life, who was the first that met her? Frank! Had she forgotten that joyful, anxious face bending over her? had she forgotten its expression of fidelity and love? No! never, never!

And now the smile became more blissful; the eyes were radiant with hope. Now, she must lie and think of that happy future. She loved him; she knew full well how he loved her! Their feelings, their tastes, their habits, their very thoughts were in unison. How serene would be their home! The wings of domestic peace would brood over it. No neglect now; no weary days; no yearning for affection; no solitude; no grief. God had sent her this great boon, and she would receive it with thankfulness and praise.

From all this, it is clear that Lady Lucy was intending to bestow her hand on Frank Chauncey. She had not thought of the imperial will of the Landons, or of the views they might be disposed to take of the matter. Her imagination soared above every impediment whatever; but, even while she soared, she had a reminder which brought her down towards this terrestrial sphere.

As she lay musing, surrounded by tender thoughts and golden expectations, in marched the Big Countess. Lucy started from her dreams. She felt afraid, she scarce knew of what. The soft ideas that had been hovering round her took wing like a flock of doves.

"Well, Lucy," said the countess, standing in all her magnitude by the side of her daughter, "and how do you feel now?"

This was a favourite question of the countess, and was intended to express solicitude. Lucy would have risen, but this her mother would not permit.

"Lie still—Lucy; lie still. I am only come to sit with you for a while." And the countess sat down in the chair which had been recently occupied by Lucy's lovers. You'll soon be all right Lucy, shan't you?"

"I hope so, mamma."

But this was not what the countess came to say. After she had sat a few minutes, she bent forwards, her face keenly inquisitive.

"Lucy, what has passed between you and Sir Geoffrey?"

Lucy was prepared for this question. She had seen it one the lips of her imperial mother the moment she came in.

Smiling and yet blushing, not at the thought of him, but at the vivid remembrance of the other, she replied that Sir Geoffrey had taken his departure.

"His departure, Lucy!—for good?"

"I think so, mamma."

The countess sat a few minutes, as if she were digesting this piece of intelligence. Then she looked somewhat ruefully at her daughter.

"Lucy, I hope you won't be an old maid!"

The carmine deepened on face and neck. Lucy turned aside somewhat, to avoid the gaze of her mother.

"Because—well, you're young yet, Lucy; but I shall be glad to see ye settled, for all that."

Lucy uttered not a word.

"You must not be whimsical, Lucy, and fancy this won't do, and that won't do. If a suitable husband presents himself, you had better by half make up your mind to marry him."

The blood came surging again to Lucy's temples. Should she, dare she tell her mother? Her mother must be told, assuredly. Frank would have to tell her, if she did not. Somehow, her heart failed her. She was weak, she was ill. Those bright illusions had been darkened by the presence of the countess.

"I am not an unreasonable mother," continued her ladyship, curiously oblivious of the past; "I am always anxious for my children's happiness, and any one that you think you might like――"

She stopped abruptly. Lucy had half-risen from the sofa. She was pale as death, and there was a wild, eager look in her eyes that terrified her mother.

"Lucy! my child—my child! what is it?" cried she, rising hastily, and with open arms.

"'Mother!" cried Lucy, with a suddenness and a vehemence quite unusual to her, "I have chosen; I do love! I love Frank Chauncey!"

She was in her mother's arms by this time, weeping and trembling, and uttering incoherent words, and expostulations, and entreaties.

But she need not have so wept and so entreated. The time of tyranny had overpast. The countess had learned a bitter lesson, and learned it well. She pressed Lucy to her heart, and wept over her. And for Frank Chauncey—had he not saved her child?


CHAPTER LII.

WHAT SIMON CROSSINGS WANTED.

NIGHT is usually the time selected for a conspiracy to be hatched; and so it was in the lot of Nathanael Lewin and Simon Crosskeys. It was on a sultry August night, when neither moon nor stars were to be seen, that Simon Crosskeys made his way to the abode of his colleague. His face was unusually cheerful, his step was brisk, and, now and then, he gave a short whistle; for at length, after all this delay and suppression, his hour had come—to Clara Melrose, the hour of doom!

That morning, the countess and her daughters had taken their departure. As he passed the Manor, some hours ago, he had noticed with satisfaction that the blinds were drawn down, and that the place seemed deserted. All the better for the scheme of Simon Crosskeys! Nor was the countess likely to return at present. It was her intention to spend some time on the Welsh coast, and then to pass over to Ireland.

The wedding of Lady Blanche, it was now understood, would not take place till November, and not until November would the family return to the Manor. During that whole period would the protector of Clara Melrose be away. Phil, it is true, would remain at the cottage. The countess could not find it in her heart to take him from his Greek!

But who or what was Phil, as opposed to the strong arm of justice?

Justice! That was what Simon Crosskeys wanted!

He found his friend and comrade sitting by the empty fireplace, smoking his pipe. Simon went in and closed the door. The conspirators did not wish even their wives to know what they were about. "The women would be sure to tattle it all over the place," said they. Nathanael Lewin held out his hand to Simon Crosskeys. There was a kind of freemasonry about the thing altogether.

"Well?" said Nathanael Lewin, looking significantly at Mr. Crosskeys.

"Well?" said Mr. Crosskeys, looking with equal significance at Nathanael Lewin.

Crosskeys sat down opposite his friend. It was a warm night, and he pulled out his handkerchief and wiped his forehead. Then he put it back, and leaning forward, whispered—pointing his thumb over his shoulder in the direction of the Manor

"She's gone!"

"I see she has," replied Nathanael Lewin, with a confidential nod.

"Ah!" said Crosskeys, "and time she did."

"Exactly," replied Nathanael Lewin.

This must not be construed into disloyalty towards the countess. It simply meant, as Crosskeys went on to say, that it allowed them to act as they pleased.

"And we won't be done again," added he, savagely.

"Never likely," replied Mr. Lewin, between the puffs of his tobacco.

Nathanael Lewin was a man who smoked under every possible circumstance.

All this bye-play was only introductory. Now came the plot.

"If you'll just lay down that there pipe, Mr. Lewin, and listen to me, I'll tell you what to do."

Mr. Lewin laid it down immediately.

"I am sure I beg your pardon, Mr. Crosskeys."

"There is no occasion to do that, Mr. Lewin. A pipe is all very well. I've no earthly objections to tobacco; but when we've such a weighty matter on hand, why it isn't a time for smoking—as I take it."

"Say on, Mr. Crosskeys, say on," cried Nathanael Lewin, glancing somewhat ruefully at his half-finished pipe, "I'm all attention."

Mr. Crosskeys, who had long and carefully studied his part, then did say on. This time, the principal mover in the conspiracy was to be his friend Lewin.

Somehow, Crosskeys did not feel inclined to make a second trial of starting off to Mansfield. Perhaps he thought there was a fatality about it. At any rate, it was agreed that Nathanael Lewin should set off, in good time, the next morning. Crosskeys was to hover about the cottage in order to prevent unlooked-for circumstances, or the slightest hope of escape. It was easy to do this, as he was carrying corn in the next field.

"And I'd have waited till harvest was over, if I'd dared," said he.

Nathaniel Lewin shook his head.

"Crosskeys," said he, emphatically, "we've waited too long already!"

Arrived at Mansfield, Lewin was to apply to the magistrates, get a warrant, and bring back with him an officer of justice, in order to apprehend the widow. So resolved were they upon her total destruction!

"Root and branch," again repeated Simon Crosskeys, "root and branch!"


CHAPTER LIII.

GONE FOR THE POLICE.

ABOUT eleven o'clock on the following morning, the door of the vicarage opened, and out stepped Dionysius Curling. It was evident from his appearance and manner, that something of importance was about to take place. He had on a new suit of clothes; his face wore a holiday expression; his hair and beard were brushed and anointed to perfection, and a rose was fastened into his button-hole. He was scarcely the same individual as at the commencement of our story.

He walked briskly along, with a gay, almost jocund air; for, at length, his hour had come. He was about to make a proposal of marriage to Clara Melrose. He had been carrying on the courtship, after his own fashion. His visits to the cottage had been regular as the day, and, sometimes, of more than an hour's duration.

Any other man would, ere this, have popped out the important question. But not so Dionysius Curling. He must move in a certain orbit, or not move at all. "A series of delicate attentions," he would say; "then the declaration." It had come now, to the declaration.

His affection had gone on increasing, day by day. The more he saw of her the more he loved her. As he walked along, he mused over the golden hours he had spent in that little garden. Hours, such as had never fallen to his lot before. He thought she loved him—nay, he had almost made sure of it. His supposed rival, Mr. Chauncey, had been taken providentially out of his away. Even Phil had, during his sister's illness, been absent from the cottage. These circumstances were greatly in favour of Dionysius Curling.

Clara Melrose had him, and him alone! He could sit with her for long blissful hours. He could watch the play of her nimble fingers, as she busied herself in some feminine employment. He could note every look and every movement. He could rejoice in the uninterrupted presence of her whom he loved.

But if the reader supposes that this blissful state of mind was apparent, he is mistaken. Dionysius was still slow, and pompous, and, though to a certain extent improved, he verified the truth of the proverb, that an Ethiopian cannot change his skin, nor the leopard his spots. Nothing could make Dionysius Curling demonstrative.

This morning, however, it must be confessed, that his manner was more excited than it had ever been before. He had prepared an oration for the learned ears of Clara Melrose. But his mind would break away from the formalities of speech, and lead him captive towards the sunny land of promise. What years of happiness lay before him, with this woman for his wife! It was not learning now, but love; the heart, not the head!

Thinking thus, he quickened his pace. The morning was oppressive. A mist hung on the distant hills, and clouds loomed overhead. Still, he hurried on. No atmospheric influences had power, just then, to affect him.

There was the cottage, with its climbing roses, and sweet-scented clematis. In a very short time, all would be over. He would be at her feet. He would have promised to cherish and defend her, unto his life's end!

Occupied in these tender musings, and an expression of beaming from his face, a turn in almost ecstatic delight beaming the road brought him in full view of Simon Crosskeys.

Simon was coming to meet him.

Dionysius was hardly able to account for it, but a presentiment of evil came upon him like an electric shock. Perhaps the very sight of Simon Crosskeys had that tendency.

And what did the serpent do here, in the trail of Dionysius Curling's joy?

He made a civil recognition, and would have passed on, but Simon Crosskeys stopped just in front of him, and stopped with the air of a man who is about to make a revelation.

Dionysius had no alternative but to stop likewise.

Simon Crosskeys had scanned the vicar from top to toe. His eye had surveyed with a glance of meaning the well-oiled locks, the rose at the button-hole, the suit of new broadcloth, the boots shining with polish; all this, we say, he took in at a glance; and when he had taken it in, he smiled. It was a smile which provoked Dionysius excessively. It let out, as plainly as a smile could, that his politics, be they never so well concealed, lay all open to the eyes of Simon Crosskeys. Simon Crosskeys knew that he was going courting, and to whom.

"Hark ye! Mr. Curling," said he, presently.

Dionysius writhed under the sound of the man's voice —a gruff voice at best, but in the present state of the vicar's nerves, unbearable.

"Hark ye! Mr. Curling," said Simon Crosskeys, "you don't suppose us plain folks in Deepdale is going to be hoodwinked much longer? Shall I tell you a bit of news, sir?"

Dionysius raised his head haughtily. His first impulse was to brush by his tormentor, whether or no. But the lane was narrow, and the person of Simon Crosskeys, planted right before him, presented an obstacle not easily surmounted.

"Mr. Lewin, sir, he's off to Mansfield. I'm expecting him back every minute."

"Pray, what's he gone for, Mr. Curling?"

"Indeed! how can I tell, Mr. Crosskeys? Will you allow me to proceed?" said Dionysius, still haughtily.

"Well then, sir, it's time as you was told. He's gone for the police."

Dionysius stared at him.

"The police, Mr. Crosskeys?"

"Exactly, sir—the police. They are going to take Mrs. Melrose to gaol!"


CHAPTER LIV.

SHE ASKS TO KNOW THE WORST.

THE face of Dionysius Curling underwent one of those violent changes akin to what some times takes place in Nature.

As we have seen a cloud burst over a smiling landscape, and desolate it with hail or tempest; as an avalanche thunders down upon the valley; as a volcano pours forth its destroying flood, so did all that was joyous in the fate of Dionysius Curling appear to perish.

To gaol! like a common felon! She, the woman he was about to choose, from amid all others, to be his wife!

Ah! while he had been sunning himself yonder, and calling all the sweet felicities of hope, the elements of destruction had been at work.

Secretly! Had he but known, he had not been caught in this snare, nor should she. They would have found means to escape. As he thought thus, he was already hurrying towards her.

Forsake her! No!—that was hardly likely. Was she not innocent, and a victim? Forsake her! sooner would he cut off his right hand, sooner would he lose all he had in the wide world! Be her fate what it might, he would share it with her.

Leaving Simon Crosskeys standing unnoticed, and unanswered too, forgetting his very existence, he hastened towards the cottage. As he approached it, he slackened his pace. Even now, his old habits forbade that he should come precipitately into her presence. Even now, he would maintain all the composure and dignity that he could.

She was sitting in the garden-chair, on the little lawn. The rustic seat near her was placed for Dionysius. Many happy mornings they had sat thus together.

A small table was by her side, on which was placed a nosegay, and some books. She herself was busy with her sewing. Very calm and beautiful she looked, as she sat! Over her head, the leaves of the great ash-tree gently rustled, and the petals of the climbing roses were scattered about her on the grass.

Beyond the garden were the fields, with their stacks of ripe corn, and the merry voices of the reapers were heard singing in the distance. It was a peaceful spot, until the convulsion should take place.

In a few minutes she looked up and smiled, and gave him a nod of welcome. There was no need for her to rise and go through the usual ceremonies. He was too constant a visitor for that.

She expected he would stroll up the garden, and seat himself as usual. She had laid down her work, in order to speak to him, in order to begin the pleasant familiar talk in which they were both skilled by this time. But, from the first, she saw that something had happened.

He was unnaturally pale. His step told of agitation and alarm. As he came near, she dropped her work on the ground, and rose.

"What is the matter, Mr. Curling?" She said it kindly and anxiously. She thought he was ill. It did not occur to her that his agitation had reference to herself. She had been so secure, of late, under the wing of the countess.

By this time he had reached the rustic seat. But he did not, as usual, take his place in it. He did not seem prepared to pass a happy and peaceful morning.

Alas! no! Peace—happiness—these were not for him!

How could he tell her what would be her probable fate?

He took her hand. She was close by him, and making her, by a gentle movement, sit down, he stood over her, and began a few hurried sentences.

"The dispensations of Providence," he said, "are mysterious and inexplicable. Sometimes the innocent must suffer for the guilty."

The word guilty touched her to the quick. She seemed, all at once, to apprehend her danger. She started up, and glanced hastily round, as if about to fly. Then the immediate terror seemed to give place to another, and more courageous sentiment. She turned to him, and asked to know the worst.

He told her what had happened. There was no disguise, no subterfuge: there could be none. The fact, in all its native hideousness, must be laid open before her!

Dionysius Curling was, as we said from the beginning, a man destitute of resources. Even now, when the wretched woman was about to sink in the depths of ruin, it was to her he looked for counsel.

He had scarce finished his disastrous history, ere he asked her what they were to do? In the case of many women, the question would have been impossible to answer. Many women would have shrieked, and torn their hair, and fainted from sheer alarm; but this woman was of another stamp. She did not cling to him for succour; she did not faint; she did not weep. Pale, like some marble statue, embodying in its own form all the dignity of ancient sculpture, she raised her eyes to heaven. It was not a look of despair, nor of resistance, nor even of fear: it was a look of perfect trust and reliance upon her God!

For a moment, her thoughts seemed raised to a world where disgrace and oppression can never come.

If he had esteemed her innocent before, he was doubly convinced of it now.

Could guilt be in communion with Heaven?

CLARA MELROSE wept: for though the will stood firm, and the woman's nature was heroic, yet her physical force could not resist a pressure so overwhelming. Presently, there came a shuddering dread of what was about to befall her: the disgrace; the bitter, cruel wrong; the inevitable and hopeless ruin! These thoughts pierced her through as with a sword. Sinking down, she hid her face in her hands and, woman-like, wept bitterly.

It would not last for long. She would recover and meet the ordeal calmly. But no malignant eye was gazing upon her here. Here, she might ease her tortured soul by tears!

Dionysius stood helplessly by. I think he wept too; nay, I am sure he did.

To attempt any kind of deliverance seemed out of his power. He was not the man for spirited and energetic action. Besides, he had too little knowledge of life. The case seemed to him hopeless, as the wreck of a world! He would be wrecked too. He was prepared to suffer with her. At no time did his love and empathy reach such a climax as now. Into whatever depths she was plunged, he would plunge likewise!

As he thought thus, standing by her in his passive fidelity, the sound of footsteps was heard. Not the footsteps of many, but of one. A minute after, the garden gate was swung wide open, and in bounded Phil.

It was a relief to Dionysius to see his ancient enemy. He feared it had been Simon Crosskeys.

"What have you been doing to her?" shouted Phil, darting up to the widow, and giving a furious glance at Dionysius. He had no need to speak. Clara Melrose had at once arisen; the tears still streaming down her cheeks, her lovely hair disordered, and her whole appearance like one whose grief is scarce to be endured. She threw her arms round the boy, and pressed him to her heart. Then, with her cheek resting on his shock of hair, she began to tell him what had happened. Dionysius wondered at the skill with which she did so. She told him of the charge that was made against her. She related the fact of the robbery, in clear and simple language. She acquainted him with her loss of friends, her sufferings from the hands of her enemies. She assured him that, even now, her doom was sealed, and that in a few hours—nay, it might be moments—she should be torn from him for ever!

While she spoke, the boy's colour went and came. Sometimes, it seemed as if he must burst forth vehemently; but he was restrained by the hand laid upon his lips; she would not let him speak until she had finished. When she had finished, be broke away from her, and his eyes flashing, with all his Irish impetuosity, he shouted, "It's a lie to say you did it—a lie!"

Dionysius, who had been hitherto silent, here took upon himself to explain the reason why the charge was fixed on Mrs. Melrose: "because no other person was on the spot."

The boy was standing with his back to the vicar; he did not condescend to turn round when Dionysius spoke, or to take the least notice of him: but when Dionysius had concluded his speech, he flatly contradicted it.

"There was somebody!" shouted he, imperiously "there was somebody! I saw him!"

Clara Melrose looked. As for Dionysius, he seized hold of the Irish lad, in his excitement.

"Who—who?" cried he, eagerly.

Phil shook himself loose in a moment.

"Let me alone, will you!" said he, roughly; for he hated the Vicar of Deepdale. He had hated him ever since that unlucky time when Dionysius had disturbed his morning's nap on the sofa.

"Phil," said the widow, "come here, come here."

He went to her at once. She drew him close to her, and with her old caressing touch, pushed the tangled locks from his forehead.

"Phil," she said, "that somebody may have taken the money!"

The boy looked at her with a glance of intelligence in his black eye.

"And if that can be proved, dear, you will have saved me. Tell me, Phil, quickly, who was it that you saw."

"I saw a gentleman. He came right out of the study windows. I was rat-catching at the barn. You know the barn?"

"Yes! yes!" said the widow, eagerly.

"Well, I had my ferrets there. I was very miserable about you having gone, and I wanted to amuse myself a little. I was just looking that way when I saw him come out."

"Out of the window?"

"Yes, it was open. There was nobody about. Betty was gone to the village, for I saw her come back a few minutes after."

"And where was the vicar?"

"He had gone out in a hurry. They fetched him to somebody that was ill. I don't think he knew Betty was gone as well. The window was not open when I first went there."

"Are you sure, Phil?"

"Certain, sure, and positive," said the boy.

"And where did the gentleman go to?"

"He went out, on to the lane; he passed by the barn. I don't think he expected anybody to be there, for he started when he saw me, and seemed rather frightened."

"O Phil! Phil! why did you not tell me this before?"

"Because I did not know. They never told me a word about it. They are always keeping secrets from me!" replied the boy.

A strange gleam of hope passed through the breast of Dionysius Curling. Was light about to be let in upon all this darkness? What would this revelation prove? Could it be proved?

He would have thought much more to this effect, but he was roused by the voice of the widow. Her eye sparkled with a brilliancy that seemed almost unnatural.

"Mr. Curling," said she, and her voice was sharp and authoritative, "I must see Simon Crosskeys."

Dionysius stared at her, with that blank look he was wont to use on occasions.

She repeated her command, ere he had time to blunder out, frightened and helpless, "But I think—I am afraid—he would not come."

She turned hastily from him.

"Come!" shouted Phil, snatching up his cap; "I should think he will come, if I fetch him!"

And darting another furious look at Dionysius, he rushed, pell-mell, down the garden-walk. He was gone to fetch Simon Crosskeys.


CHAPTER LVI.

WHO WAS THE GUILTY ONE?

DIONYSIUS CURLING was alone with the widow. She did not seem, however, to notice him. In spite of his fidelity to her, his numberless good offices, his chivalrous intentions, he was for the time neglected. She was preoccupied with her own thoughts—excited beyond measure: her cheek flushed, her eye sparkling. She paced up and down the room, sometimes brushing close by him—nay, touching him with her soft sweeping garments; but she did not speak to him. He had become a complete nonentity.

Under any other circumstances, this would have been intolerable; but the whole thing was exceptional. He himself was distraught with conflicting ideas. He was agitated by hopes, and the dread of probable disappointment. On the slenderest imaginable thread turned the fate of Clara Melrose.

Who was this mysterious stranger? Alas! no one could imagine. If even he were traced—and the word of a wild Irish lad alone pointed out his existence—if he were traced and found, what would it prove? Could it prove that be had taken the money? Dionysius feared it could not. He feared that this spark of light would go out, and leave them in still more impenetrable darkness. While he thought thus, and while the widow paced the room, voices sounded close at hand. Phil was bringing back Simon Crosskeys. The lad was walking with great eager strides. He had Crosskeys by the hand. Crosskeys hung back, and seemed reluctant, but Phil held on to him like a vice. He seemed as if dragging him, against his will, into the presence of Clara Melrose.

When the widow heard the footsteps of the man who was preparing to hunt her down, she ceased to pace the room. She stood still, her head thrown back, her hands clasped. I do not think she feared him, yet a nervous tremor came over her. She knew not what woe and ill that man might be bringing to her. She had never exchanged a word with him since—oh! how well she remembered it!—since the day she had quitted Deepdale. He had then been among the warmest of her friends. He had stood bareheaded: she fancied she saw him now—his grey hair slightly ruffled with the wind, his handkerchief waving as a last token of farewell. He had bade her God speed! Alas! she had never received a word from him since, until now. Her eyes suffused with tears. Tender memories crowded on the mind of the doomed and forsaken woman! Her husband, her uncle, her friends—all—all were gone!

By this time, Simon Crosskeys' foot was on the threshold. He entered. He and Clara Melrose stood face to face. Simon Crosskeys, it must be confessed, was not altogether at his ease. As Dionysius Curling had observed, "he would not have come, if he could have helped it." But, as it happened, he could not help it.

Phil was a Landon as well as the Big Countess.

"I shall write, and make mamma come back again," was the threat he held over Simon Crosskeys. Furthermore, he burst upon him with the intelligence that he had seen the man who had taken the old vicar's money.

After all this, Simon Crosskeys could not choose but be obedient. He came.

And now, as he stood before the fair young widow, and beheld her open forehead, her innocent eye, her modest deportment, it did occur to him, perhaps, for the first time, that he might have been mistaken. And, if so, what a terrible mistake would that have been! If she were innocent, who then was guilty?

He had taken off his cap. A feeling, which he could not control, had compelled him; perhaps some remnant of that respect with which he had been wont to treat the adopted daughter of Mr. Melrose. He had always remembered her as a beautiful and interesting girl; but there was something in her face now, as he gazed at it, more than mere beauty. There was an expression so pure, so gentle, so patient, so good, that Simon Crosskeys was, in spite of himself, subdued.

Holding his cap in his hand, he stammered out some word of apology.

Clara Melrose had never moved her eyes from his face. Now, for the first time, she addressed him.

"Mr. Crosskeys," said she, in the sweet strains of her dulcet voice, "what have I done to you, that you should think me guilty?"

He did not answer. His look sank beneath her look. The hand that held the cap twitched nervously.

"Knowing me, as you must have known me," continued she, the tears shining in her earnest eyes, "you might have been assured that I could not have taken the money."

Simon Crosskeys made no reply. He stood like a man convicted. He and his victim appeared to have changed places.

"Still," continued Clara Melrose, her tone increasing in earnestness and in sweetness too, "if it will be any satisfaction to you, if my bare word will not suffice—standing here, as it were, before God—I swear to you that I am innocent!"

Had he condescended to seek an interview with her before, I believe the thing would never have happened. I believe she would have been acquitted. He was subdued, but not conquered. He was an obstinate man by nature, and it went hard with him to confess that he was in the wrong. True, in his present state, he had no wish to send this fair young widow to a prison; neither did he choose altogether to give way. Besides, was not Nathanael Lewin gone to Mansfield for a warrant?

"I am sorry," he began, breaking silence, for the first time, with his harsh gruff voice,—"I am sorry, Mrs. Melrose. We did not think you would have turned out so bad. Pray, who else was there who could have taken the money?"

"Did not I tell you?" interrupted Phil, hastily, thrusting himself before Simon—"did I not tell you, that I saw a man come out of the vicarage, and did not he take the money?"

The impetuosity of the attack made Simon Crosskeys fall back somewhat. Two gleaming eyes, and an arm strong and sinewy as that of Hercules, were enough to make him.

"Indeed, my lord," stammered he, "that is all very true, but where is the man to be found?"

"Found! I'll find him!" shouted Phil, wild with excitement. "I'll answer for it, he shall not escape from me!"

There was something almost ferocious in the boy's manner. Simon Crosskeys looked absolutely frightened. It was never very safe to stir up the blood of the Landons.

Dionysius Curling now stepped forward. Would it not be better, he suggested, to make a search for this man, whom Lord Landon had fancied he had seen

Fancied! You should have seen the look darted at him by Phil. "Had fancied he had seen!" Here was certainly some slight foundation to build upon; and until the matter was sifted to the bottom, all hostile proceedings ought to be stopped. It would be dangerous to arrest an innocent person.

No one who heard the cold, phlegmatic speech delivered by the Vicar of Deepdale, could have guessed the state of his affections—that on Clara Melrose's innocence or guilt his whole wellbeing depended.

Then arose another question—for the interview was fast assuming the nature of a conference—what should be done? Who should attempt to unravel the mystery? Who should go in search of the man seen by Phil? Who but Phil himself?

Phil was ready for anything. But Phil could not go alone, and who should go with Phil?

"I'll tell you who shall go," cried his lordship, standing shouting in the middle of the room; "he shan't!" pointing to Dionysius Curling. "He said fancied, as if I could not swear to him before any court in England! Mr. Chauncey shall go—I'll take Mr. Chauncey!"

Phil was assuming the imperial air of the countess herself.

After some further discussion, two things were agreed upon. First, that Simon Crosskeys should, for the present, stop the proceedings. Indeed he could do no less. Already, grievous doubts and misgivings were crowding on his mind. Secondly, that Phil should at once communicate with Frank Chauncey, and that they two should institute searching inquiries touching the mysterious individual seen at the vicarage.

Dr. Plume had by this time partially recovered. The family at Deepdale were gone. Business, as Mr. Crosskeys observed, was consequently somewhat slack. Frank would have leisure to attend to the affair.

As for Dionysius Curling, he was passed over altogether. The conference then broke up in haste.

Simon Crosskeys, having made an awkward bow to Clara Melrose, departed to see after his friend Lewin; and Phil, wild as a March hare, bounded head over heels down the garden-walk.


CHAPTER LVII.

AN IMPORTANT QUESTION.

DIONYSIUS CURLING was again left alone with the widow. He felt stung with mortal jealousy. He, the lover, the friend, the champion, was consigned to oblivion. Frank Chauncey was to be her deliverer—Frank Chauncey, a stranger, an indifferent person, who had never sympathized, had never wept, had never made a single sacrifice!—he was chosen; Dionysius Curling left!

It was a hard and bitter lot. Dionysius thought so, as he stood, with compressed lips, looking from the window. Was it for this that he had been willing to give up his all—that Frank Chauncey might step in—and supplant him?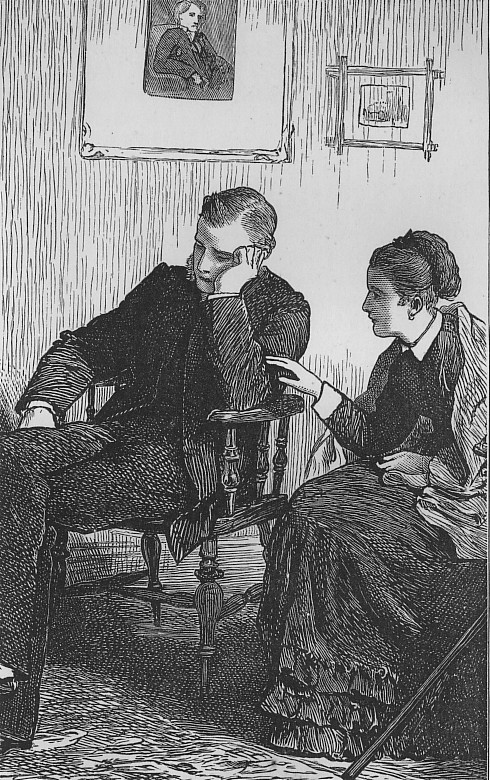 "He had just thought thus, when a white hand was laid upon his arm."

He had not looked round at the widow, though he heard the soft trailing sound of her garments on the floor. He could not bear it. He thought he would rush away miles from Deepdale. He would give up his living—give up everything, and, retiring to some solitary place, die there a broken-hearted man! He had just thought thus, when a white hand was laid upon his arm.

"Mr. Curling, are you angry with me?"

Two eyes of tender blue, a mouth rosy as the buds of spring, a sweet familiar face—how could he resist it. He was softened. He was overflowing with love and devotedness. Yet he spoke not, all at once. His feelings had been wounded. There must be some little time for them to heal.

She did not take away her hand. Still looking up into his face, she said―

"I am very sorry if I have offended you. I did not want you to go."

He looked at her half-angrily. A man can be angry sometimes with the woman he loves.

"Because," said she, softly, and a delicate tinge suffusing her cheek, "I wished you to stay with me."

His whole face kindled into rapture. He forgot his wounds, his neglect, his desertion. He took the little hand in his, and, drawing her nearer to him, said, in a low, tremulous whisper—"Clara, I love you!"

The tinge of colour deepened; a look of alarm came into her face. She attempted to withdraw her hand, but he would not give it up.

"Clara," said he, and the man's whole soul beamed from his eyes, "Clara, as you are now, your fate undecided, whether for weal or for woe, will you be my wife?"

The tears began to steal down her cheek. She was touched to the very heart.

"I have long loved you; I love you now, more than ever. Whatever your destiny may be, I will share it without complaining. I will shield and protect you to the utmost of my power. If your enemies wound you, they shall first pierce me. Only tell me—will you be my wife?"

She trembled from head to foot. This little scene affected her more than the other. It was some minutes before she could recover her composure sufficiently to reply.

"You are very good," she said, "and very generous. I respect and admire you. Under other circumstances, I might――"

Here she broke down; her tears impeded her utterance. "But now, O! do not think of it, I beseech you! Try rather to forget that you have ever seen me!"

He drew her nearer still. His manner was that of one who soothes and cherishes.

"I shall never forget you: you must not ask me. My heart is bound up in you. If you do not return my affection, I shall be a man wrecked and lost, as far as this world goes. But you will—will you not?"

She wept bitterly. His exceeding love, and her exceeding desolation, were something beyond the ordinary course of events. Yes, she might learn to love him, were this the time to begin the lesson. But it was not. It was a season of terror and anguish; she knew not what might befall her on the morrow. And for her—a forlorn outcast, a woman banned and barred—to associate herself with him, would be monstrous.

But this one thing she did, in pity to the man's pleading eyes and beseeching words—she promised, if better days should come, and if her affection could ever get loose from the past, she would not be wholly inexorable: and, for the rest, she put him resolutely from her.

PHIL went bounding down the village. He was in capital spirits. There was nothing he liked better than what he was going to do. He loved Mrs. Melrose dearly, and he wished to befriend her to the utmost. But this was not all. The excitement of the thing would be prodigious. It would be better even than killing rats!

He bounded along towards the residence of Dr. Plume. By the time he reached it, he presented an appearance that baffles description. But this mattered little to Phil. The doctor's gig stood at the door, and as Phil came recklessly on, Frank Chauncey, hurrying out of the house, jumped into it. He would have been off in a trice, if Phil had not planted himself deliberately before the horse's head.

"I say, Mr. Chauncey, I want to speak to you."

"You must come again, Phil. I can't stay. Just step aside, will you?"

"No, I won't: not till you've heard what I've come to say!" exclaimed Phil, sturdily.

There was never any arguing with Phil. Frank knew that. The boy would be wilful to the end, if he chose. As Frank was in great haste, he bade the man dismount.

"Now, Phil, jump in! You can say what you want as we drive along. I haven't a minute to spare."

Phil, radiant with delight, jumped in at one bound. This was a way of settling the matter that he liked very much.

Frank drove off full speed. He had been sent for to a case of accident. A gentleman had been thrown from his horse, and lay at the inn in the next village, waiting for medical assistance. Consequently, no time was to be lost. Nor was time to be lost as far as Phil was concerned. With more clearness and consistency than might have been expected, he laid the matter before Frank, the matter of the mysterious individual at the vicarage. The circumstances of Clara Melrose's supposed guilt were already known to every inhabitant of Deepdale.

Frank listened to the story attentively. He had been interested, from the first, in the peculiar situation of the widow. His own varied experience had taught him lessons of mercy and of forbearance. He had forborne to judge Clara Melrose. Still, the prospect of clearing up the mystery was somewhat slight and unsatisfactory. He explained to Phil, as they drove along, that his Quixotic idea of scouring the country in search of a man who might be, by this time, at the other end of the globe was not the right way of proceeding. They must go to work with more judgment and common sense.

Phil, according to his own account, could recognize the man anywhere. Be it so. He must give a fall description of him to the detective police, and let them do their best to find him. It might be he would never be found at all; and even if he were found, could Crosskeys and Lewin be induced to drop the prosecution? For his own part, Frank thought the evidence against the widow very unsatisfactory. It seemed to him a curious case of local persecution.

Phil would have hugged him as he said this, but for the danger, at the rate they were going, of upsetting the the gig.

It was resolved, however, ere the two friends reached their destination, that decided counter steps should be taken. The police should be set to work, the countess written to, and indeed every means employed to rescue the unhappy woman from her fate.

Just as this decision was arrived at, the spire of a village church came in sight. It was the village to which Frank was going.

Accidents are fearful comments on the frailty and the insecurity of life. An hour before a man in the prime of health, as it seemed, had ridden through the village. His horse, a splendid animal, took fright and threw him, and the man's head struck against a stone. He lay, now, speechless and unconscious, at the inn by the wayside, villagers the pitying pillagers stood all around waiting for the doctor. Frank drove hastily up to the inn. He knew it was a case of life or death.

The inn was crowded. All the people in the place were there. They had laid the sufferer on a couch upon the floor of the lower room. There he remained, still unconscious. No one had the least idea who he was. There was not a single clue to his identity. He was a man in the prime of life. His clothes were of the best style, and the newest fashion. The simple country folks thought he was a person of distinction.

The women and children, who principally crowded about the door, gave place to the doctor. Frank, bidding Phil hold his horse, went into the room. It was a low room, close, and full of people. First of all, Frank opened the window to admit some air; next, he requested all persons present, who could not be of actual use, to withdraw.

His orders were obeyed, and he was left alone with his patient and the landlady, who was acting as nurse. Then Frank turned to the couch. The little apartment of the inn was very dark and gloomy. A great tree grew just before the windows, and did not allow much light to enter. He had to approach very near in order to see the features of the man with any distinctness. Frank's eye fell upon the head which lay unconscious on the pillow. The brown, curling locks suggested to him some startling memories. The features, careworn and dissipated, but still handsome, the hand with its glittering ring could belong to no one else.

Frank's very brain seemed to swim, for he recognized the individual before him, the man lying at the point of death, as his father—as Reginald Chauncey!

What he did here, riding his splendid steed and still attired in the old sumptuous fashion, Frank could not even guess. He knew that through this man's sin his mother had died of grief. Ah! the sorrows, the heart aches, the bitter privations, the shame, the ignominy, heaped on their devoted heads because of him! It would not do to recollect them now. Better to think of his mother's last words—her dying appeal to his forgiveness and his mercy. Better to think of Him who, on the very cross, prayed for his enemies!

As Frank, still half-stunned and agitated, applied himself to the exercise of his medical skill, he resolved strictly to keep his own counsel. No one had been present during the last few moments, which had been so terrible. The woman had retired, as she said, out of the doctor's way. There were no witnesses to Frank's recognition of his father.

If Reginald Chauncey had been so mad as to display his gorgeous person before the eyes of the world, Frank would not hurry on the consequences. There was no clue to his identity, and there should be none, as far as the world was concerned. But it would be well for him that he had fallen into the hands of his son.

"For my mother's sake I will cherish him to the last," thought Frank, softening more and more to the unconscious sufferer before him: for he had not as yet given the least sign of recovery.

Suppose he were to die! Frank shuddered as he thought how probable it was. Ah! then how earnestly he would pray that for some short period, at least, reason might resume her seat, that Reginald Chauncey might have space for repentance!

Frank resolved another thing, likewise, in the hurry and tumult of his thoughts. He would not leave his father. He would remain with him till the interval of imminent peril was over. Then he could better decide what to do.

Thinking thus, and having done all that the immediate necessity of the case required, he stepped from the room. Very pale he looked as he came out into the broad daylight.

Phil was standing by the gig, in such a state of abstraction that Frank had to speak twice before he paid any attention. Then he turned eagerly round, and was about to say something, when Frank stopped him. He asked him to take back the gig, and tell Dr. Plume that he should not be able to return for some hours. His patient was in a very critical situation, and could not possibly be left.

"Do you hear, Phil?" said Frank, tapping him on the shoulder.

"Oh, yes! I hear; but," and Phil came close up and spoke in a tone of unusual solemnity, "I have seen the man!"

"The man!—where?" cried Frank, looking hastily round.

"While you were gone I looked in at the patient―― saw him quite plain," said Phil, in great excitement.

"Saw whom? I don't know what you mean," cried Frank, confused and perplexed.

"The man who lies on the floor—I could swear to him anywhere! He's the man I saw come out of Deepdale Vicarage!"