RICHARD CLAY & SONS, LIMITED,
BREAD STREET HILL, E.C., AND
BUNGAY, SUFFOLK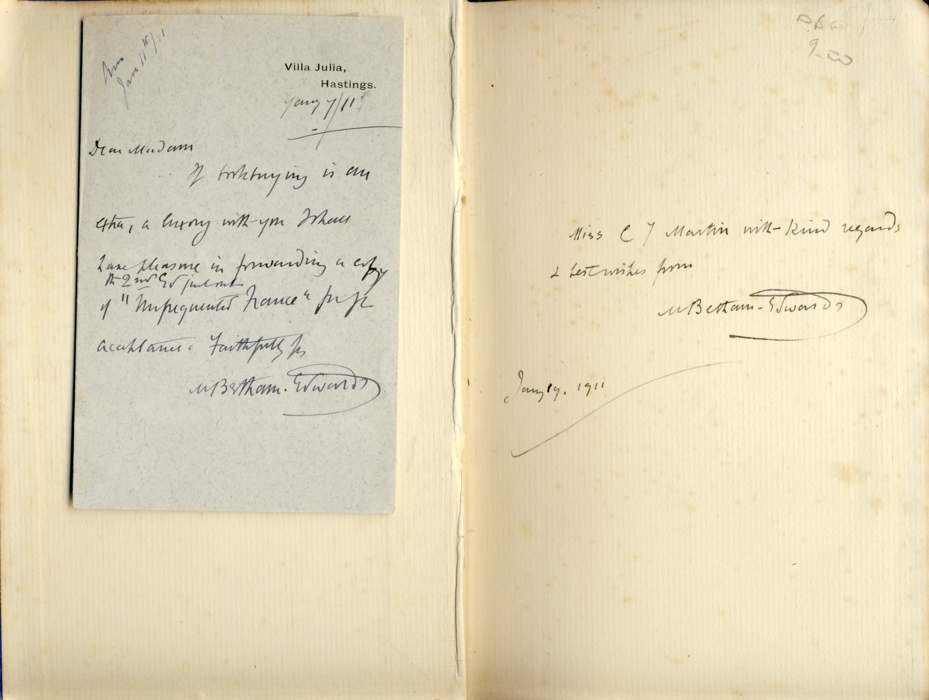 VILLA JULIA
HASTINGS
January 7/11
Dear Madam
If bookbuying is an extra, a luxury with you I shall have pleasure in forwarding a copy of the 2nd [edition/impression?] of "Unfrequented France" for your acceptance.
Faithfully yours
M. Betham-Edwards
MONTPELLIER-LE-VIEUX




PREFATORY

AN apology for this volume is not necessary. Despite the dozens, scores, I am tempted to say hundreds, of books written about France within the last decade (in other words, since the inauguration of the entente cordiale), the regions here described, for the most part, have been passed by.

The unique and ancient citadel of Provins in the Brie, Besançon and its magnificent scenery, the highlands of Franche-Comté and forests of the Jura, the idyllic scenes around Dijon, the descent of the Rhône, perhaps the finest trip by river in Europe, the rapids of the Tarn, the dolomite city of Montpellier-le-Vieux, the savage grandeur of the Gausses—triple marvels first made known to English and, by acknowledgment, to French readers by my own pen (see M. Martel's Les Cévennes)—the curious Ile de Ré, an hour and a half from beautiful La Rochelle, the lovely banks of the Erdre and of the Loire between Nantes and Angers, lastly, the Pays Vendéan and Pays Angevin, historic, romantic, and attaching nooks and corners of the Vendée and of Anjou—few and far between are the English travellers found zigzagging amid these scenes, none throughout France more amply repay a visit. Many of the spots here described are inaccessible by railway; in others, since my wanderings, iron roads have been laid. As far as possible, the wise traveller will follow my example and stick to diligence and calèche, steamer, barge and boat, in other words, selecting the slowest possible means of locomotion.

I beg most gratefully to acknowledge the courtesy of Messrs. Hurst and Blackett, also of the Macmillan Company for allowing copious extracts from my Holidays in Eastern France and The Roof of France: both works long since out of print. I add that all passages culled from those volumes have undergone careful revision, and that neither of them are included in the Tauchnitz series; also that although numerous detached portions have been translated into French and issued in French periodicals, no entire translation has been brought out.

As will be surmised, the long and wide apart journeys here put together were not made at a stretch; they cover, indeed, many years, but I have linked the various stages so as to make of the zig-zaggeries a sequent and easily followed round.
MATILDA BETHAM-EDWARDS.

August 8, 1910.

――――♦――――


CONTENTS


PART I.

FROM PARIS TO BESANÇON AND LYONS

CHAPTER I.
THROUGH THE VALLEY OF THE MARNE TO PROVINS

CHAPTER II.
PROVINS

CHAPTER III.
TROYES AND DIJON

CHAPTER IV.
ROUND ABOUT DIJON

CHAPTER V.
BESANÇON AND ITS SCENERY

CHAPTER VI.
THE VALLEY OF THE LOUE

CHAPTER VII.
THE HIGHLANDS OF THE DOUBS

CHAPTER VIII.
THROUGH THE JURA

CHAPTER IX.
THROUGH THE JURA (continued)
____________


PART II.

DESCENTS OF THE RHÔNE AND THE TARN,
AND THE REGION OF THE CAUSSES

CHAPTER X.
FROM LYONS TO AVIGNON

CHAPTER XI.
TO MENDE BY WAY OF LE VIGAN

CHAPTER XII.
FROM MENDE TO ST. ÉNIMIE BY THE CAUSSES

CHAPTER XIII.
SHOOTING THE RAPIDS

CHAPTER XIV.
MONTPELLIER-LE-VIEUX
____________

PART III.

FROM CLERMONT-FERRAND TO LA ROCHELLE,
ILE DE RE, NANTES AND ANGERS

CHAPTER XV.
ROUND ABOUT CLERMONT-FERRAND

CHAPTER XVI.
TO NANTES BY WAY OF BORDEAUX, LA ROCHELLE,
LES SABLES D'OLONNE, AND MONTAIGU

CHAPTER XVII.
PAYS NANTAIS

CHAPTER XVIII.
PAYS ANGEVIN

CHAPTER XIX.
PAYS VENDÉAN, AND BACK TO PARIS

――――♦――――


LIST OF ILLUSTRATIONS
| | |
| --- | --- |
| PAGE | |
| | MONTPELLIER-LE-VIEUX |
| | CANAL SCENE |
| | VALLEY OF THE MARNE |
| | ARCIER, BESANÇON |
| | PROMENADE MICAUD |
| | LONS-LE-SAUNIER |
| | BAUME-LES-MESSIEURS |
| | APPROACH TO AVIGNON |
| | AVIGNON, CHÂTEAUX DES PAPES |
| | MENDE |
| | CAUSSE DE SÉVÉRAC |
| | ST. ÉNIMIE |
| | CHÂTEAU DE LA CAZE |
| | THE STONY WILDERNESS |
| | LES DÉTROITS |
| | LES DÉTROITS |
| | THE WINDING TARN |
| | DOLMEN DE ST. GERMAIN |
| | MONTPELLIER-LE-VIEUX |
| | LA MARMITE |
| | LE SPHINX |
| | PORTE DE MYCÈNE |
| | CATHEDRAL, RODEZ |
| | VIEW FRONT THE PUY DE DÔME |
| | THIERS |
| | ÉGLISE D'ARS, ÎLE DE RÉ |
| | ST. GEORGES-DE-DIDONNE |
| | ST. MARTIN'S, ILE DE RÉ |
| | LA ROCHELLE |
| | LES SABLES D'OLONNE |
| | NANTES, THE LOIRE AND THE ERDRE |
| | BELLE ÎLE EN MER, OFF NANTES |