[Back to Chapter 7]



CHAPTER EIGHT

FULFILMENT AND THANATOS

[1887 - 1907]
Death is the separation of a duality, and effects no change in the spirit, morally or intellectually.
(Alfred Russel Wallace)


THIS last period in Massey's life, although almost as productive as in previous sections, was mainly a period of consolidation of ideas and completion of purpose. He had refuted many of his previously held opinions, published fifteen years earlier in Concerning Spiritualism, and extended his research-based conclusions to anti-orthodox Christianity. His published lecture series demonstrated those issues very fully, as did his appearances at public meetings. A series of six at St George's Hall, Langham Place, commencing on 12 June 1887, clearly stated his position. Titles included 'The mystery of Paul, "Apostle of the Heretics", and not of historic Christianity', and 'Christianity, an anti-Spiritualistic system'. He had, in broad terms, clashed with the Christian Spiritualists, whose undeveloped mediums preached nothing but Christianity through 'spirit guides', which same 'spirits' continually endorsed exploded myths as facts. He maintained this position in his lectures, when he stated, 'phenomenal Spiritualists who go philandering with the fallacies of the Christian faith, and want to make out that it is identical with Modern Spiritualism, have to face the great indubitable fact that Historic Christianity was established as a non-Spiritualist and an anti-spiritualistic religion.'[1] During these lectures he had occasion again to refer to the presumptions of the Christian Spiritualists, this time on remarks made by Alfred Russel Wallace. Wallace had been stating that Spiritualism alone could reconcile the Bible with an intelligent belief, particularly in regard to the miracles which, as facts, need not be explained away. Massey was astounded by this position taken by one of the foremost men of science and co-contributor with Darwin. Wallace's opinion, he said, was unscientific, false, and based on the confusion with symbolical representation. It was the pre-Christian, Gnostic religion that based immortality or continuity of existence upon the evidence of abnormal phenomena and clairvoyant vision. The resurrection of the Christ of historic Christianity was physical, and you cannot demonstrate a spiritual continuity by means of a bodily resurrection. Mythical miracles could not be converted into spiritual phenomena.[2] With the much firmer stance he was taking on religious origins, particularly Christianity, he commenced to use the term 'Neo-Naturalistic' in place of 'Spiritualistic', as he claimed that Spiritualism was a newer, larger Naturalism.

Since the publication of his Natural Genesis he had been engaged at intervals on a recast version of his work on Shakespeare's Sonnets. In this, he hoped to give a closer clinch to his conclusions, complete his case, and leave a permanent memorial of his love and admiration for Shakespeare the Poet and Man. The Secret Drama of Shakspeare's Sonnets was published in 1888 and restated his earlier premise that the sonnets, partly personal and dramatic, require regrouping in order to maintain the series. A section of 'Biographia Literaria' included the Earl of Southampton, Lady Penelope Devereux, Shakespeare, and Francis Bacon. This latter claimed Massey's attention on account of Ignatius Donnelly's recently published book The Great Cryptogram. In 1856 Putnam's Magazine had printed Delia Bacon's opinion that a number of well-known persons could have authored Shakespeare's plays. She followed this in 1857 with her book on the theme, The Philosophy of the Plays of Shakespeare unfolded. This hypothesis received some support, as well as opposition. William Henry Smith, politician, published his Bacon and Shakespeare: an Inquiry… in the same year. Later, another group who were advocates of the 'Oxford Theory', promoted Edward de Vere (1550-1604), Earl of Oxford, as the author. The Baconians gained some ground following the formation of the Bacon Society in 1885, and the publication of Donnelly's book that proposed a secret cypher encoded in Shakespeare's plays. That cypher was supposed to reveal political intrigues and scandals of the time.[3] Donnelly was also a supporter of the theory of 'Atlantis'. Massey devoted a section of his book in demolishing the theory, which received approval by the reviewer in Punch, under the heading:

DOWN ON DONNELLY;
Or, Crushing the Cryptogram.

A POET on the Poet! That should herald
A real Champion's advent. Go it, GERALD! …
IGNATIUS now, the "Moon-Raker" gone frantic,
Who hunts for mare's-nests under the Atlantic,
And SHAKESPEARE'S text, is naturally stilted,
But under MASSEY'S mace he must have wilted …
Your monumental book's a trifle bulky
(Five hundred pages turn some critics sulky,
My massive MASSEY), but 'tis full of "meat",
And sown with song as masculine as sweet …
Whilst all will track with grateful heart and eye
Your slaughtering of that colossal Sham
Egregious DONNELLY'S Great Cryptogram![4]

St James' Gazette also approved, saying 'In justice to Mr Massey, it must be said that many of his most important conclusions have been stolen—or let us say 'conveyed'—by some critics who are loudest in repudiating his dramatic interpretation.'[5] Amos Waters, reviewing the 1890 edition in Watt's Literary Guide, praised the intricacies of research and excellent tissue of relevant detail. 'Massey's chivalrous and monumental book will arise in the average reader added joy, new light on Shakespeare's sonnets, and a new love for Shakespeare the man.'[6]

A number of years later, a correspondent in the Times Literary Supplement wrote concerning Marston's reference to Drusus, in his The Scourge of Villanie 1599, which suggested there had been a revival of Romeo and Juliet in 1598. After reading Marston's book, Massey had proposed that Drusus was an allusion to Shakespeare, which prompted the disagreement of Dr C. M. Ingleby. The correspondent was surprised that Massey had not presented all the evidence contained in Marston's book, which would have made a stronger case for his proposal.[7]

The last article he wrote for a journal was 'Myth and Totemism as primitive modes of representation'. As with his published lectures, it was a summary of sections in his main works, principally The Natural Genesis, and therefore more explicit. His thesis proposed that as primitive mythology belonged to external nature, the actors in the drama were the elements themselves, birds, animals, reptiles, and not human beings. For example, the elemental conflict of light and darkness was portrayed by two birds as zootypes of the air. In Egypt, this was the golden hawk of day and the black vulture of night, and for the Australian aborigines, the eagle and crow. Later in development, the phenomena were interpreted using human beings in place of zootypes, as in the brothers Cain and Abel, Sut and Osiris, etc., who were always working to slay each other. Thus once the powers were humanised, and related as history, the myths became misrepresented, and considered as savage, senseless or obscene. Particularly so when the first parent in mythology was the dragon of darkness, or the cow, that brought forth the child of light in Egyptian mythology. Later in the development her child, who was also her consort, attains to the fatherhood, when his own mother becomes his own daughter. Therefore the mother, wife and daughter of, for example, the Egyptian sun-god Ra, are all one. As a mode of representation it was natural, the unknown being expressed by the known. As a modern belief, it is of course false and immoral, and it is the modern beliefs that misrepresent the ancient myths. In totemism, a nature power represented by a zootype was adopted as a badge of distinction for social groups. It was a primaeval coat of arms, extended by blood covenant, to form a sept, clan, and tribe. Continuing development extended the totem's blood covenant to the actual powers of the zootype, considering them as elemental spirits, giving rise in some instances to human sacrifice and cannibalism.[8] (Appendix F.)

He continued with some public lectures during 1887 and 1888, mainly in London at the Cavendish Rooms, Mortimer Street, and at his favourite venue, the St George's Hall, Langham Place, but as a source of finance they were inadequate for his needs.[9a] Seasonal lecture tours arranged by agents were held in the winter months, and that time of year was difficult for him due to chronic bronchitis. Early in 1888 he was again in debt. His sponsor for thirty-five years, Lady Marian Alford, had died earlier in the year so he was compelled to apply to the Royal Literary Fund for a further grant. The fund gave him assistance in the sum of £80, but it was quite obvious that unless he could obtain a further source of funding his next book as well as his whole livelihood would be compromised. The only way out of the predicament, before his health suffered further decline, would be to make a final, and hopefully equally financially rewarding, third tour of America. Therefore he began again to make arrangements, despite his previous second visit having been interrupted by illness. The advance list of Evolutionary, Anthropological, Gnostic and Neo-Naturalistic subjects was the largest he had ever presented, the recently published series of ten lectures being supplemented by a further twenty-one. Topics on Zootypology, Totemism, Fetishism and Sign language were condensed from his published four volume works. These were augmented by the literary subjects of Charles Lamb, Robert Burns and Thomas Hood and, additionally to enhance the sales of his Shakespeare book, 'The AntiShakspeare Craze; or, Shakspeare and Bacon,' and 'The Man Shakspeare; His Life and Work'.

New Southgate
London N.
August 2nd [1888]
Dear Alfred Bull,
Yours to hand. I was vexed not to have seen you. It was Measles my children had – and badly too. I have recently announced my intention of another trip and expect to sail in the Umbria 4 Weeks come Saturday. Dont know if I can stand your Winter but I must try. Whether I shall see Chicago or not is more likely to depend on you than anyone I know. But more of that anon. I have no wish for any further dealings with Cundy. He served me too badly in the Affaire Column. [?] (Lee pamphlet sent) When I sent him a Reply he burked it. That is friendship enough for one life time. I have no great anticipations in Lecturing, on account of my health, but I have other business. Moreover I shall have 10 Printed Lectures on Sale this time – may help a little. I send a few Circulars, but the Lecture List will require a careful handling with the orthodox. If you should be writing within [?] the time you can address me c/o Judge Dailey 16 Court St Brooklyn. You might perhaps get me a Subscriber or two to the Shakspeare Book, five Dollars? It will be out forthwith, [9b]
With the kindest regards to your Wife and a kiss for the Boy
I am yours
Gerald Massey
Alfred Bull Esq.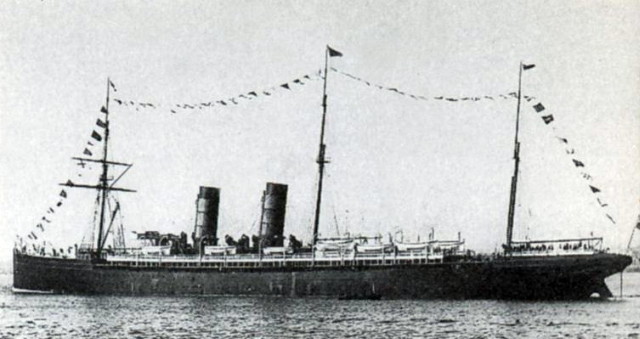 The Cunard liner RMS Umbria made its maiden voyage from Liverpool to New York on 1st November 1884.

Arriving in Boston, he commenced with a series of two lectures for the Independent Club, at Berkeley Hall on 11 November 1888. The Boston Herald described him as an elderly gentleman, with greyish moustache and chin whiskers, and wearing glasses. He read from manuscript very quickly and clearly, and was received with approbation by the audience.[10] During his time in Boston, he stayed with A. E. Giles at Hyde Park, and enjoyed social evenings with, among others, Theodore D. Weld, the old-time Abolitionist. Continuing to Providence, Rhode Island, for the 25 November and 2 December, he returned to Boston again for 'The Coming Religion' on 9 December.[11]

During his time in America he hoped to make arrangements for a new edition of his poetical works, and to sell copies of his lectures of which he had brought a supply to deposit with Colby and Rich, as agents. But that lecture in Boston was the last he gave in America. He received a telegram requesting his urgent return to England, where his daughter Hesper, described as 'a beautiful girl of eighteen' who was a sufferer from tuberculosis, had become seriously ill. She died on 3 March 1889.

We called her Hesper; for it seemed
Our Star of Eve had on us beamed,
Like Hesper, from the Heaven above,
To latest life a Lamp of love. . .

Beyond the Shadow of the night
That parted us, she lifts her light
To beacon us the Homeward way,
Where we shall meet again by day.

The Star of Eve may set, but how
It shines, the Star of Morning now …

That same year Massey compiled a two volume edition of the greater part of his published poems, as My Lyrical Life. In the explanatory preface he considered that a lyrist has the liberty of the dramatist in representing other characters, situations, or moods which may not be personal to the writer. Hence Robert Browning's descriptive title of 'Dramatic Lyrics'. Many of Massey's lyrics are dramatic also, in that sense. His dramaticism extended to patriotic and political affiliation, and causes which were unpopular at the time. Women's liberation movements would have been proud of him, when he considered that the Fall of Man was being gradually superseded by the Ascent of Woman, and he regarded the first necessity was for them to obtain parliamentary franchise. They could then hope to stand upon a business footing of practical equality with men. Of his poems, he had no extravagant estimate of their value which, some twenty years earlier he had ceased to regard as the special part of his literary life. He had been referred to as a poet who had not fulfilled the promise of his early achievements; yet had received testimony that his poems had done welcome work, if only in helping to destroy the tyranny of death, which made so many mental slaves afraid to live. The Athenæum, who could be relied upon in giving fair appraisals of his poetical works, treated him quite kindly. After commenting that his name in recent years had been less familiar than it deserved to be, it referred to some over-exuberant rejoicings from authoritative critics that had been quoted in the introduction. It agreed also with Massey's own comments that in general, the range of his poems was limited. Not over happy with his political 'Home Rule' advocacy, the reviewer recommended that the reader turn to the reprints of his first volumes and be soothed by their idyllic, almost holy, graciousness of domestic piety.[12] The Saturday Review likened him to an inoffensive and amiable Robert Buchanan, with the same fluency, the same mastery of the manifest, the same ease in the obvious, the same sort of creditable approach to success. Saying that they really liked Mr Massey's Muse, they had strong reservations on his mixed metaphors and outworn ideas. The less ambitious he was, the more he spoke through the heart, not the head, and the more briefly he spoke the more he attained true, though not lofty, poetry. Although he appeared more at home with domestic sentiment, they noted as had reviewers in his early days, that there was too much of the 'wee shrouds, wee bits, wee graves, wee wifes and other phrases endearing in the sacred intimacies of home, but unworthy of the Muse'. Of his Tale of Eternity they remarked that they could not believe in the sublime, though he had a thousand claims on their sympathy.[13] The volumes however, proved their popularity by raising a second edition the following year.

That year, 1890, saw the death of another daughter, Elsie, aged 16 years. She died on the 22 July of peritonitis. It may have been due to this, and the memory of Hesper's death, that induced him to move at the end of that year from Southgate to a similar property, 'Rusta,' 266 Lordship Lane, East Dulwich.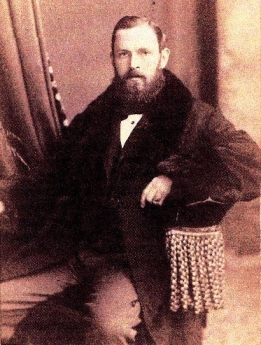 Dr Albert Churchward MD., MRCP., FGS.,
PM., PZ., 30º MDU
(Photo: © Jack Chuchward)
It was about this time ,or perhaps a few years earlier, that he had come into contact with Dr Albert Churchward (1852-1925), a general practitioner and high ranking (30 degree) freemason who lived at Erroll Lodge, 206 Selhurst Road, South Norwood. Born in Bridestowe, Devonshire, Churchward obtained his medical qualifications from Guy's Hospital, Brussels and Edinburgh. He was particularly interested in Ancient Egypt from a masonic perspective. In this connection he made a particular study of early African and other peoples from a medical viewpoint in order to research and give support to his theories that were very similar to Massey's, though in a more restricted sphere. Like Massey, his theories were not accepted by orthodox anthropologists and ethnologists at the time, but he held their opinions in scant regard. Their association may have come about due either to Massey's public lectures or his published works on religious origins. Churchward's first book The Origin and Antiquity of Freemasonry was published in 1898. There was extensive collaboration between these two men that continued up to the time of Massey's death, and Churchward's subsequent publications owe more than a great deal to Massey's ideas. Churchward's main work Signs and Symbols of Primordial Man is his best known. It can be noted that his brother was Lt. Col. James Churchward (b.1850), author of controversial books on Atlantis. Although Massey was not a freemason, disliking any form of secrecy, and Churchward had staunch Conservative opinions, there was sufficient compatibility of interests to produce an enduring friendship.

As Massey's health during the winter months was becoming increasingly precarious, the American lectures were the last he gave to large public audiences, and he restricted himself to smaller organisations, by invitation. In 1891 a proposal was made to form a Gerald Massey Society. The promulgator, Mr F. Dever-Summers of Wandsworth, considered that the formation of such a society would, through meetings, discussions and the formation of provincial branches, clear a way through a jungle of false doctrines. Suggesting a weekly subscription towards the purchase of Massey's and other similar books to make up a small library, members of any religious denomination would be welcome. This was seconded with grateful sympathy for Massey's work, and a proposition that he could then prepare lectures, papers or articles on subjects relating to the work of the society.[14] The amount of support received for the proposed society is not known, but it was never formed. This may have been due to preparations he was making for the last two volumes of his trilogy on evolutionary themes. In any case, despite his idealism, he was very wary in later years of committing himself to anything that did not suit his purpose at the time, or might interfere with plans already made.

In connection with Massey's earlier opinion on the unreliability of spirit communication, a correspondent in an issue of Medium and Daybreak in 1893 asked if a book written by the medium David Duguid, entitled Hafed, Prince of Persia, should not be truthful, emanating as it did from the spiritual world. The book was stated to have been dictated by a 'control' who lived at a time contemporary with Jesus Christ, and was a witness of his birth and death. The writer questioned that account, as it conflicted with Massey's argument as an evolutionist, that these chronicles were mythical. The opinions of other readers were sought, as embodied and disembodied spirits ought to be agreed on fundamental truths. The editor, James Burns, explained that Massey's 'Christ' was the immortal part of man, while 'Jesus' was the name given to the person who may have suffered and died as stated in the gospels. They were two very different subjects. The faculty of mediumship was greatly abused because of the ignorance and fanaticism of so-called Spiritualists. Had Massey responded, he would undoubtedly have been more forthright in providing a suitable answer.[15] Twenty years earlier Massey had complained about poetry purported to have been transmitted by departed bards to Thomas Lake Harris, poet, Christian Spiritualist and prolific author on religious mysticism. On examination, Massey had found some of Harris' inspiration to contain plagiarism and mental piracy—an imposture, he stated, from whichever world it originated.[16]

Massey's financial position was reasonable at that time, but apart from purchasing a small 'cottage' of unknown address, and from which he obtained an annual rent of £35, he ignored well-intentioned advice regarding any form of monetary investment. This was ultimately to be an unwise decision. His next move at the end of 1893 was to a large detached rented property at 11 Warminster Road, a quiet residential area of South Norwood. In naming the house 'Anru', the Egyptian word for 'Paradise', he hoped that move would be his final address.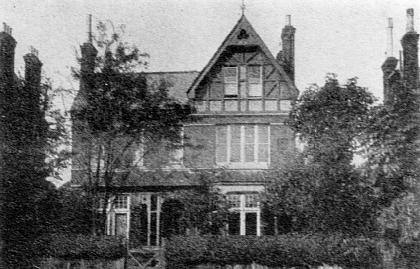 Anru, Warminster Road, South Norwood.
From the Bookman, Nov. 1897 (The British Library).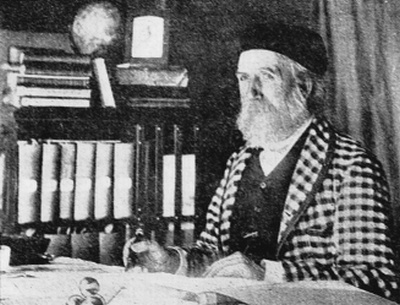 Massey in his study at Anru.
From the Bookman, Nov. 1897 (The British Library).

Meanwhile Fabyan, Massey's only son, had obtained a post as a telegraphist in Bermuda when, following two years in that country, he became ill and was diagnosed as having pulmonary tuberculosis. His sister, Hesper, had died of the disease seven years earlier, and it is possible that he obtained the primary focus from her. Due to Fabyan's deteriorating condition, Massey's eldest daughter Christabel then aged 36 went out to nurse him, but he died in Warwick, Bermuda, on 7 January 1896, aged nineteen.

George Julian Harney's eightieth birthday fell on 17 February 1897. Confined to bed at his home in Richmond due to severely painful rheumatoid arthritis, he had been contributing articles until recently to the Newcastle Weekly Chronicle. With nostalgia he had heard at intervals of the deaths of his Chartist friends Thomas Cooper in 1892, and J. B. Leno in 1894, aged 68. Other leading members of the movement had preceded them by many years. Bronterre O'Brien, editor of the Poor Man's Guardian and a founder of the National Reform League, ended as a shabby, beery loafer in Fleet Street, dying in 1864. John Arnott, the capable general secretary of the National Charter Association was seen by W. E. Adams in 1865 half starved, begging in the Strand (see author's brief biography), and Ernest Jones had died in 1869, his earlier political opposition with Harney reconciled.[17] W. E. Adams, George Jacob Holyoake, James Linton and Massey were among the few remaining Chartists who had been active in the revival of the movement. At the end of 1896 the Weekly Chronicle and the Free Review promoted a subscription fund for Harney in order to make him a gift on his birthday. In a letter to Henry Wonfer, secretary to the fund, Massey subscribed five pounds, and asked for Harney's address so that he could send him a copy of his collected poems.[18] Unable to make the visit due to poor health, he arranged for his daughter, Christabel, to represent him. Two hundred pounds had been raised for the presentation, the delegates meeting in Harney's book-lined bedroom. Telegrams and letters of appreciation were read out, and Mr Stroud, treasurer of the fund, made the presentation to Harney, pointing out that many of the political changes that he and his fellow Chartists had so ardently advocated at that time were now part of the statutes. Harney's name would live on for generations to come. Harney responded, with references to his early republican days, confirming that he was the sole survivor of the delegates who constituted the first Chartist Convention which met on 4 February 1839, at the British Coffee House, Cockspur Street. The presentation to Harney was made with only months to spare. He died, in continual pain from arthritis, the following December.[19]

Massey was now fully occupied with the final part of his trilogy, helped by his daughter Christabel who typed his manuscripts. On being interviewed by a young reporter during one of his more restful days early in November 1897, he admitted that bronchitis confined him to his house during the winter months, but he was able to venture out for short distances during the summer, though rarely went into town. Whilst he was at Ward's Hurst in the late 1860s he had worked a twelve hour day, seven days a week, but allowed himself now a much looser regime, while not wasting time or energy. At his desk at 9.30 after reading the Daily Chronicle, he had a light lunch at 1 p.m. followed by a short nap, then worked until supper at 6.30, going to bed at 10 p.m. 'No,' he said, 'I don't find my life monotonous or tedious. The explanation of my health and happiness is that I do not rely on externals … I never felt younger than I do now.'[20] The reporter had impressed Massey with his genuine interest and enthusiasm and, with Massey's help, was able to interview Alfred Russel Wallace the following month.[21] Massey wrote a letter dated 9 November to Wallace, expressing the reporter's desire for an interview:

Dear Alfred Russel Wallace,

I don't know whether you see the Bookman, but it is giving a series of Sketches based on Interviews with authors. The other day it was Mrs Humphrey Ward. Then I was invited to sit, and in the course of conversation I happened to mention your name, and to say that I knew you personally. When Mr Dawson, the Interviewer, said how glad he would be if you would favour him with a chat, I wish you could, not only for the interest we should all take in reading a Sketch of you and your work, but because Mr Dawson is a young Journalist on the climb and trying to lay hold where he can in his upward struggle, and because, as he explained it, it would be 'a feather in his cap' if Alfred Russel Wallace would be kind enough to see him. I don't know where you are living now, but if at one of the ends of the earth he would seek you out.

I am, with all good wishes, and with the hope that you are still working happily and finding life worth living, and with the Kindest remembrances to Mrs Wallace
yours faithfully
Gerald Massey.[22]

Of his daughters, Evelyn was the only one who married. This was to John Henry Bruton aged 31, a private secretary, on 4 August 1897, their only daughter Helena Viola Massey Bruton being born on 23 July, 1899. Unfortunately their marriage did not last long, John Bruton dying from intestinal obstruction two years later.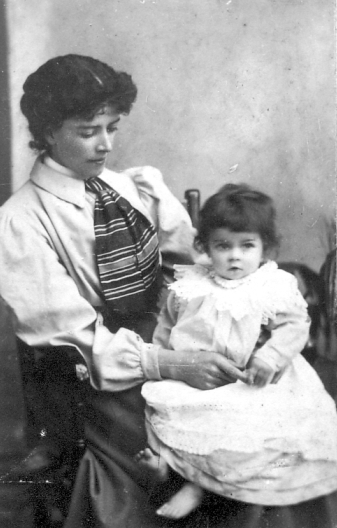 Gerald Massey's married daughter, Evelyn (Bruton)
with daughter Helena (Miss H. Bruton).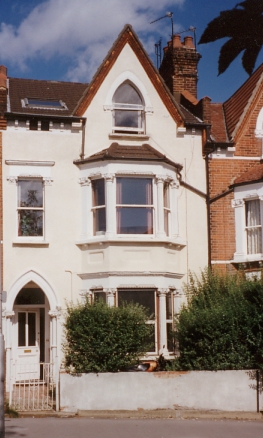 Redcot, South Norwood Hill.
Early in 1903 due to a continuing reduction in his financial circumstances, Massey was forced reluctantly to make a last move to a smaller semi-detached house not far from Warminster Road. At 'Redcot,' 46 South Norwood Hill, (now number 24), he settled finally to complete his writing. Using an upstairs room as a study that overlooked a vista of trees towards the Crystal Palace, he had a speaking tube fitted to connect with the drawing room downstairs. Before venturing down during the day, this room had to be at a temperature of 60 degrees, so as not to exacerbate his increasingly severe attacks of bronchitis during the winter months. Compared with the previous two works, his last book took a long while to complete, due to his frequent interruptions by illness. Because of the unforeseen expense he was compelled in 1904 to apply yet again for a Literary Fund grant. Supported by John Churton Collins and George St Clair, a member of the Palestine Exploration Society and Society of Authors who had reviewed his Book of the Beginnings favourably in the Modern Review, he received £150. By July 1906 with his book nearing completion, he was obliged to consider the costs of publication. The property that had provided him with a small rental had been sold some years earlier, and he was left with the annual £100 Civil List pension as sole source of income. However, with backing from Dr Albert Churchward and John Tannahill, a previous neighbour from Warminster Road, the Royal Literary Fund allowed him £100 towards the publication of his book. Author friend James Milne, editor of the Bookman and literary editor of the Daily Chronicle visited him in 1905, and again in early 1907 just as Ancient Egypt was being prepared for publication. He saw that Massey was cheerful and fresh in mind, although frail and weary. In comparing the writing of poetry with that of prose, Massey said that he found the writing of verse more exhausting, sometimes spending a night in getting a stanza, though he wrote very little poetry now. It was necessary to feel a thing vitally before giving it out in words. Mentioning his visit to Tennyson whom he had met in London when Tennyson was in bed with poor health, he remembered his frank bluntness, almost roughness of his personality which did not seem to agree with the Italian suavity of his poetry. If he himself had been a poet of society, he might have been supping with duchesses instead of living apart and writing books about the origins of civilisation. He remembered sending a poem at one time to either the Morning Herald or Standard which replied that although they liked the piece very much, they wanted something milder on the same lines. They did not get their poem as he always refused to do anything to order. Concerning his earlier Book of the Beginnings he found a reference to a review [stated to be in the Dutch Litteraturzeitung] by Richard Pietschmann (1851-1927) a German scholar and Egyptologist who had written that:

"This book belongs to the most advanced reconstruction researches, by which it is intended to reduce all language, religion, and thought to one definite historic origin . . . The author, however, differs from all similar writers in that he is an Evolutionist, holding that he who is not, has not begun to think for lack of a starting point . . . This view, of which modern philology has not yet dreamed, has not hitherto had any Egyptian researches brought to bear in its support. This the author saw, and saw also that not only must one be an Egyptologist, but also an Evolutionist, and one of the newer theology."

Replying to a question as to his next work, Massey gave a cheerful laugh, and quoted a verse:

'Fight on my men!' Sir Andrew saith,
'I am hurt a little yet not slain.
I'll but lie down and bleed awhile,
And then I'll up and fight again.'

Then, as if speaking to himself, he added, 'In this life or some other.'[23] There was a hint of regret that he had been unable to devote sufficient time to the younger members of his family:

Child after child would say—
'Ah, when his work is done,
Father will come with us and play.'
'Tis done; but Play-time's gone.

In the Norwood area Massey was still regarded as a notable Victorian poet, and just prior to his 79th birthday a reporter from the Norwood News went to obtain an interview. As Massey did not feel well enough at that time, his daughter Christabel supplied the reporter with a brief history of her father's early life. Unfortunately Christabel's memory was not always accurate, and the reporter had to supplement his article from the introduction to My Lyrical Life. The outcome, apart from some publicity, was therefore devoid of any anecdotal interest.[24] The Daily Mirror also noted that latest period of ill-health which confined him to bed for several weeks, and mentioned that some of his friends were attempting to procure him a grant from the Royal Bounty Fund.[25]

Ancient Egypt. The Light of the World. A work of reclamation and restitution in twelve books was published on the 30 September 1907, financed in part with his grant from the Literary Fund. Even so, he could afford only to have 500 copies printed. Totalling just under a thousand pages, the 'twelve books' were subject sections. The Book of the Beginnings had dealt principally with comparative philology, the Natural Genesis with typology, and he wrote Ancient Egypt as being necessarily more fundamental to the two, being based to a great extent on astronomical mythology and its development through to the Christian religion. Massey's thesis, as follows, is primarily Afro-Egyptian in foundation. Postulating that man, who was continually evolving, had his earliest origins in Africa around the area of the great lakes, Tanganyika and Victoria, he considered that there were several migrations via Egypt which gradually extended to Europe, Asia, Australia and the Americas. The earliest was of the paleolithic negroid pygmy people, who were pre-Totemic. At least two further migrations by Nilotic Negroes followed, who were Totemic, believed in a Great Mother and propitiated elementary (superhuman) powers and ancestral spirits.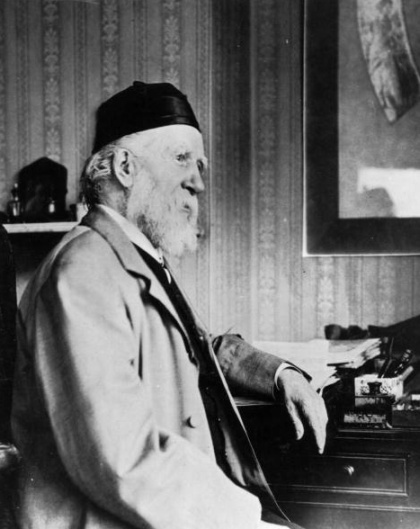 Gerald Massey in his study at Redcot. The last year.
From Book Monthly, 4, 1907. (The British Library)

Three other main migrations followed, which could be determined by the type of myth they had developed up to that time.[26] At the beginning when the earliest myths were shaped in the equatorial region, when heaven rested on the earth, there was equal division of night and day, thus making the first division of a circle. This tradition was maintained in the Egyptian 'Book of the Dead' where the twelve hours of darkness were imaged by twelve gates of the underworld in Amenta. The pole stars were on the two horizons, with the risings and settings of the stars being vertical. During northward migration the heaven of that pole, or tree, would appear to rise up from the mount of earth, while the southern pole star and constellations would sink below the south horizon—an astronomical 'deluge' or 'fall from heaven'—the beginning of sign language constellated in the stars.

Passage of time was reckoned by the precession and circling of the seven pole stars, represented by the seven souls of the god Ra, and the seven steps for ascending heaven which the souls climbed to reach their eternal rest among the never setting stars.[27] This imagery was maintained in the book of seven seals in Revelation, the Watchers in the Book of Enoch, the seven footsteps of Buddha, the seven Stations of the Cross, etc. The northern heaven, therefore, depicted the Egyptians' primeval homeland in objective uranographic picture form. Another example of the duality present in Egyptian representation was that of the water cow, the mother of earth. Symbolised in part as a thigh, it was constellated in the northern heavens both as the place of birth on earth, and rebirth in heaven. It is important in following Massey's thesis to remember that many of the Egyptians' earliest representation of forms of power were as zootypes. Therefore the serpent was later translated in mythology as a form of renewal, and developed in the eschatology as eternal life. The jackal was the seer in the dark, and became the guide of the soul in death. Similarly, the hawk became the soul of the sun, and later Ra, the divine spirit. Solar-based mythology developed to denote the subterranean path of the nocturnal sun. The soul's road to the heaven of eternity was now through, and not round, the subterranean earth, which now had a firmament - the celestial water—both above and below it. One pillar supported the firmament above the earth, another below. There was therefore a dual plan, both stellar and solar, upon which the Egyptian temples were built. The soul travelled through twelve gates, corresponding to the twelve hours of darkness, from the gate of glory at sunset with a first weighing and judgement of the soul in the great hall of Amenta, to the gate of glory at sunrise. By means of the Milky Way the soul travels by boat, climbing a ladder of seven steps—figured on earth in the seven-stepped pyramid of Saqqara—to join another boat for the final journey to the circumpolar paradise.

The pyramid, as a form of mount by which the soul ascends to heaven, is represented also by the Great Pyramid, where the north shaft in the king's chamber showed the way to heaven, focused on the then pole star Alpha Draconis, and above the constellation Cassiopeia. The Sphinx is a commemorative and representative image of the solar god of the 'double horizon', or two equinoxes. Humanly male in front, and female as a lion behind, it shows the Pharaoh as the lion-image of solar glory. It is a compound image of the mother earth, and young god whom she brought forth upon the horizon of the resurrection. Massey considered that the Sphinx, or an earlier representation built on the same site, was older than the pyramids.[28] Identification of Egyptian deities as gods, goddesses and zootypes that are depicted in the constellations can be made in the Dendera zodiac which, although drawn by Greeks, are earlier Egyptian in type.

Identified with the last division of heaven into twelve parts are the Sumerian legends of the solar Gilgames, the Greek twelve labours of Hercules, and the voyages of Jason and the Argonauts. The journey of the soul from human death to eternal life has many parallels in world mythology, and formed the basis for development of religious eschatology. All the Egyptian religious writings are therefore of particular interest during the Middle Eastern diaspora with its fusion of Greek and Semitic systems. This is particularly so in the development of Christianity, with specific regard to the influence of the Egypto-Gnostics.

Massey considered that the Egyptian 'Book of the Dead', although being the latest development of Egyptian religious belief and solar based, combined some of the previous modes of thought illustrated in the earliest pyramid texts and intermediate coffin texts. It became ultimately the Egyptian book of life, and the pre-Christian word of God.

There were only a few reviews of his book, which he did not live to see. Nature, in common with reviews of his earlier works, dwelt on his philology which they thought particularly suspect, and suggested, strangely, that he had not read deeply enough. It considered his statement that mythology was not to be fathomed to its depth by means of the folk-tales in Frazer's Golden Bough, did not accord the right of Massey to criticize Mr Frazer.[29] Massey had commented in vol. II, p. 672 that "… mythology is not to be fathomed in or by a folk-tale, and the Golden Bough is but a twig of the great tree of mythology and sign-language - a twig without its root … it was hailed as if it had plumbed the depths instead of merely extending the superficies …" Massey continued, giving examples of comparisons. In vol. I, p.9 and in his 'A Retort' (Lectures, 'The Seven Souls of Man', 1887), he replies, very abrasively to critical comments made by William Coleman, Prof. Le Page Renouf and Prof. A.H. Sayce. He had already presented his theories, which he had taken a stage earlier in time than Fraser, that in the most primitive phase mythology is a mode of representing certain elemental powers by means of living types that were superhuman, like phenomena in nature. Mythology exhibits a series of types as the representatives of certain natural forces from which the earliest gods were evolved. How these were thought and expressed of old in this language constitute the primary stratus of what is called 'Mythology' today. Early man made use of things to express their thoughts, and those things became symbols, the beginnings of gesture sign-language by imitation being earlier than words. Myths were founded upon natural phenomena and remain the register of the earliest scientific observation. Massey treats mythology as the mirror of prehistoric sociology (Natural Genesis, I, xiv and section I). A brief mention in the New York Times noted his wide knowledge and elaborate treatment.[30] The review by George St Clair, for the Literary Guide, complained yet again about his philological renderings, particularly on his interpretation of Hebrew proper names.[31]

Presentiment that his work had been completed became reality only a few weeks later. On 9 October he developed pneumonia.

Slow step by step, day after day,
I journey on my homeward way;
And darkly dream the Land of Light
Is drawing near, night after night;
Where I shall reach my Rest at last,
And smile at all the troubles past …

Despite the devoted attention of his daughter Christabel and the aid of Dr Churchward, he succumbed gradually to exhaustion and died on 29 October. Obituaries in the Athenæum, Literary Guide, Daily News, Times and Two Worlds all praised his poetry.[32] The Literary Guide made brief favourable note of his subversions of the Christian faith, and Two Worlds focused on his Spiritualistic activities. At local level, the Norwood News summarised his life, and considered that the moral of his life was the power of genius to triumph over the most adverse circumstances. From the Town Hall, Croydon, H. Keatley Moore mentioned that when the library purchased Massey's Ancient Egypt, he autographed the copy and wrote a verse for them, adding that it was not every borough that could boast of a living poet amongst its burgesses … [33] The following week a local resident, A. R. Speake, sent a poem in praise of Massey:

… O! we would fain not say to thee 'Farewell,'
It may be that beyond this universe
We yet shall look, dear Poet, on thy face,
And hear the sweetness of thy voice again.[34]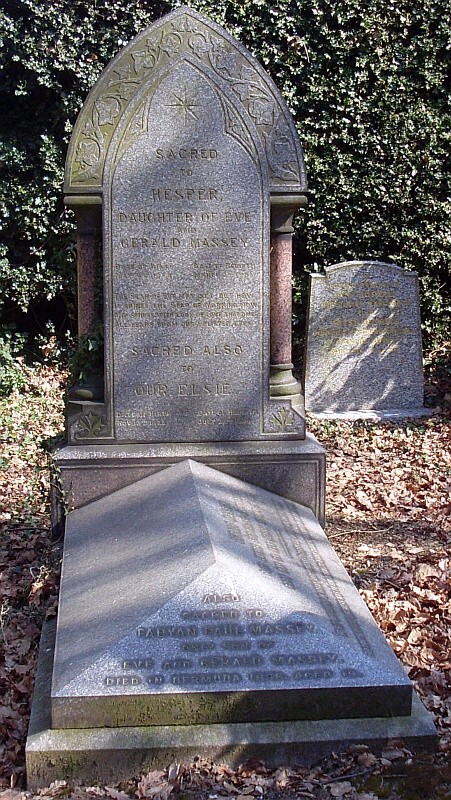 Massey family grave at Southgate Cemetery
(location Grave No. W.164).

The inscription on the headstone reads . . . .

THE STAR OF EVE MAY SET BUT HOW IT
SHINES THE STAR OF MORNING NOW
AND SMILES WITH LOOK OF LOVE THAT DRIES
ALL TEARS FROM OUR UPLIFTED EYES.

The funeral, a quiet family affair with about fifteen people being present, took place in Southgate Cemetery on the 4 November. Mrs Massey together with her daughters and a few friends arrived in two carriages, and the coffin with twelve wreaths was carried straight to the grave where James Milne, at Christabel's request, gave a brief address prior to the interment. An epitaph added later by the family referred to Massey as 'Poet, Author, Spiritualist, Egyptologist', and his uncompromising allegiance to the Spiritualist's view of death by the inscription, 'Born May 29 1828. Reborn October 29 1907'.[35]

Massey's will, made on 13 October, witnessed by Dr Churchward and a neighbour, disclosed the extent to which he had been reduced financially. The Leader reporting his death had commented:

If the late Gerald Massey had lived in Johnson's time, he would probably have incurred, as Milton had done, the Doctor's ungenerous condemnation, by doing what the Doctor himself did—accepting aid from the state. Few men could claim to have earned their modest Civil List Pension more thoroughly than Massey … [36]

But the annual Civil List pension ceased with his death, and his wife and three unmarried daughters, two of whom were invalids, found that they had £106 0s 1d (in today's value this would be equivalent to some £6,000) to live on for an indefinite period. Acting on the advice that had been suggested to them just prior to their father's death, they applied for a grant from the Royal Bounty Fund and, in January 1908, were awarded £200 by the Prime Minister, Sir Henry Campbell-Bannerman.[37] The following March, Christabel made application for assistance to the Royal Literary Fund. She received strong backing from James Milne and Claude Montefiore, and sent the committee a copy of review extracts from a circular issued for one of Massey's lecturing tours. The Literary Fund responded with a final grant of £100.

Earlier that year, James Robertson of Glasgow; a Spiritualist friend, had suggested that a subscription fund be commenced on behalf of Massey's widow and daughters. They were hardly in a position to refuse. Robertson commenced this in May by making a personal donation of £10, distributing a printed circular to friends, and publicising the fund in Two Worlds.[38] The subscription was headed by the Bounty Fund grant, and it was hoped that a sum in excess of £1,000 would be donated in order to provide the family with a small yearly income. Although the final total of the subscription has not been traced, it is likely that the target figure was reached.

Christabel and the family remained in 'Redcot' until 1912, when Massey's widow Eva, and daughters Maybyrn, Cecilia and Evelyn moved to 43 Casewick Road, Norwood. Maybyrn died of tuberculosis on 22 June, 1919. Due to Eva's increasing senility, Christabel joined them in 1923 but the family was unable to cope. Eva was then placed in a nursing home at 129 Tulse Hill, where she died on 12 March 1924. She was buried in her husband's grave at Southgate, but is unnamed in epitaph, due probably to the family's straitened financial circumstances. Cecilia died of pleurisy on 30 November 1932 at 7 Stodart Road, Penge, where she had moved with Christabel following Eva's death, and Christabel died at 214 Anerley Road, Penge, on 24 February 1934 from chronic bronchitis (for an article by her see under Christabel Massey in the Miscellanea section). Massey's last daughter, Evelyn, who was living then with her daughter Helena at 26 Palace Road, Streatham, died in Weir Hospital, Balham, on 1 June 1940 of lung cancer. Following the death of Helena on 26 February 1988, Massey's direct line had come to an end.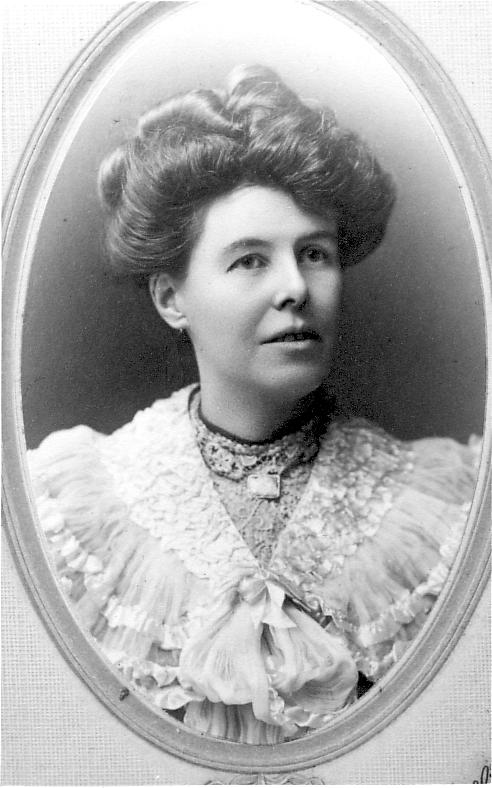 Mayburn Massey. One of Gerald Massey's unmarried daughters
(Miss H. Bruton).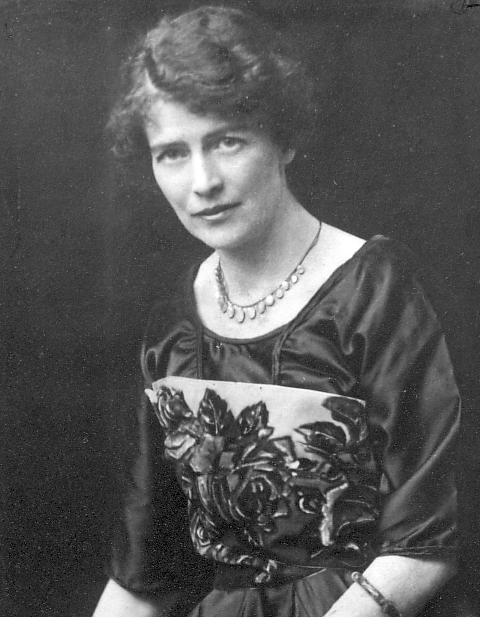 Gerald Massey's married daughter, Evelyn (Bruton)
(Miss H. Bruton).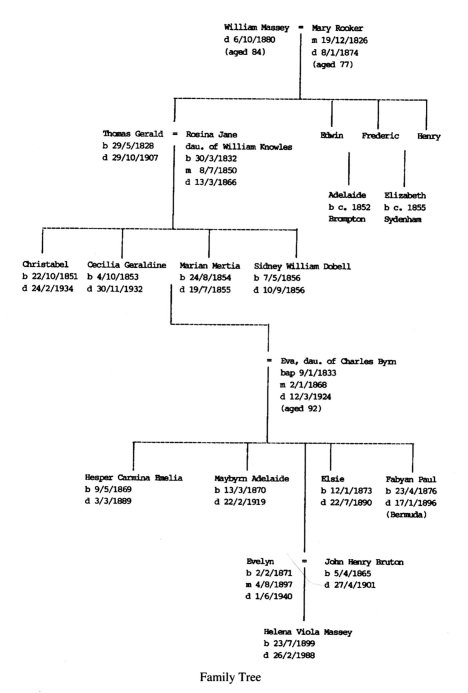 (see updates in the passage below)

Of Massey's (known) siblings - additional information to the Family Tree diagram:
Edwin was the brother whom Massey had referred as "never able to look after himself." Following a few years in the army, he became an itinerant hawker, dying in the Union Workhouse, Lincoln, on 1 February 1904. His death certificate states that he was "accidentally killed by being knocked down by Pony and Cart". Edwin appears to have had 4 children—Elizabeth, b 1856, Mary, b. 1862, Joseph, b. 1867, Lydia, b. 1870, none of whom are believed to have reached adulthood. The last record of Edwin's wife, Mary, is in the 1901 Census which shows her an inmate of the Berkhamsted workhouse.


Frederick, then 68 years, appears in the 1901 census as a "Ladies' Hatter", a job that seems appropriate taking account of the importance in Tring, during his childhood, of straw plaiting to the nearby Dunstable and Luton-based straw hat industry. In 1901 he lived at 2 Draper Street, Newington, London, with his wife, daughter and two in-laws. Frederick died of pneumonia in Forest Hill, London on 10 November, 1910. He had 10 children including 4 sons—Frederick William, b. 1859 (he set up the cab drivers' union in South London), Henry, b. 1861, Thomas Jerrold, b. 1864, and Percy, b. 1882 (died in infancy).


Henry Massey is recorded in the 1861 Census as an "Author in Prose", but no publications have been traced. At that time he was staying with the Massey family in Rickmansworth, but does not appear to have been resident in that locality. Henry died of pulmonary tuberculosis in Marylebone, London, on 12 July, 1875, the occupation entered on his death certificate being a "painter's labourer". He appears to have had 3 children — William, b.1867, Percy, b.1872 and Bertha, b. 1873.
Of Massey's other known relatives of the time, the 1861 census shows Elizabeth Massey, a niece then aged six (Edwin's daughter), staying at Tring Wharf with Massey's parents. Born in Sydenham, no registration has been traced. Another niece, Adelaide Massey (Frederick's daughter), aged 39 and described as an "Assistant High School Mistress", is listed in the 1891 Census staying with the Massey family in London.
Photo, thought to be of Frederick Massey,
one of Gerald Massey's brothers.
(Photo: Heather Massey.)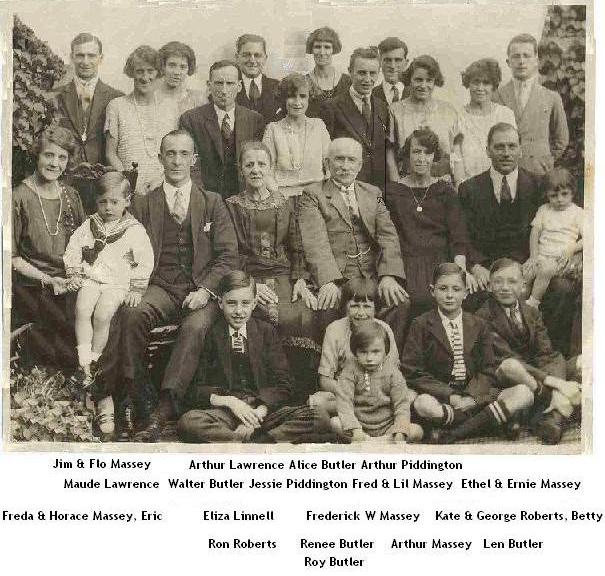 Descendents of Frederick Massey, ca 1927.
(Photo: Heather Massey.)

There is no major holding of Massey's correspondence, which is dispersed in UK and American libraries. The Location Register of 20th Century English Literary Mss (British Library, 1988) is incomplete and the 1995 edition contains no further Massey entries. All other items of relevance have been sourced and are cited in footnotes.

Two references to Massey are made in areas in which he had resided. Grove Road, Southgate, has an entrance to the New Southgate Roundabout named 'Massey Close', at the corner of which are 'Massey Close Flats'. The original houses and Baptist Chapel in the road have been demolished. The name of Massey is remembered also in his native town of Tring, where a luxury block of flats in Brook Street—not far from the Silk Mill in which Massey was employed as a child—is named Massey House in his honour. From 2005 the Tring and District Residents' Association commenced funding an annual Lyric Poetry Competition open to pupils at Tring School. The winner accepts the 'Gerald Massey Prize for Lyric Poetry'. At his last residence in Norwood it is hoped that the borough will eventually provide a commemorative plaque under their Croydon Heritage Plaques Scheme.

A number of Massey's early, more pious poems were incorporated for use as hymns, including number 47 in the Labour Church Hymn Book, 313 in Songs of Praise, and three in the Spiritualists Hymn Book. A slightly altered verse from his poem 'Today and Tomorrow' was used by the Welsh miners' Cambrian Combine Strike Committee in their manifesto of 1911.[39] In 1915 his poem 'That Merry, Merry May' was set to music by Christabel Baxendale (Ricordi & Co.). See also fn. 39 for further listings of his poems that were set to music.

No evidence of a Spiritualistic post-mortem communication has been found, although he did appear some years later in front of his grand-daughter—in the form of a motto in a Xmas cracker:

Warm is the Welcome! 'Tis our
way to grasp,
The hand in love or greeting
Fondly clasp.
Gerald Massey.[40]

While this would no doubt have appealed to Massey's sense of humour, his grand-daughter was constrained to comment, 'How have the mighty fallen!' Following that, he put in an even more physical appearance as the subject of a cigarette card.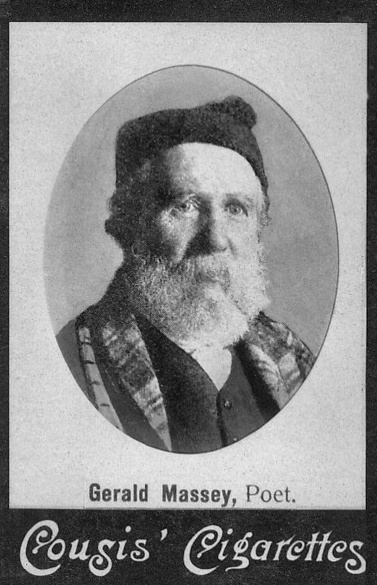 This was one of a series of personalities issued by Cousis & Co., Malta in the early 1900's. The picture was part of a larger one published in England in the late 1890's.


[Chapter 9]


NOTES

Medium and Daybreak, 17 Jun. 1887, 377-8.

Ibid. 22 Jun. 1887, 454-5.

The Great Cryptogram: Francis Bacon's cipher in the so-called Shakespeare plays by Ignatius Donnelly, 2 vols. (London, Sampson Low, 1888). In support of the cypher theory in the plays, see also E. Johnson's Shakespearean Acrostics (London, Cornish, 1942). Against the theory, see W. and E. Friedman's The Shakespearean Cyphers Examined (Cambridge, U.P., 1957).

So far (at least) as the Sonnets are concerned, Massey was unequivocal in "Admitting as we all do that Shakspeare wrote his Sonnets …"

Delia Bacon's (unsigned) article, William Shakespeare and his Plays; an Inquiry concerning them appeared in Putnam's Magazine, Vol. VII., January—July, 1856 (pp 1-19). Following publication of her first article, the magazine received such negative comment and criticism that the proposed series did not materialize. Delia Bacon later published her theories that Shakespeare was authored by Sir Francis Bacon, Sir Walter Raleigh and Edmund Spenser (receiving some support from, among others, Ralph Waldo Emerson) in The Philosophy of the Plays of Shakspere Unfolded (London, Groombridge, 1857). She died in 1859. The politician William H. Smith also wrote a book on the theory that Bacon authored Shakespeare. Bacon and Shakespeare: an Inquiry … (London, Smith, 1857). The "Oxford" theory of Shakespearean authorship was apparently first proposed by J. T. Looney in his 'Shakespeare' identified in Edward De Vere, the seventeenth earl of Oxford (New York, Stokes, 1920). Looney's theories regarding de Vere promoted, in 1957, the establishment of the 'Oxford Society', which has since gained many supporters.

Scholarly theories continue to be published that assign differing authorship to Shakespeare's works, either complete or in part. In his large work on the Sonnets (The Monument: Shake-Speares Sonnets, Meadow Geese Press, Mass. USA., 2005), Hank Whittemore identifies the author of the Sonnets as Edward de Vere, 17th Earl of Oxford, whose objective in writing them was to preserve a record of Henry Wriothesley, 3rd Earl of Southampton. In Whittemore's view, Henry Wriothesley was the unacknowledged son of Edward de Vere and Elizabeth I, and thus had the right to be King Henry IX of England, a claim that would have been treasonable unless concealed within the historical parts of the Sonnets. Whittemore identifies the "Fair Youth" as Southampton and the "Dark Lady" as Elizabeth I (whereas Massey identifies Lady Penelope Rich, sister of the Robert Devereux, 2nd Earl of Essex, as the Dark Lady).

The authors of The Truth Will Out. Unmasking the Real Shakespeare (Brenda James and William Rubenstein, Longman, 2005) claim a new contender, Sir Henry Neville, wrote Shakespeare's works. They assert also that Neville addressed the 'Dedication to the Sonnets' to Southampton, identifying him as the 'Mr. W.H.', the mysterious dedicatee of the work, and that 'Mr. W.H.' was Neville's affectionate nickname for Southampton.

To Shakespeareans, all scholarly theories on authorship have their own validity and, as such, are worthy of some attention rather than outright dismissal. While such theories continue to cast some doubt on the subject, until positive supporting primary material is discovered they remain a matter of interesting speculation.

Punch, 95, (10 Nov. 1888), 221. Donnelly did not wilt too much. In 1899 he published The Cipher in the Plays and on the Tombstone [of Shakespeare] (London, Low).

St. James' Gazette, 7 Jan. 1889, 7.

Quoted in Medium and Daybreak, 5 Feb. 1892, 91.

Times Literary Supplement, 30 Oct. 1937, 803. Massey's remarks are on p.420 and in fn. 163 of his Shakspeare's Sonnets.

National Review, 12 Oct. 1888, 238-59.

See the Daily Chronicle, 28 May 1888, 5, and 18 Sep. 1888, 3.

(i) W.H. Cundy was a printer and publisher in Washington Street, Boston. During Massey's first American tour, Massey was hosted at a meeting of the Franklin Typographical Association in 1874. Cundy was then president of the society. (ii) The reference to which Massey refers is not clear. His 10 lectures had been published privately in 1887. (iii) The Shakspeare book to which he refers would be his Secret Drama of Shakspeare's Sonnets, 1888.

Cited in Banner of Light, 17 Nov. 1888. Lecture report in the issue of 24 Nov.

Banner of Light, 15 Dec. 1888, 4. H.P. Blavatsky's journal Lucifer, 1888, vol. III, 74-78 under 'Gerald Massey in America' gives the titles of these lectures.

Athenæum, 9 Nov. 1889, 629-30.

Saturday Review, 31 Aug. 1889, 245-6.

Medium and Daybreak, 17 Apr. 1891, 247, and 24 Apr. 264.

Ibid. 10 Nov. 1893, 709-10.

Thomas Lake Harris' Hymns of Spiritual Devotion (New York, 1857) referenced in Massey's Concerning Spiritualism, 20-21.

Memoirs of a Social Atom, op. cit., 1, 161-2.

The Harney Papers, letter 214. Massey's inscribed copy of My Lyrical Life that he sent to Harney is in Vanderbilt University Library.

Harney's biography is excellently presented by A. R. Schoyen in The Chartist Challenge (London, Heinemann, 1958). John Saville's introduction to the reprint of Harney's Red Republican and Friend of the People 2 vols. (London, Merlin, 1966) also has much information.

The Bookman, Nov. 1897, 33-36.

Ibid. Jan. 1898, 121-24.

British Library Add. Mss. 4644 1.f. 154.

Book Monthly, 2, (Jul. 1905), 703-6. 4, (Sep. 1907), 845-51. (Referred to also, and expanded in an article by W. H.Simpson in Two Worlds, 7 May 1906.)

Norwood News, 25 May 1907, 5.

Daily Mirror, 21 May 1907, 4.

See Churchward, Signs and Symbols of Primordial Man (op. cit.) 437, for a chart of these proposed migrations. See also his Origin and Evolution of the Human Race (1921). He closely follows, and summarises Massey.

Massey used the (then) up-to-date information in Sir J. Norman Lockyer's Dawn of Astronomy (London, Cassell, 1894), the first book to demonstrate an astronomical basis in Egyptian temples. Massey reprinted the diagram on p. 127 showing the precession of the equinoxes. In a letter to Lockyer dated 30 June 1906 written by his daughter Christabel and signed by him, he requested permission to publish that and two other diagrams. Ms. Exeter University.

Ancient Egypt, 1, 336-39.

Nature, 77 (30 Jan. 1908), 291-2.

New York Times, 15 Feb. 1908, 89.

Literary Guide, 1 Feb. 1908, 21-22.

Athenæum, 2 Nov. 1907, 553. Literary Guide, 1 Dec. 1907, 183 and 187-8. Daily News, 31 Oct. 1907, 4. Times, 30 Oct. 1907, 8. Two Worlds, 8 Nov. 1907, 558-9.

Norwood News, 2 Nov. 1907, 8.

Ibid. 9 Nov. 1907, 3.

Grave No. W.164. The grave was initially prepared and used for Massey's daughter, Hesper, as the main headstone depicts. See photo.

The Leader; 30 Oct. 1907, 3.

Acknowledgement in British Library Add. Mss. 412401.215.

Two Worlds, 8 May, 1908, 23 1.

Benn, Tony, (ed.) Writings on the Wall. A Radical and Socialist Anthology 1215-1984 (London, Faber, 1984), 157. The poem was used in the context of a manifesto by the South Wales miners, 16 June 1911, in their minimum wage dispute. Further poems of Massey's that have been set to music are held at the following Libraries (see also 'Sheet Music' under Miscellanea):

• No Jewelled Beauty is my Love, poetry by Gerald Massey. This is a single copy of 'In Happy Moments' ballad, from W. Vincent Wallace's Grand Opera Maritana performed at the Theatre Royal, Drury Lane, and dated 1845. The original words by Edward Fitzball have been covered in manuscript by part of the first two verses of Massey's 'No Jewelled Beauty is my Love.' The top of the score carries the citation: 'The Poetry of this Ballad is by Gerald Massey Esq.r'. This copy of the Ballad was obtained by the British Library in 1873, and the origin and date of the copy is not known. British Library Shelfmark H 1654.q.(14). Photocopy in The Gerald Massey Collection, Upper Norwood Joint Library.

• Before Sebastopol, poetry by Gerald Massey, music by Joseph Frederick Leeson. Published by J. Purdie, Edinburgh; Chappell, London, c. 1855. (British Library).

• Desolate, music by Flora, published by Chappell & Co, London, 1875 (Cambridge University Library).

• A Maiden's Song, music by William Shepherd, published by Weekes & Co, London, 1877 (Cambridge University Library).

• O! Clasp thy hands little one, music by Beta, published by Metzler & Co, London 1877 (Cambridge University Library).

• That merry, merry, May, music by Charles W. Thomas, published by Novello, Ewer & Co, 1878 (Cambridge University Library).

• The People's Advent: a new Quartette for the Times. Words by Gerald Massy [sic]; music by James G. Clark. (1830-1897). Published by H.M. Higgins, Chicago c. 1864. (Rare Books & Special Collections Division, Library of Congress). Copy available in the Gerald Massey Collection, Upper Norwood Joint Library.

• Together. Song for Medium Voice. Words by Gerald Massey, music by J.A. Parks, published by J.A. Parks Co, York, Nebraska. (Kilgore Memorial Library, York, Nebraska.)

• Down in Australia. Two-part song. Words by Gerald Massey, music by Clara Angela Macirone. Published by J. Curwen & Sons, London, 1903 (British Library).

From the first verse of his poem 'The Welcome Home.'