THE FOURTH SNOW-FLAKE'S STORY.

DON JOSE'S MULE, JACINTHA.

1.

IN palmy days (now long gone by), no Don in Cadiz city,
Possessed a mule like Don Josè's, so useful or so pretty;
Oh! children, listen to my tale, and give a tear of pity
To Don Josè's mule, Jacintha.

2.

Once Don Jose had lived gaily, and then his servants all,
From the head-cook in the kitchen to Jacintha in her stall,
On every dainty fattened—but oh! there came a fall
To Don Josè's mule, Jacintha.

3.

Once Don Josè's purse was well filled, but his hand was ever ready
To his brothers and his nephews, who were spendthrifts and
unsteady—
"Oh! my master, unwise givers sure at last themselves grow needy!"
Said Don Josè's mule, Jacintha.

4.

True enough, there came a morning when the Alcayde's men were
laying
Hands on all Don Josè's chattels, for there seemed no way of paying
Otherwise his debts and bond-writs; then, oh, sorrowful the braying
Of Don Josè's mule, Jacintha!

5.

Poor Don Josè's house was ransacked of its treasures old and new,
Pictures, gems, and suits of armour, gold and relics from Peru;
Nothing spared they, even taking all the trappings red and blue
Of Don Josè's mule, Jacintha.

6.

But Don Josè was hidalgo of the true Quixotic spirit—
If misfortune were upon him, far too proud was he to fear it;
And quite worthy such a master, in the same heroic spirit,
Was Don Josè's mule, Jacintha.

7.

With a stately contemplation glanced Don Josè on his villa—
Glanced on every grove of myrtle and on every marble pillar;
Thought of sunny olive vineyard and of luscious well-filled cellar—
Then of his mule, Jacintha.

8.

Said Don Josè, "Not for fountains, nor for halls of gilded stone
Was man's soul made, nor for riches, nor for meat and drink alone,
But for grateful, true affection—and no other man shall own
Don Josè's mule, Jaciatha."

9.

He continued contemplating, meantime smiling somewhat sadly—
"Ah! 'tis well my servants left me—scanty fare would suit them badly,
But there's one who bore me uphill, and will bear me down as gladly—
'Tis Don Josè's mule, Jacintha.

10.

"She can do without her trappings—she'll not rage because her ration
Comes at every meal-time shorter than her fondest expectation;
Scorn she'll never dream of showing at my ruined situation—
Will Don Josè's mule, Jacintha.

11.

"She'll not tell me I was foolish—she'll not preach her own advice;
She'll not constantly upbraid me in a half-condoling voice;
But she'll serve me when I need her—and no gold shall be the price
Of Don Josè's mule, Jacintha."

12.

Then Don Josè mounted gaily, though his secret heart was swelling,
And the two together travelled to a humble little dwelling;
Said the Don, "For consolation, give me that which has no telling,
Like Don Josè's mule, Jacintha.

13.

Night and morning came Don Josè to Jacintha's modest stable,
And his thin white hands would groom her with the skill that they
were able,
And the largest share of salad from her master's scanty table,
Had Don Josè's mule, Jacintha.

14.

Every day he took an airing, and no king could sit more stately,
Then Jacintha's ears pricked proudly, and she moved her legs sedately:
Oh! never fallen greatness was upheld by mule so greatly,
As Don Josè's by Jacintha.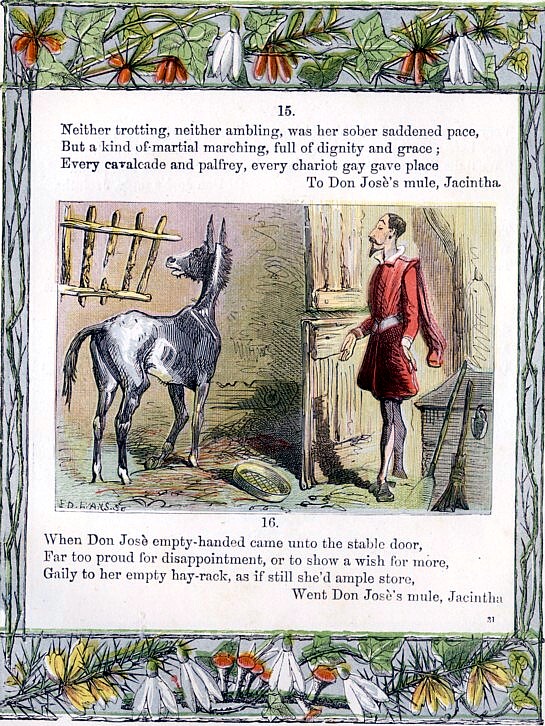 17.

Very solemn grew Jacintha, suiting thus her master's mood;
Very bare-ribbed grew Jacintha, but her head was never bowed.
"We'll die like true Castillians," was the maxim staunch and proud
Of Don Josè's mule, Jacintha.

18.

True enough, there broke a morning when the thin hand came no
more,
With its scanty bunch of parsley, to Jacintha's stable door—
Then, as one who lies down gladly when a hard day's work is o'er,
Lay Don Josè's mule, Jacintha.

19.

Softly then, we Snow-flakes hurried from the passing winter clouds,
And the master and the servant, wrapt in white unspotted shrouds,
Till the Spring-time brought the wild flowers, and they bloom in
coloured crowds,
O'er Don Josè and Jacintha.

――――♦――――

THE FIFTH SNOW-FLAKE'S STORY.

WHAT THE LARK TOLD JESSIE.

1.

RESTING late and rising early,
Working all the weary day,
Whilst all other children study,
Or have noisy games of play,
Little Jessie's childhood passes—
Not a childhood blest as yours,
With the songs of happy wood-birds,
And the sight of heaths and flowers.

2.

Think of little pallid faces
Which have never felt the sun;
Think of little aching fingers,
Whose task-work is never done;
Think of little feet, oh children,
Which are tired, but may not rest;
And thank Heaven in your gladness,
Seeing how much ye are blest!

3.

Not for Jessie came the music
And the wonders of the Spring.
With its store of joy and freshness
For each lovely living thing—
With its troops of fairies strewing
All the turf with flowers at night,
Who hide up by day, and listen
To the children's loud delight.

4.

Not for Jessie came the wood-birds,
Having tuned their tiny harps,
Till no discord you'll discover
In their scales of flats and sharps;
Time they count with such exactness,
You will find them missing never,
In the pause upon a minim
Or a demisemiquaver.

5.

Jessie in the work-room stitching
Through each long and dreary day,
When she heard the "country" mentioned
As a region far away,
Tried to picture, through the denseness
Of the close-built London street,
What it must be to live always
Where the air is clear and sweet,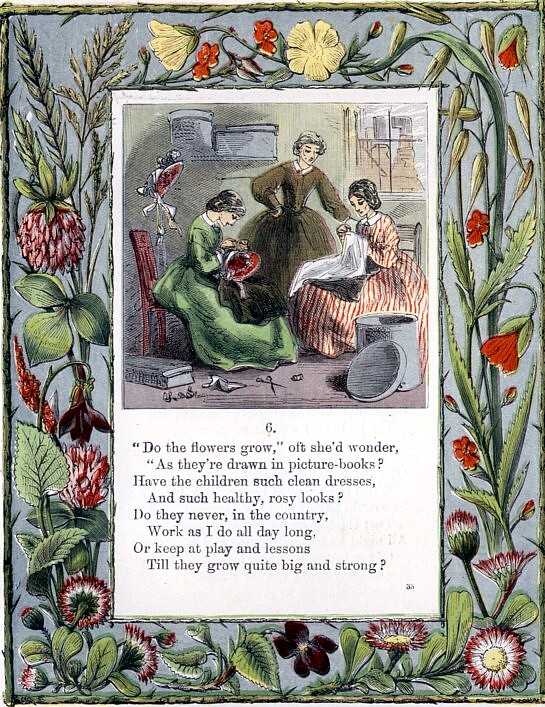 7.

"Do the children prize the daisies
Where so many thousands grow?
Do they feel quite glad and thankful
That God gives them pleasure so?
Oh! could I but once wander
Through the woods and fields in spring,
I think I'd never envy
Any child or living thing!"

8.

One day Jessie's mistress gave her,
As a diligence reward,
Two bright shillings, that she added
To a former little hoard;
Making just enough to purchase,
What her heart had wished for long,
Some little bird to cherish
For its beauty and its song.

9.

Oh! the happy, happy moment
When she brought her treasure home!
She could hardly trust her senses
That the looked-for day was come;
All night long she dreamed and murmured
Of her pretty prisoned lark—
Ere the day broke she lay listening
For its singing in the dark.

10.

How she hastened home to feed it,
And to clean its cage at night;
Chatting, singing to it fondly
With an ever-fresh delight!
How she cheered herself with thinking,
As the winter rolled away,
"It will surely sing to-morrow—
There's not sun enough to-day."

11.

One morning Spring came tapping
Lightly at the Winter's door,
Saying, "Brother, now go northward,
For you're needed here no more,"
And the Sun peeped out, and whispered,
"Lay my flowery carpets down,
I've started on my southward way,
And you'll behold me soon!"

12.

Then Jessie's lark shook out its wings,
And sweet and low and clear,
Trilled out a song so sorrowful,
She trembling stood to hear.
It could not speak, and yet its song
To Jessie's heart that day
Spoke sadder, plainer things than words
Or looks could ever say:—
THE LARK'S SONG.

I HAVE a home remembered well,
And though 'tis lost to me,
Oh! I can never, never tell
How dear 'twill always be.
'Tie many and many a mile away,
And yet I'd reach it in a day.

My joy would guide me to the place,
My love would point the spot;
When was a cherished home or face,
By loving hearts forgot?
And birds can love as well as men,
And know their own home nests again.

South-eastern over down and field,
My homeward track would bend,
Until I reached the Kentish Weald,
Where cherry-groves extend.
And by a little thicket there,
I'd find a meadow green and fair.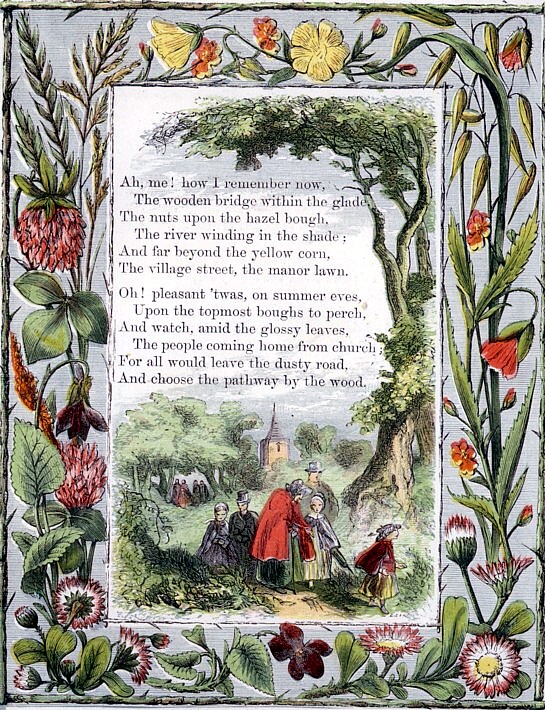 Pleasant to see, in autumn days,
The hop-grounds full of busy folks;
To watch the farmers' bustling ways,
The Irish pickers' merry looks—
To smell across the breezy hills,
The fresh hops from the crushing-mills.

Pleasant to soar above them all,
To poise amid the sunny air,
And just outside some angel's hall,
Sing forth my gladness there;
And darting homeward then, to see
My little mate a-watch for me!

Alas! poor little tender mate,
Didst thou for me grieve long and sore?
Didst thou, on hearing of my fate,
Droop and take courage never more?
Or dost thou still hope on in vain,
Thinking that we shall meet again?

Oh! darling, could I wake to be,
Once more within our nest—
Could I but come and take with thee
A little hour-of rest—
I could lie down and gladly die,
So thou, my little mate, were by!

We were so happy at the thought
Of having birdlings in the spring;
Ah, me! 'tis months since I was caught—
They've long since taken wing!
And thou, poor mate, art left alone,
Thy husband and thy children gone.

All through the dreary winter cold,
Thou hadst none by to keep thee warm—
To cater for thee as of old,
And shelter thee from every harm;
And now another spring is here,
It cannot bring our meeting near.

I see the children passing by,
With the violets in their hands;
The swallows dance athwart the sky,
A-wing from other lands;
And flowers and swallows say to me,
"The spring is come, but not for thee."

Oh! Kentish glade, oh! far-off home,
Oh! cherry-gardens ever dear;
Sweet dreams of you at night-time come,
To cheer my exile here;
But, oh! I wake to weep and pine,
For ye can never more be mine!

Oh! playmates, flying glad and free,
Oh! fellow-warblers of the wood,
In all your gleesome liberty
Think of the exile's solitude;
And sing your grateful songs to Heaven,
From whom your best delights are given!
13.

Said Jessie, "All the other birds
Have little nests to make,
And shall I keep this one confined
For selfish pleasure's sake?
He wants the country, with its trees
And flowers and sunny air;
He wants the little woodland friends
He loved and played with there.

14.

"Shall I, because I love him so,
Think nothing of his love—
His love for home and kindred dear,
For well-known field and grove?
Shall I, because I prize his songs,
Make all his singing sad?
Shall I care nothing for his grief,
Because I would be glad?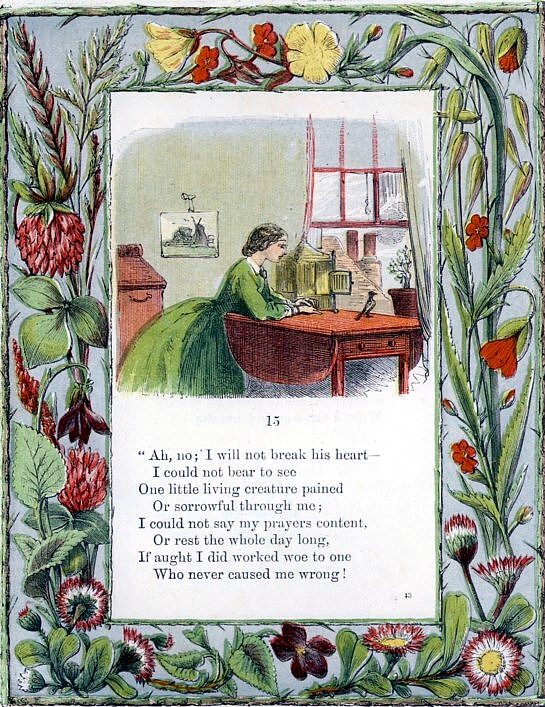 16.

"Then go, my birdie, thou art free;
Why dost thou flutter so?
Dost think I'm only mocking thee,
And mean thee not to go?
Or dost thou pause to thank me, dear,
Before thou takest flight,
Ah! well, adieu—I shed some tears—
But oh! my heart is light."

_________________

17.

Do you like my story, Children?—
One I gained in London streets,
Where the Christmas shops now sparkle
With their toys and dolls and sweets.
Fare-ye-well, forget not Jessie—
I must hasten on my way;
I've other friends to speak of,
When I come some other day.

――――♦――――
THE FAREWELL OF THE
SNOW-FLAKES.

FAREWELL, little listeners dear,
We shall come again next year:
In your merry, merry homes,
Watch for us when Christmas comes.
Once a year we're bound to make,
All the world like a wedding-cake;
Downwards joyfully we dance,
And then lie still as in a trance,
Till the sun comes up the hill,
Who, seeing us all squat and still,
With her wand so soft and light
Touches every Snow-flake head,
Then changed unto a water-sprite,
Each leaves its silent bed;
And down below—oh! far below,
Where only water-sprites can go,
We glide to find the seedlings out,
To wash them well and make them sprout
To tell the little daisy roots,
To whisper to the garden shoots—
"The sun is coming! hasten up,
Spread your green banners in his way;
And open wide your largest cup,
To catch the dew he'll give to-day."

When all are gone, we take a nap,
In some soft bed of fruity sap;
But soon we're wakened from our rest,
To find ourselves in much request;
For harvest heats have come, and dried
All the country far and wide;
Then upwards hasten we in crowds,
To fill our buckets in the clouds;
Merry it is on a peak to stand,
And sluice the thankful thirsty land.

We've told you what you wished to hear,
How we live from year to year;
Have our stories pleased you well?
Do you wish we'd more to tell?
Will you henceforth, for our sakes,
Always love the small Snow-flakes?
Will you try in heart to be
White and innocent as we?
Filling each our destined lot,
Straight and swift, and murmuring not,
East or west, or high or low,
At His command we come and go;
Sure enough that in His will,
All good things we shall fulfil;
Oh! children, let each Snow-flake be,
As some small angel's ministry;
Teaching you, with softer tune
Than all the nightingales of June,