CHAPTER I.
1856.—Across the Years.

"Courage, fair Greenfield, nobly hast thou done
In this one thing, but not in this alone;
For though thy sons were rough in mien and speech,
Had much to learn, and something, perhaps, to teach;
They were not destitute of those desires
Which a true sense of liberty inspires,
But in the march of progress strove to find
A forward place: true men of honest mind."
― J. C. Prince (Adapted).

IN the year 1856 the dwellers in Greenfield, like the rest of their countrymen, were suffering from the bitter consequences of the Crimean War, happily just concluded. At that time food was dear and often very much adulterated, greatly to the detriment of the health of the people. Educational facilities were few and costly. The standard of home comfort was low, for the wages of artisans would not allow of more than the bare needs of daily existence. Adult male workers in the woollen cloth industry carried on at Greenfield Mills by the late Messrs. James Bottomley and Sons, were, at the time our Society started, in receipt of wages ranging from 11s. 8d. to 14s. per week, and the week then consisted of 60 working hours. Weavers, mostly on piece work, would seldom reach 14s.; frequent deductions being made for faulty work. Fullers, locally known as "millers," were paid 14s. per week, and when, as was often the case, overtime was worked, their week began at midnight on Sunday and ended at 4 p.m. the Saturday following. Their wages were 6d. for each extra night, or 17s. 6d. for a week of night and day labour; and the oMy time allowed off was for necessary meals and two hours sleep in the night, to obtain which the machines and the work had to be so arranged as to go on continuously during the period of rest.

Under such circumstances the daily life of the ordinary workers must have been a dull round of drudgery, relieved oMy by the brief Sabbath rest and devotion for the religiously inclined, or the week-end spree for those who were cast in a different mould.

The system of monthly pay-days in vogue at Greenfield Mills in those days was not conducive to ready-money trading, and it is not surprising to learn that at that time a custom had become established of dealing on credit with the local shop-keepers. Customers were supplied with a small book in which all goods obtained and money paid on account were supposed to be entered. This book was kept by the shopkeeper, and as a great many, perhaps the majority of customers, could neither read nor write, it is easy to see how completely the poorer class of customers would be at the mercy of the traders they dealt with. Under these circumstances, little wonder that abuses crept in, or that ignorant and careless people drifted into almost hopeless debt before they fairly realised what they were doing. Many bitter memories of this evil system remain in the minds of our older members, and if our space permitted, many episodes — some pathetic, some curious, and some comical — could be related.

The time was ripe for social and industrial changes. A door of hope had been opened wide by the Rochdale Pioneers. The teachings of Robert Owen were beginning to bear fruit, thanks to his numerous apostles, amongst whom honourable mention ought to be made of the late George Jacob Holyoake. The Oldham Equitable and Industrial Societies were emerging from their initial difficulties, and forging ahead. During 1856 the Equitable Society paid 1s. in the £ dividend to its members, and the Industrial Society was not much behind. Greenfield people were not ignorant of these things, nor indifferent to the advantages which Co-operation could bestow upon them. Sometime, probably during the summer of 1856, the workers of Greenfield Mills began to discuss the new system of storekeeping amongst themselves. One of their leaders was Mr. Joseph Wood, a book-keeper at the mills, aspirations have been realised will be gathered from these pages, and a survey of the Society's present position, and the condition of the district in this year of Jubilee, as compared with the year 1856.

Just as certain events in the life of an individual stand prominently out, indicating when and how the current of his life was turned hither or thither, for good or ill, even so with communities, certain events mark the beginning of new eras of advancement and prosperity, or of decline and fall. Such an event was the formation of Greenfield Industrial and Benevolent Co-operative Society Limited, on October 6th, 1856. How or where the Society was born does not appear in its records. The earnest men who presided over its infancy did not realise that they were making history, or thought for a moment how interesting to an after generation everything relating to its inception would become. The date of its coming into existence is settled beyond question by the title page of our first code of rules, on which the statement appears: "Established October 6th, 1856;" but no record is extant of where the meeting at which it was formed was held, or who were present.

A careful survey of all the circumstances of the time favours the conclusion that very probably the actual birth-place of the Society was the home of Mr. Joseph Wood, of Heytop. It is a well-known fact that many meetings were held at his house. There much of the secretarial work and the early book-keeping would be done by him in the evenings after he had done his work at Greenfield Mills. Nothing seems more likely than that at one of those cottage meetings the entrance shillings were paid and a list of members drawn up, and that these were the persons who sanctioned the rules, after Mr. Wood and those associated with him in the work had drawn them up.

In 1873 a second revision of rules took place, when the name of the Society was shortened by deleting the words "Industrial and Benevolent," leaving its designation as at present, "Greenfield Co-operative Society Limited." Greenfield Society is the oldest Co-operative Society in Saddleworth. Lees Society, it is true, was started in 1851; but, from its geographical position, Lees is regarded by Saddleworth people generally as a sort of appanage to Oldham, and it would appear that such must be the feeling of our Lees friends themselves, for their returns and particulars were included in the Oldham Equitable Society's Jubilee History, issued in 1900.

Such being the facts Greenfield Society claims to be the pioneer of Co-operation in Saddleworth, and to-day, although it has not the largest membership, it is the wealthiest Society in the district, a clear proof of the part it has played in bettering the social status of the inhabitants of these beautiful hills and vales. Nor has it failed to take a part in the wider work of the Co-operative movement, and to contribute a fair quota to its central institutions. Surely such a past is something to be proud of, and ample justification, if such were required, for the celebration of its Jubilee and the recording of its history.

A careful study of the lists of early shareholders, given in our next chapter, brings out the fact that even then, in spite of long hours and bad social conditions, a number of striving, sober, careful people existed in Greenfield, who, by their ability and thrift, had managed to climb a little way above the poverty line. Overlookers, foremen, and spinners at the various mills, small farmers and clothiers, and others in like circumstances — this class found the bulk of the capital which started our Society, and this class also supplied its most capable workers.

All honour to those noble, self-sacrificing men; they were far-seeing enough to discover in Co-operation a means of helping themselves and their less fortunate neighbours to bring about a better state of things, and they were philanthropic enough to give, without stint, their best thought, their unwearied labour, and to risk their small capital in order to bring our Society into active existence, and carry it to a successful issue.

The members of to-day are reaping a plentiful harvest from the labours of those noble-minded early workers, and it would be the blackest ingratitude not to acknowledge the obligation or to withhold the honour and the praise they have so richly deserved. One of the objects the Committee had in view when deciding upon the issue of this history was to place on record the labours of our Greenfield pioneers, and thus in some humble measure discharge a portion at least of the debt of gratitude due from the present to the faithful workers of a former generation, most of whom have gone to their final reward. These men did the duty revealed to their inner vision, looking for no honour, asking for no monetary reward; and, though surrounded by difficulties of which we know little to-day, they held on their upward path, nor ceased their efforts till success was assured. May their successors ever strive to emulate their self-sacrificing labours, and worthily copy the example of our noble pioneers.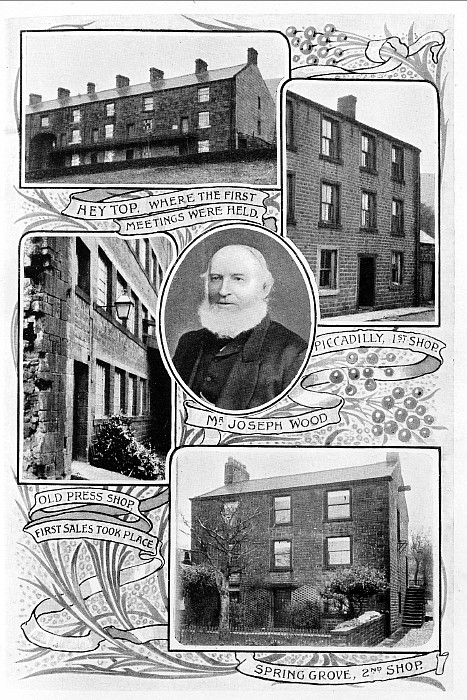 ――――♦――――


CHAPTER II.
1857-1860.—Organisation.

"Order is Heaven's first law."—Pope.

THE arrival of their legally registered rules would be an important event in the eyes of our pioneers, who would now feel themselves in a position to make a strong appeal to their neighbours for support, and something of this sort must have taken place, as what we are about to record will show.

The fourth rule directed that at the first meeting of the Society held after its registration the members should elect nine Committee-men, three Trustees, a Treasurer, a Secretary, two Auditors, and five Arbitrators, and these latter were to be persons not directly or indirectly interested in the funds of the Society. To give effect to these provisions the members were summoned to attend a special meeting held most likely at the house of Mr. Joseph Wood, at Heytop, on February 5th, 1857. On this date such records as are now available begin, and from the minutes of this meeting now extant we learn that Mr. Abraham Whitworth was appointed as Treasurer, Mr. Joseph Wood as Secretary, Mr. Ralph Schofield of Dovestone Wood, Mr. Jonas Rushworth of Heytop, and Mr. James Swallow were appointed the three first Trustees. The following gentlemen were the first Committee-men: Mr. James Schofield, Fern Lee; Mr. Joseph Hall, Fern Lee; Mr. Samuel Wrigley, Fern Lee; Mr. James Bottomley, Heytop; Mr. Francis Bradbury, Heytop; Mr. Daniel Worth, Fern Lee; Mr. Robert Mellor, Valley Cottages; Mr. George Walton, Valley Cottages; and Mr. Edward Heap, Heytop. Mr. Jonathan Winterbottom and Mr. Abraham Whitworth were appointed Auditors. The following gentlemen, presumably at that time non-members, were chosen as Arbitrators: Mr. John George Buckley, Mr. Samuel Wrigley, Mr. Robert Schofield, Mr. Joseph Underwood, and Mr. James Heap. A somewhat formidable list of officials to begin with, truly, but these early workers of ours meant business, and so as many people were put in harness as possible; a wise policy under the circumstances.

Four days afterwards, February 9th, another special meeting was held, at which it was resolved that Mr. Abraham Whitworth and Mr. James Schofield see Mr. Richard Buckley about a house at Road End, and try to take it for three months, and Mr. Joseph Wood and Mr. James Bottomley go to Uppermill to see Mr. Joseph Tyas about weights, &c., and that we give F. A. Frost an order for ten bags of his best flour. This seems a pretty large order, but Frost's flour, at that time, had a great reputation for excellence, and the Greenfield housewives then, as now, were noted for their capital bread and tea cakes. To begin with, they were evidently intending to have only one quality of flour, and that they were determined should be the best they could get.

On this date, February 9th, quite a respectable number took up shares. A few days later more names were enrolled. From the ledger we have culled the following list of persons who are entitled to the honour of being called First Shareholders: —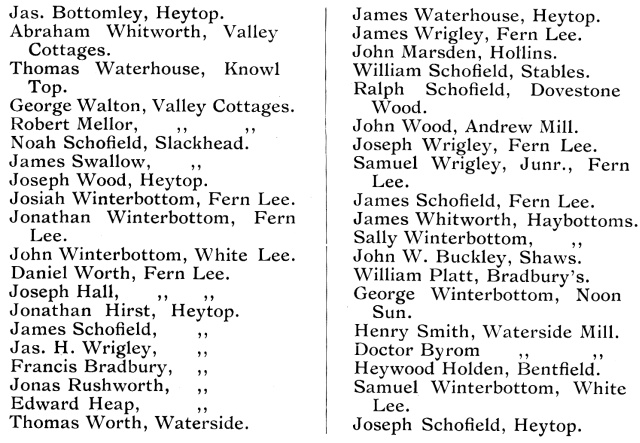 These persons subscribed £147. 19s. 6d., a substantial proof of their determination to make their Society a success.

A little later on the list was further augmented by the following 23 persons, who subscribed £143. 11s. 3d.: —


Up to November 16th 62 members had joined the Society and subscribed £291. 10s. 9d., or an average of £4. 14s. 0½d. each.

The friends must have found no difficulty in taking the house at Road End from Mr. Richard Buckley, for on February 14th, five days after the meeting at which they were appointed to see to this business, the Society took possession of the house at the bottom of Piccadilly, Road End, at a rent of 3s. 6d. per week. The Society had now a fixed dwelling-place, and with characteristic energy the Committee and members set about fitting and stocking their first shop, and no easy task would they find it under the circumstances.

On February 16th a meeting of the Committee was held, over which Mr. Jonathan Hirst presided. It seems that for some reasons which do not appear, Mr. Ed. Heap and Mr James Wrigley had seen fit to retire, and Mr. Jonathan Hirst and Mr. Heywood Holden were appointed to fill their places by the Committee. At this meeting Mr. Joseph Wood was instructed to go to Manchester and pay for 10 sacks of Frost's Hour, XX; to call in Thomas Street about weights; to purchase new books for Treasurer and Secretary; and to take £40 with him.

At the same meeting Mr. George Winterbottom, of Noon Sun, was instructed to go to Rochdale Co-operative Store, and take £15 with him, and give them an order. Subsequently, other work of a like nature was assigned to him. It does not appear that Mr. George Winterbottom was a member of the Committee, but, being a small clothier, he would be his own master, and at liberty to do business in business hours, whereas most of the Committee were working long hours, and were inexperienced in the chaffering of the market, hence they were glad to have the help of men whose business brought them into touch with the markets of the day. Doubtless for the same reasons, Mr. James Wrigley, Mr. John Winterbottom, and Mr. John Schofield, of Lanehead, were appointed to do similar work on the Society's behalf a little later on. As a matter of fact, in those early days no sharp official distinctions were made amongst those interested in the Society. Everybody was on the Committee in effect, if not in fact, who was able and willing to help.

On February 23rd, Mr. Abraham Whitworth resigned the treasurership, and Mr. John Byrom was put in his place, and the sum of £87. 9s. 7d. was handed over to him. In this work his good wife, Mrs. Jane Byrom, proved a great help, being keenly alive to the responsibilities of the office, as the following little story will show: ― Mr. John Winterbottom had been instructed on one occasion by the Committee to get £5 from the Treasurer wherewith to pay for goods. He called at Mr. Byrom's house for the money, but, as he was not personally known to Mrs. Byrom, she hesitated to let him have the cash. After some conversation, however, she allowed him to have it, but as soon as he took his departure she threw on her shawl and deftly "shadowed" him till she saw him enter the Stores, when she was satisfied as to his bona-fides, and returned to her household duties. Evidently the ladies were ably seconding the efforts of their husbands to get the Society going, for about this time Mrs. George Winterbottom and Mrs. William Lockwood cleaned the Store, and were awarded 2s. each for their work. A little later on Mrs. Joseph Hall and Mrs. Jonas Rushworth received similar pay for work of a like nature, and no doubt all these good dames most richly deserved the scanty payment they received.

On February 23rd, Mr. Jonas Rushworth was instructed to go to Rochdale Store to pay £75. This shows pretty clearly that sales must have been fairly brisk, and that thus early on the Committee were in favour of purchasing from Co-operative sources. At the same meeting Mr. Jonathan Hirst was instructed to take £5 with him and go to Ashton and to Mumps; also to pay for the licence. The following rate of pay for this kind of work was also fixed on this occasion, viz., 3s. per day and railway fare, "if they ride."

Mr. James Schofield was instructed to make a sign and get it painted. On this sign Mr. Jonas Rushworth's name appeared as one of the Trustees. At that time Societies had to resort to this means of working, as the law did not permit them to do business in their registered corporate names.

We suppose that, in the meantime, trading must have been going on in a desultory way at night, and that Messrs. James Bottomley and Joseph Hall, who were deputed to act as salesmen, were busily engaged in distributing the goods which had been obtained from Rochdale Store, Ashton, Manchester, and other places.

The nights of February 21st and 25th appear to have been devoted entirely to fixing the retail prices of goods. We give here a list taken from the minutes of the current prices charged at that time in our own shop for goods in ordinary consumption.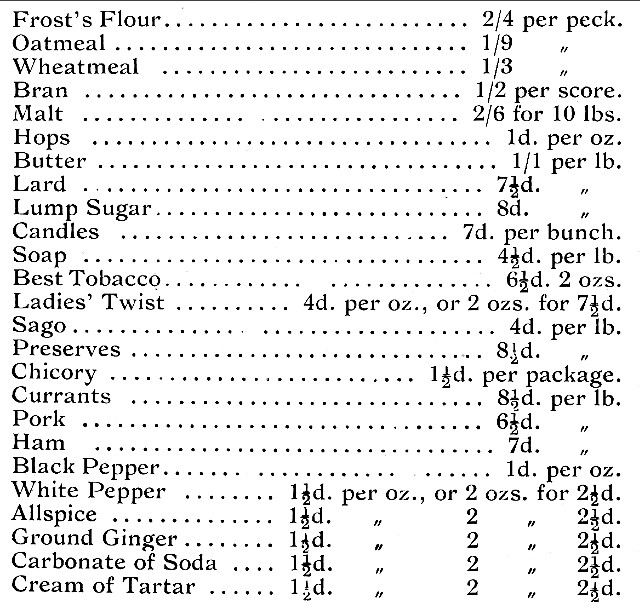 The foregoing prices tell their own story. Coupled with low wages, can we wonder that many families had a hard struggle to make ends meet, or that so many got into almost hopeless debt?

A minute passed March 3rd, indicates that the Committee were alive to the necessity of obtaining information as to the fluctuations of the markets, and of being posted in general matters as well. Good newspapers were few and dear, and the halfpenny evening paper was a thing undreamt of in those days. Few people could afford to buy even a weekly paper, and perhaps fewer still at that time were able to read one intelligently for themselves. Our friends decided to have the "Manchester Examiner and Times" every Saturday, and no doubt they took good care to get their money's worth out of its pages. Some few months later a daily paper was ordered in addition.

On March 12th another resolution was passed which indicates that police protection of private property was not so effective then as it is to-day, for Mr. Jonathan Winterbottom and Mr. James Wrigley were duly appointed to sleep in the store at nights to safeguard the goods, as house breaking was a common enough occurrence in the country. Mr. Edward Heap also shared in this duty for a time.

Two other minutes passed in March indicate the moral qualities of the Committee. One runs as follows:—"That the shop be open every night every except Sunday." Evidently they were determined to maintain the sacredness of the Sabbath. The other shows their strong sense of fairness, and reads as follows:—"That all customers who have bought Frost's Flour to-night at 2s. 5d. have one penny per peck returned." The price, it appears, should have been 2s. 4d. Such resolutions as these reveal the sterling stuff of which these men were made, and prove their claim to grateful remembrance. The minutes of this meeting were signed by our old friend Mr. James Bottomley, as Chairman, who still takes a keen interest in the Society's doings.

The stock was taken on March 24th, and the quarterly meeting was held on April 6th, 1857, when the accounts presented by the Auditors and Secretary were approved. No dividend seems to have been declared, but as interest at the rate of 5 per cent was credited in the share ledger to those members who had £1 and over invested it would seem that a profit of some amount must have been realised during the first recorded quarter's working.

Some disagreement seems to have arisen as to the appointment of Committee, as a fresh batch appear to have been named, but afterwards withdrawn, as the list is crossed out in the minute book, and a memo. in the margin entered as follows: — "This resolution a mistake." That some unpleasantness had arisen is evident, for at an adjourned meeting held on the 9th, we find the following quaintly-worded resolution, which our readers can interpret for themselves: — "Resolved, 1st — That the old Committee meet on Monday night next, and that any member wishing to resign come forward." Evidently the old Committee decided to go on its way, for at the Monday's meeting it seems to have gone straight to the business of the day, and no resignations are mentioned.

Let us try to picture a night's work at this time in the shop at Road End. The shutters would be opened about 7-30 p.m. Behind the counter Mr. James Bottomley and Mr. Joseph Hall would serve the customers. Mr. Thomas Worth, who enjoys the unique distinction of being a pioneer member and a present day Committee-man, was in attendance as Cashier. Very likely the Secretary or some Committee-man would carefully record the amount of each member's purchases in a book. At 10 o'clock, or half past, the shop would be closed, the money taken carefully counted and compared with the book, and Mr. Robert Mellor would carry it to Mr. John Byrom, the Treasurer, at Waterside. On Saturday nights the shop would be open till 11 p.m. This kind of thing appears to have gone on from the opening in February till the beginning of April, when the work of the Society seems to have grown to such an extent as to warrant the appointment of a salesman who should devote the whole of his time to the work. The quarterly meeting, held April 6th, before referred to, must have discussed this matter, for it was decided at that meeting to have a salesman as soon as convenient, and that he must give £25 as security.

At this meeting Mr. Joseph Wood and Mr. Thomas Platt were appointed Secretaries, and the sum of 10s. was voted to Mr. Joseph Wood for past services as Secretary. The following quaintly-worded resolution, passed at the same time reveals something of the spirit which animated those early workers. Wages evidently were not by any means a first consideration with them: — "Resolved — That those men who have worked in the shop have 5s. each if they will." We should think they could hardly refuse an honorarium so delicately offered.

No records are available of the sales from the opening in February to July 24th, but from the amount of purchasing done by the Society, it is quite evident that a considerable trade had been done during the period named.

The appointment of a salesman seems to have given the Society a good deal of trouble. From the minutes of a special general meeting held June 3rd, it would appear that Mr. Joseph Hall was appointed shopman at 18s. per week. For some reason this appointment does not seem to have been operative. We should conclude that selling at night was continued, from the fact that at a quarterly meeting held July 6th, Mr. Joseph Hall and Mr. Heywood Holden are voted 4s. per week each for their services in the shop. At this meeting Mr. Thomas Platt is solicited to make up the accounts for the last quarter.

On July 15th another quarterly meeting was held, at which Mr. Samuel Wild was appointed salesman, and Mr. Thomas Platt, Secretary. Several changes also took place in the Committee. On July 23rd, the day before Mr. Wild entered upon his work, a special committee meeting was held, at which it was decided that on the giving or receiving of one month's notice the shopman's engagement was to end, and his security was to be repaid if his stock and cash were found to be in order. The hours during which the shop was to be open for business were fixed as follows: From 9 in the morning till 2 in the afternoon; from 3 in the afternoon till 9 at night, except Saturdays, when the shop was kept open till 11 at night. It was also agreed that the shopman should not be held responsible for any damage or burglary occurring during his absence from the premises.

On July 24th Mr. Wild began his short career as shopman, and the Committee now felt that they were in a position to extend their business, so Mr. S. Wild was despatched to Holmfirth to purchase a cart load of pots on August 10th, and on September 21st it was decided to have a cart and horse for the Society's use. This latter venture proved an unfortunate one, and was abandoned early on in 1858. Most likely the business at the time was not sufficient to warrant the expense of man and horse.

At a meeting held on October 5th, Messrs. James Lilley and John W. Buckley were appointed Auditors, and on October 12th a general meeting was held and a first dividend of 10d. in the £ was agreed upon. At this meeting the prices of the following drapery goods were fixed: cotton, both plain and twilled, 5d. per yard; best twilled sheets, 3s. 6d. per couple; second quality, 2s. 9d. per couple; men's grey stockings, and women's white wool stockings, 2½d. per pair profit; and check, 7½d. per yard. This would be the beginning of our drapery department, which for some time was run along with the grocery business, and the goods were kept in the same rooms. On December 21st a minute shows that Mr. Jonathan Hirst was deputed to go to Chamber's to buy coal. Another minute, dated December 28th, fixes the price of coal at 5½d. per cwt. at the stores. This would be an attempt at forming a coal department, but it fell through for a time. It seems likely from the minutes that the stock was taken at the close of 1857, and that the result was not satisfactory, so the year which was begun with glowing expectations, closed in gloomy disappointment.

A general meeting was held on January 4th, 1858, at which it was decided that the stock should be taken over again by Messrs. Joseph Hall, Charles Bradbury, Jonathan Hirst, and James Bottomley, and the result of this second stocktaking does not appear to have shown any better result than the first, for it was decided to dispense with Mr. S. Wild's services, and the Society fell back upon Mr. Jos. Hall and Mr. James Bottomley, who resumed their work as salesmen at night. This was a trying period for the Society, and it is reported that some timid souls were in favour of giving the whole thing up in despair, but wiser counsels prevailed. Mr. George Winterbottom, Mr. John Schofield, Lanehead, and others like-minded, spoke strongly in favour of going on with the Society, and assured the more fearful ones that there was no reason why they should not succeed if they stood firm. From February to July 14th we have no record of the sales effected by Messrs. Bottomley and Hall; from July 24th to the close of his career, January 5th, 1858, Mr. S. Wild's takings were £888. 19s. 8½d. In October a first dividend was paid of 10d. in the £. Whether this was a real dividend resulting from trade, or a financial fluke, we cannot say, certain it is that the December stocktaking came far short of showing the same result. From January 6th to 13th Messrs. Bottomley and Hall drew £33 13s. 9d., which brought the sales from July 24th, 1857, to January 13th, 1858, up to £922. 13s. 5½d. If to this sum we allow for twenty weeks' sales from February to July at an average of say £15 per week, the first year's sales would be well over £1,200, and this estimate, we feel sure, is under rather than over the mark. A 10d. dividend in the October quarter, and 5 per cent interest on share capital for the year were not bad results all considered, so that the promoters had something tangible to back up their arguments for continuing the Society.

Early in 1858 Mr. Joseph Wood seems to have left the secretarial work to his colleague, Mr. Thos. Platt, and become Chairman of the Committee in succession to Mr. Jonathan Hirst. A cool head and a strong hand at the helm were needed to guide the little barque through the shallows, storms, and quicksands which beset its course, and Mr. Wood was possessed of both these qualities in a marked degree. The first time he presided over a members' meeting the only recorded resolution runs as follows: "That a majority of 17 to two are for the Store being carried on as usual; 14 neutral." It would seem that once more a section of the members were agitating for a salesman, but the majority for the time being were chary of again putting a man in sole charge.

Mr. John Schofield, of Lanehead, was instructed by a meeting held May 13th to take £5 with him and to make the Society a member of the Rochdale Store, another proof that our pioneers were fully alive to the great advantages to be secured by Co-operative buying as well as selling.

From July 21st to September 29th there are no minutes in the book, but from the sales book we find that Mr. James Schofield must have been made salesman, and from the Treasurer's book we learn that he began at 16s. per week. His sales from October 19th to December 25th were £206. 6s. 8d., or just over £20 per week. Messrs. Bottomley and Hall, from January to October, had taken £720. 6s. 2½d., so that the sales for 1858 were £926. 12s. 10d., or about £270 less than the first year. Many reasons existed for this falling off. The year 1858 was a period of storm and unrest, and frequent changes on the Committee. The wheat was being winnowed from the chaff, and the zeal of some waxed cold. But a strong remnant remained whose faith in Co-operation was undimmed, and whose courage rose superior to every difficulty.

Early in 1859 the Store was removed from Road End to the house at Spring Grove, now occupied by the family of the late Thomas Bradbury, Esq. Here Mr. James Schofield and his thrifty helpmate, Mrs. Jane Schofield, made their home in a house adjoining the shop premises, and let a bedroom they did not require for storing part of the Society's stock. In October a dividend of 1s. 3d. in the £ was paid to members, and 7d. in the £ was allowed to non-members. Thirty shillings was voted to Mrs. Schofield for assisting her husband in the shop, and the Secretary's salary was fixed at 30s. for the quarter.

The year 1860 was a memorable one, for very early on circumstances connected with their tenancy seemed to have forced the members into the belief that they must have premises of their own. On January 25th a deputation was sent to interview Messrs. Shaw, at Shepherds' Green, to see if they could buy the house at Nook Steer. It will be news to the present generation that this building was the present "Clarence" Hotel, then in course of construction, and as Messrs. Shaw were well disposed towards the Society some tentative arrangements were entered into, and a part of the building to-day bears witness to the fact of its having been intended for a different purpose to that for which it is now used. Something must have turned up shortly afterwards to upset the understanding arrived at, for on February 22nd it was resolved by the Committee to buy the plot on which our first cottages and present grocery premises were erected. This plot contained 650 yards and cost 2s. 6d. per yard -- total, £81. 5s. The Deed was executed on April 5th, 1860, and the vendor was Mr. Jonah Wrigley, who conveyed the land to the following Trustees: Mr. Jonas Rushworth, Heytop, overlooker; Mr. Ralph Whitehead, Dovestone Wood, overlooker; Mr. Ralph Schofield, Dovestone Wood, overlooker; Mr. Thos. Platt, Holly House, clothier; Mr. Charles Bradbury, Bank Meadow, woollen slubber; Mr. John Schofield, Lanehead, clothier. These six gentlemen held this property in trust for the Society till 1876, when, on April 15th, Messrs. Jonas Rushworth, Ralph Schofield, and Thomas Platt, the three surviving Trustees, closed their trust by conveying the property back to the Society, the law in the meantime having been altered so as to allow Co-operative Societies to hold land in their corporate capacity.

Early in this year the Committee were granted the munificent sum of 4d. per night for their services. A safe was purchased in June, costing £34, and it is reported that for a considerable time after it came into use one of the worthies, who was entrusted with a key, carried the same about with him, hung by a string round his neck, under his shirt, and next to his skin. We may smile at such precautions to-day, but all honour to such men. They felt they were in a position of trust, and were determined to be worthy of it.

On July 25th, the Committee passed a resolution instituting the Tuesday half-holiday, and this boon to employees came into effect on August 6th.

The Committee ordered the building of the new stores and cottages to be proceeded with at once, by a resolution at their meeting on July 25th. Plans had been prepared by Mr. John Hutchinson, and the original building consisted of two good-sized cottages and a grocery and general dry goods store. All the buildings were three storeys, the basement being well cellared throughout. A little later a fourth floor was added to the grocery department.

The mason's contract was given to Mr. Joel Byram for £410, and the joiner's contract to Mr. John Beastow for £305. So 1860 closed with the Society fairly embarked on its shop and cottage building scheme.

The dividends for this year were as follows:—March, 1s. 1d.; June, 2s.: September, 1s. 8d.; and December, 1s. 6d. in the £; making an average of 1s. 6¾d. in the £ for the year. Half these rates were allowed to non-members. These results were most encouraging at the time, and no doubt they heartened the Committee in their onerous labours.

Every detail of the business seems to have been dealt with at the quarterly meetings. The members appear to have thought it their business to manage and plan what was to be done, and how. Their pride in their little store is also well shown in the following resolution passed at a special general meeting held January 22nd, 1860, which runs as follows:— "That there be a signboard with semi-circle top, with 'Greenfield' in the semi-circle and a beehive under, and 'Co-operative Store' in a line in gold letters." We can imagine with what eagerness the erection of this wonderful sign would be watched, and how fine it would appear to them. Well, it was theirs, and they had a right to be proud of it.

――――♦――――


CHAPTER III.
1861-1870. ― Development.

"Genuine growth is one of the best signs of healthy life."

FROM October 31st, 1860, to July 1st, 1861, there is a break in the minutes, and information is meagre. From the minutes of the quarterly meeting, held October 7th, 1861, we gather that Mr. Joseph Wood was again acting as Assistant Secretary for the sum of £1, which was voted to him for his services in that capacity during the past quarter. At this meeting the payment of the Treasurer was put off until Christmas, and "those who pay dividend" were awarded 1s. 3d. each per night for two nights.

The building operations occupied the whole of 1861, and no wonder, for our grocery buildings were carefully and substantially built, and are much more commodious than a casual onlooker would think when looking at them from the main road. In the summer of 1861, the payments on account of the new Stores must have been a serious drain on the Society's resources. The erection of such a block of buildings was a bold step under the circumstances, and the responsibility incurred, no doubt, caused the Committee many anxious hours. But the leading members gave them loyal support. A loan account was opened as provided for by the rules, and on July 4th, 1861, £235 was paid into the Society's coffers in sums ranging from £5 to £90, thus enabling the Committee to carry through their building scheme without unduly crippling the business.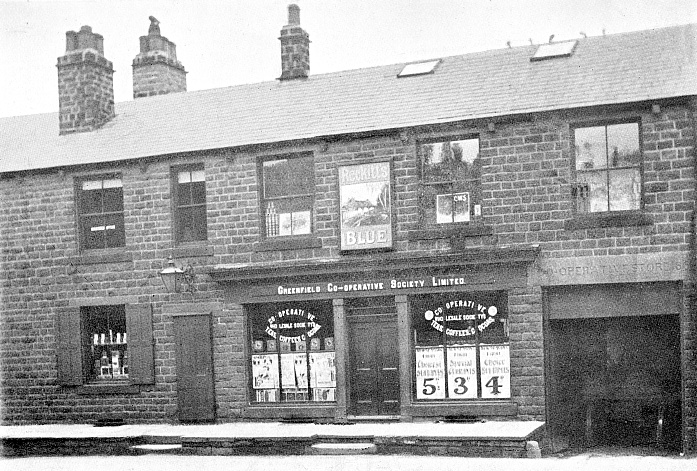 GROCERY PREMISES

From an old return, printed at Rochdale, and compiled by Mr. William Cooper, secretary of the Conference Committee, and from annual returns sent by Societies then in existence to the Chief Registrar, we find that at the end of 1861 the number of members was 136. The share and loan capital was £1,561 and the sales £3,468 for the year, or about £66. 14s. per week. The dividends also were fairly good, and ran as follows:—March, 1s. 2d.; June, 1s. 2d.; September, 1s. 9d.; and December, 1s. 4d. in the £, giving an average of 1s. 4¼d. in the £ for the year. Half these rates were paid to non-members. By the kind permission of Mr. C. E. Bradbury, we are able to insert a copy of the notice to quit given by our Society to his late father, closing the occupancy of his house and shop. It is an interesting document, as it shows that the Society was still trading as Jonas Rushworth and Co., and that the new building was then so far advanced that they were sure of getting into possession in the May ensuing. This notice reads as follows:—

GREENFIELD CO-OPERATIVE STORE,
NEAR UPPERMILL, SADDLEWORTH.
7th November, 1861.
MESSRS. THOMAS AND S.A. BRADBURY.
We, the undersigned, give notice to Thomas and Sarah Ann Bradbury, Executors of the late Mary Bradbury, that we will quit the shop and cottage at Spring Grove, in our occupation, on or before the 12th day of May, in the year of our Lord one thousand eight hundred and sixty-two.
JONAS RUSHWORTH AND CO.
JOSEPH WOOD, Secretary.

The quarterly meeting, held January 6th, 1862, awarded £1 to the Treasurer (Mr. Shelmerdine), and fixed the Auditors' fees at 2s. 6d. each. Every item of expense seems to have been watched by the members, and it must be confessed that the sums voted for clerical work were far from being anything like reasonable payment for the work performed.

The Cotton Famine of 1862-4 affected Greenfield cotton operatives pretty much in the same way as it did those in neighbouring towns. Many families were reduced to the verge of starvation. To the credit of our local gentry it should be recorded that they organised relief funds and helped the workers in various ways to tide over this dreary time. Schools were opened for the men who were paid so much in relief money for attending them. Instruction in the "three R's" was imparted to many in this way whose chance of obtaining a little knowledge of this kind had previously been but small. Sewing classes were organised for the women by ladies of the district, and materials supplied for making necessary garments, which, when finished, were taken home by the workers who most needed help of this nature. Fortunately, some of the operatives knew enough of woollen weaving to enable them to be able to get a meagre living by that means. But much silent suffering was endured by our people during the black years of the Civil War in America. Amongst our own members, one helped another. Those who were fortunate enough to be working at some industry not affected by the war helped those who were till the return of better times.

Although the Committee's hands must have been pretty full in the beginning of 1862, they were not indifferent to what was going on outside their own little sphere, for on January 29th they resolved to aid the Rochdale Society people in their efforts to improve the Industrial and Provident Societies Acts.

By February 26th the buildings were so far advanced that fires could be put in, and on April 7th a quarterly meeting fixed the rent of the end house at £13 per annum, and accepted Mr. William Shelmerdine, the Treasurer, as monthly tenant. The rent of the house next to the grocery store was fixed at £10. 10s., and this, too, was made into a monthly tenancy, and let to the shopman, Mr. J. Schofield.

By this time the Committee began to be anxious to get into the new shop, and on March 19th they instructed Messrs. Edmund Dransfield and James Buckley to assist Mr. John Schofield in pushing forward the finishing of the shop and cottages. The trade must have improved as well, for the general meeting held on April 7th appointed Mr. John Godley to assist in the shop on Saturday nights.

By the end of April the new shop and cottages were nearly completed, and the Committee and other friends interested now busied themselves with arranging the fittings and equipment. Mr. Edmund Dransfield was charged with the duty of getting stays for the crane; Mr. James Walker and Mr. Abraham Hirst were told off to clean the windows and the bins; Messrs. Jonathan Hirst, James Walker, Isaac Schofield, John Schofield, J. B. Lees, and as many more as could make it convenient were appointed to meet on Tuesday, May 6th, at 2 o'clock in the afternoon, to remove the grocery stock into the new premises. We can imagine with what cheerful alacrity these good friends set to work, and how proud they would feel when they took possession of their own premises, which, with fittings, &c., cost up to this time about £1,000.

The October general meeting must have been in a parsimonious mood, for the wages of the Committee are again made the subject of a resolution, and this time they were fixed at 3d. per week each man, if in time. Late comers, we presume, were to have nothing. What lavish payment! We note that the dividend had dropped to 1s. in the £ at this date. Perhaps the reduction of ld. per night each was the members' way of punishing the Committee for not making more profit. The dividends for 1862 were as follows: — March, 1s. 1d.; June, 1s. 1d.; September, 1s.; and December, 1s. 2d. in the £.

The annual meeting, held January 5th, 1863, re-appointed Mr. Joseph Wood as Secretary and Mr. W. Shelmerdine as Treasurer, and also resolved "That the balance sheet pass, because it is correct" — a good reason for passing a balance sheet, surely, and a great deal more than could be truly said of many more pretentious documents.

On February 11th the Committee passed the following resolution: — "That we pay one farthing per member towards the general expenses of the Co-operative Stores, to be handed over to Mr. William Cooper, of Rochdale." Doubtless this would be a contribution from our Society to the funds of the Lancashire and Yorkshire Conference Association, of which Mr. Cooper was Secretary. This Association was a forerunner of the Co-operative Union of to-day. About this time new blood was infused into the Committee. Mr. William Buckley and Mr. William Robinson joined the Board at the end of 1862, and Mr. Isaac Smith and Mr. Edwin Lawton were both appointed April 6th, 1863. Mr. Smith seems to have been made Chairman of the Committee forthwith. The funds of the Society must have been growing as well, for the Committee had money to invest, and on June 3rd it was decided to put £20 into the Oldham Building and Manufacturing Society Limited, now known as the Sun Mill Company Limited, and Mr. William Buckley and Mr. Joseph Wood were instructed to do this business forthwith.

The sales must have been increasing, for in August a youth named Wm. Jackson of Lees was appointed grocer's assistant at 5s. per week, and ordered to start at 7 in the morning and leave off at 6 at night.

The Society now felt that it had outgrown its first rules. Alterations were needed, so the October quarterly meeting ordered the Committee to get up a new set of rules and on December 23rd Messrs. Jonathan Hirst, Henry Giddings, Isaac Smith, Ralph Schofield, Edwin Lawton, and Joseph Wood were made into a Sub-Committee to give effect to the foregoing resolution.

A most important step was taken on November 18th, when it was decided to take up 140 shares in the newly-formed North of England Co-operative Wholesale Industrial and Provident Society Limited. Mr. Isaac Smith was appointed first delegate and empowered to pay a deposit of £35 if he was satisfied with the prospects of the Society after he had attended the Manchester meeting. On November 21st £7 was paid on account of shares, and during the North of England Wholesale Society's first week, ended March 21st, 1864. the sum of £55 was paid to them for goods by our Society. The remainder of the share money was paid up in May, and our Society did a trade of nearly £1,600 with the Wholesale from its start in March to December 24th, 1864, thus giving the new venture its solid support. These facts show that our Society was one of the group of Societies who started our great federation now known as the Co-operative Wholesale Society Limited.

The Dividends for 1863 were as follows: — march, 1s. 6d.; June, 1s. 4d.; September, 1s. 6d. ; and December, 1s. 8d., in the £.

The year 1864 was one of progress, and members seem to have been conscious of the growing importance of their business. The annual meeting held January 4th re-appointed the principal officers, and authorised the Rules Revision Committee to finish their work and get 400 copies printed. The new rules appear to dispense with the Trustees as being no longer needed; the number of the Committee was changed from nine to eight; the hour of meeting from 8 o'clock to 7.30; and now that the Society owned property, provision was made for depreciation, and the rate fixed was 10 per cent. These rules were signed as follows :—

Committee: ― EDWIN LAWTON, JOEL WHITEHEAD, HENRY GIDDINGS, NER BOTTOMLEY, WILLIAM ROBINSON, ISAAC SMITH, RALPH SCHOFIELD:
JOSEPH WOOD, Secretary, JONATHAN HIRST.

They were sanctioned at a special meeting of the Society held April 18th, the date of registration is May 11th, 1864. They also contained a provision for the election of officials half-yearly at the January and July meetings.

The necessity for loyalty to the Wholesale Society seems at that early date to have been impressed on the members, for the same meeting that adopted the revised rules passed the following resolution: — "That this meeting recommend the Committee to make as many purchases from the North of England Co-operative Wholesale Society Limited as possible."

The increasing prosperity of the Society is also shown by the fact that a Committee meeting, held June 20th, advanced Mr. James Schofield, shopman, to 24s. per week; the Treasurer to 30s. per quarter; and the Secretary to £2 per quarter. On July 11th, after stocktaking, another step forward was taken, for the Committee decided "That we have 400 copies of the balance sheet for the past quarter, and that the same be printed by Messrs. Hirst and Rennie, Chronicle Office, Oldham." It is very likely that this was the first printed balance sheet issued by the Society. No copy of this document appears to be extant, but judging from the first minute recorded at the half-yearly meeting in July, an item of £10. 18s. 1½d. was to be held over to meet any error or omission in the accounts. At this meeting a fresh Committee was appointed, composed of the following gentlemen:—Messrs. Edmund Dransfield, James Byram, Jonathan Hirst, Robert Windrom, Smith Millench, John Mallalieu, Absalom Matthews, and John Bradbury Lees. It is also somewhat noteworthy that at this meeting the members seem to have found their manners, and to have realised that services had been rendered which called for other than monetary recognition, for the last minute reads as follows:— "That a vote of thanks be presented to the retiring officers."

Perhaps it may not be out of place here to remark that working-class organisations often fail to recognise and acknowledge their obligations to officials and servants who faithfully and conscientiously discharge many onerous and very unpleasant duties, and put forth efforts which are not recognised because they are done in silence and as a matter of course. Some of the best private firms make it a point of honour to personally encourage special merit, and to speak in frank commendation wherever and whenever they have an opportunity. In this way they secure the good feeling of their staff, and ensure the successful and smooth running of the business machine. Let a Co-operative servant fail in his duty in any respect, and he will be certain to hear about it from some quarter or other quickly enough. But who ever heard or read of one being spoiled by over-praise or getting too much encouragement from those who reap the benefit of his work? Working-men have yet to learn how to appraise at their proper value the services of those who unselfishly devote their best thought to promote the interests of their collective employers. While it is important that Co-operative servants should be well paid, it is equally important and necessary that they should receive words of encouragement, and be given incentives to excel. Instead of discouraging a fellow-worker by ignoring him, whether in boardroom, store, or workshop, our policy ought rather to be to stir him to emulation by kindness, increased remuneration, and prospects of advancement.

Nothing of note appears to have transpired from July to September; the Society seems to have been growing steadily in numbers and sales, and the quarterly meeting, held October 17th, accepted the printed balance sheet "as read." Happily we are able to give here a copy of this, probably the second printed balance sheet. The little address at the top is characteristic of the Secretary, Mr. J. Wood, who now had the pleasure of seeing the Society firmly established.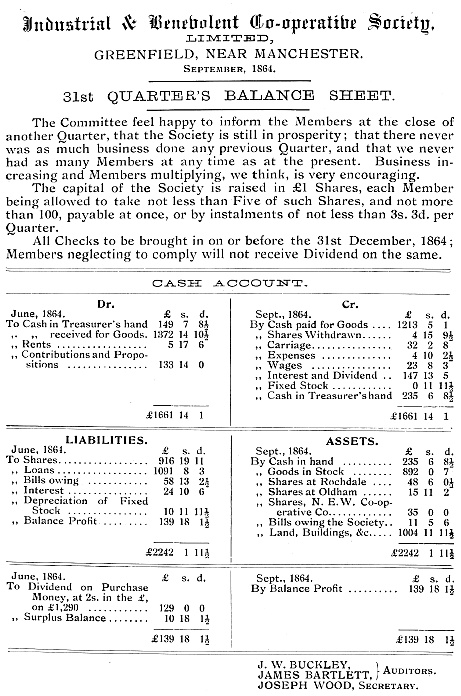 This is no idle boasting; Mr. Wood's jubilation was fully justified at the time. Membership, trade, profits, and capital were all increasing, and 1864 closed with record dividends: March, 1s. 6d.; June, 2s.; September, 2s.; and December, 2s. in the £.

The minutes for 1865-6 are lost, and so we can give little information of this period of the Society's history.

Great changes in the official personnel are apparent from a glance at the minute book commencing January 7th, 1867. Mr. Josiah Hobson is Secretary in place of Mr. Joseph Wood. He was appointed at the annual meeting in January, 1866, and five out of the eight of a Committee are new men. A glance at the chart of the Committee given at the end of this book will show how frequently they were changed during the first 25 years of the Society's existence. The second 25 years' record affords a strong contrast in length of service.

The membership had so increased by this time that the quarterly meeting had to be held alternately in the Boarshurst and Wesleyan Sunday Schools in order to have suitable accommodation for those attending.

The butchering department was started in the autumn of 1866, and Mr. Abel Buckley was the first butcher.

On January 9th, 1867, the Committee voted £1 as a donation to Mount Sorrel Society, and decided to have a tea party in the Mechanics' Hall, Uppermill, on February 16th, but as nothing further appears about this proposed party, we think it must have fallen through, though we can recollect being present at a tea party held jointly by Greenfield and Uppermill Societies when the hall at Uppermill was crammed to its utmost capacity, and which must have taken place about this time.

The annual meeting on January 16th, 1867, was held in the Greenfield Wesleyan Sunday School. At this meeting Mr. James Byram presided, and it was decided to form a redemption fund. Mr. Shelmerdine was re-appointed Treasurer at £9 per annum, and Mr. Josiah Hobson was re-elected Secretary, his salary being fixed at £13 per annum.

Quarterly meetings in those days were lively at times. Noise and contention often did duty for argument, and the quarterly meeting held in Boarshurst School on April 15th, 1867, was a fair sample of many others held during the first 30 years of the Society's existence. The writer was present at this meeting with his father. Though only a raw lad in his teens, and, of course, a non-member, no one seemed to think it needful to object to his presence, and he still retains a clear recollection of the proceedings. Little did he dream then that it would ever fall to his lot to take an official part in conducting the Society's affairs. A good deal of time and feeling were expended on the question of allowing dividend on sack stuff. Mr. Thomas Bradbury was Chairman, but, in spite of all he could do, the meeting got out of hand. Some of the members seemed to think that those who were large shareholders were getting too great a share of the profits, and after a long wrangle they got a resolution passed cutting the number of shares to be held down from £100 to £50. This was followed by a kind of counter motion that no one should vote on any subject unless he held five fully paid up shares in the Society. After another long wrangle this was passed, and then the meeting found that it had worked itself into a tangle, and finally got out of its difficulties by rescinding both resolutions.

On February 13th, we note in passing that Mr. George Herbert Winterbottom, of Noon Sun, then a mere lad in his early teens, now the well-known manager of St. Helens Society, of boycott fame, was admitted to membership and took a keen interest, even so early on in his career, in the Society's doings.

On May 8th, arrangements had been so far completed with Messrs. J. & J. C. Evans, of Oldham, for the supply of men's clothing, that a check book was ordered so that members could have dividend on goods purchased from this firm.

The Committee at this time does not seem to have had a fixed Chairman. Sometimes Mr. James Byram, Mr. Thomas Bradbury, Mr. N. A. Booth, but more frequently, Mr. A. Matthews signed the minutes of the Society's meetings; and the question of Chairman's casting vote seems to have arisen for settlement. The rule seems to be quite clear enough for ordinary minds, but the Committee appear to have had reason for thinking that something should be added, for on May 15th, they passed the following curiously-worded resolution: "Resolved 1st — That the Chairman in all cases is to have a casting vote besides his vote as a Committee-man, that is, he can give a casting vote besides his vote in the usual way." Well, one would think that point was settled, surely, after such a resolution.

On July 17th, another rather remarkable resolution occurs, which strikes us as being about the most mysterious combination of words that could well be imagined. Evidently the redemption fund had been under discussion, and the outcome was the following cryptical deliverance. "Resolved 2nd — That the redemption fund remain as it is, and to be applied to redeem all bills which may be omitted during the preceding quarter, and at the end of the quarter the said bills to be taken from the said redemption fund, if there is a redemption fund at that time." We must leave the interpretation of this fearfully and wonderfully constructed resolution to the ingenuity of the reader.

The July general meeting outlined a building scheme which was to provide a butcher's shop, a slaughter house, and shippon, with a room over the lot for a meeting room, but shortly afterwards the idea was modified to butcher's shop and slaughter house only, and Mr. Jas. Bourne was engaged to erect it. Mr. Abel Buckley, butcher, was dismissed in October, and Mr. Wm. Bradbury took his place. It was decided, too, to make the butchering into a separate department, and that its dividend should be paid separately. The annual meeting held on January 20th, 1868, in Boarshurst School, must have been in a very grateful mood, for the salesman, the Secretary, and the Chairman were each accorded a vote of thanks for their services.

About this time credit trading appears to have grown to some extent, for, on February 19th, it was decided to discontinue it, and to stop the dividend at the quarter end of those indebted to the Society. A little later on this decision was varied so as to allow credit equal to 15s. in the £ of paid-up share capital.

The first recorded account of a regular Chairman being appointed is in July, when Mr. Thos. Bradbury is made Chairman, and Mr. James Byram, Vice-Chairman.

The quarterly meeting held October 19th, 1868, recommended the Committee to re-commence the coal trade, and on November 11th, the coal carting was let to a local carrier. A little later £60 was expended on a railway waggon, and the Society was fairly launched in the coal business. While keeping a close eye on the Society's business, the Committee during this year dealt pretty rigorously with themselves. Late comers were fined 2d. each, and one of their number was notified to either attend the meetings or resign his office.

A resolution to form a drapery club was passed on October 28th; this proved a popular and profitable venture, and it survives to-day in what is now known as the "Goods Club." Some changes were made at the end of the year in the staff, when Mr. Albert Fisher entered the service of the Society as assistant grocer.

In January, 1869, Mr. James Byram was chosen as Chairman, and the Society decided to join the Oldham Star Corn Mill Society Limited in April, taking 150 shares.

In June the butchering department again changed hands, and a man named D. Dodson was appointed.

Mr. Ralph Hawkyard was appointed Chairman of the Society in July, and Mr. Wm. Buckley, Vice-Chairman, and their duties during this half year would be far from pleasant, as there appears to have been considerable friction both amongst the employees and between some of the principal officials; the particulars of which it is not in our power to reveal, as sufficient information is not now available for making a clear statement.

The annual meeting held in Boarshurst School, on January 17th, 1870, was a very unpleasant one. Mr. James Schofield, of Greenfield Lodge, was appointed Secretary, after a stormy and unseemly discussion. Mr. James Byram was made Treasurer, and about three fresh members were put on the Committee. Mr. Schofield only held his position for about four weeks, and on the 18th of February Mr. Jonathan Winterbottom was appointed Secretary at a special meeting of members.

The general meeting, held April 18th, 1870, is remarkable for the length of its business. Amongst other matters it was decided to lower the share capital to £40 on the 24th June next, and to have the shop and cottages painted. It was also decided to alter the balance sheet and make it out in the following form, viz.: a cash account, a general statement, and a profit and loss account. The grocery, drapery, and butchering each to be shown separately, with the profit in each department, and the balance sheets were to be ready for issue not later than 5 p.m. on the Saturday previous to general meeting.

On June 29th Mr. James Schofield and his wife decided to leave the Society, and Mr. Edwin Buckley was appointed salesman on July 6th, in place of Mr. Schofield. In September Mr. D. Dodson gave up his position as butcher, and Mr. C. W. Bottomley was put in his place. Miss Moore, the lady who succeeded Mrs. Schofield in the drapery department, resigned October 22nd, and who succeeded her is not quite clear. The year 1870 was a year of turmoil, unrest, and change, and the conditions were not favourable to progress.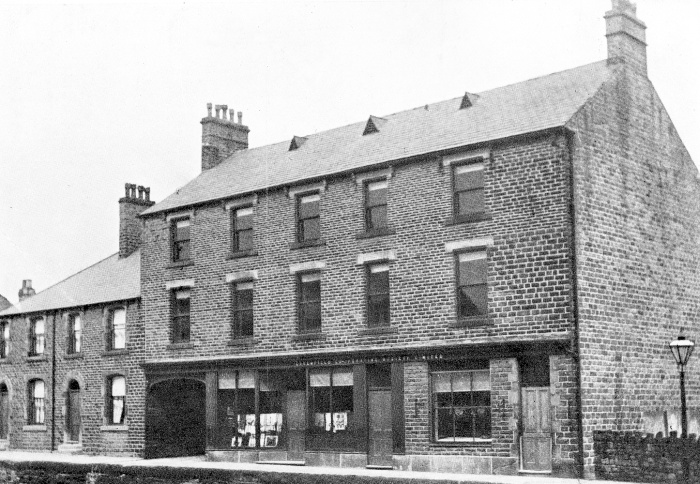 DRAPERY AND BUTCHER'S SHOP AND HALL.

――――♦――――


CHAPTER IV.
1871-1880.—Changes and Difficulties.

Be sure no effort true is lost,
No worthy deed is done in vain;
Whatever lessens human pain,
Doth yield a tenfold more than cost.

PART of the cottage adjoining the grocery store, as at first built, did duty for a considerable time as draper's shop; and early in 1871 it was decided to give notice to the tenant occupying the other part, and add the first floor to the draper's store, and make the bedroom into a boardroom. Up to this time both Committee and officials must have suffered great inconvenience and discomfort for want of a room set apart for their use, where books and papers could be kept with some approach to order and comfort. From some cause or other, it was near the end of the year before the room was furnished. Most likely the Committee were absorbed in other matters, for sales and profits were declining, and there was a good deal of uneasiness amongst the members. Frequent changes of staff are most undesirable in a Co-operative Society. It takes time for a good servant to win the confidence of customers, and at this time our Society had its full share of unpleasant changes.

Although things did not wear a rosy aspect the Committee held on their way, and on July 7th commenced to deal in coal, letting the delivery to a local carrier. Early in August Mr. Joseph Travis was appointed as carter to the grocery department, at 20s. per week. A horse and two carts were procured, and the system of dealing with the carriage of goods in the grocery department was now remodelled. Hitherto, since the failure of the Society's first venture as cart and horse owners, the work of carrying the Society's goods had been done by local carriers, and of delivery to customers, by donkeys. Mr. John Byrom was one from whom a donkey was hired for a considerable time. Mr. J. Hirst was another, and part of the time there was a "Co-op. Donkey." Many lively episodes occurred with these animals, for both lads and lasses undertook to drive them as circumstances required, and some of our older members to-day recall with pleasure their juvenile adventures during this day of small things when they see our sturdy teams going about the Society's work at present.

The delivery of goods has proved a thorny problem to many Societies. From the first our Mr. Holden recognised its wisdom and necessity, and determined to meet it, and our Committee have backed him up, and to-day we have a regular system which serves our scattered membership to their satisfaction, proving a great boon to the worthy matrons who appreciate the service rendered. The following sketch which appeared in the Illustrated Co-operative Almanac, 1897, incidentally illustrates this, and so we reproduce it here :—


SHOPPING AS IT USED TO BE, AND IS:
A CONTRAST.

The "gradely owd-fashioned" housewife of the old days did not go "shopping." Oh, no, she went "a-buying in," and buy in she did, and no mistake. "A-buying in" was a serious business to her, and she had her half-day set apart for it. When the day came round she would "tidy herself up a bit," put on an ample white apron, and sit down to consider the whole matter as carefully as a general might plan a campaign. Opening her purse, she would count out so much money for flour and barm, so much for tea, sugar, and butter, and so on all through the household requirements, and happy was she if at the end she had a small surplus with which she could purchase a ribbon or some little knick-knack for herself. Then she would tie a large coloured napkin on her head, put on her best shawl, and sally forth armed with a big family basket, and later on you might have seen her returning home with something like a small donkey-load of provisions.

But now-a-days all that is changed, and for the better. The modern up-to-date housewife, who has had the benefit of the Education Act, does not go "a-buying in." She goes to the Stores, and, knowing exactly what she has in her dainty purse, she just does a little mental arithmetic as she goes along, dressed almost as smart as a "sweet sixteener" off to a pic-nic. On arriving at the Stores she takes a rapid glance round, and commencing in the department where there is least crowding, she deftly works her way through her business, leaves a large order in writing with the grocery shopman, pays cash down for the lot, and picking out a few of the light showy packages, just to set out her fancy ta-ta basket, she trips off gaily homewards, leaving her heavy goods to be delivered later by the Society's van or lorry on its next round. A Co-operative Society's lorry, loaded up for one of these rounds, is a sight worth seeing in itself, suggesting how much hard labour is now being saved to our still sufficiently hard-working thrifty housewives, and affording a pleasing contrast to the drudgery so patiently endured by the matrons of the past.

In April, 1872, the time for stocktaking was changed from the first Tuesday to last Tuesday in the months of March, June, September, and December. Why this change was made does not appear in the Society's records.

On the 12th of April a special meeting of the Committee decided to dispense with the salesman, Mr. Buckley, and on the 23rd of the same month Mr. Dan Holden, our present esteemed Manager, was appointed in his place. All the elements of a crisis were at this time present in the situation. The Committee were most anxious, and they fell back in their trouble upon our old veteran, Mr. James Bottomley, who was not then on the Committee. He advised the immediate engagement of Mr. Dan Holden. Mr. Bottomley was deputed to see to this matter himself; and with characteristic promptness he went to Mr. Moses Holden, our Manager's father, who was at work in the garden at Greenfield House, and thus addressed him, "Theaw mun goa fot yore Dan bi th' furst train. We wanten him to be th' manager at eawr shop." Mr. Holden replied "Aw've noa brass on me; an' aw'm noane donned up." "Ne'er heed that, thee come into th' Press Shop an' aw'll find thee some brass, and think on theaw brings Dan wi' thee back." Nothing loth, Mr. Holden, senior, went straightway on his journey to Bradshaw, near Bolton, arriving about noon, greatly to the astonishment of his young son, newly settled as manager of the Bradshaw Society. The president and one of the committee of that Society were informed of the circumstances, and begged Mr. Dan Holden to remain with them. With his usual caution he considered the matter for some days, and visited the Secretary, Mr. Jonathan Winterbottom, and asked him if the stocks and other matters were all right. "Aye, aye, lad, as reet as a clock," was the cheery optimistic reply given by Mr. Winterbottom, and with this assurance he then decided to come back to his native village. In the last week of April, then a young man of 23 years, he entered upon his duties; and the June stocktaking was a painful surprise to him, as he then found out to his dismay that the stocks had previously been over-rated, and were generally in a most unsatisfactory state. He reminded Mr. Winterbottom of his assurance that everything was all right. "Eh, lad," he replied, "Dunnot thee bother thi yed, o th' profit there is, theaw's made it. We'rn gooin' behind afore theaw coom. We durs'nt let thee know heaw bad things wur for feeort theaw would'nt come if we did." This view of the matter somewhat reassured the young Manager, who there and then resolved to put all his energies into the work of making the Co-operative Society in his native village into a prosperous undertaking. How well he succeeded is patent to all who know anything of the Society's present position.

A glance at the June balance sheet of 1872 will show something of its unenviable position at that time. The sales for the quarter were only £2,636. 8s. 6d., the profits £118. 16s., and the dividend 1s. in the £, to make which £5. 14s. 4d. was taken from the reserve fund, leaving that fund at £54. 16s. 9d. The share capital was £3,668. 19s. 8d., and the stocks stood at £1,306. 15s. 10d., a sum out of all reasonable proportion to the Society's turnover at the time. The number of members was set down at 396, and the total assets of the Society at £3,912. 19s. 1d. The Committee's report states that the grocery department had made 7¼d.; drapery, 1s. 0¾d., and butchering 1s. 8d. in the £. In the coal department there was a loss of 6s. 5d,, and in the carting department £2. 11s. 9d. of a loss through a horse being ill. This was the condition of things which the Committee and their new Manager had to face in the summer of 1872, and it is greatly to their credit that they faced it manfully.

The fortunes of the Society now took a favourable turn. Sales began to show an upward tendency, and the dividend rose to 2s. in the £ in September, falling to 1s. 7d. in the £ in December, after which the results became more uniform. Early in July the Committee decided to reduce the stock in the drapery department by having a sale of goods lying on hand. At a general meeting held July 15th it was decided to take up 20 shares in the Uppermill Manufacturing Company, but this venture never got beyond the initiatory stages. The same meeting decided to close the Stores at 7 p.m. on Saturdays after a month's notice of the change had been given in the shops.

On July 29th there was another change in the staff, and Mr. George Haslam, of Uppermill, was appointed butcher, in succession to Mr. C. W. Bottomley. On October 7th Miss Alice Holden was appointed drapery saleswoman, under the direction of her brother, Mr. Dan Holden, and this arrangement on the whole worked well, and led to a great improvement in results. During the Society's career many resolutions have been passed from time to time tinkering with the share capital. One of them was passed at the general meeting in October this year, when it was resolved "That no member be allowed to deposit more than £40, but may run up his shares to £100 by letting his interest and dividend accumulate." The fatuity of such resolutions was only equalled by their transitory character. Experience has shown later Co-operators the wisdom of removing all such needless hindrances to their own thrift.

On November 4th, Messrs. A. Matthews, J. T. Schofield, Wm. Wood, and Jonathan Winterbottom were appointed to revise the rules. This code contains the first reference to the Society's seal, which is thus described: — "The seal shall have for a device as follows: A female figure representing 'Justice'."

On December 20th fortnightly pay days began at Greenfield Mills, and this welcome change would help the members to pay ready money for their goods.

A special general meeting, held February 11th, 1873, adopted the newly-revised code, which was signed by the Committee as follows:—

GEORGE BUTTERWORTH, President: JOHN THOMAS SCHOFIELD, JOHN SCHOFIELD, SAMUEL ROBINSON, WILLIAM WOOD, BENJAMIN BROADBENT, ABSALOM MATTHEWS, JOHN SHAW, Members: JONATHAN WINTERBOTTOM, Secretary.

The date of registration is September 25th, 1873, from which we infer that the friends must have had some trouble to get them through.

Several important steps were taken in 1873, some of which have borne good fruit, notably the establishment of a penny bank, which was resolved upon at the general meeting, held April 21st, particulars of which will be found in Chapter XI.

In July an attempt was made to start a clogging department, but the Committee were unfortunate in their choice of clogger, and by the 18th of August he was discharged, and another, together with his man, took up the position, but this department proved so unsatisfactory in its results that it was finally dropped in January, 1875.

The quarterly meeting, held July 14th, 1873, also made a change of a most important nature by appointing the Manager, Mr. Dan Holden, to take over the treasurership in succession to Mr. James Byram. This change was no doubt made to meet the convenience of members, an increasing number of whom would by this time be anxious to deal with their share money more easily than was possible under the old order of things. Mr. Holden held the dual position of Manager and Treasurer until the appointment of a permanent Secretary and Cashier in January, 1887.

On September 22nd, Mr. Samuel Bottomley entered the Society's service as assistant in the grocery department. It is pleasing to record the fact that he is now "second in command" at St. Helens Society to Mr. G. H. Winterbottom, to whom we have before referred.

The year 1874 began badly. A valuable horse died suddenly, and an outlay of £64 had to be made to replace it. But, serious as this loss was, it was met and overcome. On June 15th, Mr. John K. Lees was appointed as carter, in succession to Mr. Joseph Travis, a position which he still retains.

Mr. Joseph Bradbury entered the Society's service in September, and after doing good service with us for a time he went to Failsworth, and is now one of the branch managers of that Society.

In March, 1875, Mr. J. T. Wrigley became grocer's assistant, and soon made an efficient servant. In course of time he, too, went to Failsworth Society, and is now warehouseman at their Central Stores.

During this year the Committee turned their attention to cottage building for members. Full particulars of the Society's work in this line will be found in the Chapter on Cottage Building.

Mr. William Smith was made managing butcher in January, thus adding another to the long list of changes in this department.

The Society grew pretty fast during the next few years, and so, in January, 1877, Mr. J. R. Wood was appointed as porter, and he also assisted in the butchering department as required. In February, a patent medicine licence was obtained, and the sale of drugs was begun.

Mr. John Wrigley became assistant grocer in the August of this year, and made the Society a good servant. He left us to go to our good friends at Grasscroft, who, in due time, appointed him their manager, a position which he still retains.

In September, 1878, the Society opened a banking account with the Co-operative Wholesale Society Limited.

Early in April, 1879, Mr. Jonathan Winterbottom, the genial Secretary, who had held the office for nine years, began to be ill, and died April 29th; and on the 5th May, Mr. N. A. Booth was appointed to fill his place.

A special meeting held May 12th resolved to have a reading room for members and to build new shops for drapery and butchering departments. The following gentlemen were appointed by the members to carry out this scheme: — Mr. James Radcliffe, Mr. James Byram, Mr. David Mallalieu, Mr. Absalom Matthews, Mr. David Lawton, Mr. George Mellor, and Mr. James Bourne. This Committee met on May 15th, and appointed Mr. George Mellor, Chairman, and Mr. A. Matthews its Secretary. They engaged Mr. George Ford to prepare plans for two shops, a storeroom for grain, a reading room and a large hall on the second floor. As the shops were much needed, no time was lost in setting the contractors to work. Mr. James Bourne was appointed to inspect the building operations, and by November the erection was so far advanced that on the 30th of that month a grand opening party was held with 500 persons present. The forms, trestles, and tables were supplied by the C.W.S. furnishing department and have proved most serviceable. The mason work was done by Mr. Andrew Byram, and the joinery by Mr. Thomas Bradbury. This block of buildings, with improvements added, has cost the Society £1,246. 14s. 5d., and subsequent events have shown the wisdom of providing such accommodation for the Society's business, and the social life of the district. Up to March, 1906, over £500 had been received for use of hall, to say nothing of its use by the Society for its own purposes.

The removal of the drapery department into the new shop left the rooms it occupied free to be added to the grocery department, providing much-needed additional convenience for the growing trade. The butcher's former saleroom was restored to manager's house.

The summer of 1880 was perhaps the only time in which our Society was in any danger of overlapping with its neighbours. A few members got up an agitation for a Branch to be opened at Roaches. Some communications took place between our Committee and the Committees of Mossley and Grasscroft Societies, and at a special meeting of members held on August 9th it was finally decided not to attempt to establish a Branch at that place.

On May 17th Mr. John Edward Butterworth was appointed carter in the coal department, a new cart was obtained, and the Society began the delivery of coal to its members. Mr. Butterworth still retains his position and takes a great pride in the fine horses he has under his care, one of which took special and first prizes at a recent show.

――――♦――――


CHAPTER V.
1881-1890. -- Extensions and Improvements.

"Progress is the law of life." — Browning.

ABOUT this time frequent resolutions occur in the minutes relating to investments. Sums of £500, and occasionally £1,000, are named for investment, and the growing capital of the Society was in this way made to earn a portion of the interest paid on it to members.

On January 31st another change was made in the butchering department. Mr. William Smith was discharged, and the Committee took considerable pains to get a suitable successor. The situation was advertised in the local press, and quite a host of candidates presented themselves, out of whom four of the likeliest were chosen, and inquiries made into their antecedents, which in every case proved unsatisfactory. Fortunately, it so happened that Mr. J. R. Wood while assisting the late butcher had picked up a fair knowledge of the work, and our Mr. Holden proposed that Mr. Wood and himself should try what they could do with this troublesome department. The offer was accepted, and the arrangement turned out most satisfactory to all concerned: and Mr. Wood worked this department well till December, 1887, when he resigned to go into business in a neighbouring town on his own account. Mr. James Bottomley, junior, became assistant grocer on February 14th, and became first counterman in due course. He left the Society in October, 1894, to go into business in Oldham on his own account.

In January, 1882, the general meeting decided to close the reading room. The noisy conduct of some of the thoughtless youngsters attending it gave those who looked askance at this part of the Society's work a ready handle which they were not slow to use for the accomplishment of their purpose. Shortly afterwards this room was put to a very useful purpose, for the local Lodge of Oddfellows made it into their lodge-room, and they are still using it.

In November the drapery department had grown so much that an assistant was needed, and Miss Alice Schofield took the situation.

In January, 1883, the limit of share capital was reduced to £70, and the rules were altered accordingly. On February, 12th, Mr. W. R. Buckley resigned his position as porter to take a situation at Greenfield Mills, and Mr. T. B. Shaw took his place.

Mr. William Lees, the Chairman of the Society at that time, was appointed to represent our Society at the meetings of the Oldham District Conference by our Committee, who decided to join that body on June 11th, but fell out of touch again for a time.

It is pleasing to note that Councillor Booth, the present Chairman of our Educational Committee, began his connection with the Society as assistant in the grocery department on November 23rd, and continued in its service till October 5th, 1889, when he left to take his present position of trust at Oak View Mill, in succession to his deceased father, Mr. N. A. Booth.

Miss Alice Schofield resigned her situation in the drapery department, and Miss Alice Bradbury took her place on July 11th, 1884.

Mr. Fred Mills came into the Society's service in succession to Mr. Geo. Booth, and in due time became first counterman, which position he left to become manager of Cefn Society in July, 1903, a post he still occupies.

On October 23rd the credit system was once more under attention, and a notice was issued pressing members to pay up arrears. The same meeting discussed the check system, and a special general meeting, held November 10th, decided to adopt the book system, which is still in use; a change which was brought about largely by the efforts of Messrs. J. T. Bradbury and A. Bray, who made many careful inquiries into various systems before finally recommending the one adopted.

The new system came into operation at the close of the March quarter, 1885, when non-members' dividend was fixed at 1d. in the shilling, to be allowed at the time of purchase. Mr. William Lees and the Secretary, Mr. N. A. Booth, were appointed to act as check clerks. The April general meeting reduced the number of shares to be held by members to £50. The Society reverted back to a general dividend on all purchases in the June quarter of this year, and put an end to the trouble and cost of paying a separate dividend in the butchering department.

The members of our Society took a great interest in the Manchester Ship Canal project, and they resolved to take up 10 shares in that great undertaking at the general meeting, held October 12th.

The next step of importance was the decision of members, on February 24th, 1886, to build more cottages, the particulars of which will be found in the Chapter on Cottage Building.

Mr. N. A. Booth, the esteemed Secretary of the Society, tendered his resignation to the general meeting held January 10th, 1887, and a cordial vote of thanks was accorded to him for his faithful services for nearly eight years. This meeting decided to have a permanent Secretary and Cashier, and his appointment was left with the Committee. A special committee meeting was held to deal with this appointment on January 20th, when the choice fell upon Mr. David Lawton, who entered upon his duties on January 26th, and still holds the office.

Mr. William Lees resigned his position as President on February 7th, and Mr. J. T. Bradbury was elected to the chair on February 14th, and has retained the position up to the present time. In July of this year he will complete 22 years on the Committee, and about 19½ years as President, a record of which any man might justly be proud.

On April 11th, 15 more Manchester Ship Canal Shares were ordered to be taken up by general meeting, and the June balance sheet was re-modelled on the principles indicated by the Co-operative Union accountants in their text-books.

On December 12th Mr. J. R. Wood resigned his position as managing butcher, and Mr. G. H. Bamforth was appointed his successor.

In April, 1888, the shares allowed to be held by members were reduced to £40, an arrangement which was much resented by many members, who were loth to take back their money from the Society. Out of the £1,500 provided to pay out the surplus capital, more than £600 had to be taken back to the bank, and this large sum was left for weeks in the Society's hands, though interest on it had ceased in accordance with the changed rule.

A list of members' claims, and of loan and penny bank balances was issued on the December balance sheet of this year for the first time; this is a wise check on these accounts and is still kept up.

On May 8th, 1890, Mr. G. H. Bamforth was discharged, and on May 12th, Mr. Thomas Swan (of Oldham), was appointed in his stead.

On May 10th, the first District Conference held under the auspices of our Society took place in our hall, when the Society's Secretary read a Paper on "The Co-operative Outlook," after which there was a useful discussion, a good tea, and a long ramble by the numerous company, which proved most enjoyable.

A change in the stables and back yard had long been needful, and, in the beginning of 1890, steps were taken to acquire the land necessary for the extension from the owner, Mr. J. F. Buckley, J.P., from whom 800 yards were bought out on February 17th, at a cost of 3s. 9d. per square yard. Plans and specifications were prepared by Mr. J. T. Bradbury, which provided for a greatly improved system of drainage to our old property, good stabling for five horses (with hay store above), slaughter house and hunger room, and a cart shed and corn room for the grocery department. This scheme was carried out during the summer, and cost the Society the sum of £930. 15s. 8d., including a new heating apparatus for office and grocery shop. Mr. Ernest Whitehead and Mr. Thos. Bradbury did the mason and joinery work respectively.

This was money exceedingly well spent, as it enabled the corn and flour to be stored with the rest of the grocery goods, did away with a good deal of needless labour, and added the former corn room to the hall for tea parties, classes, &c., besides greatly adding to the efficiency of the carting and butchering equipment.

In October, more shares were taken in the Manchester Ship Canal, and also in the Co-operative Wholesale Society.

By the close of 1890 the Society's position had improved greatly, and in December 2s. 8d. in the £ was paid and the reserve fund stood at £755. 14s. 1d.

――――♦――――


CHAPTER VI.
1891-1900.—Consolidation.

"Co-operation is the combination of a number of persons, or of a community, for purposes of economic production or distribution, so as to save, for the benefit of the whole body of producers or customers, that which otherwise becomes the profit of the individual capitalist."
— A New English Dictionary, by Dr. Murray
Vol. II., Page 963.

IN February, 1891, Mr. Thos. Evans, who had been Auditor for ten years, died at Boarshurst, after a long illness, and a letter of condolence was sent to Mrs. Evans and family expressing the Committee's sympathy with them in their great loss. During July, our Mossley friends began an effort to bring Societies into closer relationship with one another and the various colliery firms, in order to break through the ring of agents whose tactics at that time were not admired by committees who had to do with coal supplies. Several conferences were held during the summer months, presided over by Mr. Thos. Shaw, the chairman of Mossley Society. Mr. David Lawton, the Secretary of our Society, was appointed to represent us on a provisional committee appointed by a number of Societies in Manchester and district to form a coal federation, for the purpose of supplying coal to Society members on wholesale terms. He was made secretary, pro tem., of this committee. A code of rules was drawn up, and arrangements were made to start the federation, when the Co-operative Wholesale Society Limited stepped in and offered to do the work contemplated by the proposed coal federation. The offer was accepted, and the information obtained was handed over to the C.W.S. officials, and the proposed coal federation was dropped.

During this year, lavatory accommodation was added to the hall for both ladies and gentlemen, and fire appliances to attach to the water mains were obtained so as to be ready in case of fire. A new apparatus for heating the office and shops was also put in.

"Darkest Greenfield" made a great effort early in 1892 to rid itself of this reproach. A committee was formed, of which our Manager, Mr. Dan Holden was chairman, and several meetings were held in our hall, but the opposition of the large ratepayers was so strong that the matter was dropped for a time. But this effort bore fruit later on.

A revision of general and building rules was decided upon by the Committee on February 29th, and a Sub-Committee was appointed to draft the proposed changes, composed of Messrs. J. T. Broadbury, A. Bray, J. E. Shaw, and Thos. Worth.

On March 7th, the Committee decided to close the Stores at 6 p.m. on Saturdays, and after due notice this welcome change came into operation on April 16th.

A special general meeting, held April 11th, adopted the revised rules, which contained a clause fixing the education grant at not less than 1 per cent of profits as a minimum to be allowed for this purpose. An amendment to omit this clause brought out the fact that the meeting was overwhelmingly in favour of making the grant; and the general and building rules were adopted as drawn by the Sub-Committee. This revision of rules led to the opening of a loan account.

On May 23rd, it was decided to get rules, and on May 25th the model rules provided by the Co-operative Union Limited for loan departments were adopted. This move was not long in bearing fruit, for by the close of the year over £500 was paid into this account, and at the end of 1905 it stood at £5,172. 1s. 9d.

The Congress of 1892 met in Whitweek, at Rochdale, the birthplace of Co-operation. Our Secretary attended as delegate, and thereby acquired a good deal of useful knowledge of the movement.

Our educational department was begun in August, and full particulars of its work will he found in the Chapter on Educational Work.

The year 1893 was a quiet one. The conveyance of the new cottages in Spring Grove Terrace to their prospective owners was, perhaps, the most notable event. In April, 1894, the question of purchasing the four-acre field near the Stores, came up for discussion. As the price — £800, fixed by the owner — was deemed too high, it was decided not to purchase. After events have shown this decision to be an unfortunate one, as the field is likely to be of value as a building site, and has a good frontage to the main road. The land question lies at the root of all social reform, and if Co-operation is to accomplish its beneficent mission, Co-operators everywhere will have to make it a part of their policy to acquire land whenever circumstances enable them to do so with any reasonable prospect of doing it on profitable lines.

The District Conference Association again paid a visit to Greenfield, and met in our hall on May 5th. The local Society's Secretary, Mr. D. Lawton, by invitation again read a paper in which he dealt some straight blows at some of the tendencies of Societies to fall below the Co-operative ideal of being able to cover all the ordinary requirements of healthy and vigorous life. He strongly condemned the common practice of returning share capital to members, and urged Committees to make their respective Societies into useful banks for their members, and so prevent them from becoming the easy victims of the financial sharks, who are ever ready to prey upon the unwary. He also advocated the investment of Society's surplus capital with local and municipal bodies, and pleaded for more unity in action for the common good. A most useful discussion followed, taken part in by leading Co-operators of the district. Councillor T. E. Moorhouse, C.W.S. Director, opened the debate with a racy speech, in which he supported some of the views put forward in the paper. Mr. J. T. Taylor, of Oldham, criticised some of the writer's views, but did not overthrow his arguments. Mr. Frank Hardern, J.P., followed, and handled Mr. Taylor pretty roughly, and advocated more attention being paid to Co-operative production. Mr. Thos. Shaw, chairman of the Manchester district, advocated strongly an immediate advance in Co-operative production on Federal lines. Mr. Fred Houghton, J.P., Mr. Thos. Worth, and Mr. Bamforth, of the Co-operative Insurance, continued the discussion, after which a splendid tea was served by the ladies. In the evening a numerous company, under the leadership of our Manager, Mr. Dan Holden, went for a ramble to Ashway Gap, and assembled on the top of the tower to sing the well-known hymn, "Come let us join our cheerful songs." Mr. F. Hardern, J.P., spoke in high terms of the wild grandeur of the scenery by which they were surrounded, and voiced the thanks of the friends to Mr. Abel Buckley, JP., for permission to visit this lovely place. Greenfield Waterworks being close by were next visited, after which the friends dispersed, highly pleased with their afternoon's work.

In May our Society was admitted to membership in the Co-operative Insurance Society Limited, and afterwards took up 200 shares.

On the retirement of Mr. James Bottomley, Mr. Fred Mills was made first counter-man, and Mr. Frank Lees was engaged as assistant in the grocery department on October 2nd. Early in 1895 £2,000 was paid into Saddleworth District Council as a loan, to be repaid in 33 years by half-yearly instalments. The interest was fixed at 3¼ per cent, and the advance secured by a duly-executed mortgage.

In February, Miss Alice Bradbury resigned her situation as assistant in the drapery department.

The Committee, at their meeting on March 18th, placed on record their sense of the loss our movement had sustained by the death of Mr. J. T. W. Mitchell, the chairman of the C.W.S., on the 16th inst., at Rochdale.

During March a movement sprang up in the district in favour of having a bridge over the Chew at Andrew Mill. From time immemorial it was known there had been a ford at this point, which was impassable in bad weather, and as the footway was much used by our members the Committee signed a petition in favour of a footbridge being erected at this point, to make the road available in all weathers.

C.W.S. tailoring was the next move made by the Committee, who decided on April 1st to arrange for a tailor to come weekly, or oftener if needed, to take measures and receive orders for men's and boys' clothing. This move has turned out well, and has resulted in a fair amount of business.

The 1895 Congress was held at Huddersfield, and our Society deputed Mr. John Hill to attend the meetings of the reception committee, and Mr. Solomon Priestley was appointed delegate and attended the sittings.

At the May Conference of the Oldham district, at Grasscroft, the Secretary of Greenfield Society was appointed a member of the District Executive, in succession to Councillor T. E. Moorhouse, whose time was now fully occupied by C.W.S. business.

The question of public lighting again came before the ratepayers of Greenfield district, and a meeting was held in the Society's Hall on September 4th, when a strong committee, composed of gentlemen of both political parties, was formed, to which Mr. David Lawton was appointed chairman and Mr. Ben Dransfield secretary. This committee did not meet with the same weight of opposition as the one appointed in 1892, and as a result of their labours the Lighting Act was adopted on January 6th, 1896. The late Mr. J. F. Tanner was first chairman appointed under the Act, and this gentleman took a great interest in the work. No time was lost in getting the lamps erected where most needed, and in due time Greenfield became as well lighted as any other part of Saddleworth district.

In March, 1896, it was decided to put an end to the anomalous practice of obtaining clothing from private firms. The arrangements made with the C.W.S. woollens department proved that this business could be done quite as well Co-operatively as ever it had been done through private firms. A circular was issued to the members pointing out that trading on the old lines meant a loss of 2s. 10d. in the £ under the circumstances of the time, and they fell in without demur with the Committee's wishes.

The question of reducing the rate of interest on share capital was freely discussed by members in the spring of 1896, and on March 30th the Committee decided to recommend that the rate should be altered from five per cent to four and one sixth per cent to a special general meeting, to be held April 13th. When this meeting took place considerable discussion ensued, and some feeling was evoked, but at length the Committee's proposition was accepted, and the requisite alteration of Rule 17 was agreed to. The ordinary general meeting, held on the same date, voted £5 towards the erection of Andrew Mill Bridge, in response to a letter appealing for subscriptions from the Highways Committee of the District Council. In this, and in many other ways, our Society has shown its willingness to contribute its quota towards any movement for the well-being of our district, thus recognising that the possession of wealth carries with it corresponding responsibilities to the community at large.

In May the Committee decided to enlarge the office and boardroom by removing a partition and annexing a spare room adjoining the old office, thus doubling the accommodation; and in August a piano was bought and placed in our large hall for concerts and parties.

The July general meeting decided to write down several investments, and to take £400 off the Spring Grove cottages, appropriating in this way the sum of £997. 14s. 4d. from the reserve, which had then reached over £1,000.

The first number of the "Wheatsheaf" was published by the C.W.S. in July, and our Society at once began its free distribution, gladly recognising its value as an educational agency. The Secretary was appointed to take charge of the local matter. Since then articles and sketches relating to the Society's business, and questions concerning the welfare and advancement of the movement generally, have appeared in its pages, thus enabling our members to keep themselves informed as to the progress of our work.

The purchase of the field near our Stores again occupied the Committee's attention in October, who laid it before the general meeting held October 12th, when a statement was given as to how it could be utilized. The price quoted had now advanced to £1,000. It was decided to adjourn the matter to a special meeting 14 days later, when the members declined to purchase the plot at the price named.

A gas engine was put down in November to drive the fruit-cleaning, coffee-grinding, and hay-chopping machinery, and a little later on a new fire and burglar proof safe, specially constructed by Messrs. Chatwood, was placed in the office.

Public sympathy was aroused early in 1897 by the Indian famine, and on February 15th, in response to the appeal made by the District Council, the Committee voted £10 to the local fund for the relief of our suffering fellow subjects in India.

A week's holiday yearly was granted to all the Society's employees by the general meeting held April 12th, 1897, but this welcome boon did not come into full operation till the summer of 1903, when a re-arrangement of staff took place which rendered it practicable.

June 21st saw another change in the butchering department, Mr. Thos. Swan being dismissed, and on the 28th Mr. Geo. Hy. Battye, of Delph, the present managing butcher, was selected out of a large number of applicants to fill the position.

During the summer of 1897 yet another extension of the grocery department was made by the addition of increased cellaring, a new making-up room, a goods receiving and dispatch room, &c., all of which were greatly needed. The work was done by Mr. Ernest Whitehead and Mr. Thomas Bradbury, contractors, and when completed allowed of a better arrangement of counters, increased room for customers, and a more orderly arrangement of goods in stock. Altogether the outlay amounted to £281. 15s. 3d., — a great improvement effected at a moderate cost.

Brookfield Terrace was purchased from the representatives of the late Mr. Jonathan Hirst on August 20th, and is now held by the society.

The subject of Parliamentary Representation was brought before the April general meeting in 1898, and the principle approved of. The same meeting voted £2. 2s. towards a fund for providing a piano for Saddleworth Workhouse.

On May 14th the Oldham District Conference was held on our premises, and Mr. J. T. Taylor, the present chairman of the district, read a paper entitled "Looking Backward." The Rev. Edwin Powell, M.A., presided, and in his opening address expressed his sympathy with the aims and work of the Co-operative Movement. Mr. Taylor in his incisive way dealt with the craze for high dividends, and urged upon the Conference to have more regard for the first principles of Co-operation, which were above mere questions of expediency. A very interesting discussion followed taken part in by Messrs. D. Holden, P. Schofield, W. Hilton, W. Jenkins, and several others. When tea was over a ramble up Pots and Pans and over the craggy crown of Alderman brought this pleasant function to an agreeable close.

The Committee decided to close the Stores on Saturdays at 5 p.m., on June 19th, 1899, and this time of closing is still adhered to.

Early in 1900 an appeal was made by the District Council for a War Fund, from which relief could be given to the families of soldiers on duty in South Africa. The annual meeting in January voted £10 to this fund.

Mr. T. B. Shaw, our porter, retired through ill-health in April, and on the 26th of that month Messrs. S. Butterworth and C. H. Dransfield were added to the staff, and are still with us.

The general meeting held April 9th voted £10 to the Indian Famine Fund, thus for the second time proving the readiness of our members to assist their less-fortunate fellow subjects in India.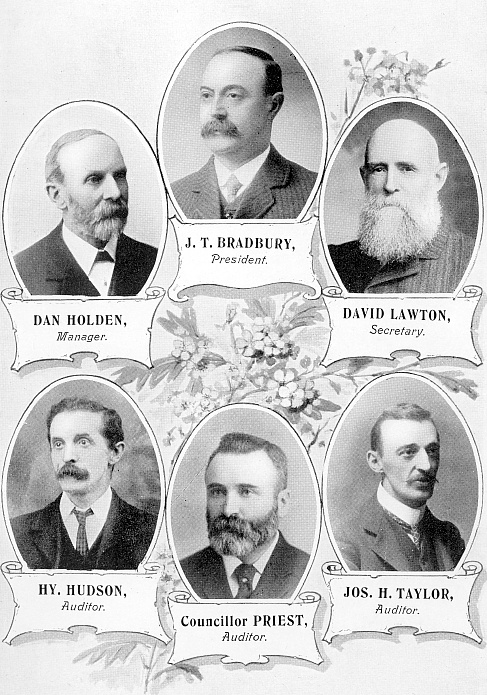 ――――♦――――


[Next Page]