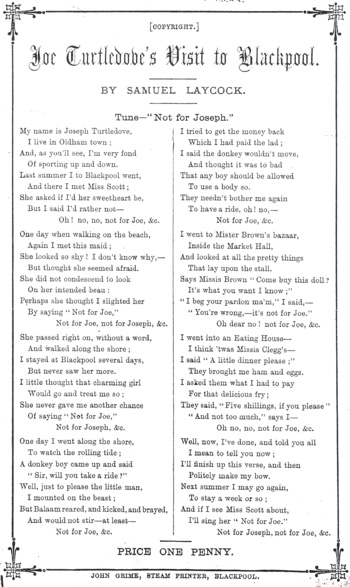 A Laycock poem published as a broadsheet.
Courtesy of Blackpool Central Library.
The "Cotton Famine" (1861-64) caused massive unemployment, particularly in the areas of Ashton-under-Lyne, Stalybridge and Dunkinfield, three towns whose industry was almost entirely dependent on cotton. By November 1862, over 40% of the population of the Ashton Poor Law Union (which included Stalybridge) were receiving relief.

Samuel Laycock was one of the many cotton workers laid off by the famine. In common with others of the unemployed, he turned to schemes to make extra money. He found there was a market for his poems, which he published as "Lancashire Lyrics" in broadsheet form (i.e. single sheets at a penny a time). They proved popular and many thousands were sold, some also being set to music.

Laycock's poems provide a valuable record of working-class life in the Lancashire cotton towns during the second half of the 19th century. They illustrate the domestic problems and misery caused by hard times and express an attitude that probably prevailed among the respectable working-class of that age, that men should find an honourable way of standing up to their hardships and not be reduced to complaining about their suffering.

As is evident from the following titles, Laycock continued to publish broadsheet poems for the remainder of his life. This collection of broadsheets, which are reproduced by courtesy of Tameside Local History and Archives, and Blackpool Central Library, relate mainly to Laycock's later years spent in the seaside resort of Blackpool on the Lancashire ("Fylde") coast. Of this group of poems, several advertise the joys to be had at Blackpool while others address more serious matters, such as the distress caused by strong drink and the need for 'temperance.' Laycock's politics were staunchly Liberal—although had he lived into the 20th Century he might well have supported the Labour Party—and he records a couple of delightful set-to's with the Tory opposition, the "Primrose Dames" in particular (Gerald Massey entertained a similar abhorrence—see his Primrose Dame). Laycock's strongly-held low church Christian beliefs are plainly evident in much of his writing.
――――♦――――

(Glossary of Lancashire dialect)