LITTELL'S

LIVING AGE

VOL. III.

FROM 3 NOVEMBER TO 28 DECEMBER 1844.

PASSAGES IN THE LIFE OF A RADICAL.

From the Quarterly Review.

Passages in the Life of a Radical.—By SAMUEL BAMFORD. Third Edition. Printed for the Author. 2 vols. 12mo. Heywood. 1843.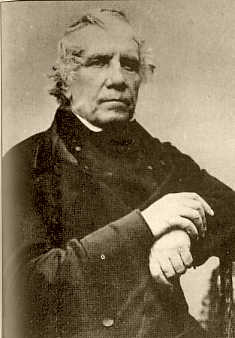 Samuel Bamford, c.a. 1860
Mr. SAMUEL BAMFORD—bred, it seems, among the Methodists, and for a short time in very early life a sailor—was one of those Lancashire weavers whom the eloquence of Cobbett and the impudence of Hunt seduced into premature radicalism shortly after the close of our protracted warfare against revolutionary France. He was twenty-nine years of age when his name began to attract notice among the patriotic clubs of his district; but had he been only nineteen we should be at a loss to account for a gross misstatement with which he opens his narrative. He alleges that all was quiet among the northern operatives until the corn laws were altered in 1815. Is it possible that he can have forgotten the whole series of tumults and trials—and alas! executions—that occurred in the manufacturing districts between 1810 and 1815? He is a poet—has he forgotten what was the subject of Lord Byron's maiden speech in the house of peers? Has he forgotten the memorable "Rejected Addresses" of that same year—"one thousand eight hundred and twelve"—
"What made the baker's loaf and Luddites rise,
And filled the butchers' shops with large blue flies?"
But if Mr. Bamford had used a very little reflection, he must have perceived the inconsistency between his own statement of the cause of the turmoil, and his own enumeration of its leaders? Were Hunt and Cobbett first heard of at the time of the Liverpool corn bill? Is it not notorious to all the world that these persons had been indefatigable in the excitement of political disaffection for many years before the downfall of Bonaparte? —that they had acquired, long before there was any thought of a new corn bill, that influence over multitudes of their fellow-citizens which happened to pull Bamford into its vortex when the corn bill was the favourite cry, but which would have been the same, except as to some of its pretences and symbols, although the war had proceeded, and the corn laws remained as they were in the days of Tilsit?

But we are not about to enter on a controversy, either historical or political, with Mr. Bamford. On all the questions connected with the years 1816—1820, which he treats of, or alludes to, this Journal long ago expressed opinions from which we have never seen the least reason to depart. We have the fortune, or misfortune, to hold that the maintenance of the agriculture of this country is the very first duty of the government and the legislature; and among all the dangers which we foresaw from "parliamentary reform," not one appeared to us at the time, or appears now, more serious than the increase of strength which such a change in the constitution must give to the domestic enemies of our primary domestic industry—that which is the basis and safeguard of all the rest. On the last of these great questions Mr. Bamford thought, and thinks diametrically otherwise. As to parliamentary reform, his opinions seem to have undergone a considerable change since 1820. He is still, indeed, a reformer, and would fain be a sweeping one; but the lessons of experience have not been entirely thrown away upon a man of great natural shrewdness, and many upright and amiable feelings. Whatever Mr. Bamford's theoretical notions of political perfection may be, he has had motives and means for watching sedulously the doings of his own time, and arrived at the conviction that no real good can ever be achieved through such men and such arts as he has seen prominently connected, in every successive stage hitherto, with the political disturbances of England. We shall quote by-and-by some striking passages on this head; but our principal object is to make our readers acquainted with his personal history in its stormier season, and especially with some of his very clever sketches of the reformers of the regency period, and of the modes of life in the districts which they agitated and perverted, to the ruin of many well-meaning people, and to the ultimate benefit, not even of themselves—not even of one among them.

Mr. Bamford, writing apparently from scanty notes after the lapse of two-and-twenty years, is not very bountiful of dates: but we gather that, having earned some distinction in his own town of Middleton, near Manchester, as a writer of anti-bread-tax songs and a speaker at a branch "Hampden club," held in a Methodist meeting-house, he was one of the Lancashire delegates sent to London about the opening of the session 1815—16, to watch over the fate of a petition for radical reform and universal suffrage about to be presented to the house of commons.

At an evening assemblage in the Crown and Anchor, Mr. Bamford first saw some of the metropolitan lights—especially Mr. Cobbett, to whose "Register" he had owed his earliest enthusiasm for reform — and Mr. Henry Hunt, orator, whom at this time he revered, and whom in the sequel he understood.
"This was an event in my life. Of Mr. Hunt I had imbibed a high opinion; and his first appearance did not diminish my expectations. He was gentlemanly in his manner and attire; six feet and better in height, and extremely well formed. He was dressed in a blue lapelled coat, light waistcoat and kerseys, and topped boots; his leg and foot were about the firmest and neatest I ever saw. He wore his own hair; it was in moderate quantity, and a little gray. His features were regular, and there was a kind of youthful blandness about them which. in amicable discussion, gave his face a most agreeable expression. His lips were delicately thin, and receding; but there was a dumb utterance about them which, in all the portraits I have seen of him, was never truly copied. His eyes were blue or light gray—not very clear, nor quick, but rather heavy: except, as I afterwards had opportunities for observing, when he was excited in speaking; at which times they seemed to distend and protrude; and, if he worked himself furious, as he sometimes would, they became blood-streaked, and almost started from their sockets. Then it was that the expression of his lips was to be observed—the kind smile was exchanged for the curl of scorn, or the curse of indignation. His voice was bellowing; his face swollen and flushed; his griped hand beat as if it were to pulverize; and his whole manner gave token of a painful energy, struggling for utterance.

"Thomas Cleary, the secretary to the Hampden Club, was also in the room; he was perhaps twenty-five or twenty-six years of age, about middle stature, slightly formed, and had a warmth and alacrity in his manner, which created at once respect and confidence. He was, and I have no doubt is yet, if he be living, worthy of, and enjoying, the esteem of all who know him. Hunt ferociously traduced his character at a subsequent election for Westminster; but the shame recoiled on the calumniator.

"Cobbett I had not seen before. Had I met him anywhere, save in that room and on that occasion, I should have taken him for a gentleman farming his own broad estate. He seemed to have that kind of self-possession and ease about him, together with a certain bantering jollity, which are so natural to fast-handed and well-housed lords of the soil. He was, I should suppose, not less than six feet in height; portly, with a fresh, clear and round cheek, and a small gray eye, twinkling with good-humored archness. He was dressed in a blue coat, yellow swansdown waistcoat, drab kersey small-clothes, and top-boots. His hair was gray, and his cravat and linen were fine and very white. In short, he was the perfect representation of what he always wished to be—an English gentleman-farmer."—vol. i., p. 18.
We never studied Mr. Hunt's "gentlemanly manner and attire" so attentively as Mr. Bamford seems to have done. We remember that he had one of the most melodious as well as most powerful voices we ever heard, and that the house of commons, when he entered it, listened with wonder and merriment to the then unusual vulgarity of his tones and phrases. He looked and spoke like a butcher of the prize ring. The picture of Cobbett is very good.

We have no desire to dwell on some dark passages in the early life of the noble and gallant person to whom we are next introduced. It must be sufficiently in the recollection of most readers that, some few years before this time, Lord Cochrane was expelled from the house of commons, in consequence of his having been tried and found guilty on a charge of conspiracy to defraud the stock exchange; on which unhappy occasion, he was also struck off the navy list, and degraded from the Order of the Bath. These circumstances naturally endeared and exalted him in the eyes of the Westminster electors; and he was now again in parliament, foremost of the aristocratical "friends of the people," and delighted to be the organ of the Manchester and Middleton constitution-menders.
"On the day when parliament was opened, a number of the delegates met Hunt at the Golden Cross, Charing Cross; and from thence, went with him, in procession, to the residence of Lord Cochrane, in Palace Yard. * * * There had been some tumult in the morning; the prince regent had been insulted on his way to the house, and this part of the town was still in a degree of excitement. We were crowded around and accompanied by a great multitude, which, at intervals, rent the air with shouts. Now it was that I beheld Hunt in his element. He unrolled the petition, which was many yards in length, and it was carried on the heads of the crowd, perfectly unharmed. He seemed to know almost every man of them; and his confidence in, and entire mastery over them, made him quite at ease. A louder huzza than common, was music to him; and when the questions were asked eagerly, 'Who is he?' 'What are they about?' and the reply was, 'Hunt! Hunt! huzza!' his gratification was expressed by a stern smile. He might be likened to the genius of commotion, calling forth its elements, and controlling them at will. On arriving at Palace Yard, we were shown into a room below stairs, and whilst Lord Cochrane and Hunt conversed above, a slight and elegant young lady, dressed in white, and very interesting, served us with wine. She is, if I am not misinformed, now Lady Dundonald. At length, his lordship came to us. He was a tall young man, cordial and unaffected in his manner. He stooped a little, and had somewhat of a sailor's gait in walking; his face was rather oval—fair naturally, but now tanned and sun-freckled; the expression calm and self-possessed. He took charge of our petitions, and, being seated in an arm-chair, we lifted him up, and bore him, on our shoulders, across Palace Yard, to the door of Westminster Hall the old rafters of which rung with the shouts of the vast multitude outside."— vol. i., pp. 19, 20.
Before the debate, Mr. Bamford and his colleagues paid a visit to the late Sir F. Burdett, who, even thus early, seems to have shown some symptoms of coldness and suspicion.
"A number of us went, one morning, to visit Sir Francis at his house in Park place. The outside was but of ordinary appearance, and the inside was not much better, so far as we were admitted. To me it seemed like a cold, gloomy, barely furnished house; which I accounted for by supposing that it was perhaps the style of all great mansions. We were shown into a large room, the only remarkable thing in which was a bust of John Horne Tooke. Sir Francis came to us in a loose gray vest coat, which reached far towards his ankles. He had not a cravat on his neck; his feet were in slippers; and a pair of wide cotton stockings hung in wrinkles on his long spare legs, which he kept alternately throwing across his knees, and rubbing down with his hands, as if he suffered, or recently had, some pain in those limbs. He was a fine-looking man on the whole, of lofty stature, with a proud but not forbidding carriage of the head. His manner was dignified and civilly familiar; submitting to, rather than seeking, conversation with men of our class. He, however, discussed with us some points of the intended bill of reform, candidly and freely; and concluded with promising to support universal suffrage, though he was not sanguine of much cooperation in the house. Under these circumstances, we left Sir Francis, approving of much that we found in and about him, and excusing much of what we could not approve. He was one of our idols, and we were loath to give him up.

Still I could not help my thoughts from reverting to the simple and homely welcome we received at Lord Cochrane's, and contrasting it with the kind of dreary stateliness of this great mansion and its rich owner. At the former place, we had a brief refection bestowed with a grace which captivated our respect; and no health was ever drunk with more sincere good-will than was Lord Coebrane's; the little dark-haired and bright-eyed lady seemed to know it, and to be delighted that it was so. But here, scarcely a servant appeared, and nothing in the shape of refreshment was seen."—-vol. i., pp. 21, 22.
We have no doubt this is a fair sketch of Mr. Bamford's impressions. Sir Francis was the representative of one of the very highest families in England—far nobler than nine tenths of the peerage—with education, accomplishments, manners, tastes, and personal habits in all respects suitable to his station, and with natural talents which would have made him a distinguished man in any condition of life. His family had been Jacobites—certain democratical theories, which Bolingbroke started in the bitterness of his baffled self-seeking, had left their traces—and the accident of personal intercourse with so captivating a companion as Horne Tooke was likely enough to work on the feelings of a very young gentleman thus hereditarily indisposed to the existing government. He took up the theory of parliamentary reform, and during a long course of years did and suffered more for what he believed to be the cause of the people than any other contemporary of any class whatever; but by the people he understood the nation: and, accordingly, so soon as events developed the truth that the so-called cause of the people was only the cause of envy, hypocrisy and injustice, he acted in a manner worthy of his name and his courage, and dignified his old age by earning the deepest resentment of those who would fain have had him for their tool, in mischief, and their accomplice in plunder. His political life well deserves to be recorded in detail: it would be a most interesting and instructive history.

We proceed to the debate in the house of commons:—
"I well recollect, though I cannot describe, all the conflicting emotions which arose within me as I approached that assembly, with the certainty of now seeing arid hearing those whom I considered to be the authors of my country's wrongs. Curiosity certainly held its share of my feelings; but a strong dislike to the 'boroughmonger crew' and their measures held a far larger share. After a tough struggle at elbowing and pushing along a passage, up a narrow staircase, and across a room, I found myself in a small gallery, from whence I looked on a dimly lighted place below. At the head of the room, or rather den, for such it appeared to me, sat a person in a full loose robe of, I think, scarlet and white. Above his head were the royal arms richly gilded; at his feet several men in robes and wigs were writing at a large table, on which lamps were burning, which cast a softened light on a rich ornament like a ponderous sceptre of silver and gold, or what appeared to be so. Those persons I knew must be the speaker and the clerks of the house; and that rich ornament could be nothing else than the 'mace'—that same thing, or one in its place, to which Cromwell pointed and said, 'Take away that bauble; for shame—give way to honester men.' On each side of this pit-looking place, leaving an open space in the centre of the floor, 'were benches one above another; and on these benches sat some three or four hundreds of the most ordinary-looking men I had ever beheld at one view. Some were striking exceptions; several young fellows in military dresses gave relief to the sombre drapery of the others. Canning, with his smooth, bare, and capacious forehead, sat there, a spirit beaming in his looks like that of the leopard waiting to spring upon its prey. Castlereagh, with his handsome but immovable features—-Burdett, with his head carried back, and held high as in defiance—and Brougham, with his Arab soul ready to rush forth and challenge war to all comers. The question was to me solemnly interesting, whilst the spectacle wrought strangely on my feelings. Our accusers were many and powerful, with words at will, and applauding listeners. Our friends were few and far between; with no applauders save their good, conscience , and the blessing of the poor. What a scene was this to be enacted by the 'collective wisdom of the nation!' Some of the members stood leaning again pillars, with their hats cocked awry; some were whispering by half dozens; others were lolling upon their seats; some, with arms a-kimbo, were eye-glassing across the house; some were stiffened immovably by starch, or pride, or both; one was speaking, or appeared to be so, by the motion of his arms, which he shook in token of defiance, when his voice was drowned by a howl as wild and remorseless as that from a kennel of hounds at feeding time. Now he points, menacing, to the ministerial benches—now he appeals to some members on his side—then to the speaker: all in vain. At times he is heard in the pauses of that wild hubbub, but again he is borne down by the yell which awakes on all sides around him. Some talked aloud; some whinnied in mock laughter, coming, like that of the damned, from bitter hearts. Some called 'order, order,' some 'question, question;' some beat time with the heel of their boots; some snorted into their napkins; and one old gentleman in the side gallery actually coughed himself from a mock cough into a real one, and could not stop until he was almost black in the face.

"And are these, thought I, the beings whose laws we must obey? This the 'most illustrious assembly of freemen in the world?' Perish freedom then, and her children too. O! for the stamp of stern old Oliver on this floor; and the clank of his scabbard, and the rush of his iron-armed band, and his voice to arise above this Babel howl—'Take away that bauble'—'Begone; give place to honester men.'

"Such was icy first view of the house of commons; and such the impressions strongly forced on icy feelings at the time. The speaker alluded to was Henry Brougham. I heard at first very little of what he said; but I understood from occasional words, and the remarks of some whom I took for reporters, that he was violently attacking the ministers and their whole home policy. That he was so doing, might have been inferred from the great exertions of the ministerial party to render him inaudible, and to subdue his spirit by a bewildering and contemptuous disapprobation. But they had before them a wrong one for being silenced, either by confusion or menace. Like a brave stag, he held them at bay, and even hurled back their defiance with 'retorted scorn.' In some time his words became more audible; presently there was comparative silence, and I soon understood that he had let go the ministry, and now unaccountably, as it seemed to me, had made a dead set at the reformers. Oh! how he did scowl towards us—contemn and disparage our best actions, and wound our dearest feelings! Now stealing near our hearts with words of wonderful power, flashing with bright wit and happy thought; anon like a reckless wizard changing pleasant sunbeams into clouds, 'rough with black winds and storms,' and vivid with the cruellest shafts. Then was he listened to as if not a pulse moved—then was he applauded to the very welkin. And he stood in the pride of his power, his foes before him subdued but spared—his friends, derided, and disclaimed—and his former principles sacrificed to 'low ambition,' and the vanity of such a display as this.

"I would have here essayed somewhat with respect to Canning, and the character and effects of his eloquence; but little appertaining to him remained on my mind. Every feeling was absorbed by the contemplation of that man whom I now considered to be the most perfidious of his race. I turned from the spectacle with disgust, and sought my lodgings in a kind of stupor; almost believing that I had escaped from a monstrous dream.

"Such was my first view of Henry Brougham; and such the impressions I imbibed, and long entertained, of that extraordinary man. He sinned then, and has often done so since, against the best interests of his country; bowing to his own image, and sacrificing reason and principle to caprice or offended self-love. But has he not done much for mercy, and for the enlightenment of his kind? See the African dancing above his chains! Behold the mild but irresistible light which education is diffusing over the land! These are indeed blessings beyond all price—rays of unfading glory.—They are Lord Brougham's; and will illumine his tomb when his errors and imperfections are forgotten."—vol. i., pp. 25—29.
Shortly after this visit to London, Mr. Bamford was, it appears, the principal speaker at "the first out-of-door meeting that was held at Rochdale." On this occasion, besides "refreshments at the Rose," he was paid four shillings for his exertions; but he says it was the first and only time that he ever accepted money for performing at a reform meeting. He adds—
"I considered it a mean thing, though the practice was coming much into use, and several of my friends without any scruple continued to do so until 'their occupation' was gone! It was a bad practice, however, and gave rise to a set of orators 'who made a trade of speechifying;—and the race has not become extinct. These persons began to seek engagements of the kin; some would even thrust themselves upon public meetings, and then present themselves to the committees for remuneration, and generally received it. He who produced the greatest excitement, the loudest cheering, and the most violent clappings, was the best orator, and was sure to be engaged and well paid; and in order to produce those manifestations, the wildest and most extravagant rhodomontade would too often suffice. Such speakers quickly got a name; the calls on them were frequent; and they left their work or their business, for a more profitable and flattering employment; tramping from place to place, hawking their new fangles, and guzzling, fattening, and replenishing themselves, at the expense of the simple and credulous multitudes. Steadiness of conduct, and consistency of principle, were soon placed, as it were, at a distance from us. Our unity of action was relaxed new speakers sprung like mushrooms about our feet; plans were broached, quite different from any that had been recognized by the Hampden clubs; and the people, at a loss to distinguish friends from enemies, were soon prepared for the operations of informers, who, in the natural career of their business, became also promoters of secret plots and criminal measures of various descriptions. The good and fatherly maxim of the worthy old Major, [Cartwright,] 'Hold fast by the laws,' was by many lost sight of.

"How far the moral of these facts is applicable to the present day, will be judged by an observant public, and may perhaps not be deemed ill-timed by some of the more intelligent of those who have been found amongst the persons styled Chartists" —vol. i., pp. 35, 36.
Mr. Bamford wisely kept away from a meeting in the same month, (March, 1816,) which, in its day, was famous as "the blanketeer meeting;" some 300 or 400 weavers attended, each with a blanket strapped on his shoulders, and a stout stick in his hand, resolved to march upon London, there, as one of them expressed it to our author, "to tak the nation on hand, and sattle o' the debt." These disciples of Cobbett's sponge-doctrine were dispersed by the magistracy—about 150, drawing together again, made out one day's march—and then the whole affair fell to pieces—for they had no money, and no inn-keepers would trust them for bread and beer. The discomfiture was fiercely resented; and Bamford was, a few days afterwards, invited to partake in the scheme of retaliating on the magistrates and their constables by "making a Moscow of Manchester." He had less confidence in the "sagacity and integrity" of "the Manchester committee," in consequence of the blanket failure—and consulted his then closest associate, Joseph Healey, commonly called Dr. Healey—a medical practitioner who makes a great figure in subsequent transactions. Finally, the doctor and Bamford told the messenger that this was a serious business—they could not think of engaging in it unless they saw evidence that Major Cartwright approved; but that their secrecy might be depended on. They awaited the issue in awful trepidation; and in the evening preceding what they understood to be the destined night of terror, judged it prudent to remove to a village somewhat farther from Manchester, where the two friends took up their quarters in the garret of a "tried female reformer:"—
"We retired to rest and lay talking this strange matter over until sleep overtook us. I was first to awake, and seeing a brightness behind the curtain, I stepped to the window, and sure enough beheld in the southern sky a stream of light which I thought must he that of a distant fire. It was a fine crisped morning, and as I looked, a piece of a moon came wandering to the west from behind some masses of cloud. Now she would he entirely obscured; then, streaks of her pale beams would be seen breaking on the edges of the vapours; then a broader gleam would come; then again it would be pale and receding; but the clouds were so connected that the fair traveller had seldom a space for showing her unveiled horn. I saw how it was; my conflagration had dwindled to a moonbeam, and as I stood with the frost tingling at my toes, 'an unlucky thought' (as we say, when exusing our own sins we impute them to a much abused sable personage) came into my head, to have a small joke at the doctor's expense; and as it was a mode of amusement to which I must confess I was rather prone, I immediately began to carry it into effect. I gave a loud cough or two; the doctor thereupon grunted and turned over in bed; when, in the very break of his sleep, I said aloud, as I crept beneath the bed-clothes, 'There 's a fine leet i' the welkin, as th' witch o' Brandwood sed when the devil wur ridin' o'er Rossenda.' 'Leet!'—said the doctor; 'a fine leet!—weer? weer?' 'Why go to th' windo' and look.' That instant my sanguine friend was out of bed and at the window, his head stuck behind the curtain. 'There 's a great leet,' he said, 'tor'd Manchester.' 'There is, indeed,' I replied, 'it's mitch but weary wark is gooin on omung yon foke.' 'It's awful,' said the doctor; 'thei'r agate as sure as wee'r heer.' 'I think there 's summut up,' I said. I was now snugly rolled in the clothes, and perceived at the same time that the doctor was getting into a kind of dancing shiver, and my object being to keep him in his shirt till he was cooled and undeceived, and consequently a little sprung in temper, I asked, 'dun yo really think then ot' th' teawn 's o' foyer! 'Foyer '—he replied; 'there 's no deawt on't.' 'Con yo see th' flames, doctor?' 'Nowe, I conno' see th' flames, but I con see the leet ot comes fro' em.' 'That 's awful,' I ejaculated. 'Aye, it's awful,' he said; 'come an' see for yorsel.' 'Nowe, I 'd reyther not,' I answered; 'I dunno like sich seets; it 's lucky ot wee'r heer—they conno' say at wee'n had owt to do wi' it, at ony rate—con they, doctor?' 'Nowe' he said, 'they conno.' 'It keeps changing,' he said. 'Con yo yer owt? I asked. 'Nowe, I conno yer nowt,' he said. I however heard his teeth hacking in his head, and stuffed the sheet into my mouth to prevent my laughter from being noticed. 'Ar yo' sure, doctor?' I asked. No reply. 'Is it blazin up?' I said. 'Blazin be hanged!' was the answer. 'Wot dun yo myen, doctor—is it gwon eawt then? 'Gullook!' he said, 'it 's nobbut th' moon, an' yo known it o' th' while.' A loud burst of laughter followed, which I enjoyed till the bed shook."
This "night attack on Manchester" had "failed for want of arrangement and cooperation," (p. 45)—but the plan was not laid aside; and we are sorry to observe that Mr. Bamford appears to have been well aware of the devices resorted to with a view to its ultimate success. The habeas corpus act had been suspended, and thereupon the keeper of the chapel, in which the Middleton patriots had hitherto held their meetings, refused any longer to accommodate them. The work, therefore, must be carried on in a different manner, and Mr. Bamford states that various so-called "benefit societies," "botanical societies," and so forth, were organized, the "real purpose" of all which, "revealed only to the initiated," was "to carry into effect" the conflagration of Manchester. How far he himself entered into the plan, he leaves in obscuro—hut that he continued in the confidence of "the committee" is too evident; nor do we find one phrase distinctly implying that he at the time regarded their "real purpose" as in itself blameworthy. Nor can we sufficiently express our wonder that so clever a man should not have perceived how fatally, by these revelations of the "real purpose of the Manchester committee," he was undermining the whole structure of his own subsequent narrative, throughout which he maintains, nay, assumes, that all the restrictive legislation and official strictness of the period constituted an unprovoked and unjustifiable series of aggressions upon the lawful liberty of the British subject—more especially of the enlightened population of the manufacturing districts.
"A cloud of gloom and mistrust hung over the whole country. The suspension of the habeas corpus act was a measure the result of which we young reformers could not judge, save by report, and that was of a nature to cause anxiety in the most indifferent of us. The proscriptions, imprisonments, trials, and banishments of 1792 were brought to our recollections by the similarity of our situation to those of the sufferers of that period. It seemed as if the sun of freedom were gone down, and a rayless expanse of oppression had finally closed over us. Cobbett, in terror of imprisonment, had fled to America."—vol. i.,p. 44.
and Mr. Bamford and Dr. Healey thought it as well to flee also—though not so far as America. What the immediate cause of their alarm was we are not told—but they fled to the moorlands. We must give the portraits of the friends as they started on this expedition:—
"Doctor Healey was about five feet six in height; thirty-two or three years of age; with rather good features; small light-grey eyes; darker whiskers and hair; with a curl on his forehead, of which he was remarkably proud. He was well set in body, but light of limb; his knees had an uncommonly supple motion, which gave them an appearance of weakness. He had an assured look; and in walking, especially when with a little 'too much wind in the sheet,' he turned his toes inward, and carried an air of bravado which was richly grotesque. In disposition he was, until afterwards corrupted, generous and confiding; credulous, proud of his person and
acquirements. * * *

"His hat was somewhat napless, with sundry dinges on the crown, and upsettings and down-flappings of the brim, which showed it to have tupped against harder substances than itself, as well as to have seen much 'winter and rough weather.' He wore a long drab top-coat, which, from its present appearance, might never have gone through the process of perching. His under-coat was of dark uncut fustian, which by his almost incessant occupation in 'the laboratory,' preparing ointment, salves, and lotions, had become smooth and shining as a duck's wing, and almost as impervious to wet; his hamsters were similar in material and condition to his coat, whilst his legs were encased in top-boots, no worse for wear, except perhaps a leaky seam or two and a cracked upper leather. * *

"But, the reader may say, we have only one of the travellers here; why does not the author furnish a portrait of the other? Behold him then. A young man twenty-nine years of age; five feet ten inches in height; with long well-formed limbs, short body, very upright carriage, free motion, and active and lithe, rather than strong. His hair is of a deep dun colour, coarse, straight, and flaky; his complexion a swarthy pale; his eyes grey, lively, and observant; his features strongly defined and irregular, like a mass of rough and smooth matters, which, having been thrown into a heap, had found their own subsidence, and presented, as it were by accident, a profile of rude good-nature, with some intelligence. His mouth is small; his lips a little prominent; his teeth white and well set; his nose rather snubby; his cheeks somewhat high; and his forehead deep and rather heavy above the eyes. His hat is not quite so broken, but quite as well worn, as the doctor's; his coat of brown cloth, as yet unpatched, but wanting soon to be; his waistcoat of lighter colour, bare and decent; his hamsters of dark kerseymere, grey at the knees; and his stockings of lamb's wool, with some neat darning above the quarters of his strong nailed shoes. Such, reader, was the personal appearance of him who now endeavours to amuse thee."—vol. i., pp. 49—51.
They spent two or three weeks, apparently, in rambling from one wild retreat to another—sometimes hospitably sheltered by old friends and relations of the doctor's, one of whom was a quarrier, but kept also a mountain hostelrie—more frequently, however, among very rough companions, habitual poachers and smugglers. When the alarm had subsided, or their small stock of money was exhausted, they at last ventured back to the world of weavers and reformers: and we must allow Mr. Bamford to paint his own return to Middleton.
"Come in!—A glimmer shows that the place is inhabited; that the nest has not been rifled whilst the old bird was away. Now shalt thou see what a miser a poor man can be in his heart's treasury. A second door opens, and a flash of light shows we are in a weaving-room, clean and flagged, and in which are two looms with silken work of green and gold. A young woman of short stature, fair, round, and fresh as Hebe—with light-brown hair in ringlets from the sides of her clean cap, and with a thoughtful and meditative look—sits darning beside a good fire, which sheds warmth upon the clean swept hearth, and gives light throughout the room, or rather cell. A fine little girl, seven years of age, with a sensible and affectionate expression of countenance, is reading in a low tone to her mother:—' And he opened his mouth and taught them, saying, Blessed are the poor in spirit; for theirs is the kingdom of heaven. Blessed are they that mourn; for they shall be comforted.'

"Observe the room and its furniture. A humble but cleanly bed screened by a dark old-fashioned curtain, stands on our left. At the foot of the bed is a window closed from the looks of all street passers. Next are some chairs, and a round table of mahogany; then another chair, and next it a long table, scoured very white. Above that is a looking-glass, with a picture on each side of the resurrection and ascension on glass, 'copied from Rubens.' A well stocked shelf of crockery-ware is the next object, and in a nook near it are a black oak carved chair or two, with a curious desk, or box to match; and lastly, above the fire-place, are hung a rusty basket-hilted sword, an old fusee, and a leathern cap. Such are the appearance and furniture of that humble abode.—But my wife!
'She look'd; she redden'd like the rose;
Syne pale as ony lily.'
Ah! did they hear the throb of my heart, when they sprung to embrace me—my little love-child to my knees, and my wife to my bosom?—

"Such were the treasures I had hoarded in that lowly cell. Treasures that, with contentment, would have made into a palace
'the lowliest shed
That ever rose on England's plain.'
They had been at prayers, and were reading the Testament before retiring to rest. And now, as they a hundred times caressed me, they found that indeed 'Blessed are they that mourn, for they shall be comforted.' "
Notwithstanding one touch of the bravado—a most uncalled for one—it is impossible not to be pleased with this little interior: but what a contrast to the scenes amidst which its soft light breaks upon us!

In the middle of that same night Mr. Bamford was awakened by a knocking at his door, and a person in disguise entered, who turned out to be an intimate brother reformer, one who had been co-delegate with him in the recent embassy to London. This friend came to communicate and consult upon a new scheme of violence; but Bamford at once, he says, condemned it as atrocious, and intimated a strong suspicion that some "government spy" must be at the bottom of the suggestion. To this last notion, he tells us, he still adheres; but we own we see no reason to agree with him, for Mr. Bamford details, as thus opened to him in the spring of 1816, a plot precisely the same with that which was carried to the edge of execution exactly four years later by Thistlewood and his Cato street gang. A dozen steady men were, in short, to proceed to London, and commence a general revolution by the murder of the ministers at a cabinet dinner. However, Mr. Bamford says he protested, without a pause, against this scheme of assassination, and intimates that he would have revealed it to some person in authority, but for his dread of compromising friends who had put their confidence in him. Fully believing that he rejected the bloody proposal we are not however much surprised—seeing of what stuff his associates were made, and not finding the motive of his own moorland excursion clearly explained—that he should shortly afterwards have incurred such grave suspicion as caused his arrest. He was instantly conveyed to London, in company with Dr. Healey, an Irishman by name O'Connor, and four or five other leading members of the "botanical society," there to be examined before the privy council, on a charge of high treason: and we apprehend that if his knowledge and concealment, first of the "Moscow Scheme," and then of the "Assassination Project," had been brought home to him, the consequences must have been serious. As things stood, he appears to have all along felt quite satisfied that his arrest was a mistake, and could have no dangerous result—and thus at ease for himself, Mr. Bamford placed his talents at the service of his friends, whose case seemed to themselves and to him considerably more hazardous. He describes his exertions in preparing the party for their examination—concocting the minutest details of the "one story"—a fictitious story to wit—that was to be told and stuck to by the botanists —and in effect claims the chief merit of the ultimate escape of the whole detachment.

He does justice to the authorities, high and low, on this occasion; and we remark in particular the very great respect with which he always treats the then secretary for the home department, one of the firmest and humanest of men, Lord Sidmouth. Some of his sketches of the scenes with the privy council are amusing enough: for example—
"On the doctor being asked how he spelled his surname he answered in broad Lancashire—'haitch, hay, baa, 1, hay, y:' (H, e, a, l, e, y:) but the pronunciation of the e, and a, being different in London, there was some boggling about reducing the name to writing, and a pen and paper were handed to him. The doctor knew that his forte lay not in feats of penmanship any more than in spelling; and to obviate any small embarrassment on that account, he pulled out an old pocketbook, and took from it one of his prescription labels, on which the figures of a pestle and mortar were imposed from a rudely engraved plate; and these words, 'JOSEPH HEALEY, SURGEON, MIDDLETON. PLASE TAKE — TABLE SPOONFULS OF THIS MIXTURE EACH — HOURS.' This he handed to Lord Sidmouth, who, as may he supposed, received it graciously, looked it carefully over, smiled, and read it again; and passed it round the council table. Presently they were all tittering, and the doctor stood quite delighted at finding them such a set of merry gentlemen. The fact was, the first blank had been originally filled with a figure of two: 'Plase take 2 Table Spoonfuls,' &c.; but some mischievous wag had inserted two ciphers after the figure, and made it read '200 Table Spoonfuls of this mixture each 2 hours.' However it was, the doctor certainly imbibed a favourable opinion of the council."—vol. 1., pp. 108, 109.
Mr. Bamford was not liberated until after some days' detention in Coldbath-fields; but he dwells on his abode there as on the whole a pleasant interval of repose and good fare, and, be it added, of good resolutions. One night, he says, while his fellows were asleep, "dreaming perhaps of the scaffold and the block," he fell into a meditative mood, lived over all his past life, and formed and vowed a solemn resolution never more, if once set free, to meddle with political meetings and machinations. He made up his mind, he says, to what has now become his settled faith, viz.,
"That the industrious and poor man best serves his country by doing his duty to his family at home.—That he best amends his country by giving it good children; and if he have not any, by setting a good example himself.—That he best governs by obeying the laws; and by ruling in love and mercy his own little kingdom at home.—That his best reform is that which corrects irregularities on his own hearth.—That his best meetings are those with his own family, by his own fireside—That his best resolutions are those which he carries into effect for his own amendment, amid that of his household—That his best speeches are those which promote 'Peace on earth and goodwill towards mankind.'—That his best petitions are those of a contrite heart, addressed to THE KING OF HEAVEN, by whom 'they will not be despised;' and those to the governors of the earth, for the peaceable obtainment of ameliorations for his brother man.—And, that his best means for such obtainment is the cultivation of good feelings in the hearts, and of good sense in the heads of those around him.—That his best riches is contentment—That his best love is that which comforts his family.—That his best instruction is that which humanizes and ennobles their hearts.—And, that his best religion is that which leads to 'Do justice, to love mercy, and to walk humbly with his God.'—Would lie triumph? let him learn to endure—Would he be a hero? let him subdue himself—Would he govern let him first obey." —vol. i., p. 112.
He was finally dismissed on the 29th of April, with a kind warning from Lord Sidmouth, and having entered into recognizances of the usual sort, resumed his industry at Middleton; but the salutary impression was not as yet deep enough to be lasting.
"I now went to work, my wife weaving beside me, and my little girl, now become doubly dear, attending school or going short errands for her mother. Why was I not content?—why was hot my soul filled and thankful?—what would I more? —what could mortal enjoy beyond a sufficiency to satisfy hunger and thirst,—apparel, to make him warm and decent,—a home for shelter and repose, and the society of those he loved? All these I had, and still was craving,—craving for something for 'the nation,'—for some good for every person — forgetting all the time to appreciate and to husband the blessings I had on every side around me; and, like some honest enthusiasts of the present day, supervising the affairs of the nation to the great neglect of my own,—of my
'Hours more dear than drops of gold.'
But it was not with us then as it is now; and we have that excuse to plead. We had none to direct or oppose us, except a strong-handed government, whose politics were as much hated as their power was dreaded. We had not any of our own rank with whom to advise for the better,—no man of other days who had gone through the ordeal of experience; and whose judgment might have directed our self-devotion, and have instructed us that before the reform we sought could be obtained and profited by, there must be another—a deeper reform—emerging from our hearts, and first blessing our households, by the production of every good we could possibly accomplish in our humble spheres,—informing us also, and confirming it by all history, that governments might change from the despotic to the anarchical, when, as surely as death, would come the despotic again; and that no redemption for the masses could exist, save one that should arise from their own knowledge and virtue,—that king-tyranny and mob-tyranny (the worst of all) might alternately bear sway; and that no barrier could be interposed, save the self-knowledge and self-control of a reformed people.

"But, as I said, we had none such to advise. Our worthy old major was to us a political reformer only; not a moral one. His counsels were good so far as they went, but they did not go to the root-end of radicalism. He seemed to have forgotten in the simplicity of a guileless heart, good old man as he was, that the people themselves wanted reforming,—that they were ignorant, and corrupt; and that the source must be purified before a pure and free government could be maintained.

"In the absence, therefore, of such wholesome monition,—in the ardour, also, and levity of youth,—and impelled by a sincere and disinterested wish to deserve the gratitude of my working fellow- countrymen; it is scarcely to be wondered at that I soon forgot whatever merely prudential reflections my better sense had whispered to me whilst in durance; and that with a strong, though discreetly tempered zeal, I determined to go forward in the cause of parliamentary reform.

"And so, as it were, like another Crusoe, I lay with my little boat in still water, waiting for the first breeze to carry me again to the billows. —vol. i., pp. 153, 154.
We may pass over the rest of 1816 and the two following years very rapidly. Mr. Bamford appears to have, during that period, kept aloof from "secret meetings,'' and he condemns as well as laments the different conduct of not a few of his friends, who were mixed up more or less with plots and risings in Derbyshire and elsewhere, and two or three of whom forfeited their lives in consequence. But during this, as he says, prudent and tranquil interval, was he really without participation in the guilt for which others were thus punished? We cannot accept Mr. Bamford's self-eulogies. He had from the first been "the Lancashire Poet:" nor, though abstaining from "meetings" during the suspension of the habeas corpus act, did he think it at all necessary to abstain from the worship of his inflammatory muse. It was at this time, he tells us, that he produced what seems to have been a very famous piece, "The Lancashire Hymn"—he refers to it often as one of the prime glories of his career, and exults now in repeating stanzas which no doubt stimulated less studious reformers to deeds that realized at last their "agonizing visions of the scaffold and the block." This hymn, he says, was "originally intended for being sung to one of the finest of trumpet-strains, at a meeting at Middleton of perhaps 2000 people"—at which meeting, we presume, Mr. Bamford had no intention of being present!—
"Great God, who did of old inspire
The patriot's ardent heart,
And filled him with a warm desire
To die, or do his part;
Oh! let our shouts be heard by Thee,
Genius great of liberty!

When fell oppression o'er the land
Hung like a darksome day;
And, crushed beneath a tyrant's hand,
The groaning people lay;
The patriot band, impelled by Thee,
Nobly strove for liberty.

And shall we tamely now forego
The rights for which they bled—
And crouch beneath a minion's blow,
And basely bow the head?
Ah! no; it cannot, cannot be;
Death for us, or liberty!

Have we not heard the infant's cry,
And marked the mother's tear—
That look, which told us mournfully
That wo and want were there?
And shall they ever weep again—
And shall their pleadings be in vain?

By the dear blood of Hampden, shed
In freedoms noble strife!
By gallant Sydney's gory head!
By all that 's dear to life!
They shall not supplicate in vain,
No longer will we bear the chain.

Souls of our mighty sires! behold
This band of brothers join.
Oh; never, never be it told,
That we disgrace your line;
If England wills the glorious deed,
We 'll have another Runnimede."
The patriotic poet adds—
"Methinks I now observe my elderly reader first secure his spectacles, and then shaking his head, say, 'Ah! he is wide at sea again; with a strong mast, a heavy sail, and not so much as the breadth of a duck's foot for oar or rudder.—What next?—Doth he founder head down, or again break ashore?'—Let us see."—vol. i., p. 167.
Mr. Bamford was at length called into action by the appearance of Orator Hunt in Lancashire.
"Thou raised'st thy voice, and the people awaking,
Beheld the foul source of corruption displayed;
And, loyal stupidity quickly forsaking,
They found themselves plundered, oppressed,
and betrayed;
Then, loud as the storm in its fury out-rushing,
The shouts of the thousands for freedom arose;
And liberty only shall soothe them to hushing,
And liberty only shall lull to repose.
"Such were the sentiments with which Henry Hunt
was received at Manchester, in January, 1819."
—vol. i., p. 159.
From that time the plan of a "monster meeting," to take place in summer, was the one great subject of discussion—and of diligent preparation there was no lack. Mr. Bamford's blood was effectually stirred; and no man, by his own account, was so indefatigable in the drillings and trainings of the Middleton district. He alludes to the advantage they derived from the zealous superintendence of a few retired soldiers. Perhaps his brief early experience on board a man-of-war—(of which his language often reminds the reader)—may have given additional value to the exertions of the "Middleton Captain."

We are under no temptation to dwell on the Peterloo chapters of this biography. Mr. Bamford asserts and maintains that the drillings, flags of "universal suffrage or death," &c., were all harmless in intention, and considers the forcible dispersion of the mighty host of (according to radical authorities) 100,000 or 130,000 reformers on the 16th of August, as the most heinous outrage against liberty recorded in our nation's history. For our own view of the whole unhappy affair we refer to an article in our 22nd volume (pp. 493, &c.)—in the course of which a contemporary "petition" by Mr. Bamford is more than once quoted.

He had taken too prominent a share in the business to escape the attention of the police. About ten days afterwards he was once more arrested at midnight—and conveyed to Manchester Jail. We cannot but pause for a moment over his very striking salutation of those precincts.
"Reader! hath it ever been thy fortune, or misfortune, to pass from Bridge-street in Manchester to New Bailey-street in Salford? Hath business, or pleasure, or curiosity, or charity towards an afflicted prisoner, or mercy, or a yearning love for some of thine own in trouble, or interest, or duty, ever led thee that way? If so, thou hast passed a very plain bridge, with high parapets of a dull red stone, and spanning, with two arches, a rather broad stream, which here flows torpid, black, and deep, betwixt the said towns. Venice hath her 'Bridge of Sighs;' Manchester its 'Bridge of Tears,' and this is it.

"Who, that recurs to recollections during forty years, and cannot enumerate tragedies enacted hereabouts, and calamities witnessed, which have called forth tears enow to have washed these channels with their stream? Do not we still hear, as it were, the appalling cry, when, during a great flood, a scaffold, on which nine human beings stood, broke down, and they were swept away, whilst hundreds of their fellow-townsmen and relatives stretched forth their hands, and implored God and man to save them, hut in vain? Who hath so soon forgotten the thirty-four fine fellows, who perished at the launch of a boat? and that, still hears not the shout of horror which arose off this bridge at the dreadful sight? the heart-broken moans of wives and children, fathers and mothers, brothers and sisters, as they came, distracted and weeping, to bestow an embrace which could not be returned?

"And thou, too, poor and beautiful, and innocent Lavina Robinson — what heart but responds to thy affliction! It was midnight, and there came a deep moan, that told of grief not to be comforted —of a wounded spirit which could not be borne. Soft, but hasty footsteps approached—and, again, tones were heard almost too plaintive for human woe. Then there was a pause, and a plunge, and a choking, bubbling scream—and all was silent around that Bridge of Tears!

"How many hundreds of human beings have crossed this bridge, conscious they were never to return? What strings of victims have been dragged over it?—some in the serenity of innocence, some in the consciousness of habitual guilt, and others in a bowed and contrite spirit; but each followed by weeping friends, who still loved, when all the world besides was hostile or indifferent to their fate! * * *

"And now a sad spectacle occurs to my recollection. It was a fine sunny forenoon, and the church bells were tolling funereally, and Bridge-street was so crowded, that you might have walked on human heads. All eyes was turned towards this Bridge of Tears, and what came there! Ah! men on horseback, with scarlet liveries, and white wands; and trumpeters richly invested, who sent forth a note of wail that might have won pity from a heart of stone. Next came halberdiers, and javelin-men; and then a horseman of lofty, but gentle bearing, who, as he rode, turned, and cast a kind look towards one who followed, sitting high in a chair of shame, placed in a cart. And who is he? that youth so heart-broken and hopeless, that draws tears from all eyes? at whose approach all heads are bared, all expressions are hushed, save sobs and prayers? For though he was but a 'poor Irish lad,' they said 'he was very comely,' and 'it was a great pity,' and 'hard that he could not be spared,' and then, 'might God support and comfort him!' High lie sate, with his back to the horses, his whole person exposed, his feet and well-formed limbs being incased in white trousers, stockings, and pumps, as if he were going to a bridal. His vest also was light coloured, and a short jacket displayed his square and elegant bust; his shirt was open at the collar, and his brown hair was parted gracefully on his forehead, and hung upon his shoulders. Despair and grief beyond utterance, were stamped on his countenance, mingled with a resignation which said, 'Father, not my will, but thine be done. Receive my spirit." He seemed faint at times, and his colour changed, and he tasted an orange, listening anon to the consolations of religion. Tears would gush down his cheeks, and as he stooped to wipe them with his handkerchief he was somewhat withheld by the cords which bound him to that seat of shame. A coffin, a ladder and a rope, were in the cart below him; whilst by his side walked a dogged-looking fellow, whose eyes were perhaps the only ones unmoistened that day.

This was, indeed, a passage of tears; and a day of sadness, and of contemplation on the mysteries of life and death; with the consolement, at last that now 'his troubles were ended,' and 'all tears were wiped from his eyes.'

"Such was the spectacle of that 'poor Irish lad,' George Russel, who was hanged on Newton Heath—for stealing a piece of fustian! or, as the old ballad had it—
"'To rob the croft
I did intend,
Of Master Sharrock's
At Mill-gate end.'
"Far be it from my wish, friend reader, to paliate wrong of any degree; but let us hope, and, if necessary, entreat, that all waste of life, like this, may have now passed forever from England." —vol. i., pp. 87-90.
From the scene of these rueful associations Bamford was transferred next day to Lancaster Castle—where he remained for some space in durance, in company with Mr. Hunt, Dr. Healey, and eight others; but it was finally determined that their trial should take place at York, in the spring; and they were set free on bail during the interval, Sir Charles Wolseley being surety for the Lancashire poet. He had been introduced to that gentleman shortly before by Mr. Peter Finnerty, who then managed the Lancashire correspondence of the Morning Chronicle, and who had found Bamford useful in supplying him with notes of proceedings before magistrates, when the regular reporters were excluded. "Such," says Mr. Bamford, "was my first connexion with the newspaper press "—how much or how little he has been connected with it in the sequel we are not informed. Sir Charles invited Mr. Finnerty and his humbler coadjutor to pay him a visit at Wolseley Hall, and they did so immediately after the liberation from Lancaster. It was the baronet's hope that Bamford, of whom he had formed a high opinion, might henceforth be regularly employed by the Morning Chronicle; and it had been arranged that, instead of returning at once to Middleton, he should make a tentative excursion to London under Peter's wing.
"I went over to the hall, and found Finnerty quite comfortably domiciled. Lady Wolseley was in the straw up stairs, so that Sir Charles had much of his own way below. Friend Finnerty, now that he had the run of a splendid suite of apartments, attendance of servants, and all hospitalities, was also somewhat changed in his manner. His place was in the parlour with Sir Charles; mine in the housekeeper's room, with the occasional company of that amiable, respectable, and well-informed lady. I dined with her in the servants' hall, and took my other meals in her apartment, in company with her, the lady's maid, a joking, smiling, and modest young girl, and a Monsieur something, the French cook. I lived pretty agreeably amongst my kind-hearted new acquaintances, yet, at times, I could not prevent gloomy sensations from pressing on my mind. Finnerty had become quite condescending, for which I could not prevail on myself to feel thankful. Sir Charles was always kind and affable, without pretension; but still I could not but feel that in his house I was only a very humble guest. I had read how 'an Ayrshire ploughman' had once been deemed good company for a Scottish duchess; but I found that the barriers of English rank were not to be moved by 'a Lancashire weaver,' though he could say, 'I also am a poet,' and, quite as much as the Scottish bard, a patriot also. I lodged at the inn; and often on mornings would I stroll out solitarily to look at the deer on the moorlands. Those majestic and beautiful animals would toss their proud antlers—gaze a moment in surprise, as if they also knew I was a stranger.

"At length the glad morning came, when an end was to be put to this. I was to go with Finnerty to London, with a gig and horse which Charles Pearson had left at Stafford, I think on his way down to Lancashire. Sir Charles made me a present of two pound; Finnerty took the whip, and, bidding good morning to our worthy host, we drove slowly from Wolseley Hall." vol. ii., p. 29.
The gig journey is given at some length. Peter Finnerty, pink of philanthropy, was so savage in his treatment of the lent steed, that the poet often walked for miles in the mud rather than witness it; nor was he soothed by the great man's demeanour towards himself. "I soon found," says our Lancashire Burns, "that he wished me to be a useful companion on the road—that is, a kind of half-cad and half-comrade."
"At Litchfield, Finnerty spent an hour in looking at the cathedral, whilst I looked after the mare at the inn. At Birmingham, which we reached tardily, we dined, gave the mare a good feed, and, after resting two hours, my friend, 'unexpectedly by me, gave the word to proceed;—
and, with reluctance on my part, for I thought the beast had done enough for that day, we went on to some road-side inn, about nine miles further, where we got down, and the jaded thing was released and put into a warm stable. On looking over the luggage, it was discovered that a new silk umbrella, which Finnerty had bought at Manchester, was missing. He went into a passion, and stormed with all the wordiness and gesticulation for which his countrymen are remarkable; whilst I, sometimes provoked, sometimes amused, sat coolly and smoked a pipe until supper was ready. He laid all the blame on me : he expected I would have seen that the luggage was safe; he had trusted all to me, and was thus disappointed, like a fool as he was, for troubling himself about other people's welfare. He was sure it had been left at Birmingham, and it was my neglect in not putting it in the gig; arid then again he repeated what it had cost him—two pounds, I think.
* * * * * * *

"On entering Oxford I was struck by the noble and venerable appearance of many of its buildings, which I concluded, in my own mind, must be its churches and colleges. The streets were occupied by a numerous and very respectable-looking population; and I was not long in descrying, by the peculiarity of their dress, some of those fortunate and ingenious youths who, 'born with silver spoons in their mouths,' are, as we are taught to believe, 'designed by a wise Providence,' and are certainly permitted by a wise people (!) to spoon up the riches and superfluities, which else would, by their very grossness, render said people dull of intellect, and sluggish in action; and yet I didn't think the young fellows looked like 'spoonies.'"—vol. ii., p. 34.
At Oxford Mr. Finnerty found a pretty young lady waiting for him—and in her presence the umbrella was again handled in a style so intolerable to Mr. Bamford, that he took his leave of the pair abruptly, and set off, late in the evening, to walk the rest of the way to London solus. Night overtakes him before he has got beyond Nuneham—and he seeks the shelter of a public-house on the way-side, where, among a group of village carousers, he finds a warm reception.
"Whilst we were chattering and enjoying ourselves comfortably with our pipes, some young fellows came into the next room, and called for ale. They were in high glee, and from their conversation, which we could not but hear, we learned that there had been a kind of battle royal in the village, betwixt some of the lads of the place, and a party of collegians, and that the latter, after fighting bravely, which they allowed them the merit of generally doing, had been soundly thrashed, and compelled to retreat. Some inquiries, on my part, elicited an opinion from the company as to the general conduct of the young gentlemen at college; and it certainly, like all other human emanations, had its dark side as well as its bright one, only rather more of the former than should be expected, considering they were to become exemplars to, and directors of, others.

"They were represented as courageous fighters, generous remunerators, and profuse spenders; all of which most of the company allowed were good English gentlemanly qualities; but then, in their intercourse with those not of their class, they were represented as being arrogant, wilful, and capricious; and too prone to lay on hard, when they got the upper hand.

"It was not to be wondered at, said an elderly person who sat on the other side of the room—it was not the young gentlemen's fault, but the fault of their ' Pa's' and 'Ma's' at home, and of the institutions of the country. If Will was schooled to be an officer in the army, would he not begin by trying to domineer over, and command all who would submit to him? If Dick was to have his father's broad acres, how could he better prepare for the enjoyment of them, as things went, than by learning to drink, gamble, and box; by picking up stable-slang; and becoming a connoisseur in 'dogs, horse-flesh, and women? as they had it—and by an early imitation of that reckless self-willedness which he had seen practised by his class at home. If James is for the church, should he not learn to be combative when a boy : inasmuch as he would have to contend against 'the world, the flesh,' and—another antagonist; and in favour of tithes, preferments, and fat livings? And if Jack was preparing for the navy, what so natural as that he should practise with a bamboo, instead of a rope's end, on the heads and shoulders of the king's subjects? Great folks, he said, sent their sons to college, and they came there tainted with the vices of their order, and the follies of their parents : they were here planted thick together like young trees the rank and worthless dragged the others up; the vicious overshadowed the virtuous, and when -they had become noxious or morally withered, they went back into the world, as their fathers had done, to prepare a new race to succeed them. All allowed that the elderly gentleman's remarks were about the fact; I begged leave to drink his health, the company followed my example, and the conversation then becoming general, and chiefly on rural affairs, I went to bed."—vol. ii., pp. 37, 38.
That lost umbrella, it turns out, had not merely interrupted, but forever destroyed, the friendship between Finnerty and the Lancashire poet. When he called at Peter's house in the suburbs of London, a few days afterwards, his reception was this :—
"He seemed, I thought, very mysterious and embarrassed in his manner; did not ask me to sit down, or take anything, but at last said, 'Would you like a walk round the square, Bamford? I, thinking he wished for more private conversation, said I would; and we went out, and walked round a large square hollow, like to those laid down for the foundations of houses, with a fence of deal boards all around. We paced once round this place, chatting about indifferent matters, I expecting him to introduce my business with the Morning Chronicle : and at last, on my mentioning it, he did say he had not been able to see Mr. Perry yet. We had then arrived at the angle from whence we set out, and were opposite his own door, when giving me his hand, he said, 'Good morning, Bamford; I shall be seeing you in town some of these days;' and with that he went into the house, and shut the door. I was mute with astonishment : my first impulse was to send the pannel in with my foot; but then, I thought, neither the door nor its owner had done me harm, and at last consoling myself with the reflection that it was no place for a worthy honest man, and that I was better out of it than within it, I went away."—vol. ii., pp. 45, 46.
We hear no more of Peter. Nor did Mr. Hunt give himself much trouble about his partner in misfortune. The "great man" presented him to his Aspasia, a "Mrs. V."—"originally one of the finest of her species"—entertained him once or twice at breakfast, when, instead of tea or coffee, the famous decoction of " roasted corn" was produced, not at all to the weaver-poet's contentment—and gave him a letter of introduction to "that worthy gentleman and scholar, Sir Richard Phillips," with a view to a metropolitan publication of the Lancashire Hymn and other lyrics, already celebrated at Middleton; but no pecuniary assistance was forthcoming. Neither did he obtain any advantage from an application to Mr. Alderman Waithman, "at that time a dissatisfied, bilious-looking man—mind and manners soured." There were sundry similar disappointments. At last Mr. Charles Pearson, who, as Hunt's solicitor, had met Bamford at Lancaster, kindly offered him employment in copying papers at his chambers; but a week of this new sort of labour was enough. He felt that to persist would break his health completely—his spirits had already sunk to the verge of despair—and he took to his bed in a nervous fever. A small supply from "the Manchester Committee" set him on his legs again; and he then made the round of about a dozen publisher's shops, with his bundle of hymns and songs, which found no acceptance in any of these quarters. They "did not suit" one Mæcenas—another said they were "out of his line;" even the sympathizing Sir Richard Phillips would not meddle with them—"no volume of poetry could have any chance unless it were something astonishing;" which is, at least, as true in 1844 as it was in 1820. Before he made up his mind to return to Middleton he was advised to state his views concerning the Peterloo meeting, and its results to himself, in the parliamentary petition already referred to; and "in connexion with this," he says, "occurred an incident, which as it affords a glimpse, as it were, of the outer-court etiquette of the great in London, I will narrate:"—
"Earl Grosvenor was the nobleman selected to present my petition to the house of lords, and Sir Richard went with me to his mansion. His lordship was not at home, and we were directed to call on a certain day. It happened that Sir Richard was then engaged, and I went to his lordship myself. The great burly porter, who wore a rich livery, trimmed with gold lace, would scarcely admit me within the door, when he found I had not a letter of introduction. I explained to him my business with his lordship, but it was of no use, he could not send my message up. A fine table, with pens and paper, was near the window of the hall, and in my simplicity I made, a move towards it, saying, I could soon write a note to his lordship; but he said he could not allow me to write there, it was contrary to orders, and would cost him his place if the other servants saw me. I accordingly bundled out, and went to a tavern, and wrote a note, which I took back; the porter then took the note, and told me to come again in about twenty minutes, or half an hour. It was raining, and I had nowhere to go under cover, save the tavern, so I went there again—not much liking, however, this mode of noble housekeeping—and waited with impatience the time for the interview. I again went; and now the folding-doors were thrown open long before I arrived at the steps—the late surly porter received me with a respectful inclination and smile, saying my note had been sent up, and his lordship would see me. He then rang a bell, and a servant appeared, to whom the porter announced my name. The servant asked me to follow him, and he led me into a very grand room, where he left me, saying his lordship would be with me in a few minutes. I had never seen anything like the richness of this place before—everything seemed almost too sumptuous and too delicate for a human habitation —and to me it seemed a little museum of curious and costly things arranged but to look at, and not to use. There were mirrors, and pictures, and cushions, and carpets glowing like silk; and delicate hangings, and curtains, as fine as gossamer in summer : then the tables shone like glass, and the chairs, with their high cushions trussed up, quite tempted one to sit. Well, I stood looking about me some time, and no one appeared; and at last I thought, 'I'll sit down at any rate; if his lordship should come in, he cannot be so greatly offended at one taking a seat in his house.' So I sat down, and was quite surprised—I almost sunk to my elbows in the soft downy cushion, and immediately jumped up again, thinking those seats could never really be meant for human bones to rest upon—and I would not for the world have been taken by his lordship, sitting there, with the cushion up to my elbows, like a puff of soap-suds. I began to make the thing right again, and was so busied, when I heard a slight creaking noise; immediately I resumed my posture of attention, and a tall, gentlemanly-looking person, forty or forty-five years of age, dressed in a blue coat with yellow buttons, undoubtedly of gold, entered and accosted me in a very courteous and affable manner, and immediately entered upon the business of my petition. I addressed him as 'my lord,' which indeed he was, and told him somewhat about the subject of my petition, which I now showed him, and requested he would be so kind as present to the house of lords. He looked at it a few minutes, and said he would present it. He then questioned me about the state of the country, and particularly of my own neighbourhood, to each of which I gave him brief and true answers, according to the best of my ability. He then questioned me about our new rector, at Middleton, the Rev. John Haughton; and as I was bound in truth, though not at that time over-partial to him, I gave his lordship a fair and honourable account of the worthy clergyman, whereat he seemed much pleased; soon after I made my final bow, and was myself bowed out by the porter; and so I took my leave of that grand mansion and its immensely rich owner."—vol. ii., pp. 42-44.
Mr. Bamford's petition having been duly presented and disposed of, he returned to Middleton, to prepare for the great trial at York. He and several of the other poor prisoners were without counsel; and though Hunt condescended to take plenty of assistance in private, he was too wise a man not to act as his own advocate in the court—over which Mr. Justice Bayley presided. Mr. Scarlett (then a leading whig as well as leader of the Northern Circuit) conducting the case on the part of the crown.

We shall not re-enter on the serious part of the business; but some of Mr. Bamford's minor details are not to be passed over :—
"Every night Hunt retired with his friends, discussing the occurrences of the day, and preparing for the next; consequently, he came into court ready at all points, and, like a loaded gun, he only required a sudden impulse to make a grand discharge. Under these circumstances, it was no wonder that he performed so well; that he appeared to be so greatly talented, whilst his co-defendants had not credit for the talent which some of them really possessed. This was just the position which Hunt wished himself and us to occupy. He would be all in all; and he could not endure that the humblest of us should come betwixt the public and himself; that the smallest shadow should intercept one ray of his luminous presence. This intense selfishness was constantly displayed in all his actions. I saw it and was astonished; I could not account for it except by condemning him and that was not to be thought of; though the facts came oozing out like water-drops, I could not harbour an unkind thought of our leader; 'it was his way;' 'it was the way of great folks;' 'it was perhaps necessary that he should do so and so.'

"Healey was one of the five defendants who had a seat at the barristers' table. On the second day, Mr. Scarlet had a smelling-bottle which he frequently used, and then laid on the table before him. Our friend the doctor was seated nearly opposite to the learned gentleman; and I observed him once or twice cast very desirous looks towards the phial whilst the barrister was using it. Mr. Scarlet, however, did not, or affected not to notice our surgical friend, and at last, the patience of the latter being tried beyond control, he leaned across the table and very respectfully solicited the loan of the bottle, which was readily granted : 'Oh yes, doctor! by all means,' said Mr. Scarlet, politely handing it to him, who immediately applied it to his nose, and evinced its pungency by very zestful sneezing, which obliged him to apply his handkerchief to his eyes. Of course there was some tittering around the table, and Mr. Scarlet was declared to have 'taken the doctor fairly by the nose.' Hunt laughed till his eyes were brimful, whilst Healey sat quite unconscious and serious. Soon after the bottle was returned with compliments, and the trial claimed our attention. On the third day Mr. Scarlet did not bring the smelling-bottle, and the doctor seemed disappointed. On the fourth day the doctor lugged a long square smelling-bottle out of his pocket and laid it down before him. Mr. Scarlet took no notice. The doctor smelled and laid it down. Mr. Scarlet took no notice. The doctor smelled again. Mr. Scarlet did not see him. At length, determined not to be out-done in generosity, the doctor thrust it towards Mr. Scarlet with a bow, and a request that he would use it. Mr. Scarlet coloured, but he good-humoredly took the phial, and, having smelled, he politely returned it with thanks, which the doctor as politely acknowledged : the same ceremony was repeated once, if not oftener afterwards, and the doctor then, perfectly satisfied, gave up the farce."

"It became apparent towards the noon of Monday, the fourth day of the trial, that the prosecutors were about to close their case, and that the defence must be commenced on the afternoon of that day. Whilst we were talking of the matter, Hunt said, 'Bamford, you will be called on to address the court the first of all the defendants.' I said I thought that scarcely probable, as we should most likely be called in the order in which our names stood in the indictment. Hunt said he knew that was contemplated by the opposing council, and particularly by Mr. Scarlet, who wanted to bring him out in the evening when he was exhausted, the court wearied, and the public satiated and listless. But—with an oath—he said he was not to be taken aback that way; he was too old a bird to be caught by such a manoeuvre. 'Now, Bamford, by —,' he said, 'I'll tell you what you must do if called this afternoon.' 'Well, what should I do?' I inquired. 'You must talk against time.' 'Talk against time!—what 's that? 'You must keep possession of the court an hour and a half,' he said; 'you must talk to put on time, in order to prevent them from calling on me, under any circumstances to-night. I know well that is what Scarlet is aiming at, and we must play our game so as to put it beyond his power.' 'But I am not prepared with matter for an hour and-a half's speech—I should break down if I attempted it.' 'Don't mind that—don't mind anything—only keep on.' 'I should make myself look like a fool; and they would be laughing at me, and stopping me.'—' Pshaw! and suppose they did, you could listen, and, when they had done, begin again.'—' But I should not know what to say.'—' Say! say anything—the d—est nonsense in the world : never mind what you say —only keep on until they cannot call me to—day.' Something like a glimmer of the naked truth flashed across my reluctant mind; and I replied, 'No, Mr. Hunt, I will not do as you desire; I will not exhibit myself before this court as a fool; I will speak as long as I can speak to the purpose, and with common sense. I would speak until dark if that would serve you, and I was prepared for the task; but I am not, and I won't make myself ridiculous.' 'Very well,' said Hunt, and looked another way, quite cool and distant."—vol.ii., pp. 75-77.
Bamford acquitted himself well. Mr. Scarlet complimented him, in his reply, on the talent he had exhibited, and also on the respectful manner of his defence. The jury, however, had not the slightest difficulty in finding all the prisoners guilty of a seditious misdemeanor; and they were ordered to renew their recognizances, and appear before the court of king's bench in London on the first day of next term, to receive judgment. Poor Bamford had naturally expected that the well-drilled Middleton patriots would supply their laureate and leader with funds for this trip to London—but he was disappointed. The contributions amounted in all to one shilling :—
"I took my way down Middleton and towards Manchester. I could not but reflect that when I went that way on the 16th of August, there were ten thousand with me ready to shout, sing, or do whatever I requested; now, as if they were afraid I should want something from them, not a soul came forth to say, 'God be with you.' One or two, whom I saw on the road, did, as they passed, ask if I was 'going off,' to which I replied by a nod. The words stuck in my throat; I was ashamed both for myself and them; ashamed of my past folly, and of their present faithlessness. Reader, that shilling was the only Middleton coin which I had in my pocket when I started for London to receive judgment. So much for the shouting, huzzaing, and empty applause of multitudes. A young aspirant to public notoriety may be excused if he feel a little tickled with the shouts of adulation; but whenever I see a gray-headed orator courting such acclamations, I set him down as being a very shallow, or a very designing person." —vol. ii., p. 106.
On this occasion he walked all the way to town, and most agreeable is his description of the journey. For two or three days he travelled in company with a sturdy bricksetter and his very pretty wife, who were bound for her native place, Loughborough. On the last of these days the bricksetter, becoming footsore, accepts a cast in a wagon, and the young woman is left alone with our friend Bamford, who well knew how to shorten the way for his comely and intelligent fellow-pedestrian
"We were now in a right farming country where large stacks, barns, and cattle-sheds were quite common on the road-sides. The roads were broad and in good condition, and there were very often wide slips of good land on each side, apparently much trodden by cattle. Occasionally we came to a neat, homely-looking cottage, with perhaps a large garden, and a potato-ground attached, and with rose-shrubs and honey-bines clustering around the door. These were specimens of our real English homes; there was no mistaking them; in no other country do such exist; and he or she who leaves this land expecting to meet with like homes in foreign ones will be miserably disappointed. In England alone is the term home, with all its domestic comforts and associations, properly understood. May it long continue the home of the brave! and eventually become the home of the really free!—

"There had been some rain a few days before; the Trent had been flooded, and of all the verdant pastures I have ever beheld, none have surpassed the rich, vivid green of the meadows betwixt Shardlow and Kegworth. As the sweet air came across them, cooling one's dewy brows, one almost felt tempted to stop and seek an abiding place in that delicious valley.

"During our walk we had a very agreeable chat : I entered into some particulars of my early life, and into matters always interesting to females —namely, the histories of some tender attachments which I had formed, but which had lapsed, either through my own indifference, or, as I was pleased to suppose, the faithlessness of the objects I loved. This seemed to touch a tender chord in my companion : she was all attention, and when I paused, she put questions which compelled me to resume my narrative. I spoke of the noble and exalted pleasures of true affection, and pictured the sickening pangs of love betrayed, and the unhappiness which must eventually haunt the betrayer, whether man or woman. I repeated some verses of poetry, which heightened the picture; and at last, on looking aside, I found that her cheeks were glistening with tears. She now became more communicative, and informed me that she had somewhat to accuse herself of with respect to a young man, the first indeed whose addresses she had encouraged; that she now often thought she behaved coldly towards him, without any just cause, and that in consequence the lad enlisted, and joined his regiment before his friends knew what had become of him; that she soon afterwards was married, and he was killed in battle. Weeping freely, she added, that at times she accused herself of having been the cause of his death. I consoled her as well as I could, by the reflection that her conduct appeared to have arisen more from youthful carelessness than want of feeling. She said he was an only child, and his mother was still living; and she thought if she could get settled down beside the old woman, it would afford her some consolation to assist her, and be a child to her in her old age. I approved of this with all my heart; and now being at Kegworth, we stepped into a public house and waited the arrival of the cart, which soon came up; and after a cup or two of ale betwixt John and myself, and a whiff of tobacco, we set forward, and a short journey through a pleasant neighbourhood brought us to Loughborough.

"Nothing would satisfy my fellow-travellers but my accompanying them to the house of the old folks, as they called them. I was not much averse to going with them, especially as I knew that I must stop somewhere in the town all night. I accordingly accompanied them along several streets and turnings, until we were in an humble but decent-looking thoroughfare, when, knocking at a door, the woman in a whisper told me her parents lived there. A tall, venerable-looking dame opened the door, and in a moment our female traveller was locked in her arms. A cheerful, clear-complexioned old man at the same time got up from his chair and shook John heartily by the hand; and on John mentioning me as a fellow-traveller, he gave me a like frank reception. He then embraced his daughter; and when the first emotions of tenderness were over, we sat down to a very comfortable but homely refection, and the family party became quite cheerful and communicative. Meantime, the news had got abroad amongst the neighbours; several came in, and in a short time we were joined by a fine-looking girl, a younger daughter of the old folks, who had been at work in one of the manufactories. In short, we had a joyful family and neighbourly meeting; liquor was sent for; a young fellow tuned up his fiddle, and the old couple led off a dance, which was followed by others; liquor was brought in abundance, and the hours flew uncounted.

"John and I, and the old man, were seated in a corner smoking and conversing, when I observed the younger sister come in somewhat fluttered. She took the old mother and her sister aside, and by the expression of their countenances, and the motion of her hands, I perceived that something troublesome and mysterious had occurred. In fact, she was explaining to them, as I afterwards learned, that in going to the public house for more liquor, she had to pass a stage-coach which was stopped, and that, on looking up, she saw a young soldier getting off the coach, with his knapsack slung on one shoulder, and a foraging-cap pulled over his face; but she saw enough to convince her that he was Robert—the same who once courted her sister, and who, they had heard, was killed in battle. This news, as may be imagined, was soon known in the house, and caused a great sensation, particularly amongst the women. We had just learned the cause of their whisperings, when the door opened, and a young fellow, pale, slender, and well-formed, wearing regimentals and an undress cap, with a knapsack properly adjusted, stepped respectfully into the room, and seeing the old woman, he put out his hand and took hers, and spoke to her affectionately, calling her mother. She gazed a moment on his face, as if incredulous of what she beheld. The company had drawn in a half circle at a distance around them; John, myself, and the old man, kept our seats; the younger sister stood beside her mother, and the married one was on a low seat behind her.

"'I scarcely know what to say to you, Robert,' said the old woman. 'I am glad to see that you are safe for your mother's sake; but I almost wish you had not called here to-night.'

"'And why not mother! my other mother'—he said, trying to force a smile. 'Why not call at a house where I left friends, and mayhap a little of something more than friendship?

"'Nothing beyond friendship now, Robert,' said the mother, endeavouring to appear cool.

"'Why, where is Margaret?' he said; 'I hope nothing has befallen her?'

"'Margaret is your friend,' said the old woman; 'but she is nothing more now. Yonder sits her husband,' pointing to John.

"John advanced towards the young man and took his hand; and, looking towards Margaret, said he believed she had been his wife about two years.

"The soldier trembled, and staggered to a seat.

"Margaret got up and gave her hand to the young soldier, saying she welcomed him home with all the regard of a sister. She was now married, as he had heard, and was about to settle in Loughborough; and if he had never returned, his old mother should not have wanted the tender offices of a child whilst she lived.

"'Thank you, Margaret,' he said; 'that is some consolation; you would not neglect my old mother, I know.' He put his hand over his eyes, and burst into tears.

"'I would not, Robert,' she said; 'and if in former times I did not value you, as perhaps you deserved, I was willing to make the only atonement I could, by cheering the drooping years of your supposed childless parent.'

"'That is very good!' 'very fair on both sides! ' 'very handsome!' said a number of voices. Neither of the interested parties spoke —they were both deeply affected.

"The old woman and youngest daughter then conducted Margaret into another room. The old man shook hands with the soldier, and endeavoured to cheer him. Meantime, information had been conveyed to Robert's mother, and she now entered the room, shaking and leaning on a stick. The meeting was most tender; it was such as could only take place betwixt a parent and child equally affectionate. The dancing had at first been given up; a warm substantial supper was in a short time spread on the board; Robert and his mother took some of the refreshment, and then went home; Margaret did not make her appearance. Shortly after supper I was conducted to lodgings at an inn, and spent most of the night in confused dreams of the strange scenes which, like those of a romance, had passed before me.

"The following morning I breakfasted at the old folks', according to promise. I asked not any question, nor did I hear anything further. Margaret's eyes appeared as if she had been weeping. John was attentive to her, and she seemed as if she valued his attentions; but could not entirely cast the weight from her heart. I left the family, to pursue my way, and John accompanied me as far as Quorn, where we parted, and I never saw him afterwards."—vol ii., pp. 112-117.
This little Loughborough episode would have pleased Crabbe; and there is another, in a more comical vein, which might well repay the illustrating graver of George Cruikshank. The whole chapter is most diverting. On reaching London, Bamford renews his attempts on the booksellers. One potentate frankly told him he would rather have a 16th share in a good new cookery book than the copyright out and out of a new Paradise Lost. Another listened more leisurely—and at last said he felt interested and disposed to make a liberal offer—in short, he would run the risk of paper and print, and give the author "half the profits, if any," charging merely "the usual commission." These technical phrases conveyed to the weaver bard no idea except that some "artful dodge" was meditated. He stepped eastward, westward, southward, and northward,—but Parson Adams with the portmanteau of Notes on the Supplices and Sermons for the Times, was but a type of the Middleton Tyrtæus. In general the shopman merely looked at him and said, " Mr. — was engaged."
"To be sure, the booksellers were not entirely blamable; my appearance was, no doubt, somewhat against me. My clothes and shoes were covered with dust, my linen soiled, and my features brown and weathered like leather, which circumstances, in combination with my stature and gaunt appearance, made me an object not of the most agreeable or poetical cast. Still, I thought these booksellers must be very owls at mid-day, not to conceive the possibility of finding good ore under a rude exterior like mine. And then I bethought me—and comforted myself therewith—inasmuch as others had trodden the same weary road before me—of Otway, and Savage, and Chatterton, and of the great son of learning, as ungainly as myself—Samuel the lexicographer—and I might have added of Crabbe, and others of later date, but their names had not then caught my ear."
He was reduced to extreme distress :—
"I was half-inclined to believe that the people I met seemed as if they knew I was pennyless. I had become quite wolfish, and the sight of good subtantial meats, arid delicate viands in the windows of the eating-houses, all of which I stopped before and contemplated, tended to increase the pangs of hunger, which were no ways allayed by the savory fumes arising from the cooking cellars. At last I wandered round Fleet-market, and coming to the prison, I found a poor debtor begging at the grate. 'Please to bestow a trifle on a poor prisoner,' he said. 'God bless thee, lad,' I replied, 'I am more poor than thyself.' 'How is that?' 'Why,' I said, 'thou hast a room to retire to, and a bed to repose upon, but I have neither home nor lodging, nor food, nor a farthing of money towards procuring them! ' ' Why, then, God help thee!' he said, 'thou art indeed worse off than myself, except as to liberty.'—' And that I may not have long.'—He asked me what I meant? and I told him that I was come up from the country to receive judgment for attending the Manchester meeting. ' If that be the case,' he said, 'come back in an hour, and if I get as much as three-pence or sixpence, thou shalt have it.' I thanked him sincerely, and gratefully, and promised I would come back if no better fortune befel me, and so, pleased that I had found one friend in the course of the morning, I bade him good bye, and went on towards Bridge-street.

"At sight of the bridge I recollected a gentleman on the other side of the river, who had behaved very kindly to me the last time I was in London, and I thought I might as well call upon him, for, at all events, I could not be more disappointed than I had been. I therefore passed over the bridge, and soon found the shop of my friend in the main thoroughfare, called Surrey-road, I think. Several young men were busy in the shop, and I asked one of them if Mr. Gibb was within? 'Oh yes,' he said: 'Is that you, Mr. Bamford? Walk forward, he's in the sitting-room at breakfast; he'll be glad to see you; step in.' I thought that was like a lucky beginning at any rate; and with-out a second invitation I entered the room. A glance of one moment brought the gentleman to his feet. He took my hand and made me sit down, and rang the bell, and ordered another cup, and more butter and toast, and eggs and ham. 'You have not breakfasted, I suppose,' he said. I replied that I had not; it was just what I had been wanting to do the last hour and a half. 'Bamford,' he said, as we went on with our repast, 'What 's the matter with you? you don't seem as you did the last time you were in London.' 'How am I changed? '—' Why, the last time you were up, you were all life and cheerfulness when I saw you, and now you seem quite thoughtful. Are you afraid of being Sent to prison?' 'No,' I said, 'I was not.' 'What's the reason you are so serious?'—I said, 'I could not help being so.' 'What 's the cause?' he said; 'tell me the reason of this great change?' ' Well, then, to tell you God's truth,' I said, 'I have not a farthing in the world, and I could not have had a meal if I had not come here.' ' Oh if that 's all, man,' he said, 'make yourself easy again. Come! take some more, and make a good breakfast,' and I took him at his word—I did make a good breakfast. When we had finished, he took me to his dressing-room, where were water and towels to wash. He also ordered the servant to clean my shoes, and found me a clean neckerchief, and a pair of stockings. When I returned to the sitting-room, I was quite smart, comparatively. 'Now, Bamford,' he said, 'this is my breakfast hour; at one we dine, at five take tea, and supper at eight; and so long as you are in London, my table is yours, if you will attend at meals. Take this one pound note,' putting one into my hand, 'and if there is not a change in your circumstances for the better, when that is done come for another.' I thanked him most sincerely. I never was more affected by an act of kindness in my life. He was, in truth, ' a friend in need, a friend indeed.' "
Before this kind baker's one pound note was expended, Bamford received a remittance of 10 shillings from some reform fund—and thenceforth expected with resignation the day of judgment.
"The detection of Arthur Thistlewood and his companions took place, if I mistake not, during our trial at York; it caused a great sensation at the time, and the conviction of the same misguided men occurred soon after our arrival in London. It was the subject of general conversation, and particularly the intrepid hearing of the prisoners during their trial. Mrs. Thistlewood had an asylum with the family of our friend West, the wire-worker in the Strand, and I frequently saw the unfortunate woman there. She was rather low in stature; with handsome regular features, of the Grecian cast; very pale, and with hair, eyes, and eyebrows as black as night. Still she was not what may be called interesting; she had a coldness of manner, which was almost repulsive. She seemed as if she had no natural sensibilities, or as if affliction had benumbed them. She wore her hair very long, and when she went to visit her husband, which she did with devoted attention, she was strictly examined, and, amongst other precautions, her long hair was unbound and combed out. Hunt frequently indulged in imprecations against Thistlewood and his party. He aspersed their courage, the fame of which seemed to have hurt him. But the worst thing I ever knew him do was his slandering Mrs. Thistlewood, whom he represented as carrying on a criminal intimacy with West, during her husband's incarceration. A baser, more unfounded, or more improbable slander was never uttered. Its atrocity was its antidote. In fact, he would have said anything of any one, against whom he entertained a pique. My blind adherence to Hunt could not but be much shaken by such oft repeated instances of an ignoble mind.

"On the morning of the execution of the conspirators, I remained in my room, earnestly praying God to sustain them in their last hour; for though they professed not to believe in a future existence, I did, and could therefore sincerely say, 'Father, forgive them! they knew not what they did.' At noon, when all was over, I came down stairs."
Bamford was shocked to learn that Dr. Healey, though as poor as himself, had paid a guinea for a seat in a window commanding a good view of the debtors' door at the Old Bailey.

On the 15th of May—when all Hunt's affidavits, &c. &c., had been disposed of—sentence was pronounced hunt to be confined for two years and a half in Ilchester jail—and Healey and Bamford, among others, for one year at Lincoln. Mr. Bamford seems still to think he might have been more leniently dealt with, but for the peroration of his speech in mitigation of punishment, in which, after reasserting strenuously that he had preached forbearance and orderly behaviour to the Middleton men on the 16th of August, he added with fervour, that he would never again preach in such a strain until every drop of blood shed at Peterloo had been " amply revenged." At all events, this language could not have tended to the mitigation of his doom.

He met it like a sensible man. By the kindness of Sir Charles Wolseley, (who was himself in trouble enough at the time,) he was set at ease, as to his pecuniary matters, during confinement. He procured books, and read diligently—among other things, he fagged at a Spanish grammar — and, by his submissive and regular behaviour, conciliated the sympathy and esteem of the Lincoln Magistrates ,—insomuch, that, when he was assailed with a threatening of pulmonary disorder, they allowed him to send for his wife, and allotted him and her a comfortable room to themselves in the jail. This indulgence had the best effects on Bamford's health, moral as well as physical. It, however, was heard of with bitter dissatisfaction at Ilchester—for Hunt had been refused the society of Mrs. V—; and he now turned against poor Bamford, as if the kindness shown to him were an aggravation of the cruelty to himself. "Surely," says Bamford, "there is some difference between being permitted to have one's own wife with one, and being permitted to have another man's wife with one, in a prison." But Hunt could not see the reasonableness of this distinction, and Bamford prints sundry blustering, ungrammatical epistles, which, at last, "dissolved their friendship." It had been in a thawing condition for some time. It is impossible to conceive of a shabbier creature, on the whole, than Mr. Orator Hunt, as depicted in these volumes.

The cordiality between Bamford and Healey also came to a close during an early period of their confinement; but the details about the doctor are too dirty for quotation. It is obvious that he could not away with the superior attention which Bamford's superior talents and wiser demeanor could not but command from the visiting magistrates.

The hour of delivery came at last. Mr. Bam ford's parting with the authorities at Lincoln was an affecting scene—he had been treated like an erring brother, and he felt accordingly. This over, he exchanges gifts of kind remembrance with jailer and turnkey, and, in company with his faithful helpmate—the ever-tidy, ever-pleasing Jemitna—turns his face once more towards Middle ton—a sobered man, with a fixed resolution to eschew demagogues and agitation. Of the last and happiest walk here recorded, we must take a paragraph or two.
"We continued our journey through a level country, full of woods and plantations, till the broad waters of the Trent suddenly appeared before us. A shout and a signal brought the ferryman over, and, after some persuasion, with fear and trembling, my wife at length went on board, and we were ferried over and landed in the county of Nottingham. A short and very agree able walk through a rural country, with pretty English cottages, embowered in gardens and fruit-trees, brought us to the village of Great Markham, where we entered a snug little public house, and took up our quarters.

"We sat, chatting over our tea, until it was nearly bed-time, and when I requested that we should be shown to our room, the landlady gave an enquiring and dubious glance at us, and retired, evidently to take a second thought upon the subject. The servant-woman, next, came into the room, pretending to fetch something, but, once or twice, I observed her taking side-looks at us; and, as I perceived there were misgivings of some sort, I ordered a glass of liquor and a pipe, resolved to amuse myself by watching the shifts and manoeuvres of these simple country -folks.

"The mistress brought the glass, and the girl brought the pipe, and each gave a scrutinizing glance, which we seemed not to notice. We were both ready to burst into laughter, only my wife was a little apprehensive lest we should be turned out of doors. I thee'd and thou'd her in their presence, as a man might do his wife—and talked to her in my ordinary careless way; and, at last, the land lady came, and begging we would not be offended, asked if the young woman was my wife. I now laughed outright, and my wife could not refrain, though she covered her face. I assured the good woman that my companion had been my wife many years. 'Nay, she had no ill opinion of her,' she said—' only, she looked so young.' 'But, young as she appears, she reckons to be my age within about three weeks,' I said; 'and she was mother to a fine girl, now in the ninth year of her age.' 'Oh! she was sorry to have mistaken us, she said; 'we should have a comfortable bed ready in a few minutes.' And, so saying, she left the room, satisfied, no doubt, with the explantation which had set at rest her troublesome qualms of conscience. We had most excellent lodgings; and, in the morning, we rose early, and commenced our journey by lanes and shady foot paths—sweet with the breath of flowers, and echoing the music of birds."—vol. ii., p. 221:

" * * * * We stopped not at Whaley Bridge, for the sun was getting low, but hastened to Disley, and, after a brief rest there, we again started, though neither I nor my fellow-traveller were so alert as in the morning. In fact, our feet began to be worse for our two days' travel, and when we got upon the paved causeway, betwixt Bullock Smithy and Stockport, it was like treading on red-hot stones. Thus, long after nightfall, we went, limping, arm in arm, into Stockport. We found the dwelling of our friend Moorhouse, at the lower end of the town, and knocking at the door, were received with every hospitality.

"My friend and his wife bustled about, and did all they could to make us comfortable. We got a supper of good refreshing tea, and then essayed to go to rest; but my poor little companion had to mount the stairs on her knees,—she would not be carried up; and, when her stockings were removed, her feet were found covered with blood-red blisters. I got some hot water and soap, washed her feet well, wiped them carefully till quite dry, wrapped them in her flannel petticoat, and put her to bed. I, then, washed my own feet, for they were not much better than hers, and committing ourselves to divine care, we were soon oblivious of all weariness and anxiety, and, on awaking the next morning, our feet were as sound, for any thing we felt, as they were when we set out from Lincoln.

"Our walk to Manchester the next morning was a mere pleasure trip. We scarcely stopped there, but hastening onwards, we entered Middleton in the afternoon, and were met in the street by our dear child, who came running, wild with delight, to our arms. We soon made ourselves comfortable in our own humble dwelling; the fire
was lighted, the hearth was clean swept, friends came to welcome us, and we were once more at home.

"'Be it ever so humble,
There 's no place like home.'"—vol. ii., p. 230.
We have reason to believe that since 1821 Mr. Bamford has adhered to the good resolutions with which he left Lincoln—that his quiet course of industry has not been unrewarded, and that he is now looked up to as one of the most respectable seniors in Middleton. The little work, which we suspect has not until now been noticed in any journal likely to come before our readers in London, has, we see by the title-page, had a considerable circulation in his own province—and it has even attracted notice, by whatever accident, abroad. It has been translated into German, and made such an impression that a highly- distinguished Prussian traveller some weeks ago repaired to Lancashire, chiefly, as he assured us, for the purpose of spending an evening with Samuel Bamford.

We have in a sense enabled others to do so—but we hope our extracts will not satisfy very many of these. Mr. Bamford's narrative ought to be read as a whole; and however widely we must dissent from some of the political opinions even of his sedate retirement, there is a very great deal in his ultimate reflections on the state of England, and especially of English society, which deserves the most serious attention. We have quoted purposely not a few passages in reference to the manners of the wealthier classes, which must amuse, but ought not merely to amuse them. Let them see and consider in what aspects they are regarded by thousands upon thousands of their fellow- countrymen—and—granting that these aspects are extremely distorted—ask deliberately whether there is no remedy within their own power for what they must feel to he about the worst mischief that could befall a nation—the habitual misunderstanding and mis-appreciation of certain comparatively fortunate orders of society by those less fortunate but infinitely more numerous, and including a great and rapidly increasing proportion of not merely vigorous natural talent, but talent cultivated and directed in a degree and a manner of which former generations could scarcely have anticipated the possibility.

Of Mr. Bamford's poetry we have read only the few specimens interwoven in this autobiography; and we are forced to acknowledge that, judging by them, the London booksellers acted prudently in declining his advances. His verse is not "astonishing." He is no Burns—he is not even to be named with the living weaver-poet of Inverury, Mr. Thom.* But his prose surely is remarkable. With a sufficient spice of the prevailing exaggeration, and here and there a laughable touch of the bathos, his language is on the whole clear, lively nervous—worthy of the man. That such English should be at the command of one who, it must be supposed, seldom conversed during his prime except in the dialect of Doctor Healey, is a fact which may well give pause to many of those whose "houses are like museums." But the great lesson is to be drawn from the incidents themselves of his story—the small incidents especially—and the feelings and reflections which these are seen to have excited in the narrator. No kindness, no mark or token of human sympathy and goodwill, appears ever to have been thrown away upon Bamford. He was betrayed by youthful vanity into unhappy and all but fatal delusions and transgressions : he still, according to our view, labours under the misfortune of a false political creed. But he never was, never could have been, at heart a Radical. We see no traces in him of anything like a cold-rooted aversion for the grand institutions of England. There are, we sincerely believe, among the more intelligent of his class, few, very few, whose minds would not be found open to salutary impressions on the subjects as to which they have been most generally led astray, were they but approached and dealt with by their superiors in worldly gifts, with a little more of that frankness and confidence which made Samuel Bamford take leave of the Lincoln magistrates "with tears in his eyes." He himself admits in his closing chapter, that things are in this respect mended since 1820; and surely his book ought to accelerate the improvement which it acknowledges.
* We are sorry to confess that we have not seen Mr. Thom's book—but only some most touching stanzas of his, given in a generous article of the "Examiner" news paper for September 15, 1844.

――――♦――――

THE ATHENÆUM

No. 1951. London, March 18, 1865.

Homely Rhymes, Poems, and Reminiscences.
By Samuel Bamford. (Manchester, Ireland & Co.; London, Simpkin & Marshall.)

A review by

GERALDINE ENDSOR JEWSBURY.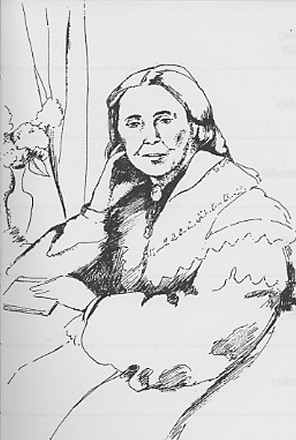 Geraldine Endsor Jewsbury
(1812-80) - from a photograph.
THE dear old "Radical," Samuel Bamford, comes to us with a new and revised edition of his 'Homely Rhymes, Poems, and Reminiscences,' and we hail them with a cordial welcome. There is the ring of true poetic feeling in the poems; but their interest for the reader lies specially in the intense undertone of reality which pervades every line. The poems are the utterances of his life, not of his imagination. Bamford is a brave, old, fighting soldier, who has borne the brunt of the battle for much of the political liberty and social reform which we at this day enjoy and accept as a matter of course, without reflecting that other men have laboured, and we have entered into the fruit of their labour. Bamford lived in the evil times of Castlereagh and the Holy Alliance, when, besides political grievances, there were bad harvests, years of scarcity and oppressive trade restrictions, making the condition of the working classes intolerable with the sense of injustice added to hardship. Freedom of speech was punished as treason; and to hint at any remedy for existing evils was met with a social reprobation, which was quite as painful without the supporting sense of the dignity and excitement of martyrdom. It is mentioned by Mr. Archibald Prentice, that there was a stigma on the personal character of all who were suspected of being liberal in their politics; there were Church-and-King men who would not allow a Radical or a Liberal to sit down in the inns and taverns where they met; if one came in he was compelled to drink standing and to depart. Samuel Bamford, a hand-loom weaver, was a clear-sighted, shrewd, sagacious man, with a stubborn hatred of tyranny, a dash of the British mastiff in his character as in his face. He was a man worthy to be taken as the type of what the men of a commonwealth ought to be,—sturdy, resolute, anxious for the right and just thing, brave, temperate, honest and indomitable. It is curious to see the prophet which men like Bamford set up. Henry Hunt had certain qualities which commended him to their sympathies, they could idealize him; he had the gift of utterance, and they gathered several thousand strong to meet him in the open air at Manchester, in August, 1819; "to petition for a Reform of the Commons House of Parliament and the Repeal of the Corn Laws,"—an orderly, peaceful meeting, but discontented with things as they were; therefore "dangerous," therefore to be "put down,"—by force, if need should be. They were fired upon by soldiery, and many were killed. It was deplorably managed, for no escape was possible, all the streets adjoining being occupied by the military. Bamford, who had helped to organize the men in his town of Middleton, and assisted to drill them, "to march in beautiful order,"—such a body of men who would have been a disorderly mob without some training,—was indicted for treason and tried at York. Nothing was proved against him, except that he was identified with this Reform meeting; he was found guilty and sentenced to a year's imprisonment in Lincoln Castle, which, of course, broke up his home and ruined his prospects. He came out of prison a greater Radical than ever, as was only natural; he had a martyr's feeling for his cause. He, however, returned to his trade of silk-weaving for a time he was a skilful man and earned good wages. He used his influence over the ignorant and misguided of his townspeople, who were set against the introduction of machinery, to keep them from committing outrages on property or person. He prevented a raid of steam-loom breakers from visiting the towns of Heywood, Rochdale and Middleton, saving thus both lives and property. He had by that time become a rising man; he ceased to be a weaver, and began to use his abilities in writing for newspapers and endeavouring to spread sound knowledge of the condition of the working and manufacturing classes. Reform came into favour; the opinions for which, he had suffered and struggled became the law. The scene changed. Bamford, instead of being an agitator, became a special constable, took the oath in the very court where he had oftener than once appeared under charges of treason and misdemeanor. He set his face steadily against the Chartists and Fergus O'Connor. With all his political enthusiasm, Bamford has always been a man of practical sagacity and common sense, and, as a natural consequence, a thoroughly honest man. After the Chartist movement, its monster petition and "national holiday," had collapsed, Bamford, with his wife, to whom he was tenderly attached, and of whom he makes constant mention both in prose and poetry, retired to a cottage near Manchester, where he wrote his 'Passages in the Life of a Radical,' and lived in the enjoyment of the privileges he had helped to win; but he missed the toil and the excitement of the struggle. He had not, however, to complain of ingratitude under the new and improved order of things, though the mode of acknowledgment was hardly suited to his tastes; he was offered and he accepted a small employment at Somerset House, from which he was afterwards transferred to the "Voucher Office," then located in Broad Street, in the City. Here, his duty was to make a catalogue of about 22,000 volumes of account-books of every imaginable description and transaction relative to the revenues of the United Kingdom. The old Reformer was filled with astonishment at the accumulation for two centuries "of such a mass of rubbish." He did not like the sort of work, and on the death of his friend and protector, Mr. John Wood, Chairman of the Board of Inland Revenue, in 1855, he resigned his place, and though offered other employment if he chose to remain, "his mind was made up, and with sincere thanks he expressed his wish not to remain in any employment under Government." He and his dear, comely old wife retired to a cottage at Moston, near Manchester. They had no provision for their old age; a few pounds were all they had in hand. Bamford hoped to receive compensation for his unjust imprisonment; but, though his case was stated to Government, there was no fund for "political sufferers," and a gratuity of £50 was all that he received. The brave old man had a hard time for awhile; he touches, in a brief, manly way, upon this period; but friends came to his rescue, and a competence for the remaining days of the aged pair was secured. Mrs. Bamford, his faithful partner, died in October, 1862. Bamford himself still survives to look on a state of things so changed, that it must seem to him like living ''in another state of existence; but he is gratefully recognized as one who, in his prime of life, bore the burden and heat of the day, and whose integrity and influence over the men of the working classes, in a perilous time, has been of unknown and incalculable good. It is men like Bamford who save a country from the convulsions of a revolution.

The poems are on various subjects, some satirical, upon contemporary incidents of local interest, but throwing a gleam of light on modes of life now long passed away and forgotten. Some are bitterly political, on topics about which people are now placidly indifferent: such is the poem on the trial of Queen Caroline. But there are also poems, the truth and beauty of which will never pass away from human sympathy: of these, the poem beginning "God help the Poor" is the best; it is graphic and pathetic. We give a couple of stanzas, and then take our leave of brave old Samuel Bamford.—
God help the poor who on this wintry mom,
Come forth of alleys dim and courts obscure.
God help the poor pale girl who droops forlorn,
And meekly her affliction doth endure.
God help the outcast lamb! she trembling stands,
All wan her lips, and frozen red her hands;
Her mournful hands are modestly down cast;
Her night-black hair streams on the fitful blast;
Her bosom, passing fair, is half revealed,
And oh! so cold the snow lies there congealed;
Her feet benumbed, her shoes all rent and worn,
God help thee, outcast lamb, who standst forlorn!
God help the poor!

God help the poor! another have I found,
A bow'd and venerable man is he;
His slouchèd hat with faded crape is bound;
His coat is grey, and threadbare, too, I see;
"The rude winds" seem "to mock his hoary hair,"
His shirtless bosom to the blast is bare.
Anon he turns and casts a wistful eye,
And with scant napkin wipes the blinding spray,
And looks again as if he fain would spy
Friends he hath feasted in his better day.
Ah, some are dead, and some have long forborne
To know the poor; and he is left forlorn,
God help the poor!

――――♦――――

From Samuel Bamford to Alfred Tennyson

BLAKELEY, Dec. 13th, 1849.

DEAR SIR,
Mrs Gaskell a few days since presented to me your poems, with your autograph, in kind terms, and I can only say, as to the present, that I am very greatly obliged; and that you could not have done anything that would have pleased me better. Accept my most sincere thanks.

Your poems, I cannot forget them. I cannot put them away from my thoughts; the persons and the scenes they represent haunt me. I have read them all over and over, and I have not awakened once this night without

Thy heart, my life, my love, my bride

immediately recurring to my thoughts.

Oh! your "Oriana" has started tears into my eyes, and into those of my dear wife, many a time. It is a deep thing. Your "Locksley Hall" is terribly beautiful; profoundly impressive. The departure of your "Sleeping Palace" is almost my favourite, and your "Gardiner's Daughter," ah! it brings early scenes to my mind.

The story of my early love that haunts me now I'm old,
And broods within my very heart altho' 'tis well-nigh cold.

My wife, bless her! I never feel my sensibilities gushing over, but when I look I find hers are doing the same. And it has frequently been the case since I was so fortunate as to have your poems.

But your English! why it is almost unlimitedly expressive. This language of ours, what can it not be made to say? What height, what depth filled with all glorious hues, terrible glooms, and vivid flashes does it not combine and your poems exhibit all?

Are you well? Are you happy? I hope you are both. Accept my kindest wishes, and believe me to be

Yours most truly,
SAMUEL BAMFORD.

――――♦――――


THE QUARTERLY REVIEW
Life of Tennyson.
. . . . It was characteristic of Tennyson that he was never inclined to overrate or place too much reliance on the opinion of professional critics and literary men, especially if they praised him. He heartily agreed with Mazzini that "nothing in this world is so contemptible as a literary coterie." Hence, perhaps, it was that he so greatly appreciated the hero-worship and genuine admiration felt for himself by one Samuel Bamford, whom Mrs. Gaskell graphically describes as "a great, gaunt, stalwart Lincolnshire man, formerly hand-loom weaver, author of "Life of a Radical," aged nearly seventy, and living in that stage which is exactly decent poverty with his neat little apple-faced wife." This old worthy, too poor to buy Tennyson's volumes, had learnt many of the poems by heart from reading them at other people's houses; and Mrs. Gaskell, who was struck by his rapt recitation and his deep delight in the music of these verses, wrote to John Forster about it. Forster sent the letter to Tennyson, who declared that Sam Bamford's admiration was "the highest honour" he had ever received. He sent the old man, through Mrs. Gaskell, a copy of his works, with an inscription in the title-page. Mrs. Gaskell's account of its reception is as good as anything in any of her Lancashire tales:—

I have not taken my bonnet off after hunting up Bamford. First of all we went to Blakeley, to his little whitewashed cottage. His wife was cleaning, and regretted her "Master" was not at home. He had gone into Manchester—where, she did not know. . . . At last we pounced upon the great, grey, stalwart man, coming out of a little old-fashioned public-house where Blakeley people put up. When I produced my book, he said, "This is grand." I said, "Look at the title-page," for I saw he was fairly caught by something he liked in the middle of the book, and was standing reading it in the street. "Well, I am a proud man this day," he exclaimed. Then he turned it up and down, and read a bit (it was a very crowded street), and his grey face went quite brown-red with pleasure. Suddenly he stopped. "What must I do for him back again?" "Oh, you must write to him and thank him." "I'd rather walk twenty mile than write a letter any day." "Well, then, suppose you set off this Christmas, and walk and thank Tennyson." He looked up from his book right in my face, quite indignant. "Woman, walking won't reach him! We are on the earth, don't ye see; but he is up above. I can no more reach him by walking than if he were an eagle or a skylark." It came fresh, warm, straight from the heart, without a notion of making a figurative speech, but as though it were literally true, and I were a goose for not being aware of it. Then he dipped down again into his book, and began reading aloud "The Sleeping Beauty," and in the middle stopped and looked at the writing again. And we left him in a sort of sleepwalking state, and only trust he will not be run over.
From. . . "Alfred, Lord Tennyson. A Memoir by his
Son" (Two vols. Macmillan & Co. 1897).
――――♦――――


THE GUARDIAN
19 September, 1856

ROCHDALE AND MIDDLETON

READING AND RECITATION.—On Wednesday evening last, Mr. Samuel Bamford, the only survivor of the Castlereagh and Sidmouth trials of 1817 and 1819, gave a reading and recitation of prose and poetry, in the Boar's Head Assembly Room at Middleton. Oswald Dickin, Esq. of Limefield, presided, and commended Mr. Bamford, whom he had known for 30 years, for his integrity and consistency of conduct. Mr. Bamford proceeded with his readings, and gave an account of the state of Middleton (his native town) when he was a youth. In commencing, he quoted an extempore stanza of his own—

Like on returning from the tomb,
For might and right again I come,
And wake the themes I wont to raise
In ruder times and darker days.

He afterwards read some extracts from his own "Party Days," and also various selected pieces from the poems of Tennyson and Barratt, after which he recited his own "Pass of Death" and "God help the Poor;" his readings and recitations being frequently welcomed with cheers. He concluded with a brief address to the young people and operatives present, advising them to cultivate a sound and truthful knowledge of politics, which would lead them to a knowledge of their own rights, and a respect for the rights of others. He advised them to cultivate, and to merit by their conduct, the good-will and confidence of their employers; to assume and to maintain a proper respect for themselves, for he knew not of any character more respectable than that of an honest upright working man; a good husband, a good father, and a good subject.—Mr. Edward Howarth moved a vote of thanks to Mr. Bamford; Mr. W. C. Ridings seconded it; and it was carried by acclamation.