THOUGHTS AT FOURSCORE,

AND EARLIER.

A Medley.


BY
THOMAS COOPER,
AUTHOR OF
'THE PURGATORY OF SUICIDES,' THE PARADISE OF MARTYRS,' 'THE BRIDGE OF
HISTORY OVER THE GULF OF TIME,' 'PLAIN PULPIT TALK,' ETC., ETC.



London:
HODDER AND STAUGHTON,
27, PATERNOSTER ROW.
_________

MDCCCLXXXV.



TO

HENRY WARDLE, ESQ., J.P.

OF HIGHFIELD,

BURTON-ON-TRENT,

THIS VOLUME IS MOST RESPECTFULLY

AND GRATEFULLY INSCRIBED

BY

THE AUTHOR.



PREFATORY NOTE.
_________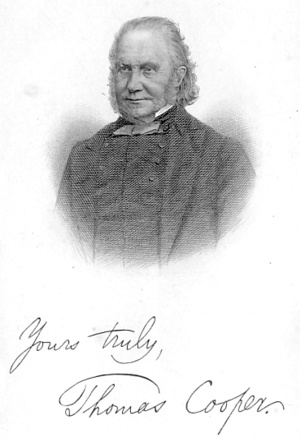 Thomas Cooper
(1805-92)
A "MEDLEY", I call my book, and readers will say I have done right in giving it such a name: whether I have done right publishing it, is another question. I never, before, ventured to print anything that presumed to treat on such a variety of subjects.

The first seven papers are composed, chiefly, of sketches written for a small monthly periodical conducted by my valued friend, Rev. Hugh Stowell Brown. He kindly gives me leave to make use of them; and I have done so--with some alterations.

The Second Series of Letters to Yound Working Men, I am allowed to republish by my old and kind friend, Joesph Cowen, M.P.,--to whom the Northern Tribune belonged.

2, PORTLAND PLACE,
ST. MARY'S STREET, LINCOLN,
20th March, 1885.